Passionate about making and enjoying coffee drinks? Thinking of pursuing it as a career at coffee shops?
In this article, I will show you what a "barista" means, what the job entails, what kind of skill sets and qualifications you need to become a coffee barista, and related equipment to make barista-quality coffee drinks to find out whether this route is for you.
---
What Is A Coffee Barista? And What Does A Barista Do?
Let's start from the basics. What does barista mean?
Barista is an Italian word for "bartender", a person who tends the bar, prepares and serves all kinds of beverages for customers.
But, the word "barista" in English doesn't point to a person who tends just any bar. It specifically scopes down to serving coffee drinks, usually at coffee shops.
Is barista gender neutral? Yes, both male and female employees can be referred to as barista or baristas as plural.
---
What Is The Work Of A Barista At Coffee Shops?
Enough linguistic talk.
You're here to learn about how to be a barista, not how to write "barista".
So, what are the duties of a barista?
To brew coffee and froth steamed milk and make latte art, baristas need to prepare ingredients and operate commercial espresso machines, other machines for slow bar coffee such as Pour-Overs, French Press, and coffee bean grinders.
Other than preparing all kinds of hot and cold espresso shots, espresso-based coffee drinks, and slow bar coffee beverages, most coffee shops don't serve exclusively coffee, so a barista also needs to learn and serve other soft drinks such as tea.
Many coffee shops also offer complimentary snacks to enjoy together with their drinks. Making them doesn't fall into the scope of work of baristas, but they still have to serve them.
And after brewing comes cleaning and maintaining the work areas, utensils, and equipment, including descaling coffee makers and troubleshooting any problems.
Aside from the delivery of a physical product, most baristas also need to interact with customers and deliver excellent customer service.
They greet customers, explain the menus, make recommendations as coffee sommeliers, and take orders, process payments, and serve.
Baristas also need to take care of the shop, from initial preparations and decorations to cleaning.
And like most jobs where there are seniors and juniors, more experienced baristas need to give barista training to newcomers.
Baristas at a coffeehouse taking on management roles also have to keep tabs on supplies, make orders when needed, manage finances, employees, and so on.
As you can see, the job does cover less glamorous and more tedious work, but the central focus is all about making and serving amazing coffee to craving customers, nonetheless.
From grinding coffee beans, making espresso, espresso-based coffee drinks, slow-bar coffee to steaming milk and making latte art, a dedicated barista wouldn't mind the daily grind to pursue their passion and gain more knowledge about this dark flavor.
---
What Skills Do You Need To Be A Coffee Shop Barista?
Based on the job descriptions I've listed above, here are some of the skills you should acquire to be a good barista.
Memorization Of Coffee Drinks And Tasks
First of all, as a barista, you need to memorize the recipes for the list of items on the menu.
Espresso-based drinks such as cappuccino, latte, and flat white usually call for the same espresso base, either one or a double shot of espresso.
But different coffee shops and baristas can have different go-to recipes that they find best-tasting. Take the espresso base for example.
Some baristas prefer using a single full shot of espresso, while others prefer the strength and body of 2 shots of Ristretto instead.
Depending on the coffee shop, you, as a barista, can have more or less freedom in making drinks. Coffee chains such as Starbucks likely have stricter training and rules you need to abide by to maintain its taste, standard, and image.
Other than the ingredients, you also need to memorize how to operate different machines and tools and how to navigate through a general workday.
Brewing Coffee Drinks With An Espresso Machine And Others
But the above is still only theories. Practice can be vastly different, especially for those who don't have any prior experience in making coffee.
Luckily, to be a barista, you don't necessarily have to possess coffee-making skills and knowledge as you can become a trainee on site.
But a passion for coffee to motivate you to strive forward and gain more knowledge is obviously welcomed.
For the best quality barista coffee, rather than using pre-ground beans, specialty coffee shops would require baristas to grind coffee beans right before brewing to best preserve their freshness.
They need to be ready to prepare the right grind size for each type of coffee drink with the help of electric coffee grinders.
And, as baristas, they operate commercial espresso machines rather than a home machine to make espresso and espresso-based drinks.
Some machines can be manual or only semi-automatic which requires baristas to pay closer attention to the coffee-to-water ratio, the ground bed, the temperature, and the pressure, to name a few, to successfully pull a well-extracted shot.
Others can be super-automatic with which baristas only need to press a few buttons to make the flow going.
Slow-bar coffee-making techniques that are manual like Pour-Overs also call for more skills and precision than espresso as each pouring of hot water over the ground bed can affect the extraction of coffee compounds.
Other than making straight black, you have to use a steam wand to steam milk to add steamed milk and milk foam to the drinks. Each item calls for a different amount of milk and milk foam as well. So, as a barista, you have to know the difference.
And making latte art is also part of the service that may not be the easiest to master on the first try.
Doesn't sound so lemon squeezy now, does it? But hey, what doesn't kill you makes you stronger. Nietzsche and Kelly Clarkson said so.
Communication
As I've briefly mentioned above, as a barista, you'll have to interact with customers and colleagues.
So it's definitely ideal to have a good grasp of communication skills to deliver excellent customer service, another key to get returning customers and boost word-of-mouth, other than having tasty coffee drinks.
You also need to have effective communication with colleagues to collaborate, especially during rush hours.
Multitasking
Speaking of tasks, multitasking is definitely a given in this service job. You need great multitasking skills to arrange your time and tasks so that everything gets done as efficiently as possible.
Let the machine automatically grind coffee beans for the next order while you're making flat white for the previous one.
Shortening customers' wait time while not decreasing the quality of the cappuccino drink is essentially the bar we're aiming at.
---
What Qualities Do You Need To Be A Barista?
Other than the skills above, here are some qualities that are helpful to your career as a barista and preferred by recruiters.
Attention To Detail
A larger ground beans size can easily ruin your cappuccino. A smaller coffee-to-water ratio can result in a weaker and more diluted brew.
Fumbling your pouring over the ground bed in your V60 can lead to a completely off extraction. One wrong move can mess up your latte art.
Those are just a few among thousands of other reasons why attention to detail is needed in a barista.
Friendly Personality
A friendly and approachable personality can help you go a long way with both customers and colleagues.
Creativity & Flexibility
I mentioned memorization as part of your job as a barista.
But the job can call for more beyond simply memorizing items on the menu.
You, as a creative, should constantly experiment and find ways to improve the brew, from testing new beans and trying new techniques, to adding new items to the menu, possibly.
Customers from different cultures and backgrounds may enjoy their coffee differently as well.
It's important to know the basics and listen to their needs to be flexible and strive to meet them either halfway or all the way.
Responsibility
Like most positions out there, you need to be responsible for your performance. With such a wide scope of work, being a barista calls for a responsible quality as well.
---
What Qualifications Do You Need Or Get To Be A Barista?
General Requirement
As I've briefly clarified, you don't necessarily have to know how to make coffee to work at a coffee shop.
The general requirement is a general education degree such as a high school diploma.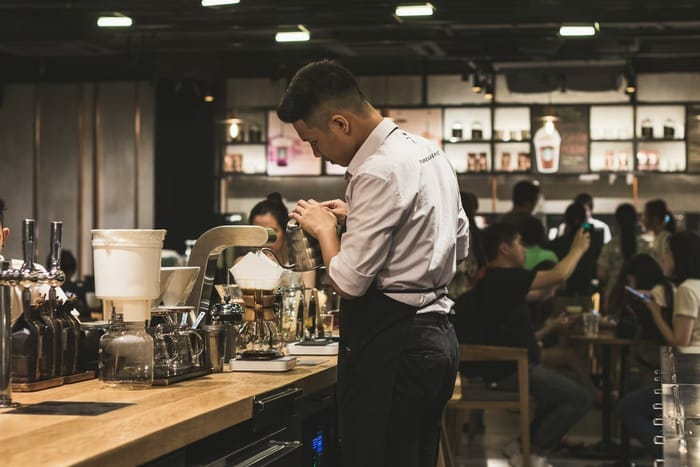 Most places require you to be at least 18 years of age to join the crew and receive essential training on the job.
Some may ask you to have a background in retail or hospitality roles previously, like waiting.
Specialized Education
Nevertheless, if you're passionate, feel free to attend barista training courses at academies, just like you would with cooking.
You can learn all about coffee, including coffee roasting, brewing, coffee equipment like an espresso machine, business management, and more.
---
Barista Competitions
Professional baristas can also join both national and international competitions to promote their business and further advance their profession.
Formal barista competitions originated in Norway. And now, one of the most popular and respected competitions in the coffee world is the annual World Barista Championship, featuring champion representatives from all over the world.
---
To Wrap Up
There can be a lot of work to be a great bartender behind the counter with the lattes.
But you can easily start to scope up your essential knowledge about this dark drink with unlimited access to tools and resources these days.
Remember that practice makes perfect.