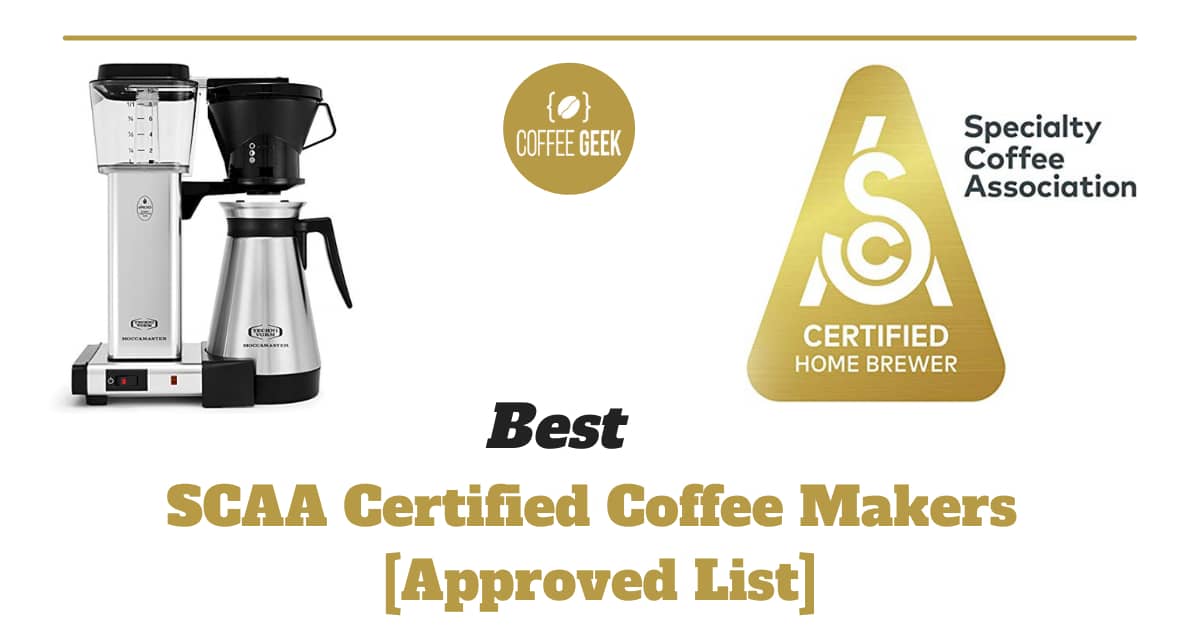 The best drip coffee makers can provide both the convenience and taste of good coffee. But there are so many coffee maker models in the market, how can you, an average consumer, verify whether they're up to standard?
Luckily, there are communities of coffee experts out there like the Specialty Coffee Association [SCA] that has the expertise to help us scale down the endless pool of choices.
In this article, I'll spill the beans on the 8 best SCAA coffee makers that have made it through a round of their rigid standards to earn the certification and another round of my research to earn a place in this lineup.
The 8 Best SCAA Coffee Makers – How They Compare
Coffee Maker
Product
Features
Price

Editor's Choice

Dimensions: 11.5 x 6.75 x 15.25 inches
Brew Time: 4 – 6 minutes
Brew Capacity: 40 oz (1.25 l)
Carafe: Thermal

CHECK PRICE

Most Affordable

Dimensions: 12.4 x 6.8 x 12.2 inches
Brew Time: 6 minutes
Brew Capacity: 64 oz (1.9 l)
Carafe: Thermal

CHECK PRICE

Best Programmable Option

Dimensions: 12 x 7.5 x 13.5 inches
Brew Time: 7 minutes
Brew Capacity: 64 oz (1.9 l)
Carafe: Thermal

CHECK PRICE

Best Automatic Pour-Over

Dimensions: 12.28 x 6.02 x 12.83 inches
Brew Time: 4 - 6 minutes
Brew Capacity: 64 oz (1.9 l)
Carafe: Glass

CHECK PRICE

Best Specialty Coffee Experience

Dimensions: 11.99 x 8.75 x 15.04 inches
Brew Time: 4 - 8 minutes
Brew Capacity: 50 oz (1.5 l)
Carafe: Glass

CHECK PRICE

Best Precise Customization

Dimensions: 14 x 9 x 16 inches
Brew Time: up to 8 minutes
Brew Capacity: 60 oz (1.8 l)
Carafe: Thermal

CHECK PRICE

Best Dressed

Dimensions: 8.3 x 15 x 17.2 inches
Brew Time: up to 8 minutes
Brew Capacity: 45 oz (1.3 l)
Carafe: Thermal

CHECK PRICE

Most Size Inclusive

Dimensions: 8.3 x 15 x 17.2 inches
Brew Time: up to 8 minutes
Brew Capacity: 45 oz (1.3 l)
Carafe: Thermal

CHECK PRICE
---
What Is The Specialty Coffee Association?
---
What Are SCAA Certified Brewers?
So, what are SCAA certified coffee makers?
Typically, coffee maker brands and manufacturers pay and send in their products to be tested for a spot among other SCAA certified coffee makers.
The coffee makers pass as long as they have met all of the minimal requirements and prove their ability to brew a cup of coffee that meets the SCA's Golden Cup Standard.
---
To achieve that desirable ratio, you can follow the brewing recommendations below:
Coffee-to-water ratio: ~ 55 g/l
Coffee brewing temperature: 195 – 205 degrees Fahrenheit (91 – 96 degrees Celsius)
---
SCA Certification Requirements
1. Coffee Volume
The coffee maker's brew basket should be able to accommodate the Gold Cup coffee-to-water ratio mentioned above as the bare minimum without having the coffee overflow during the brewing process.
2. Brewing Time
At the coffee maker's maximum capacity, the minimum contact time between the coffee grounds and water should be more than 4 minutes but less than 8 minutes.
Of course, that figure is subjected to variation depending on the grind size.
3. Brewing Temperature
SCA makes it clear that the water temperature only counts once it comes into contact with the coffee grounds.
The minimum requirement is that the water temperature should reach 92 degrees Celsius (198 degrees Fahrenheit) within the first minute.
The coffee maker should maintain its temperature within the range of 92 – 96 degrees Celsius (198 – 205 degrees Fahrenheit) for the remainder of the brew cycle.
4. Brewing Preparation
This section refers to the resulting brew's strength and extraction of coffee in the brew basket.
The solubles concentration (the strength of the cup of coffee) should fall between 1.15% and 1.45%. And, the solubles yield (the extraction) should fall between 18% and 22% as a minimum requirement.
5. Performance Uniformity
Each coffee maker will have 10 separate brew cycles run and tested to make sure that it can produce a consistent performance yield that meets the requirements in section 4.
6. Extraction Uniformity
As a minimum criterium, all of the coffee grounds in the brew basket should come into contact with the hot water within the first minute to optimize coffee extraction.
All machines are given a numerical rating based on the average extraction uniformity.
8. Holding Receptacle And Temperature
The container, such as a thermal carafe or glass carafe, that holds the extraction yield after the brewing process should be able to contain the content at the maximum capacity of the coffee maker.
The container should also be able to keep the coffee warm, within the temperature range of 80 – 85 degrees Celsius (176 – 185 degrees Fahrenheit) during the first 30 minutes after brewing.
9. Instructional Materials
Other than the coffee maker itself, the package sent to the SCA to be tested should also include operating manuals and other instructional materials that home baristas can follow to produce a cup of coffee that meets the Golden Cup ratio.
So, as you can see, everything related to the coffee makers, from the preparation to the brewing, and finally the serving stage, is taken into account by SCA Certified Home Brewer Program to make sure that the consumers can rely on their coffee maker reviews.
---
How To Choose A SCAA Certified Coffee Maker
But your set of requirements to pick the coffee maker for you isn't the same as the SCA's.
As an average consumer, other than worrying about the quality of the cup of coffee, you should also keep the following factors in mind to bring home a coffee maker that's for you.
Most of the models of drip coffee makers certified by the SCA can brew up to 8 cups of coffee, but you can find those capable of making more as well, around 10 or 12 cups.
Some coffee maker models also allow you to brew only a single cup or a tumbler amount for a single user without compromising the brew quality.
Brew Time
Coffee lovers with a tight morning schedule may not have the spare time to spend on a 10-minute coffee brew cycle and prioritize this factor over others.
So look out for coffee machines with a brewing time shorter than 5 minutes and less hands-on brewing routine.
Ease Of Clean
Anyone loves a low-maintenance coffee maker but not all are easy to clean. So how much effort are you willing to put in cleaning and maintaining your coffee machine? We'll briefly go through this in the detailed coffee maker reviews below.
Other than its classy look and ease of clean, the glass carafe is often praised for not retaining and spoiling the next batch of coffee with flavor carry-overs, which is a big no-no if you don't like the taste of old coffee in your new one.
The glass material is also cheaper to produce, so expect a cheaper price point compared to coffee makers with a thermal one.
The downsides are its vulnerability and inability to keep the coffee hot for long, so a hot plate is usually needed. But, as long as it's an SCAA coffee maker, you can rest assured that it's passed the first-30-minute test.
And its cons are the thermal carafe's pros. At a steeper price, you can get a thermal carafe that's a lot more durable and better at keeping the coffee ready for drinking for many hours.
But sadly, it doesn't really have that chic look that brightens your kitchen as the glass material does.
Cost
Not everyone can afford to splurge on a coffee machine. I'll make sure to mention affordable options in the reviews below.
Keep in mind that the initial cost coupled with the highly desired certification approved by an established coffee organization that they earn can make the prices of these coffee makers a lot higher than the average market price point.
Technivorm Moccamaster 79112 KBT Coffee Brewer
The Technivorm Moccamaster is equipped with the copper boiling element developed by the keen engineers of the market-leading brand.
This feature helps accelerate the water heating process and enables better control over the brewing temperature so that it doesn't venture outside of the optimal range for the most amazing coffee.
The cone-shaped brew basket of the Technivorm Moccamaster is also ideally designed to ensure a 4-to-6-minute steeping time for your specialty brew.
This coffee machine also offers some flexibility with 3 switch settings to manually adjust the steeping time. You can also take the carafe away for a serving while the coffee brewer is still up and running.
This Moccamaster model comes with a stainless steel thermal carafe to keep the coffee warm without the need for a hot plate.
This 10-cup coffee maker also automatically turns off after the brew cycle completes to help you save energy.
Though the price is relatively steep compared to other coffee brewers in the market, the 5-year warranty should justify the purchase and shows how durable Technivorm believes the coffee maker should be.
If you missed out on my best drip coffee makers review out of all machines in the market, here's a spoiler: This one also took the crown as the best drip coffee maker.
Bonavita BV1900TS 8-Cup One-Touch Coffee Maker
Water saturation and extraction uniformity are also enhanced thanks to the flat-bottomed filter basket and larger showerhead to evenly distribute hot water over the ground bed.
This is another drip coffee maker that comes with a thermal carafe.
Many parts of this 8-cup brewer are also dishwasher-safe to make the machine even more low-maintenance.
Cuisinart CPO-850 Coffee Brewer
You can change the water temperature setting between hot and extra hot for a more suitable extraction.
This machine also has a Brew Pause function, allowing you to take the carafe out to pour yourself a cup of coffee before the brew cycle is complete.
The Cuisinart brewer also comes with a charcoal water filter to be inserted into your water reservoir to produce coffee that's cleaner and richer, while reducing the number of mineral build-ups to make the descaling process easier to handle.
This standard 8-cup machine may take up quite a bit more space on your counter compared to others but it's relatively shorter than many coffee makers.
If you prefer the look of the glass carafe, feel free to opt for that option since it can also produce coffee that meets the SCA Golden Cup recommendations.
Brim 8 Cup Pour-Over Coffee Maker Kit
Great coffee is also brewed thanks to precise and constant temperature maintenance. The coffee warmer also keeps it steady at 176 degrees Fahrenheit (80 degrees Celsius) without the development of bitter notes for an ideal coffee experience.
And after 30 minutes, the machine knows to automatically turn off.
Another unique plus that this can-it-be-more-perfect coffee maker offers is the eco-friendly reusable filter that also comes with the machine so that you don't have to rely on disposable paper filters.
The elevator in the middle space enables you to adjust its height according to the container you use. There are 6 brew sizes in total, covering from a single cup, a travel tumbler, to a full carafe capacity.
What's more, classic black coffee isn't the only thing you can brew on this machine either. Think iced coffee and specialty drinks such as lattes, cappuccinos, flat whites, etc.
The possibilities know no limits thanks to the fold-away frother that comes with the brewer for easy milk steaming and texturing.
The Ninja Specialty Coffee Maker also has a programmable delay function for convenient morning coffee planning.
You can also enjoy a beautiful glass carafe, a gold-tone permanent filter, and a Ninja Smart Scoop as bonuses of the purchase.
Breville BDC450BSS Precision Brewer
From 3 different water flow rates to change coffee-to-water contact time, to bloom time and brew temperature, the coffee brewed can match whatever taste you desire.
If you're not really into tinkering and just want an easy dose of caffeine, this 8-cup coffee maker can supply you with 6 different presets, including the Gold Cup Standard, iced coffee, and Cold Brew.
You can also customize and save your own presets to save time and still get to enjoy the best coffee in the morning.
Feel free to brew single cups as well. The dual filter baskets and patented Steep and Release technology can accommodate any brew volume.
But all of these functions and features come at a pretty steep price and a relatively large footprint for your small apartment.
OXO Brew 9 Cup Stainless Steel Coffee Maker
It allows you to program and set the wake-up timer, pick the brew amount, and start the brew cycle.
The machine also has a pause and pour function so you can slip a sip of coffee during a cycle.
Although this 9-cup coffee maker is not the most affordable in this lineup, nor the smallest, its sleek and chic looks and "brains" are definitely worth a purchase if you're looking for a machine that's beginner-friendly.
And the exact brew system and temp sensor system are in place to ensure an optimal brew quality for every batch. In particular, it automatically calculates and adjusts the water flow rate and temperature appropriately to meet the Standard Golden Cup all the time.
You can also make an easy switch from hot coffee to Cold Brew at the touch of a button using the BrewChoice Plus function. The customizable settings include Over Ice, Light, Gold, and Bold coffee.
Too bad it's not the fastest coffee maker in the bunch, taking up to 8 minutes to deliver a full carafe of coffee. But if this isn't a priority, the convenience this MultiServe device offers should be worth its price tag.
---