There are two ways to make espresso at home. With, or without a machine. Everyone that gets the roast, grind, and the pressure right, can manage to brew this dark, potent coffee.
Go for a coffee that was roasted for a longer time, and invest in a burr grinder.
Espresso coffee grind needs to be fine, kind of like powdered sugar, so the water gets through the grounds at the desired speed (25-35 seconds)
If you do not own an espresso machine, you just need to have a scale, coffee beans (Breville recommends 100% Arabica beans consumed max.
20 days after roasting), a coffee grinder (you can check Dose Control from Breville), a kettle (ideally a Gooseneck kettle), and something to substitute the nine times atmospheric pressure (9 bars) of the espresso machine: with a French press or Aeropress, you press down the plunger.
After all, caffè espresso translates from Italian as "pressed-out coffee."
You can also make it with Moka Pot when you wait for it to boil in the chamber, or make it with a Flair espresso maker.
Yes, the espresso machine costs you extra, and takes up extra space, but saves time, and provides better results.
I will look closely at 6 Best Breville espresso machine picks.
---
These are my 3 favorites:
Editor's Choice
1-minute warming up time for brewing
Integrated burr grinder
Integrated milk steam wand
9 bar extraction process, delivered via a 15 bar Italian pump
Bestseller
1 Year Warranty
3-second heat up time
Integrated burr grinder
Integrated milk steam wand
No pressure gauge
Award-winning machine
Longest warming up time (5-10 minutes)
Integrated burr grinder
Integrated milk steam wand
9 bar extraction pressure
A smart, automatic machine
History of Espresso

And Espresso Machine
The coffee boom in Europe started in the nineteenth century. How did Espresso get so popular? Espresso has higher caffeine content per its volume than most coffee beverages, it is small, yet powerful.
With the expansion of coffee machines and cafes, it also had a socializing purpose.
In some countries, this continued till today. Swedish people treasure their "Fika" aka coffee and cake breaks.
What started as a 25 ± 2.5 ml shot soon got more versions, length and size-wise:
Espresso length : ristretto (half), normal, lungo (double-triple the normal one), caffè crema (larger than lungo)
Espresso size : single (solo), double (doppio), triple (triplo)
Nowadays it is also served in different forms of espresso-based drinks with more milk, water, or both, many of which I mention in separate articles: cortado, macchiato, latte, flat white, cappuccino, and so on.
The first patent for an espresso machine saw the light of day in 1884, where else than in Italy.
This machine got several improvements in the next few years, and in 1903 the La Pavoni company began to produce the machine in the city of Milan.
First machines were huge, with large boilers, levers, pistons, multiple filters, or heads. A Bezzera machine was even heated over an open flame! They also operated at a maximum pressure of two bars.
Only after World War II, water pressure, appearance, and with it, the popularity and density of espresso machines changed.
Nowadays, Briel, Capresso, Gaggia, DeLonghi, Mr. Coffee, and more companies produce manual, automatic, semi, even capsule espresso machines so compact, you can enjoy an espresso in the comfort of your home. One of these manufacturers is Breville.
---
Breville Espresso

Machines
Breville is an Australian company, founded in Sydney in 1932. They are known for producing kitchen appliances, from blenders, kettles, fryers, and grills, to coffee machines.
Breville espresso machines are currently made in designed and engineered in Australia and manufactured and assembled in China.
Fun Fact #1:
They started small, by making mine detectors and radios for World War II. Nowadays, they are present in 70+ countries and very popular on Amazon and similar websites.
Fun Fact #2:
Their juicers got famous thanks to a documentary on Netflix, called "Fat, Sick and Nearly Dead." Their sales doubled!
Fun fact #3:
They even manufacture Nespresso Citiz, Nespresso Inissia and Nespresso Bambino.
And what about their espresso machines? They produce automatic and manual espresso machines, at the time of writing this article, 11 types in total.
---
Is Breville A

Good Espresso Machine?
Breville espresso machines are very good, producing a "4 Keys formula" coffee, which turns beans into a coffee that is full and rich, with perfectly-balanced taste and a smooth, velvety finish.
Automatic machines have a modern touchscreen with coffee options, while manual ones let you "be the barista."
Some espresso machines even include integrated conical burr grinders, with about 30 grind settings and an eight-ounce bean hopper.
What I love is their online quiz, which even helps you find the right beans for your espresso by answering 4 simple questions, even if you are a beginner.
Customers, as well as the PRO coffee community, love Breville too and it repeatedly wins awards, such as the Specialty Coffee Association's "Best New Product" three years in a row (2017-2019.) Results for 2020 are yet to be announced.
The most popular features of Breville espresso machines mentioned in reviews are:
4 Keys formula = 19-22g of coffee, 200⁰F temperature, 9 bars of pressure, and 266⁰F hot steam
Top-notch stainless steel design makes Breville a beautiful appliance
Flawless performance
Fast heat-up time thanks to ThermoJet™ heating system – you have your coffee in 1 minute, tops!
Some models have a

modern LCD Interface Menu

that you can swipe through and you can save your coffee under a unique name
Models have a 360-degree steam wand for textured milk and latte art
With Breville, it is easier to set customized shot volumes,

plus there are pre-programmed shots (single or double)

Breville is easy to clean thanks to the large drip tray, cleaning and descaling cycles
Proportional-Integral-Derivative temperature control (PID) ensures optimal espresso extraction
Large water tank 61-84 oz
1 or 2-year warranty

(depending on the country, place of purchase)
---
How To Use The
Breville Espresso Machine
I have gathered top tips from the manufacturer and user reviews to make your life easier.
First, read the instructions, since every machine made by Breville is a bit different, and it is definitely not a

"one-touch"

Nespresso machine.

Plug it in.

Always check the level of water in the water tank to avoid damage to the espresso machine.

Put your mug on the top of the machine, that works like a warming tray. Always use a dry cup.

Turn it on, let it warm up, and wait for all controls to lit up. The warm-up part is very important.

Add the coffee beans into the grinder, if your espresso machine has it. Make sure the lid is on.

If your espresso machine does not have a grinder (Breville Dual Boiler, Bambino, Bambino Plus, Infuser, Duo Temp), prepare pre-ground coffee and put it inside the portafilter.

However, ALWAYS use freshly ground coffee.

Check your manual for settings that you can change, from grind size and amount, to pressure. If unsure, follow recommendations by the manufacturer.

If your machine has a portafilter, measure the coffee – How much? It depends if it is a single or double shot. For a single shot of espresso, go for 8-10 grams of ground coffee, for a double shot of espresso, you want

15-18 grams of ground coffee

. Trim it and press the coffee down and clean any loose grounds off the portafilter.

Run one cup of hot water into your cup. Stabilizes the temperature of the machine and warms your cup.

Now you can lock the portafilter in place (called group head) and select the size (single/double/custom)

After your coffee is done, empty and clean the portafilter

(be careful, any metal parts of the espresso maker get hot)

, clean off any leftover grounds, and spills.

Also clean the tray, outer housing, coffee grind disposal, and drip tray. Use only a damp, soft towel, nothing abrasive.

Always remove unused grinds from the bean hopper and empty the water, and switch the machine off.

Usually, machines will indicate (by lights) the need for a cleaning cycle (around every 200 extractions) – in that case, follow the manual.

Descale your espresso machine too,

especially if you have hard water at home.
If your Breville machine has a steam wand for textured milk, follow these steps:
Keep your jug in a cold place, it provides better results.
Fill the jug with cold fresh milk until its spout position (V-shape.) What milk to use? ADD
Check the manual, since some Breville machines have milk foam and milk temperature settings.
Purge the steam wand to get rid of the water.

After all, you want the water to turn into steam!

Place the tip of the wand about 1/4th of an inch under the surface of the milk.
When the bottom of the milk jug is too hot to hold, your milk is ready. Models with a touchscreen to show the temperature, if not, the manufacturer recommends 131-149°F, but it varies by model.

Touch the MILK button before removing the jug

.
Tap the jug on the counter to get rid of bubbles.
Purge your steam wand again to get rid of leftover milk and wipe it dry.
Enjoy your coffee with some foam on the top. You can even try some latte art, there are many manuals online, using just a

spoon, toothpick, or skewer.
---
How To Know That You

Achieved A Correct Extraction

If your espresso is dark brown, slowly flowing from the machine for 8-12, and not watery, plus it has a golden crema on top, you did well.

If it was fast and the result is watery, pale, and tastes weak, you probably need a finer grind size.

If it is taking a longer time than 12 seconds, there is no flow or slow drips, it means that your grind size needs to be more coarse for faster extraction.
---
How Long Should A
Breville Espresso Machine Last?
Breville espresso machines have a one or two-year limited product warranty, valid from the date of purchase.
This one only applies to products purchased and used in North America and not applicable to commercially used machines. Sadly, it also does not apply for purchases online or from product resellers.
It is recommended to check with the seller, check your manual, or contact Breville via their website.
Never remove a product serial number from your Breville machine, and save your receipt.
If you will encounter an issue within the warranty period and Breville decides that your machine or its part/s qualify for replacement, they will send you a prepaid shipping label.
Customers who use and clean their Breville machine properly can get 5-10 years out of it with only minor parts needing replacement.
I still think that with proper maintenance, Breville is a good investment. f you are curious what is my top pick, read further:
---
Breville Espresso Machines

Review
Breville BES870XL Barista Express Espresso Machine – Editors Choice
Pros
Great design
PID (precise temperature control)
The integrated conical burr grinder
Comes with a 360° swivel-action steam wand and a milk pitcher
6 pre-set coffee settings
A cleaning kit is included
The machine lights up when it needs to be cleaned
Cons
No touch screen or LCD
Total beginners might have a problem getting the right grind
Pre-set volume (single or double shot)
A bit noisy 1-year warranty
1-year warranty
---
Breville BES880BSS Barista Touch Espresso Machine – Overall Best
Pros
3 seconds heat up
Intuitive touch screen display with 3 steps (Grind, Brew, Milk)
The integrated conical burr grinder
Integrated automated milk frother with adjustable texture and temperature
2- year repair warranty
Relatively affordable (especially compared to Breville Oracle Touch)
Cons
Some users reported problems with temperature consistency
---
Breville BES878BSS Barista Pro Espresso Machine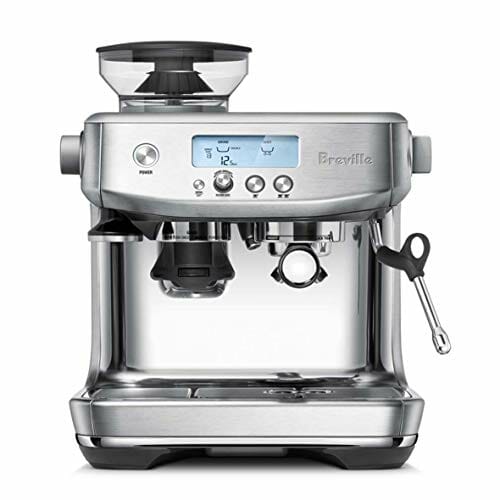 Pros
Breville's Barista Pro™ is the machine that won 3 years in a row at the SCA expo
Steam wand
The integrated conical burr grinder
3 seconds heat up
Faster and quieter than previous models
Variety – 7 designs for you to pick from
2-year warranty
Cons
No pressure gauge
The LCD is a minus for those, who prefer touchscreens
---
Pros
Built-in pressure gauge
Volumetric control
Cons
No LCD or touchscreen
1-year warranty
No integrated burr grinder
One of the louder machines by Breville
---
Breville BES500BSS Bambino Plus Espresso Machine
Pros
Compact
Easy to use
Variety – 7 designs for you to pick from
Automatic milk steam wand
3-second heat-up time
Cons
No LCD or touch screen
Smaller water tank than other Breville machines
No integrated burr grinder
---
Breville BES990BSS Oracle Touch Espresso Machine
Pros
The integrated conical burr grinder
Comes with a 360° swivel-action steam and a milk pitcher
Intuitive touch screen display
Bulkiest Breville Espresso Machine
2-year warranty
---
How To Pick The Best

Breville Espresso Machine
If you want a Breville espresso machine with a touch screen that lets you swipe through 5 pre-programmed drink favorites, plus create, save and name 8 customizable coffee drinks you will create, go for Breville Barista Touch or The Oracle Touch.
The latter is a bit smaller, which reflects in water tank capacity (67 oz compared to 84 oz). It is also comparably cheaper.
If you do not want your espresso machine to take up a lot of space, go for Bambino or a Bambino plus, with measurements 7.7″ x 12.6″ x 12.2″. Out of all models, the Oracle Touch is the biggest: 15.4″ x 14.7″ x 17.9″.
If you want an integrated coffee beans grinder, opt for the Oracle, Oracle Touch, Barista Touch, Barista Pro, or Breville Barista Express.
Regarding the water tank capacity, Oracle, Oracle Touch, and Dual boiler have 84oz water tanks. Barista Touch, Barista Pro, and Barista Express gave 67oz, Bambino plus 64oz, and Bambino only 47oz.
Only products with a 1-year warranty are Bambino, and Barista Express.
---
Our Verdict on the Best Breville Espresso Machine
There's no question about it, If you want an award-winning machine, choose Breville Barista Pro. Hands down as the Best Breville Espresso Machine.
However, for price and versatility, my favorite is Breville BES870XL Barista Express. without a shadow of a doubt. How about you?