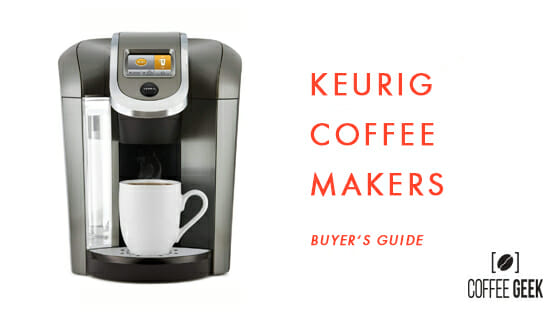 If you're like us, you know there's nothing worse than a pot of coffee that's been sitting on the burner too long.
That acrid, burnt taste that turns the nose and stomach is exactly what inspired the creator of Keurig to develop this single-serving brewing device.
When the new Keurig coffee maker first showed up on the scene in the late 90s, it was sold as an office break room exclusive.
Within a few short years, devices for the home were in demand, and that led to an explosion of variations on the original design.
Which is why you might be asking yourself now, "What is the best Keurig?" Well, that answer can change a lot depending on your needs.
We've compared the most popular models of the Keurig single-cup coffee maker to help you decide which is the best Keurig coffee makers.
Check out our top picks, read up on how they all compare, then go in-depth with us as we tell you about their differences and how to use and care for your Keurig.
---
Our Top Choice: Keurig K575 coffee maker
Choosing the best Keurig coffee maker from the variety of models this brand offers gets harder with every new release.
With the K575, however, they've made a truly innovative effort to deliver drip-brew traditionalists the options they've wanted from a pod-brewing device.
The K575 coffee maker boasts a touchscreen panel that even lets you customize its wallpaper and night-light settings to your preferences.
You can also time your brews with the digital timer, plus control the strength of each cup.
The K575 is also compatible with the K-Mug and K-Carafe pods, which means you have the choice of brewing more coffee for single or group service in one go.
Many of the Plus Series coffee makers have similar features, but we'll talk about some of the important differences between them a little later on.
---
Best Budget Option: Keurig K55 coffee maker
When it comes to single-serve brewing devices, you may not need all the bells and whistles of a top-of-the-line Keurig.
Enter the Keurig K55 coffee maker, which you may also recognize as the K-Classic coffee maker.
As one of the cheapest Keurig coffee maker options available, it's a great balance between price and functionality.
It doesn't get much easier than press-and-go with this model. The Classic Series coffee makers were designed for streamlined, single-purpose use.
While you won't get all the features or the ability to alter the strength of your brew with the Keurig K55 coffee maker, you'll get a dependably brewed cup of coffee which a choice of three cup sizes.
This model also makes a great gift for the coffee-lover who doesn't need a lot of extras.
It's hard to go wrong with such a basic setup but read on to find out if we think other coffee makers can pair the Keurig K55's affordable simplicity with a bit more versatility.
The Best Keurig Coffee Makers At A Glance
Coffee Maker
Product
Features
Price

Editor's Choice

Brew Selections: 8
Strength Control: Yes
Pod Compatibility: K-Cup 2.0, K-Mug, K-Carafe, My K-Cup 2.0

CHECK PRICE

Best Budget Option

Brew Selections: 3
Strength Control: No
Pod Compatibility: K-Cup, My K-Cup

CHECK PRICE

Easy Single Pod Brewer

Brew Selections: 8
Strength Control: Yes
Pod Compatibility: K-Cup 2.0, K-Mug, K-Carafe, My K-Cup 2.0

CHECK PRICE

Compact Pick

Brew Selections: 8
Strength Control: Yes
Pod Compatibility: K-Cup 2.0, K-Mug, K-Carafe, My K-Cup 2.0

CHECK PRICE

No-Frills Brewer

Brew Selections: 8
Strength Control: Yes
Pod Compatibility: K-Cup 2.0, K-Mug, K-Carafe, My K-Cup 2.0

CHECK PRICE

Simple & Versatile

Brew Selections: 5
Strength Control: Yes
Pod Compatibility: K-Cup, My K-Cup

CHECK PRICE

For Milk Coffee Lovers

Brew Selections: 4
Strength Control: Yes
Pod Compatibility: K-Cup, My K-Cup

CHECK PRICE
---
How Keurig Coffee Makers Perform
Every model is designed to brew one portion at a time so that you always get the freshest serving of coffee possible.
As the brand's market has evolved to meet a variety of consumer demands, however, there have been some significant additions to the Keurig family of coffee makers.
Their shift from the Classic to the Plus Series has brought with it a lot of important changes that draw distinct boundaries between the two lines.
This has been as simple as adding a digital clock and programmable timer to increasing the pod's capacity to accommodate brewing a full carafe of coffee.
As we break down this best Keurig coffee makers list according to functionality, performance and problems that may arise with each one, think about how to use a Keurig according to your preferences and what you need on a daily basis.
No matter which one you choose, we've got you covered when it comes to understanding how they work, what to look for and how to clean a Keurig coffee maker.
First, let's review the ins and outs of the rest of our favorite models.
---
Keurig K475 coffee maker
With every addition to their Plus Series, this brand has increased the capacity of its reservoir to keep up with demand for more coffee with less work.
The 70-ounce reservoir with water filter brews over 8 cups of coffee, which means there's enough to brew a K-Carafe and then some.
Change the temperature depending on whether you're brewing coffee, hot cocoa or tea for the best results each time.
Pros
Five temperature settings
Sleek design with a touchscreen display
Programmable timer and clock
Cons
Carafe not included
May not brew well with softened water
Cannot brew if display malfunctions
---
Keurig K250 coffee maker
This is the smallest and most lightweight option in Keurig's Plus series, which means all the brewing options of the other coffee makers for less bulk and weight.
If you want to be able to choose between standard cup sizes, super-sized mugs or the 4-cup carafe capacity but you don't have a lot of kitchen space, then this is the model for you.
Pros
Slim and short design fits on compact countertops
Full range of trendy color selections
Settings for brewing tea or cocoa and heating water
Cons
No temperature control settings
Not compatible with Classic K-Cup pod
Not compatible with off-brand coffee pods
---
Keurig K15 coffee maker
When you love the ease and convenience of a single-serve brewer but don't have a lot of space, the K15, also known as the K-Mini, is just enough bang for the buck.
This smaller model doesn't have any extra features, so it's best for a straightforward brew-and-go coffee drinker.
Easy clean-up and compact storage make it a favorite option while traveling.
Pros
Automatic shut-off for safety
Cord storage for ultimate portability
Compatible with all Classic and Plus K-Cup pod
Cons
Water tank holds only enough water for a single cup
No temperature or strength control
Travel use may require an additional power adapter
---
Keurig K-Cafe coffee maker
Try your hand at specialty coffees with this model and the variety of selections available for brewing regular, bold and espresso strength servings of coffee.
The included milk frother on the side adds a touch of cafe-style fun to any brew and can be used with a variety of milk, including vegan-friendly options.
Pros
Frother for milk is dishwasher safe
2-ounce espresso shot setting
60-ounce reservoir with handle
Cons
Bulky design can be hard to fit on small counters
Frothiness of milk depends on the type of milk used
Only compatible with regular K-Cup or My K-cup pod
---
Keurig K-Select coffee maker
The K-Select meets the single-serve brewer right in their comfort zone.
With this model, you get just enough versatility between brew strength and serving sizes that you can make the perfect cup of coffee when you need it.
It's the quintessential Classic Series Keurig brewer, even if it's lacking a few of the newest features that the coffee makers in the Plus Series offer.
Pros
Quiet brew cycle with noise-minimizing technology
Maintenance monitor reminds you when to descale
Simplified design with straightforward button controls
Cons
No temperature control available
No programmable timer or digital display
Not compatible with K-Mug or K-Carafe pod sizes
---
Editors Choice: Keurig K575 coffee maker
The K575 coffee maker has all the bells and whistles for the techie coffee lover.
With all the features from customizable wallpaper to night-light settings and more, it's definitely the Rolls Royce of the Keurig range.
Many of the Plus Series coffee makers have similar features, but this particular model takes the lead of the pack not only for its design and features but for who well it brews your coffee for anyone's needs.
At the end of the day, you can't go wrong with the Keurig K575.
Read more reviews here and decide for yourself.
Differences Between The K50 And K55 coffee maker
As this brand has grown and refined their production and marketing, certain models have undergone minor tweaks that necessitated a change in model numbers.
Such is the case between the Keurig K50 and Keurig K55. Functionally speaking, there's virtually no discernible difference between the older K50 and newer K55.
Cosmetically, the Keurig K55 stands a little taller and sits a little heavier due to slight changes in the manufacturing of their components.
It holds the same volume of water in its removable, 48-ounce reservoir and brews 6, 8 and 10-ounce cup sizes just like its predecessor.
---
Differences Between The K475 And K575 coffee maker
At a glance, the changes between the K475 and the K575 seem minor, but they're significant enough to matter to the discerning consumer.
In terms of countertop real estate, they take up the same amount of room, but the K575 manages to fit 10 ounces more in its reservoir than the K475 does.
The K575 also has a bigger color touchscreen display and with that, it offers you a choice of wallpapers and night-light option.
When you're shuffling to your brewer first thing in the morning, this can make a world of difference.
---
Differences Between The K200 And K250 coffee maker
To be fair, it could be said that this brand uses the excuse of a few minor changes to slap on a new model number and refresh its foothold in the market of single-serve coffee makers.
In reality, even the slightest change in packaging habits from one inventory batch to the next creates a need for model number differentiation.
Here, those packaging changes are all that make the difference between the K200 and the K250.
Features and cosmetics remain the same through both models, but the K250's box comes with an extra charcoal filter and a descaling solution to make life with your brewer that much more convenient.
---
How To Clean A Keurig One Cup Coffee Maker
You should be evaluating your Keurig for basic cleaning needs after every use, although it's unlikely it will need more than a wipe down that frequently.
However, descaling is a separate and more in-depth method of maintaining your device.
We go over both the basic method of cleaning your Keurig machines and the proper way to descale your device in these next two parts of our Keurig review.
Wipe down the exterior
The exterior of these devices is made of hard, durable plastic or stainless steel depending on the model you choose.
Either way, use warm, soapy water to wipe down the outside of the device, paying attention to any splatter on the surfaces closest to the dispenser.
Never submerge your Keurig machines in water or put it in the dishwasher.
Wash out the reservoir
If your model's water tank can be detached, it can be carefully washed with soap and water in the sink. Remove any filter and set it aside if necessary.
Be sure to rinse the reservoir thoroughly. If it won't be in use for a while, allow it to fully dry before replacing it back on the device.
For models without a detachable water tank, you can choose to brew a few cycles of plain hot water to rinse the components and allow to cool before wiping down the interior with a lint-free cloth.
Drain and wash the drip tray
If the drip tray slides out, you can wash it a sink with warm, soapy water before rinsing, drying and putting back in place.
With fixed drip trays or for quick clean-ups, simply soak up any standing drips with a towel and wipe clean.
Carefully assess the brewing needle
If you notice there are issues with your brewing capacity, the first step to troubleshooting should be checking the brew needle and pod reservoir for a clog.
While Keurig does make a special maintenance tool for their Plus Series coffee makers, they also suggest using the end of a paper clip as a workaround for removing any grounds that may be blocking the brewing needle.
These needles are very sharp, so always perform this procedure in a well-lit area where you can see what you're doing clearly.
---
Descaling Keurig Coffee Makers
What's the difference between cleaning and descaling when it comes to regular Keurig maintenance routines?
It really depends on the mineral content of your water supply, but the manufacturer recommends performing a descaling procedure every 3-6 months.
Generally speaking, if you're using your Keurig brewing system on a daily basis, you will want to do this every 3 months rather than 6 months.
Many models come with an automatic prompt when it registers the appropriate amount of time or number of uses between recommended descaling procedures.
The purpose this procedure serves is incredibly important to keeping your device brewing reliably and consistently.
The brand's own descaling solution is designed to work best with their devices, so using at-home or non-branded remedies for descaling may pose a risk to how the heating element and other components operate.
Descaling follows these basic steps, but always check your manual for model-specific details:
1. Begin with an empty water reservoir, then remove the filter for filtered models.
2. Fill the reservoir with the appropriate amount of descaling solution and freshwater.
3. Place a large ceramic mug on the drip tray and begin the recommended brewing cycle.
4. If your model allows for a second descaling rinse, follow those instructions.
5. Repeat this cleansing process as many times as recommended for your Keurig brewing system.
6. Refill the empty reservoir with fresh water only for the freshwater rinsing process.
Keeping your Keurig brewing system clean maximizes its lifespan and your enjoyment of the coffee it brews.
Check out this next section for other tips and tricks to get the most out of these devices.
---
How To Make The Most Of Your Keurig coffee maker
While a Keurig may not be the right kind of coffee maker for every brew-master, they've developed a fan following for good reason.
The design and purpose of these brewing devices remove a lot of the guesswork and fiddling for you when it comes to brewing a great cup of coffee.
Even so, there are still a few things you can do to make sure you get an amazing flavor and a satisfying brew every time.
Preheat your cup before brewing
This is the sort of lifehack that can change your brewing game entirely, and it doesn't even require any special equipment.
A preheated cup not only extends how long your coffee stays hot, but it stops the cold surface of a cup from shocking the newly extracted brew and changing its flavor on contact.
You can use hot water from the sink or microwave a cup of water. Keurig models that make brewing straight hot water make this even easier, though.
On the models without specific temperature controls or a pre-warming function, a small cup cycle of plain water brewing helps to get the water in the reservoir up to temp for better extraction as well as serving to preheat the cup.
Know your flavor and brew preferences
A Keurig's brewing method standardizes the portion of coffee per cup size, so this makes choosing the best roast according to your own tastes an incredibly important part of getting a great cup of coffee made.
In traditional drip-brew setups, it can seem easy to get a bolder flavor by just using more coffee grounds per serving.
This isn't the industry-favored method of getting a stronger cup of coffee, however, no matter what device you use.
What matters more is how long the water and coffee grounds remain in contact with each other.
Additionally, light roasts tend to highlight the fruiter, acidic flavor components of a coffee while darker roasts bring out the chocolate-like, richer notes of a bean.
Keurig models with adjustable strength settings allow you to slow the flow of water through the pod and in this way extract a bolder brew from any roast profile.
Use fresh water for great cups of coffee
Whether or not you purchase a Keurig brewing system that uses its own filter for the water reservoir, you should make sure you're using clean, fresh water for your brewer.
Don't let a large capacity fool you. Even if a reservoir can hold a lot of water, it's not going to brew the best tasting cup of coffee if it's water that's been sitting there for days.
To get the best results, use enough for what you need for the day or to get it ready the night before for a timed morning brew.
If you choose a Keurig that doesn't have a filter component or you find yourself in between filter replacements, you may prefer to use bottled water or a filtered pitcher instead of water straight from the tap.
Are you still unsure if a Keurig is right for your needs?
Read through our final thoughts on everything you need to know about purchasing a Keurig coffee maker.
---
Things To Consider Before Buying A Keurig Coffee Maker
If you're having a hard time picking which model will work best for your needs, or if you're still mulling over some of those pros and cons we mentioned earlier, here's our wrap-up of all the final details shoppers like you should consider.
Classic Series and Plus Series
From our list, the K55, K15, K-Cafe and K-Select are all considered part of the Classic Series of Keurig brewers.
They all only brew a single cup at a time and can use the original K-Cup pods or the K-Cup 2.0 pods. From our list, the K575, K475 and K250 are part of the Plus Series of Keurig brewers.
These all give you brew-size options of a cup, mug or carafe.
They can also recognize which size K-Cup 2.0 pod has been placed in the device and can brew the right amount according to preset calibrations. They can only use Keurig 2.0 pods.
You can also see here for reviews on some other cool drip machines.
---
How to use regular coffee in a Keurig coffee maker
When the brand rolled out their Plus Series coffee makers, Keurig competitors and consumers alike made a lot of noise about an important loss of versatility.
With the Plus Series, the company made a bold choice in designing their devices to only accept coffee pods specifically made for these Keurig brewers.
Keep in mind that this may limit your brewer choices if you have any off-brand pre-packed or refillable pods already. This may be the case if you're upgrading from a Classic Series model to a Plus brewer.
Refillable My K-Cup 2.0 pods that are compatible with the newer models can be purchased, though, if you want to grind your beans fresh before each brew.
Avoid overfilling a reusable pod container to prevent any clogging of the needle or brewing inconsistencies.
---
Environmental impact of K-Cup pods
Keurig's original K-Cup pods are not made of recyclable plastic, which resulted in consumers asking for better alternatives for a more environmentally friendly cup of coffee.
The brand's commitment to transitioning their plastic pods to a recyclable formula, and the promotion of refillable K-Cup pods for all models, means you have plenty of options without the guilt.
It should be noted that even with their recyclable formula, some coffees can leave residue or stains that then lessen their viability as a recyclable item.
Opt for reusable K-Cup pods if you want to minimize waste byproducts.
---
Traditional versus specialty functions that work with Keurig Models
How does a Keurig work when you want to use it for beverages or non-coffee options?
That all depends on the Keurig model. Typically speaking, models that come from the Plus Series are better calibrated to do more than just brew a pod of coffee. Models from the Classic Series may have more sputtering and splatter if used without a pod for plain-water brews for instant oatmeal.
They may also lack the right brewing calibration if you want to use pods that have tea or hot cocoa instead of coffee. Each model's manual should let you know exactly which specialty uses you can achieve.
---
Durability and longevity of these coffee makers
As a manufacturer and brand, the Keurig name has passed through a few corporate hands and operating procedures since its inception.
To that end, not every line of single-serve brewers has been a hit.
Complaints about water sputtering during the brew cycle have led the company to recalibrate or recall certain models over time, but the Plus Series has been universally welcomed as a long-lasting and reliable set of coffee makers.
The biggest takeaway when it comes to making a Keurig work well in your home is to use it as is intended.
Make sure you know which style of pods are compatible with the device and whether or not it was designed to offer hot water brews without any pod insert.
For longevity, keep your device clean, change the reservoir's filter, and follow the manual's guide to descaling and clearing the brewer needle of any possible debris.
---
When to choose a Keurig for single-serve brewing
We know there are a lot of opinions about the best way to brew a single cup of coffee when it comes to industry standards and personal preferences.
These brewers aren't going to offer the kind of fine-tuning that other options may have if you're looking to tweak and play with the exact science behind the cup of coffee you're extracting.
Having said that, these are still great go-to options for their ease of use and convenient clean-up.
When you want to transition from the old-fashioned drip-brew coffee maker into something more modern and designed specifically for single-serve use, a Keurig is a perfect fit.