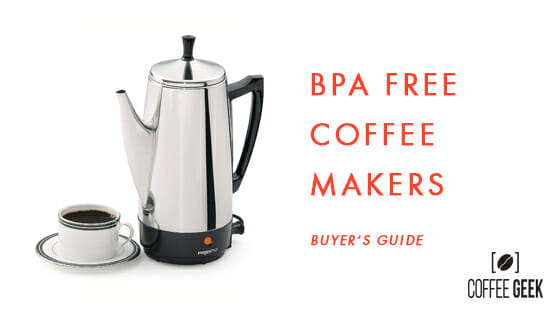 There are a lot of factors to consider when shopping for your next coffee maker, especially the durability and safety of certain manufacturing materials.
You may be concerned about health risks that are associated with certain plastic parts in coffee makers, so we've put together this list of the best BPA free coffee makers to compare and review.
---
What is BPA?
Since the 1960s, BPA, or bisphenol A, has been an integral part of polycarbonate plastic and epoxy resin manufacturing. In the case of polycarbonate plastics, the durable material it creates is frequently used for food and beverage containers.
Epoxy resins may be used to coat the interior of metal food and beverage containers in order to create a rust-resistant barrier between the food and metal surface.
BPA is a part of many other products outside of food and beverage storage, but the role it plays in that industry has come under intense scrutiny. In recent years, research shows that this chemical can wind up inside the food or beverage product it's storing.
Even though FDA studies show that the amounts at which this occurs should not pose long-term health risks for consumers, the demand for BPA-free coffee products has increased as a response to reducing exposure to chemical consumption.
e help you figure out what to look for when picking out the best BPA-free coffee maker and exactly why it matters down below.
---
Top Choice:

Presto 12-Cup Coffee Maker

Once the most popular choice for at-home brewers, percolators like this Presto 02811 coffee maker have had to give up its reigning spot on the kitchen counter to make way for more convenient and modern automatic drip coffee makers.

We think it's time to bring them back into the mainstream, especially when you're looking for an option that doesn't include plastic components in its brewing mechanism.
This 12 cup stainless steel coffee makers body, brew basket and internal spigot guarantees that what you're tasting in your cup is all coffee and nothing else.
Its brewing process operates automatically once the optimal temperature is reached, then cycles the water through the brewing basket much the same way a pour-over style brew would.
Because you aren't using a paper filter, all those flavorful volatile oils that give coffee its unique taste make it into the cup in much the same way as the French press coffee method.
Pros
The electric cord can be unplugged from the percolator base for easy storage or replacement
No need to buy additional filters with this stainless steel filter basket, much like a French press
Automatic light turns on when the brew cycle completes
Cons
It can be difficult to get the right ratio of coffee to water at first
May over-extract certain coffees due to high heat
Wet grounds can stick to the interior of the brew basket, making the coffee maker tedious to clean
---
How the Best BPA-free Coffee Makers Compare
Coffee Maker
Product
Features
Price

Top Pick

Brew Style: Percolated French Press
Brewer Material: Made of Stainless steel
Carafe Material: Made of Stainless steel

CHECK PRICE

Perfect For Specialty Coffee

Brew Style: Pour-over
Build Material: Glass
Carafe Material: Glass

CHECK PRICE

Great Price!

Brew Style: Automatic drip-brew
Brewer Material: Plastic and stainless steel
Carafe Material: Glass

CHECK PRICE

Most Consistant

Brew Style: Automatic drip-brew\
Brewer Material: Plastic, glass, and stainless steel
Carafe Material: Made of Stainless steel

CHECK PRICE

For Serious Brew Lovers

Brew style: Automatic drip coffee maker
Brewer Material: Plastic and stainless steel
Carafe Material: Stainless steel coffee carafe

CHECK PRICE

Effortless Brewing & Dispensing

Brew Style: Single-serve drip coffee brewer
Brewer Material: Plastic and stainless steel
Carafe Material: Consumer choice

CHECK PRICE

Affordable BPA-Free Option

Brew Style: Automatic drip-brew
Brewer Material: Plastic
Carafe Material: Glass

CHECK PRICE
---
How to Choose a BPA Free Coffee Maker?
Appliances like coffee makers are among the more common items that scientists suggest swapping out for BPA-free alternatives if you haven't already.
Despite the low risk that most BPA products pose for many people, you may want to minimize your exposure as much as possible for optimal health.
You're not alone. "Ignoring the effects of low doses is wrong," says Laura Vandenberg, associate professor of Environmental Health Sciences at the University of Massachusetts at Amherst.
She goes on to note that any chance of increasing your risk of developing disease is concerning. Reducing that risk, even when it's small, is a valuable goal. [1]
In practice, you choose a BPA free coffee maker for more reasons than simply being a safer alternative.
You're also looking for the same brewing capacity and quality as models made with plastics that contain BPA. Don't worry, you have plenty of options to consider.
Even though BPA free plastics are used to manufacture some of the best drip coffee makers, some people prefer to stick with glass or stainless steel appliances in an effort to preserve the purity of flavor they're seeking or peak temperature while brewing.
Our favorites include a range of products made from a variety of BPA-free materials so that you can choose what fits best for your coffee-making needs.
In the next section, we break down every detail of each of the best BPA-free coffee makers so you can make the best choice for your brew.
---
Our Review of the Best BPA free Coffee Makers
The need for convenient, quick brewing methods has led many brands to use polycarbonate plastics in the past.
Even glass, porcelain or stainless steel thermal coffee makers can have polycarbonate plastic components as part of their design.
These hard, durable plastics have a lightweight build, easy-to-clean surface and inexpensive manufacturing, and that satisfied the needs of consumers and brands alike until demand for BPA-free products changed.
Now that more BPA free plastic alternatives have been proven food-safe and durable, it's easier to find BPA-free coffee makers and accessories.
A focus on safety that doesn't compromise quality in the cup of good coffee you're drinking led to these coffee makers making the list.
You'll see classic styles in addition to trendy models in this review, plus learn about all the pros and cons of each brewer.
Check out our FAQ at the end of this review for more information about BPA risks and what you should look for in a BPA free coffee maker and accessories.
---
Chemex Classic Series, Pour-over Glass Coffeemaker, 8-Cup
Pour-over coffee makers have become a popular option for people who want to control their coffee's extraction method with precision and expertise.
This Chemex model, which is made of a non-porous glass that's easy to keep clean and odor-free, allows you to brew like a pro.
Don't let its simple appearance fool you, this is a preferred device for coffee champions around the world.
Pros
Simple to adjust brewing for minimum or maximum capacity
Cleans up easily and doesn't hold on to residue or build-up
Permanent-use filters are available instead of paper filters
Cons
May take a few tries to get the ratio of coffee to water right
Under or over extraction can happen due to inconsistent temperature changes
The carafe is not thermal and so coffee cools rapidly after brewing.
---
Cuisinart 14-Cup Programmable Coffee Maker
There's nothing wrong with wanting a conventional, 14 cup programmable coffee maker for a simple cup of coffee, and Cuisinart gets it right with this model.
You can program your desired brew time up to 24 hours in advance, plus set your brew strength preference and how warm you want the plate beneath the carafe to keep your coffee between cups.
An LED display and backlit buttons mean no more stumbling around before you're fully awake to see straight.
Pros
Gold-tone filter is easy to clean and allows for a full-flavored brew every time
1-4 cup setting for smaller volume brew cycles
User-controlled auto shutoff between 0-4 hours
Cons
Unable to change the temperature of water for brewing
The carafe is not thermal, which means coffee can cool quickly
Heating plate may alter the flavor of coffee by continuing to cook it
---
OXO BREW 9 Cup Coffee Maker
As a premium brand, OXO's quality components focus on providing you with a consistent and durable appliance rather than a flashy or decorative piece of equipment for your kitchen.
This model strikes a great balance between design and function. Thoughtful touches like a cylindrical build and stainless steel details will look stylish on the counter, but the precision temperature control and pour-over style brewing cycle will balance the flavor your cup.
Be sure check the reviews on the Oxo Brew as some people have found that plastic odors can come from the coffee maker once it's brewed.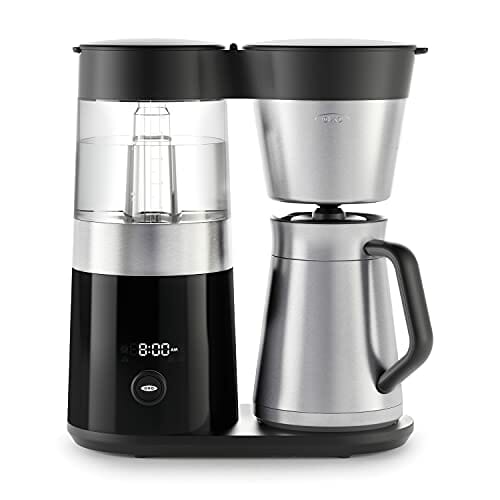 Pros
Thermal carafe keeps coffee warm without a heating plate
Clear glass reservoir makes it easy to check water levels
Showerhead style water dispenser fully saturates coffee grounds
Cons
Requires a lot of counter space and height clearance for ease of use
Smaller brewing capacity than products in the same range and style
May not be as easy to clean all components as other automatic drip coffee makers
---
Bonavita BV1900TS 8-Cup Original Coffee Brewer
It doesn't get much more straightforward than this Bonavita model.
They've designed this automatic drip brewer for the streamlined coffee enthusiast who just wants to press one button and have freshly brewed coffee in a matter of minutes.
This is a great choice for the office break room or customer waiting room where a bunch of bells and whistles aren't necessary.
The carafe keeps coffee hot for long after the brewing is done, so you won't have to fuss with brewing a new batch every time you turn around.
Pros
Showerhead dispenser and cone-style basket designed to produce optimal flavor
The internal gauge monitors water for consistent temperature
One-touch brewing ability with automatic shutoff
Cons
Creates condensation on cabinets too close to its steam vents
No programmable features available such as a timer or brew strength
No clock display or adjustable settings
---
Hamilton Beach (47950) 12 Cup Coffee Maker
If you love a single-serve style coffee maker but still need the ability to brew larger volumes than one cup at a time, this Hamilton Beach model is perfect for your needs.
By holding brewed coffee in an internal reservoir, it allows you to dispense as much as you want at a time into your cup or mug of choice.
Keep coming back for more without having to worry about a hot plate scorching your brew or a carafe dribbling all over the counter.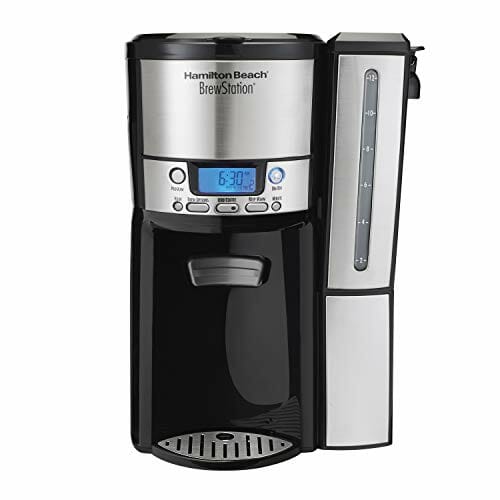 Pros
Settings allow you to brew best for hot or iced coffee servings
Choose a regular or bold brew strength
Small and large capacity brewing selections
Cons
Extended or heavy use can cause the coffee dispenser to drip
Condensation can occur due to internal reservoir remaining hot
Does not slide easily, so storage under a cabinet can be tedious
---
Mr. Coffee CG13-RB 12-Cup Coffeemaker
A classic brand and a classic build. This Mr. Coffee brewer provides all the easy cleanup and convenience that made this style of drip-brew coffee maker popular in the first place.
It may not be the fanciest model on our list, but we respect its place in the world of simple, dependable coffee makers that don't require a lot of fuss or calibration.
The Mr. Coffee model is a great fit for a small kitchen, an at-home office or for anyone who wants coffee hot, fresh and fast.
Pros
Pauses brewing if carafe is moved mid-cycle to pour a cup
Small build takes up very little counter space
Glass carafe does not retain residue or odor when cleaned properly
Cons
No display or signal for when the brew cycle is complete
Flat-bottomed brew basket sometimes produces inconsistent saturation
No automatic shutoff setting
---
Frequently Asked Questions about BPA free Coffee Makers
This may be your first time hearing about the risks of BPA in coffee makers, or you may just want to learn more about this popular industrial chemical and how it might impact your life.
Although your exposure to BPA may be minimal already, its use in popular products and food storage is widespread (2).
More awareness will help you make any choices you deem necessary to reduce your use of products that contain polycarbonate plastics or epoxy resins that might lead to higher rates of BPA consumption.
What health risks are associated with BPA consumption? 
Concerns around BPA exposure are the result of several different studies. Tests performed on urine samples and breast milk revealed most samples showed a measurable presence of BPA due to consumption.
While this did not directly correlate to any health issues, studies performed on animals have shown negative health impacts.
These findings suggest a relationship between BPA exposure and certain issues that involve the brain, behavior, hormones and blood pressure.
Children, even while still in the womb, seem more vulnerable to health risks associated with BPA consumption. 
How can you tell which plastics might contain BPA? 
Because of the growing demand for BPA free products, most brands will label their items as BPA-free if they qualify as such.
However, this might be on the packaging or instructions for the product rather than marked on the item itself.
If the product has been marked with the internationally recognized Universal Recycling Symbol, it may contain an additional resin identification code.
Products identified with a 3 or 7 may contain BPA, but not all do. A product that has a 3 or 7 identification code may still show on its packaging or manual that it is BPA-free.
Are K-cups BPA-free?
Although some K-cup pods may qualify as a #7 recyclable, Keurig states that their pods are BPA free and satisfy FDA requirements for food safety ("Facts & Questions – Keurig Recycling", n.d.).
The company states that manufacturing goals for K-cup pods include transitioning to #5 recyclable plastic entirely.
Is it more important for the reservoir or the carafe to be BPA free?
Because each of these coffee maker components comes in contact with hot water, it's equally important that both pieces are made with BPA-free products.
Manufacturers are likely to make this decision easy for you, however. Unless specified otherwise, it's far more common for the entire build to be made without BPA than it is for some parts to contain it while others do not.
The concerns around this chemical go beyond how plastic degrades over time and with exposure to high heat.
The studies that have shown the potential risks of BPA consumption include samples where the leaches into the food product simply by coming into contact with it.
While there is a higher risk associated with heat, contact with food and beverage at any temperature carries some chance for consuming BPA.
What other coffee brewers and accessories should be BPA free?
While studies show that heat isn't necessary for BPA to leach from plastic into food and beverages, an increase in temperature does cause the plastic components to break down more quickly.
This creates a potential for a higher consumption rate and many experts advise avoiding heated use of BPA products if their use cannot be avoided entirely.
With that in mind, it makes sense that any accessory or tool you use in addition to a coffee maker should be BPA-free, especially if it comes in contact with freshly brewed and hot coffee.
Plastic spoons, travel mugs, disposable or recyclable cups and steaming pitchers are a few examples of accessories you should consider keeping BPA-free, as well.
Many small, inexpensive at-home espresso machines and coffee grinders have plastic components as part of their build, too, so you should check to make sure those pieces are made without BPA in order to be safe.
Some packages and containers for coffee beans or ground coffee may use BPA polycarbonate plastic or epoxy resin unless state otherwise.
---
Editor's Choice – The Bonavita BV1800SS 8-Cup Coffee Brewer
Being a lover of best brewing techniques, my choice goes to the Bonavita model.
They've designed this automatic drip brewer for the streamlined coffee enthusiast who just wants to press one button and have freshly brewed coffee in a matter of minutes without sacrificing flavor.
We highly recommend you read more here on the The Bonavita BV1800SS as you'll pleasantly surprised hearing the reviews from others who've been more than happy with this great coffee maker.