Buying a siphon coffee maker is one way of transforming an ordinary coffee geek from the school chemistry lab into a mad scientist capable of brewing extraordinary coffee.
It's also an exciting and terrifying process considering how many differences there can be between one vacuum coffee brewer and another.
You'll need to ask yourself some important questions about what you need from your setup in terms of durability, ease of use, and price; as well as look into other supplies you may need.
With this guide, not only will you learn how to shop for the perfect siphon coffee maker that fits your exact needs, but you'll also learn about what exactly this crazy-looking machine is and how to operate it smoothly.
After that, the coffee geeks in our office have created a list of our top picks for the best siphon coffee makers for your perusal.
---
What is a siphon
coffee maker?
Siphon coffee makers look like they came straight out of a steampunk novel and into the hearts of coffee lovers.
A siphon coffee maker, a.k.a. a vacuum coffee maker uses two chambers and often looks like a chemistry lab setup.
These coffee brewing apparatuses are a great way to make a smooth and quality cup of coffee while adding an awesome aesthetic to your home barista station or coffee shop.
---
How does a siphon
coffee maker work?
A vacuum, or siphon coffee maker uses two chambers, or pots, (top and bottom), gravity, and vapor pressure to brew coffee. The process will go a little something like this:
First, you will heat water in the bottom chamber usually by using a butane burner.

The vapor pressure will force the water from the bottom chamber into the top chamber. At this time you will add a fine coffee grind to the top chamber.
You will then occasionally stir the coffee grind and

water mixture

(with the heat still on). Once the coffee is finished brewing (completely dependent on the home barista and the model of machine) you will remove it from the heat source.

The last step is to siphon the brewed coffee through a strainer to the lower chamber where it will be ready to serve.
This brewing method is actually a lot easier than it looks and vacuum coffee makers are actually super easy to clean!
What are the advantages and disadvantages of siphon coffee makers?
Siphon coffee makers are a great way for any coffee lover to get a quality brew from an easy-to-use system.
This brewing process is hands down one of the best ways to get a great quality cup of coffee using minimal technology, especially when compared to a French press.
A few advantages to the siphoning process are:
Cloth filters, meaning they are reusable and inherently eco-friendly.
Great quality coffee from a low technology coffee brewer.
Easy to clean due to the simple setup.
A vacuum coffee brewer may be sounding like the best thing out there, but it comes with some disadvantages as well:
It's very delicate due to the borosilicate glass chambers.
It's not very easy to store so the siphon coffee brewer may not be the best for a small counter space.
The price may be a little too expensive for most people.
The process isn't great if you are a

multitasker

short on time as the process requires you to monitor it throughout.
---
Is siphon coffee better?
Yes, siphon coffee makers are what is called a "full immersion" brewing system.
This means that the constant heat source (butane burner) creates a vacuum internally that will move the water between the chambers.
The biggest advantage of this process is that the water will never reach boiling which is what causes the coffee to fall flat and lose all those beautiful subtle flavors.
This method allows the beans to steep properly in water at a constant temperature, increasing coffee quality by allowing the more aromatic and delicate nuances of your coffee beans to flourish.
Avid coffee drinkers will notice a substantial difference in their coffee-making experience as the quality of their ground coffee will seem to go up substantially almost immediately with the use of a siphon brewer.
---
What are the main features
of a siphon coffee maker?
The four main unique components of vacuum brewers that set them apart from other brewing systems are:
The lower chamber, which is where the water goes first and where the brewed coffee will be (the size of this will determine the cups per brew).
The top chamber which has a tube attached and also where the coffee brewing will take place.
Some sort of sealing agent,

usually a gasket

, to help make that vacuum brewer magic happen in the lower chamber.
Cloth filters or some other sort of filter usually one made from paper, metal, or even glass.
---
Top and bottom chamber
These components are typically made of heat resistant borosilicate glass while some others are a combination of glass and stainless steel.
This heat resistant technology allows the stovetop siphon to sit atop an open flame for a longer period of time without shattering.
It is extremely important that you check to make sure the chambers of the unit you are purchasing are made with heat resistant materials.
Heat resistant glass is something that you will need to look out for as a buyer as there are some cheaper "off brand" siphon coffee brewer copycats that do not have this feature and shatter under the heat.
---
Glass/metal/cloth filter
Filter choice is entirely personal, many people choose to use glass and metal filters but a cloth filter is also fairly typical for a glass stovetop coffee siphon.
This type of filter is easy to use with the glass siphon because it's difficult to accidentally break the chamber when the filter isn't hard like metal or glass.
It's important to also consider what material the sealers for the entire unit are made of, are they metal? silicon?
These filters are also eco-friendly because they are reusable and oftentimes are better at filtering the coffee grounds.
---
Consistent heat source
The vacuum brewer also features a consistent heat throughout the entire experience. This is either through a butane burner or an alcohol burner.
These are the same types of burners used in chemistry labs as they provide the most control over temperature and consistency.
Temperature is one of the key elements of brew quality so making sure that you have a consistent heat source is important to the control over your brew.
Keeping good control over the temperature of your brewing process is one of the most unique features of a vacuum brewer.
An alcohol burner can be more dangerous than a butane burner as it requires you to pour denatured alcohol into a burner and then light it.
There is a huge risk to the alcohol burner and if you are especially clumsy it may be better to go with the butane option even if it is slightly more expensive.
---
What type of coffee grounds
does a vacuum coffee maker use?
Each siphon maker will be a little bit different depending on which filter type you choose and how strong you want your coffee to be.
Start by grinding your coffee grounds to be the same coarseness as a standard drip-maker would use. You can then alter your grind size based on the problems you see.
Finding grit in your coffee: adjust the grind size to be coarser
Grinds clog in the filter as it drips into the lower chamber: adjust the grind size to be more coarse
Coffee tastes too weak: adjust the grind size to be finer
Coffee pours very quickly and unsteady: adjust the grind to be more fine
Using a dark, medium, or light roast is an entirely personal preference and has no effect on the quality of the coffee you will be brewing, just personal preference for taste.
---
How to choose the
right siphon coffee maker
Choosing the best siphon coffee makers can seem like a difficult task, but it is only as difficult as coffee-making itself.
Many people are intrigued by siphon coffee makers because of their aesthetically unique design.
The inner mad scientist wants to break free and create mad coffee concoctions for all to feast on, but what exactly is it that you need to look for in a siphon coffee maker?
From coffee filter type to heating sources and cup capacity, siphon brewers have a lot to consider. But, fret not! For we have created the one and only buyer's guide you will ever need to determine which siphon brewer is best for you.
---
Buyer's guide to choosing
the right siphon coffee maker
Choosing a great vacuum coffee maker will require you to think not only about how you want it to appear in your space, but what you need it to do.
Vacuum coffee makers have a wide range of components and purposes. To determine the best siphon coffee makers we will use four key elements:
The Best S
iphon Coffee Makers – Our Comparison
Coffee Maker
Product
Features
Price

Editor's Choice

3 cup capacity 360ml
HARIO heat-resistant glass in japan
Easy to use
Easy to Clean
Design in Japan

CHECK PRICE

Runner Up

The Bodum PEBO is extremely easy to use
Helps you make coffee like a pro
Aesthetically pleasing
Stovetop heating source

CHECK PRICE

5-cup capacity
Compact design
Can use glass/metal/cloth filters

CHECK PRICE

Compact, minimalist style
Stovetop heating source, no need to buy an external one
8-cup capacity
Ability to choose between metal/glass/cloth filters

CHECK PRICE

The aesthetics are straight out of a different time period
4-cup capacity
Unbreakable stainless steel water reservoir

CHECK PRICE

Silicon grip handle
Thick, non-breakable glass
Comes with accessories

CHECK PRICE
---
1. HARIO Technica Three Cup Coffee Siphon – Our top pick
The Hario Technica coffee maker is the best siphon maker of 2021 for us here at Coffee Geek.
This siphon brewer is easy to use and easy to clean and it isn't too bad on the pocketbook or the eyes.
This Hario Technica unit comes with an alcohol burner but no fuel. This coffee maker has a 3 cup capacity as well, making it easy to brew multiple cups at a time.
Hario Technica coffee has really put their best foot forward with this unit.
The Hario Technica 3-cup Siphon comes with: an alcohol burner, a lower and upper chamber with the capacity for three cups of coffee and a silicone gasket in between the two chambers.
It is important to note that the alcohol needed for the burner and extra wicks are not included.
The filter is also not included but can be bought together with the item here.
Pros
Minimal aesthetics
3 cup capacity
Standalone unit to save on counter space
Lower price
Cons
Comes with an alcohol burner, but can be replaced with a butane option.
---
2. Bodum K1218-16 PEBO Vacuum Coffee Maker – The runner-up
The runner-up to the best siphon coffee maker of 2021 is the Bodum PEBO.
If you are a Bodum fan then the PEBO is a great choice for a lot of reasons.
For one, the heat-resistant glass of the Bodum PEBO is not only aesthetically pleasing but durable in the face of heat.
It also doesn't require an external heating source as it is a stovetop brewer.
The brewing time and temperature are perfectly calculated to ensure the best immersion every time.
It allows for versatility in your choice of filters as well.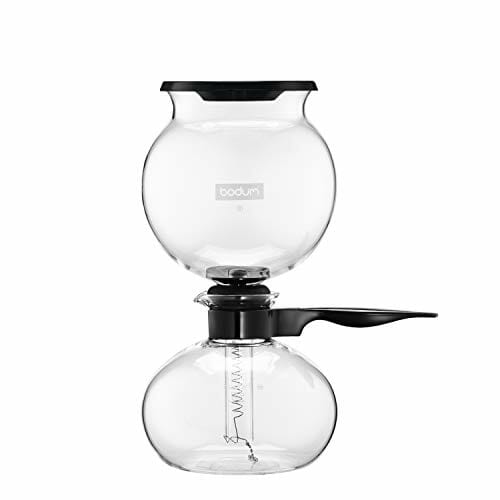 Pros
The Bodum PEBO is extremely easy to use
Helps you make coffee like a pro
Aesthetically pleasing
Stovetop heating source
---
3. Kendal Glass Tabletop Siphon Coffee Maker – The other runner-up
Another runner-up on our list is the Kendal glass tabletop coffee siphon.
This is a great vacuum coffee maker that can deliver 1 cup of coffee or 5 depending on your coffee needs.
The upper and lower chambers are made of glass and there is a silicon stopper in between them to make sure that your fine coffee grounds don't make their way around the filter.
Pros
5-cup capacity
Compact design
Can use glass/metal/cloth filters
Cons
Tabletop design uses alcohol for the burner
Enables for total immersion brewing
---
4. Yama Glass 8 Cup Stovetop Coffee Siphon – The compact choice
The Yama glass stovetop coffee siphon is our top pick for anyone looking for the perks of a stovetop siphon brew but without all the space required of a more aesthetically decadent unit.
This stovetop brewer has a great capacity for how compact it is with a full 8 cups, especially when compared to the Yama glass tabletop option which only holds 3 cups.
The Yama glass stovetop coffee maker makes pretty good coffee as well.
However, the Yama glass stovetop siphon is a little more fragile than we would like it to be.
Pros
Compact, minimalist style
Stovetop heating source, no need to buy an external one
8-cup capacity
Ability to choose between metal/glass/cloth filters
Cons
Very fragile as the whole unit is glass and there is not a stand.
Coffee may not be as quality as another vacuum coffee maker
---
5. Nispira Belgian Luxury Balance Siphon Coffee Maker – The real conversation starter
As far as vacuum brewers go towards being the one item in your kitchen that can start a conversation about mad scientists and steampunk overlords, the Nispira Belgian Luxury Balance siphon coffee maker is the premium "one".
This is one of the only vacuum brewers that we suggest that has a stainless steel lower chamber with a 4 cup capacity.
This is one of the vacuum brewers on our list that we would recommend using the alcohol burner with to retain the old timey aesthetic as well as keep the heating consistent and allow for the total immersion process to flesh out.
Not many coffee makers brew as interestingly as this unit.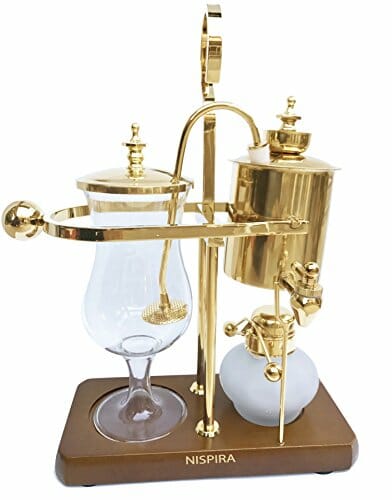 Pros
The aesthetics are straight out of a different time period
4-cup capacity
Unbreakable stainless steel water reservoir
Cons
Heat source uses alcohol
More expensive than other vacuum coffee makers
---
6. Hario Glass NEXT Syphon Coffee Maker with silicone handle, 5-cup – The honorable mention
This Hario Technica coffee siphon is also worth mentioning because of its larger size and inclusive burner.
This is the bigger brother of the Hario Technica coffee maker we mentioned earlier.
This coffee maker has a grippy silicone handle to make sure that you don't lose your grip on the fragile glass chamber.
It also has a 5-cup capacity to fuel you and all your friends or customers.
This hefty unit also has really thick glass that doesn't feel like it will shatter in your hands.
It also has the burner included, the downside is that it runs on denatured alcohol, so not for any clumsy people.
This unit also comes with a plastic measuring cup and a stirrer so there is no need to buy your own.
The major benefits of this particular vacuum brewer is that it comes ready to go (minus the fuel) and makes a solid cup of good coffee.
Pros
Silicon, ergonomically-designed grip handle
Thick, nonbreakable glass
Comes with accessories
Cons
Burner runs on alcohol
More expensive, but justified if you plan to brew more than five cups
---
Is a Siphon Coffee Maker
Better or a Moka Pot?
A Moka pot is a very interesting device and it uses vacuum pressure just like a siphon but there is one major difference: it uses boiling water.
Moka pots can produce very strong espresso but it will never be as clean and aromatic as what the siphon can produce.
The total immersion brewing method of a siphon coffee maker allows the consistent heat to fully develop all the finer notes of the coffee beans.
In summation, the iconic stainless steel Moka pot uses boiling vs. the vacuum method of the siphon coffee makers.
---
The Editor's Choice-
HARIO Technica 3-cup Siphon
Hario Technica has been a long-time big name in the coffee-making game.
Their siphon brewer is just another instance of their excellent quality and value which is what make's it our editor's top choice.
This 'made in Japan' brand has come up with a durable, quality, and economical option for the trendy siphon coffee maker.
Common Questions
Is a siphon coffee maker worth it?
A siphon coffee maker, also known as a vacuum coffee maker, can be worth it if you enjoy the unique taste and brewing process of siphon coffee. Siphon coffee makers are known for producing a clean and flavorful cup of coffee, but they can be more expensive and require more time and effort to use than other brewing methods.
What are the different types of siphon systems?
There are two main types of siphon systems: the traditional siphon system and the electric siphon system.
The traditional siphon system, also known as a stovetop siphon, uses a heat source such as a stovetop or alcohol burner to heat the water and create a vacuum that draws the water through the coffee grounds and into the upper chamber.
The electric siphon system, also known as an automatic siphon, uses an electric heating element to heat the water and create the vacuum. This type of siphon system is typically easier to use and more consistent than the traditional stovetop siphon.
Why does siphon coffee taste better?
Siphon coffee is known for its unique taste due to the brewing process. The vacuum created during the brewing process allows for heat to transfer quickly and evenly through the coffee grounds, resulting in a more balanced and flavorful cup of coffee. Additionally, the brewing process helps to remove any bitter or unpleasant flavors, resulting in a clean and smooth taste.