So, you're looking for the best coffee subscription box to meet your caffeine needs on a daily basis with super quality coffee and not have to think!
A coffee subscription box is perfect for both coffee geeks, coffee drinkers that have a hard time making decisions, and also those, that want it all, and they want quality.
Coffee subscription boxes also work great as a gift! If you go for a coffee subscription, you will get different coffee samples from all around the world, in the time, frequency, and amount of your liking. And straight to your doorstep.
We can divide coffee subscriptions by:
type
level of customizability
---
Best Coffee Subscription Boxes –
Comparison of all Reviewed Products
Coffee Subscription
Product
Features
Price

Single-origin coffees
They support farmers
Prices start at $17
You create your "coffee playlist", but sampler pack is available, too
They offer option for offices, too
Not for people that are not sure what they want
Ships to US only

CHECK SUBSCRIPTION

Aussie roasted
New roaster every month
Prices start at $25/month
Ships worldwide - only free in Australia
Both whole beans and ground coffee available

CHECK SUBSCRIPTION

One of the top US roasters
Single-origin and blends available
Prices start at $15
Both whole bean and ground coffee available
Free shipping

CHECK SUBSCRIPTION

For animal lovers - every purchase supports pups from animal shelters!
12 options to choose from - both blends and single-origin
Monthly subscription costs $15-45
Whole beans, ground coffee and pods
Good cause: a monthly subscription pays for 200 doggie meals
You can swap subscriptions
Great as a gift
Ships to the US, Canada, Australia, and the United Kingdom

CHECK SUBSCRIPTION

Option for your office
Coffee from best small roasters, such as Blue Bottle from this list
Pricier: prices start at $75 but they even teach the staff to use the equipment
Full-service
Only in Los Angeles, New York, and the Bay Area

CHECK SUBSCRIPTION

Organic, fair and direct trade coffee roasted in Fort Wayne
Starts at $18.99
You can pick roast, frequency, number of bags
Shipped fast, within 2 hours of roasting
Free shipping

CHECK SUBSCRIPTION

Gourmet single-origin coffee
More than 70 coffees to pick from
Prices start at $13
Discount for first shipment
For lovers of lighter roasts
By rating the coffee you shape your subscriber profile
Ships to US, Canada, few international locations

CHECK SUBSCRIPTION

3 options: small batch coffee, single-origin, and signature blend
Prices start at $16
A quiz can help your decision
Ships to US, Canada and a few international locations

CHECK SUBSCRIPTION

Prices start at $10 and go up to 25
Both blends and single-origin plans
Price-match guarantee
You can ask them to grind the coffee
A survey helps your decision
Roasted in small batches
Shipping to 180+ coffees

CHECK SUBSCRIPTION

Certified organic coffee
Organic roaster from North Carolina
Sampler of 5 packs for $5, whole beans start at $18
Healthy option (lab-tested) with antioxidants
Ships internationally
Decaf and single-serve pods available
Free shipping only on US orders over $50

CHECK SUBSCRIPTION

New roaster every month
They support a cancer charity, and farmers, too
Prices start at $19
Educational, you learn about the coffee
You get a countdown till the next coffee selection
You can select the roast
Ships internationally easy ordering and payment

CHECK SUBSCRIPTION

Editor's Choice

Best single-origin beans
Popular for freshness of roast
Beans from all over the globe
Comes with a postcard, brewing and tasting tips
Prices start at $9
List Element
First bag is free, you just pay the shipping

CHECK SUBSCRIPTION

Prices start at $16
Week/two-week/monthly rotation
Fairly simple
Not that customizable
Only whole beans and blends
Only in the US and free shipping on orders of $65 and above

CHECK SUBSCRIPTION

Huge selection
Prices start at $10.99
Fun packaging and blind tasting cards: great for parties
You never get to taste the same coffee twice
Ships to Canada and US only

CHECK SUBSCRIPTION

Sustainable coffee, some coffees are organic
Both blends and single-origins
All whole beans, except single-serve
They donate to local communities
Decaf and biodegradable pods available, too
Free shipping for USPS Flat Rate single orders
Compostable packaging

CHECK SUBSCRIPTION

From Kentucky
Fair-trade and organic coffee
Both ground and whole bean coffee
Decaf available
Shipping included

CHECK SUBSCRIPTION

From California
2 bags of single-origin coffees per month for $28
Very sustainable: goal of running on renewables by 2025
You can also subscribe to 1 kind of coffee
Ships internationally

CHECK SUBSCRIPTION

Ethic and organic coffee
Prices start at $8
You can try it for free (just pay shipping)
Eco-friendly packaging
Decaf subscriptions available
Ships internationally (check their list of countries)

CHECK SUBSCRIPTION

Coffee from top 50 US roasters
Prices start at $10.95
A quiz helps you pick the best subscription and coffee
Both single-origin and blends available
Quiz+brewing instructions make it a user-friendly choice

CHECK SUBSCRIPTION

Best for samplers
Roasters from Seattle and Portland
Ethical coffee
Prices start at $5 for a tasting kit, 16.50 for a subscription
Eco-friendly packaging
Starter kit costs only $5
Free trial box
Free shipping

CHECK SUBSCRIPTION

Best Sustainable Sources

Fair-trade
Family-owned small business
They support farmers
Bags of coffee are personalized
Sustainable packaging
A modern app lets you rate coffees
Office subscription available
Ships to 40+ countries

CHECK SUBSCRIPTION

400+ types of beans
Easy to find your "style"
Prices start at $12.50
Variety of options
Simple quiz helps you to find the perfect match
Free shipping

CHECK SUBSCRIPTION
Types of roaster
coffee subscriptions
There are single and multiple roaster coffee subscriptions.
Single roaster coffee subscriptions contain freshly-roasted beans of coffee from a certain roaster, often from one location or coffee farm. They are also called single-origin coffee subscription boxes.
Many coffee lovers opt for them, because of the consistent quality of beans, and ecological and social responsibility aspect: supporting small coffee farmers, that (often) grow organic top-notch coffee beans.
Multiple roaster coffee subscriptions offer a selection of several coffee roasts from several places.
---
What can you
customize?
If you know what you like, pick a coffee box of that type. They are sometimes called "coffee of the month." You can even get a big bag of coffee every month.
If you are not sure or want to try new coffee each time, go for one of the subscription boxes that ships new coffee/coffees to you every month.
Many companies gather the feedback of coffee lovers via a fun questionnaire and tell them what coffee subscription they might like, for example, Blue Bottle Coffee, or Peet's Coffee.
Often, you can switch varieties, too, when the coffee subscription is already running (this usually does not apply for gifted subscriptions), and even cancel it.
When talking about type, the good news is that most of the coffees offered in the subscription boxes are fair-trade, organic, and coffee roasters inform you how they support local coffee farmers and communities.
So you can drink "a responsible cup." One coffee box from my list of best subscriptions even supports animals in shelters.
"Monthly" is the most popular frequency, however, there are some bi-weekly or weekly subscriptions. I think even for a die-hard coffee drinker, a monthly subscription is the best. But what amount?
Depends on how much coffee you drink. Open bag of beans is good for 2-4 weeks tops. Bear that in mind and check the amount of coffee bags in the subscription, and how big are they.
Blue Bottle Coffee, for example, lets you select between the half bag, one bag, double, or triple bag, and also the frequency.
Talking about packaging, it should have a good seal. Best coffee subscription boxes are sustainable and ecological. I also included a few sustainable coffee subscription boxes for eco coffee lovers in this post.
I strongly advise everyone to buy whole bean coffee but if you will go for ground coffee, you can pick your preferred coffee grind type and size. Beans are roasted on order, and often you can select your preferred roast type, too.

Delivery fee and delivery time are important, too.
---
Where to Order
Coffee Online?
Best coffee subscription boxes can be found online, just make sure the coffee company you picked ships to your country and check the delivery time.
I have compiled a handy list of the best coffee subscriptions for coffee drinkers.
Plenty of coffee companies also offer free shipping or let you order a free first box: "tasting kit" or a "sampler pack" to test the waters, in case you will have a hard time deciding if this or that coffee subscription is a thing for you.
---
How to pick the best
coffee subscription box?
Pick a coffee subscription that is roasted to order, and fast (JavaPresse Coffee and Atlas Coffee Club are famous for being fast) and shipped out fast (ideally within 24 hours), and either let you take control over what is inside the subscription box, or helps you decide by filling out a survey.
From one coffee lover to another: these are the best coffee subscriptions out there:
---
More on the Best Coffee Subscription Boxes
1. Atlas Coffee Club
Atlas Club is a very popular choice of subscription coffee. Why? Its single-origin coffee beans are carefully selected from all around the world and beautifully presented.
As a member of Atlas Coffee Club, you can connect with exotic and amazing coffee places via 12oz of gourmet beans a month, that are fresh thanks to last-minute roasting, fast shipping, and additional handy material in the box.
It does not only presents the destination to you but also how the coffee was processed. You will also get a brewing manual and coffee flavor profiles.
For example, Atlas Coffee medium roast from Burundi has notes of dark cherries.
You can select coffee of the month or scroll through the selection of their best coffees, pick your roast, and grind.
A single bag of Atlas Coffee is good for 30 cups of coffee. Atlas Coffee Club is roasted to order and ships within minutes-hours of roasting!
---
2. Trade Coffee
Trade offers coffee from more than 50 roasters – to be exact, over 200 blends and 200 single-origin.
Yes, over 400 beans to try out! They make it easier for you and prepared a short survey, that will offer you coffee based on your preferences and taste.
If you sign up, you get free shipping. Plus, if you subscribe to 2 bags of coffee, you save more.
I tried it out for you and got recommended a smoky Indonesian Caffe Luna dark roasted whole beans for the pour-over method.
It is shipped within 24 hours of roasting. Not too shabby, not too shabby at all.
Get 30% Off Storewide on your first purchase here of you can check my Trade Coffee review here for more.
---
3. Driftaway Coffee
Driftaway is a small business offering farmer-focused, single-origin coffee from around the world, that is organic, fair-trade, and even Rainforest Alliance-certified.
Apart from this, I like that the coffee packaging is compostable and they present their farmers.
They also developed an app that lets you rate coffees and ergo shape your coffee subscription.
They are really modern, communicate via online chat, and even organize Covid-safe coffee tasting parties.
Every coffee subscription starts with a tasting kit of 4 bags, followed by 11oz/16oz bags delivered every week, every two weeks, or monthly.
Your choice. They roast coffee beans every Sunday and ship every Monday. I would say that it is my second favorite option after Atlas Coffee Club. Do check my Driftaway Coffee review out!
---
4. Bean Box
Do you like amazing coffee from the Seattle area? It is not only home to the first Starbucks Coffee ever and numerous hip coffee houses, but also the Bean Box roasters cooperative.
It is where they roast their ethical whole coffee beans on order (they use several coffee roasters.) I like their eco-friendly packaging and the fact that it is very affordable: just 5 dollars for a starter kit.
If you will like it, 4 artisan coffees per month cost only something above 16 dollars and you will get to pick your roast level and preparation.
Get $5 Off your first purchase here or read our Bean Box Subscription review.
---
5. MistoBox
Fill a visual quiz out (black/cream/sugar…, select your roast, grind, and type of coffee: espresso, blend, decaf, or single-origin.
Your MistoBox will arrive every week-month. MistoBox works with 50+ best coffee roasters in the US, offers almost 600 coffees, and their website and user experience are pretty neat, you even get a personal coffee guide!
You can manage your MistoBox coffee subscription with Alexa, as well. "Alexa! MistoBox! Presto!"
---
6. Blue Bottle
Two other coffee bloggers named Oakland's Blue Bottle coffee subscription box contradictory "a home delivery" and "for true coffee snobs" – I think it is a bridge between them.
You can do their survey if you need help in deciding what coffee subscription is the best for you or pick the ethical and organic coffee you think/know you'd like.
They offer blends and single-origin coffees and with a free first box (you only pay for the shipping), I think Blue Bottle Coffee is more than worth the shot.
Many other companies from our list even use Blue Bottle to roast their beans, for example, Joyride Coffee.
When I looked for a Cold Brew, strong and dark nutty coffee, I got 2 recommendations: Giant Steps and Bella Donovan.
From all the quizzes and surveys, I enjoyed this quiz the most and I think I got the best coffee match.
---
7. Black Oak Coffee Roasters
If one bag is not enough, check this freshly roasted coffee subscription. Subscription from Black Oak Coffee Roasters is a monthly one, roasted in the house.
This coffee subscription ships within 24h of roasting. Almost half of their coffees come from East Africa, and it is ethically sourced.
You get 2 bags of coffee every month and they promise that at least one coffee will be new for you.
Every month they publish these two coffees, so you know what you get.
Plus, their single-origin coffee even won some awards, for example, America's Best Espresso 2017, and their head roaster Steve Cuevas is a US Champion in coffee tasting so it is a safe bet. If you will select Black Oak Tasting Club, you get free shipping, too.
---
8. Carabello Coffee
There are several Carabello subscriptions: roasters choice, coffee of the month, signature blend, espresso, decaf organic Mexico coffee, and gift ones (I do not go deeper into gift coffee subscriptions since 99 percent of the companies offer them.)
Carabello Coffee, with a tandem bike in their logo, is a fair-trade and organic coffee, that also tries to be socially responsible and give back to communities.
They specialize in blends. Their espresso coffee subscription, for example, is a blend from Nicaragua and Guatemala.
And as a member of Carabello Coffee Club, you will get an exclusive coffee offer on the first Wednesday of every month"
---
9. Counter Culture
Counter Culture Coffee offers some of the best blends and single-origin coffees that are sustainable, and few are even organic.
You can also subscribe to decaf or biodegradable coffee pods. However, there is no survey available so I would not say it is that good for total novices/"Libras" that hop from one decision to another.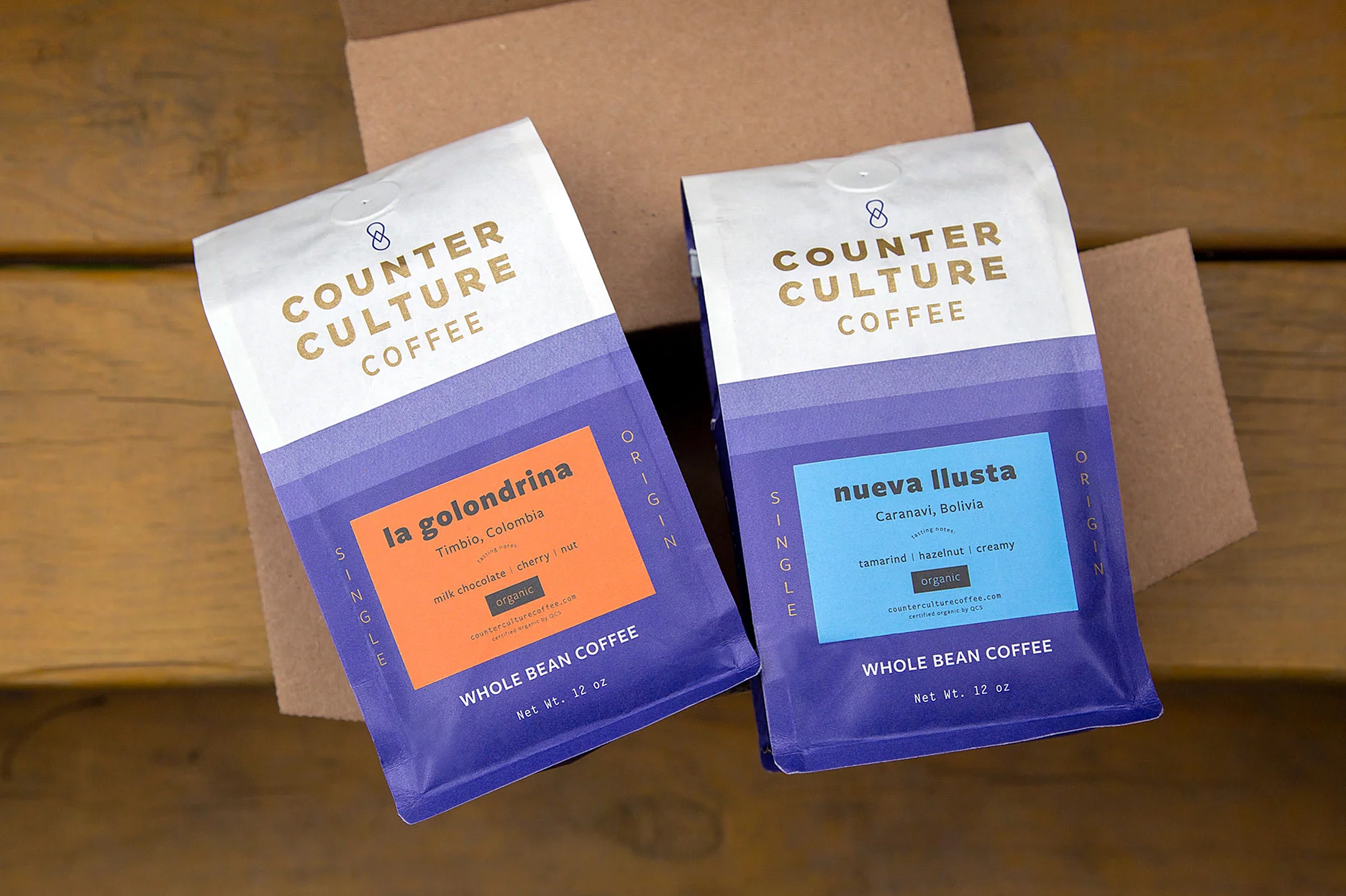 I do like that taste notes are mentioned and you can order as many as 4 bags every week, two weeks, three weeks, or every month.
All roasted to order, of course. I also like that they refuse to grind the coffee… get the grinder, you will not regret it!
---
10. Angels Cup
Is coffee a piece of heaven in a cup for you? If you like simple coffee subscription options, Angels Cup is a match made in heaven!
You only select a type of roast, whole bean vs grind, and receive 1 bag or 4 unique coffees weekly, every two weeks, every 3 weeks, or every 4.
Selections looking tiny? Worry not, they work with over 200 roasters and offer 500+ unique coffees.
I like the blind tasting cards they include in packagings: make for a fun game.
They ship on Wednesdays and their Cupping Flight sample kit has 4 1oz samples, and The Black Box Subscription has four 2.75 oz samples.
---
11. Heart Roasters
If you are based in the US and are ok with blends, open your heart and mind and let me introduce a subscription by Heart Roasters.
They do not promote themselves as fair trade, but some of their coffees are organic. They also grind the coffee but as mentioned before, I strongly advise you not to ask them to do it.
Do it yourself :) Their website is simple so no coffee lover should have an issue with placing a subscription order.
One minus- free shipping limit is the highest from this list: on orders of $65 in the United States.
They roast their coffee Sunday-Friday and ship on Tuesday or Friday.
---
12. Crema
Do you enjoy crème de la crème single-origin coffee? Crema coffee subscription, roasted on order in the US, offers several samples (3 packs of 4oz for about 20 bucks) or you can simply "add your favorite coffee to the playlist" – I love how they divide coffees by notes and roasts and even show the notes by pictures of cherries, or chocolate.
Very user-friendly. Interesting fact: they decided to stay off social media and explain the reason on their website.
Amazing coffee and admirable promise.
---
13. Brothers Coffee
Would you like to try a new roaster every month? Their website even includes a countdown till the release of new coffee!
Brothers (and sisters), join me in a short review of Brothers Coffee: it is ethically sourced, so just sit down, relax and select the size (a 12-ounce bag, or 2 or 3 unique ones) and type of roast you prefer.
The minus is that they only offer a monthly coffee subscription, and it looks like they are not officially organic or fair-trade, but they do support coffee farmers.
You can also recommend your favorite coffee roaster to them! Plus is that you get about the same amount of information as with Atlas Coffee, minus the postcard and fancy prints, and with every subscription purchased you support a cervical cancer charity.
---
14. Purity Coffee
The name of this coffee says it all. Purity is organic, pesticide-free coffee, plus they test for mold and mycotoxins.
The presence of mycotoxins means that the coffee was contaminated with toxic fungus.
"Ain't Nobody Got Time for That!" Purity Coffee also claims that it contains 2x more antioxidants than other coffees.
As I mentioned in my Organic Coffee post, antioxidants are good for weight loss, or cancer and diabetes prevention.
---
15. Craft Coffee
With Crafty Coffee, you can either get a subscription or a sampler pack. If you go for one of the subscription boxes, you can easily personalize it by filling out a survey.
The first question is: What is your favorite coffee. If you do not know or it is not on the list, you can skip it, and get a Throwback Blend.
They always have single-origin coffees, decaf, and previously mentioned 3-roast sampler options. Their coffee packaging is rarely simple but at least it looks recyclable. Again, you are advised not to, but you can get ground coffee.
---
16. Peet's Coffee
Peet's Coffee has 3 subscription options available and a quiz that helps your decision. Single-origin comes from a certain place in the world, for example from Sumatra or Ethiopia (different every month.)
Small batch is the priciest option (but the difference between all of them is 1 dollar) and includes only the best beans available, for example, Arabian Moka from Indonesia; while Signature Series includes those beans, that made the brand famous – for example, the Mocha-Java mix.
Pick, and select your grind.
Read our Peet's Coffee Subscription review here.
---
17. Moustache Coffee Club
This niche, specialty coffee is one of the best options out there for lovers of gourmet coffee from around the world.
Moustache coffee subscription has more than 70! However, according to reviews, it is for people that prefer light and medium coffee roasts.
Whenever you rate the coffee you received, you shape your profile for the sake of future deliveries.
There are 2 sizes, 6 or 12-ounce, and several frequencies: weekly, biweekly, or monthly. Good news: You get $10 off your first box!
---
18. JavaPresse Coffee
JavaPresse is a famous name. It is pricier than most of the subscriptions from my list, so what will you get every two weeks or once a month?
Coffee from their subscription boxes is ethical, organic, fair-trade, and direct-trade. However, they only offer blends, medium/light/dark roasted 12oz bags.
All of them are whole bean bags, after all, JavaPresse themselves make a decent grinder :) A big plus is that they promise to ship within 2 hours of roasting!
---
19. Joyride Coffee
Do you want to get a coffee subscription for your office? Apart from Diftaway and Crema, Joyride offers this option too.
Logically, the price is higher ($75 and more) but they provide training and guidance for the office staff.
Apart from the best coffee (even cold brew!), they can provide kombucha or tea. It is quite sustainable, they only work with roasters within 50 miles.
The minus is that this office coffee subscription is available only in 3 locations in the US: LA, NY, Bay Area.
---
20. Grounds and Hounds
Do cups of coffee bring as much joy to you as pups do? Look into Grounds and Hounds subscription, with around 12 options to pick from, with fun names such as Belly Rub Blend, or Good Boy.
Their story started when the founder adopted a doggo. I love that.
Now, you can pick from whole beans, ground coffee, or pods (100% recyclable) and when you click through the order, their website will show you how many bellies of good boys you'll help to fill.
---
21. Verve Coffee
Verve is a top US coffee roaster, even Mistobox uses them. They are present in the US and Japan, but unlike many other "contenders" on this list of best subscriptions, they do not offer any survey or quiz to help you.
You can customize your coffee order by type of beans (single-origin or blend), roast, country of origin, or type of coffee you want to make (for example espresso or French Press.)
Decaf coffee is available, as well. Verve goes by the motto: go big or go home. They offer a 12oz bag, two bags, or a kilo bag of coffee.
---
22. Three Thousand Thieves
I love the name of this Australian brand that ships worldwide.
If you pick this subscription, you will get coffee from a new roaster every month.
You can customize the type of coffee (decaf/espresso beans), grind size, and split your order into 250g/500g/1kg (great if you want different grind levels), but that is all.
If one "This Month's Feature Coffee" is not enough, check contenders above that offer more.
---
So, what is
our verdict?
Atlas Coffee Club subscription is our Editors' Choice. Why?
freshly roasted coffee

a selection of the best single-origin coffee from all over the world

both half and single

coffee bags

available

you can select your roast and grind

beautiful packaging, including a postcard and educational coffee materials
If you want to prefer family-owned, small businesses, check out our runner-up, Driftaway Coffee. If you want the biggest selection of beans there is, we can recommend Trade Coffee, Angels' Cup, or Mistobox. :)
How about you, did you sign up? Which one is the best coffee subscription for you?