Imagine walking up to a machine, selecting your favorite Starbucks beverage, and enjoying a freshly brewed, high-quality coffee or hot chocolate within seconds.
With the introduction of Starbucks vending machines, this indulgence is no longer a daydream, but a reality.
These revolutionary machines capture the essence of the Starbucks experience, serving delicious, fresh coffee and espresso drinks, as well as chai and hot chocolate, in a convenient, self-serve manner, unlike counter top store.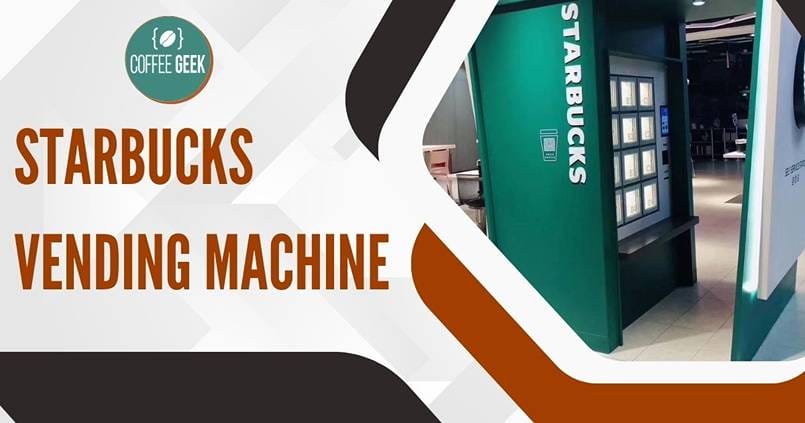 Designed with a sleek and attractive aesthetic, the Starbucks vending machines offer a range of beverage options that cater to diverse tastes and preferences.
Quick to set up and easy to use, the machines are suitable for various environments, including offices, retail spaces, and universities.
In addition to their striking appearance, these self-serve wonders prioritize maintenance and user training, making them both efficient and reliable.
Key Takeaways
Starbucks vending devices provide a convenient self-serve option for enjoying fresh, high-quality coffee and other drinks.

The machines are designed with an attractive appearance, making them a welcome addition to various environments.

Along with their innovative design, the vending machines prioritize ease of use and maintenance, ensuring a delightful Starbucks experience for all.
---
The Starbucks Vending Machine
Are you looking for a convenient and high-quality coffee experience at your workplace or any other location? The Starbucks vending machine are an excellent self serve solutions for you.
With its impressive capacity of up to 300 hot and cold beverages and cashless payments, you'll never run out of your favorite Starbucks drinks.
The vending machine offers a wide variety of quality beverages, including Starbucks® coffee, Tazo® chai latte, and even iced coffee.
Using whole bean coffee, the machine grinds each cup fresh to provide the authentic Starbucks taste you love.
Its button-operated menu makes it easy to choose your desired drink and size, whether it's a wide selection that suit you – tall, medium, or large with a condiment tower.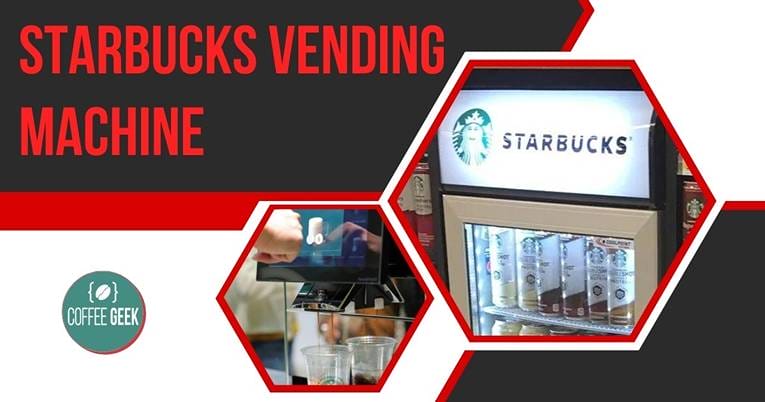 The Starbucks vending machine is not only about the top-notch beverages it serves, but it's also designed with convenience and ease of use in mind.
The machine's dimensions (height: 49″, width: 24″, depth: 24″) and weight (137lbs) make it suitable for various locations, from offices to shopping malls.
Furthermore, the Serenade single-cup brewer technology ensures a fresh-brewed taste every time at the touch of a button.
In partnership with PepsiCo, this Starbucks vending machine aims to bring the most admired and popular brands right to your desired location. With an integrated waste bin and smooth operation, you can enjoy your Starbucks experience without the hassle.
So why wait? Bring the Starbucks vending machine to your space and delight in the convenience of quality drinks and the taste of Starbucks at just a button's touch.
---
Features of The Machine
The Starbucks vending machine offers a friendly sale and a convenient way to enjoy your favorite Starbucks beverages, whether you're at work or on the go.
Here, we'll discuss some of the standout features of the machine that make it user-friendly and efficient.
One of the key features of the Starbucks vending machine is its self-serve design. No need for a barista – simply select your desired drink, and the machine takes care of the rest. This ensures a quick and hassle-free experience for you.
If you're a fan of freshly ground coffee, you'll be happy to know that the whole-bean brewing option is available.
The machine automatically measures and grinds real whole-bean Starbucks coffee, providing an authentic and fresh-tasting cup every time you press the button.
Craving a cold drink? The Starbucks vending machine has got you covered with its iced coffee capability.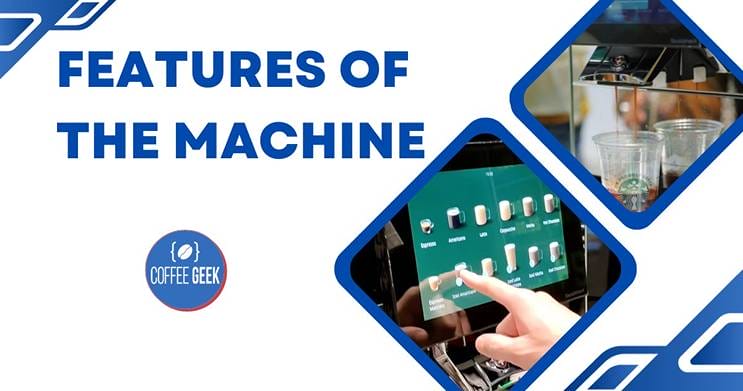 Enjoy a refreshing iced coffee made with the same high-quality Starbucks beans you love.
The Starbucks Serenade machine is another excellent option for those seeking a gourmet coffee experience.
With its high-quality bean-to-cup system, it delivers top-notch quality beverages including coffee, iced coffee, and Tazo® chai latte.
Speaking of Tazo® chai latte, this flavorful and aromatic beverage is also available in the vending machine. Perfect for when you're in the mood for something comforting, yet energizing.
Finally, an important aspect of any coffee machine is easy maintenance. The Starbucks vending machine features a conveniently located waste bin for quick and efficient clean up.
With these user-friendly features and options, the Starbucks vending machine is a great addition to any workplace or public setting, allowing you to enjoy the Starbucks experience with ease.
---
Design and Dimensions
The Starbucks vending devices, specifically the Starbucks Serenade model, are designed to elevate your self-serve coffee experience.
These machines offer high-quality coffee, chai, and hot chocolate with just a few taps, providing a premium self-serve solution to your location.
As for the dimensions of the Starbucks Serenade machine, its height is approximately 49 inches, the width measures about 24 inches, and the depth is around 24 inches as well.
With a weight of 137lbs, it's easy to see that a high level of attention to detail and engineering has gone into the creation of this machine.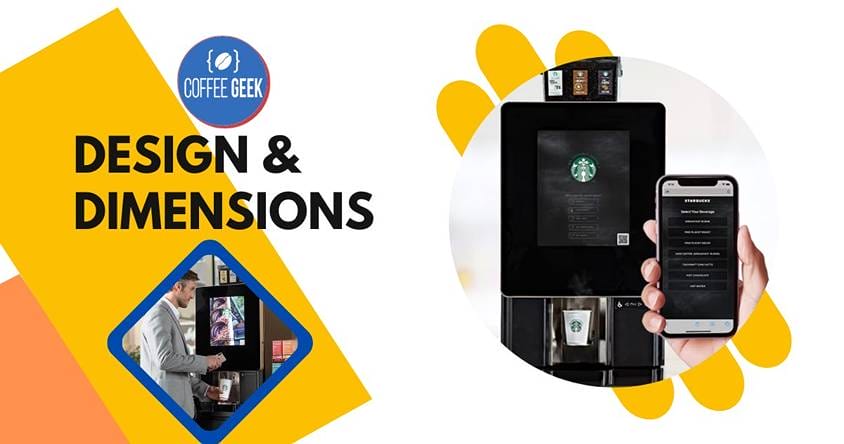 When it comes to the design of the Starbucks vending devices, they have been specifically crafted to blend in seamlessly with various environments.
Starbucks is known for its ability to enhance the human connection made over a cup of coffee while reflecting the comitments that the Starbucks stores serve. This tradition of thoughtful design extends to their self-serve machine.
In conclusion, the Starbucks vending devices, like the Serenade model, are compact, user-friendly, and designed to deliver a premium self-serve coffee experience.
Their dimensions have been carefully considered to ensure that they can fit into a variety of locations while effectively serving up your favorite Starbucks beverages.
| Feature | Description |
| --- | --- |
| Brand | Starbucks |
| Type | Vending Machine |
| Availability | Various locations, such as offices, airports, etc. |
| Product Range | Coffee (e.g., espresso, latte, cappuccino), snacks |
| Payment Options | Cash, credit/debit cards, mobile payments |
| Customization Options | Choice of coffee strength, flavor, and size |
| Technology | Automated brewing system, touchscreen interface |
| Sustainability Features | Recycling options, eco-friendly materials |
| Maintenance | Regular servicing for machine functionality |
| Promotions | Discounts, loyalty programs |
| Accessibility | ADA compliant, user-friendly interface |
| Data Collection | Sales data, popular products, machine status |
| Security | Secure payment processing, surveillance |
Starbucks Experience
You might be wondering about the Starbucks experience when it comes to their vending apparates. Fear not – these machines are designed to provide the perfect cup of coffee, just like a barista would.
With their user-friendly interface, you can easily select your desired coffee recipe and the latest brewed coffee and espresso technology will take care of the rest.
Starbucks vending devices aim to offer the same high-quality beverages you've come to expect from their stores.
Featuring Starbucks' signature roasts, the machines bring the familiar taste of your favorite drinks straight to your office, college, or workplace.
To make sure your cup is just right, the Starbucks Serenade Machine they use is designed to provide a perfect brew every time.
You'll find consistency in taste and quality, even without the presence of a barista. Learn more about the Starbucks Serenade Machine to elevate your coffee experience.
Rest assured, there's great attention to detail packed into these machines. Besides coffee, they also offer chai and hot chocolate, satisfying a range of beverage preferences.
You'll enjoy the convenience of a self-serve system without compromising on the Starbucks experience you love.
So next time you find yourself reaching for a vending machine, remember you can still indulge in the comforting familiarity of Starbucks.
---
Maintenance and Training
Maintaining your Starbucks vending machine is essential for ensuring its longevity and the quality of the coffee it serves. To keep your machine running smoothly, you should carry out regular cleaning and maintenance.
This includes emptying the waste bin and checking for any issues with the machine's plumbing. Additionally, you should ensure your machine has been correctly installed and connected to your water supply.
To optimize the performance of your vending machine, Starbucks and Nestlé Professional offer a range of commercial self-serve machines that are user-friendly and require less maintenance.
These machines are designed with the latest brewed coffee and espresso technology, making them easy to use and maintain.
As a Starbucks vending machine owner, it's essential to invest in proper training for both yourself and your staff.
A great place to start is the SCA Education's Coffee Technicians Program, which covers key concepts of water treatment systems and preventive maintenance for coffee machines.
This foundation-level course equips you with the knowledge and practical skills needed to maintain your machine effectively.
While managing the waste generated by your machine, ensure that you regularly empty and clean the waste bin to avoid any clogging or foul smells.
You can also look for opportunities to reduce waste from single-use cups by encouraging customers to bring their reusable containers or offering discounts for reusable cup usage.
Remember, regular maintenance and training contribute to the long-lasting operation and efficiency of your Starbucks vending machine.
By following these guidelines, you'll provide your customers with a consistent and enjoyable coffee experience.
---
Ethical Considerations
When it comes to using a Starbucks vending machine, you can trust that the coffee being served is 99% ethically sourced.
This commitment to ethics is made possible through their comprehensive C.A.F.E. Practices program, which they developed in partnership with Conservation International.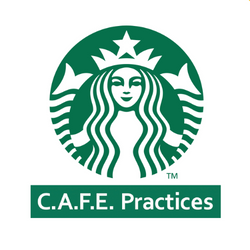 These practices ensure that farms are measured against high-level economic, social, and environmental criteria.
When you purchase a cup of coffee from a Starbucks vending machine, not only do you enjoy a delicious beverage but also contribute to the company's mission of conducting business with integrity.
In addition to its ethical sourcing efforts, Starbucks is dedicated to addressing other important issues, such as environmental responsibility and workers' rights.
They actively work to reduce their carbon footprint, promote responsible palm oil usage, and ensure fair treatment for their employees.
So go ahead and savor that cup of coffee from a Starbucks vending machine, and know that you are supporting a company that values ethical and sustainable business practices. Have a great coffee break!
---
Frequently Asked Questions
Where can I find Starbucks vending machines?
Currently, Starbucks vending devices are not widely available.
They have been introduced in some areas, including the United Kingdom, where they offer a range of beverages with touchscreens and interactive features.
How much does a Starbucks self-service coffee machine cost?
Typically, commercial self-service Starbucks coffee machines are part of a collaboration between Starbucks and Nestlé Professional.
The exact cost of these machines would depend on the specific model and the terms of the partnership.
For general vending devices, many providers offer full-service programs with free installation and maintenance.
You may need to contact your local Starbucks or Nestlé Professional representative for more details on self-service machines.
What options are available in the Starbucks on-the-go machine menu?
Starbucks on-the-go machines in the United Kingdom are known to offer up to 280 possible drink combinations, including the most popular hot and iced Starbucks beverages.
The exact menus options may vary depending on the model and location of the vending machine.
Are Starbucks Serenade machines easily accessible?
Starbucks Serenade machines are usually found within Starbucks cafés, and they are not as easily accessible as standalone vending.
These machines offer customizable, on-demand coffee brewing experiences for café guests.
The accessibility of a Serenade machine will depend on the specific location of the Starbucks café.
Can I purchase a Starbucks coffee machine for home?
While Starbucks coffee machines like the Starbucks Verismo System are available for home use, these machines do not offer all the beverage options available in their commercial counter top parts or vending apparatus.
The Verismo System is designed to brew Starbucks espresso, brewed coffee, and milk pods, enabling you to create your favorite Starbucks beverages at home.
Do commercial self-serve coffee machines offer Starbucks beverages?
Some commercial self-serve coffee machines offer Starbucks beverages as part of their collaboration with Nestlé Professional.
These machines, available in Short, Tall, and Grande sizes, offer popular Starbucks hot and iced beverages with fresh milk at the grab touch of a button.
To access these machines for your workplace or business, reach out to your local Starbucks or Nestlé Professional representative for more information.