If you're new to the AeroPress game or a coffee lover who's watching curiously from a distance, considering whether or not to join in on the phenomenon, you may have noticed something worth talking about – metal or glass Aeropress:
The AeroPress is made from plastic.
Depending on your perspective that may or may not be a big deal.
It's certainly got its benefits, which we'll explain below, but to some, it also has its downsides.
Some who ask this question worry about the safety and potential health risks of using a coffee maker made from plastic.
Others simply wonder if in certain use cases—for example in an upscale kitchen or cafe environment—an AeroPress coffee maker made from a higher-end material might offer more of an aesthetic appeal.
But an AeroPress is not a French press. So simply replacing its body with a glass tube and plunger is not likely to yield positive results.
If, however, we were to put the task to a team of NASA engineers, could a metal or glass AeroPress be done? Has it been already?
Let's explore these questions and find out.
---
Why is the AeroPress Coffee Maker Made of Plastic?
A Brief History Refresher
As you may have already read, the AeroPress is an ingenious device.
It's the product of years of trial-and-error innovation, having begun as a prototype made from a bicycle pump.
It's achieved worldwide commercial success and widespread acclaim amongst seasoned coffee lovers not by offering a randomly constructed approach to brewing coffee.
And in doing so the AeroPress makes an incredible cup of coffee that many agree rivals even coffee made in expensive commercial espresso machines.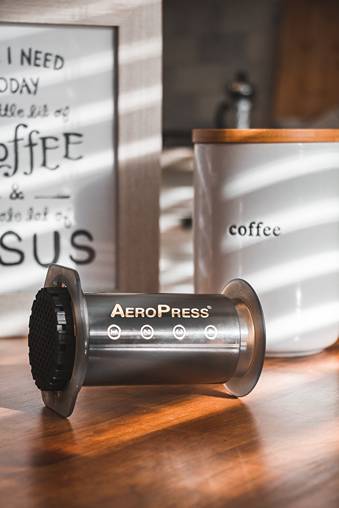 But regardless of whether or not the device makes the best coffee or not, the AeroPress offers a host of benefits that most other coffee makers fall far short of being able to deliver.
What the AeroPress Can Do That Other Coffee Makers Can't
True, easy portability
The AeroPress has a home in suitcases, carry-ons and camping backpacks all over the world.
Versatility and control
The AeroPress's design offers unprecedented customization options, supports paper filters as well as metal, and facilitates countless different brew recipes.
Rigidity and resilience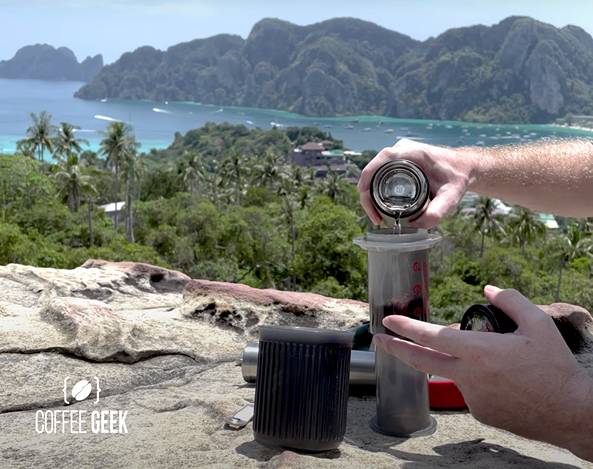 As a handheld, pressure-dependent device, the AeroPress holds up fantastically to accidental drops and just generally being knocked around.
It's forgiving and easy to use
Because it doesn't radiate much heat through a conductive body, the AeroPress makes a reliably good cup even when the user doesn't perfectly control all the different variables.
It's also extremely lightweight and doesn't require a gentle touch.
It's Low-Cost and accessible
Pretty much anyone who can afford to brew coffee at home can afford to buy a humble AeroPress. Its simple plastic construction makes it easy to manufacture as well as the ship.
---
Is AeroPress Plastic Safe?
We're not scientists, so we can't 100% certify that there are absolutely no risks associated with drinking concentrated coffee brews made by pressing hot water through an AeroPress's plastic tube, but we can potentially reassure you in one or two ways.
First, be aware that the AeroPress is made from BPA-free plastic. It's also been certified by both the US FDA and the EU to be used in contact with food. The company also states its plastics are entirely free from phthalates.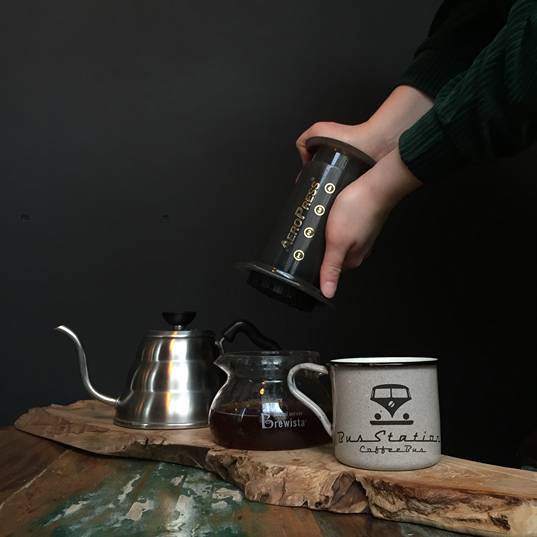 On the other hand, it's very difficult these days to altogether avoid plastic in all forms of food and beverage preparation. The average French press today has a lot of little plastic parts.
Even consumer-grade espresso machines have lots of little parts inside made from plastic.
While that second point may not make you feel much better about any potential risks associated with the material, it's worth considering that there's a decent chance enjoying some amazing AeroPress coffee may not significantly increase the amount of plastic involved in preparing the things you consume, overall.
---
Downsides of Plastic as AeroPress Material
Plastic isn't perfect, though, and understandably, some people question whether it's the best (or only) material the innovative brewer can use.
After all, the French press is a well-loved immersion brewer that makes use of a plunger function, and those are still available in glass and metal, sometimes even without a single component made from plastics.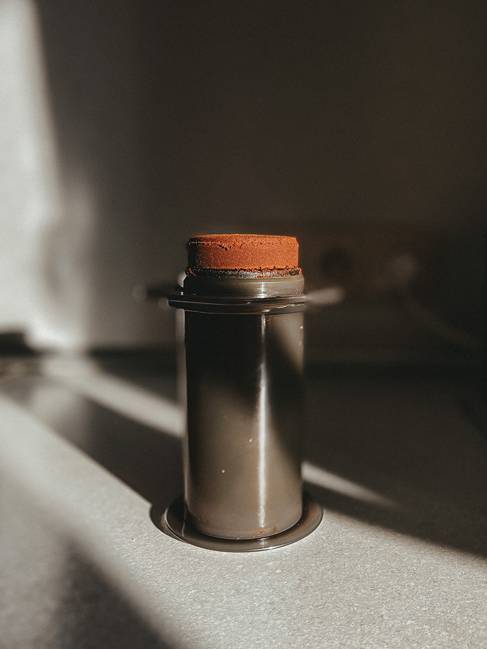 Common Complaints About the AeroPress's Plastic Construction
It looks cheap
Some coffee lovers just want a better-looking AeroPress. We'd agree, the device isn't winning for looks or elegance, but importantly, it is winning actual competitions for best coffee recipes.
It May Affect the flavor
Some wonder if the use of near-boiling water in the AeroPress's plastic chamber may take away from the potential quality of the brew.
It's a valid question, but the flavor an AeroPress is able to extract from the same coffee grounds one might otherwise use in a Moka pot or drip brewer is absolutely unparalleled.
AeroPress coffee leaves very little to be desired in terms of flavor and mouthfeel, so we're confident this isn't taking away from your coffee.
Concerns about pouring hot water into a plastic
It's a valid concern, but as we discussed above, even coffee made in some espresso makers comes into contact with plastic, and AeroPress has taken extra steps to eliminate BPAs and phthalates from their materials.
---
Why Make an AeroPress From Glass or Metal?
For all the reasons above, there are coffee lovers out there adamant about pursuing whether a stronger, prettier or more "natural" material could be used to create an equally well-functioning AeroPress.
In high-end cafes or luxury kitchens, elegance and aesthetics could potentially get a nice boost.
Removing any potential for reactivity between the device's material and the coffee you drink is an understandable desire for some.
But in practice, the challenges are enormous, and the new downsides introduced by using either material would have a high probability of offsetting the advantages.
---
Why a Metal or Glass AeroPress Is a Bad Idea
First things first, conductivity. You may have noticed that both metal and glass get hot. That's a big factor when you consider how the AeroPress is used.
Imagine a glass tube filled with near-boiling water, that you're meant to press down firmly on top of your counter.
Making that cup of espresso-like coffee would be a lot more dangerous.
Especially over the course of multiple cups, the chances of slipping while pressing the plunger to grow with each one.
Safety aside, with heat, rapidly dissipating through the walls of the coffee maker, your brewing process will be a lot less consistent and reliable.
And while your chances of shattering a metal version of the device are slim, your chance of burning yourself would be even higher, as would the heat conductivity of the material.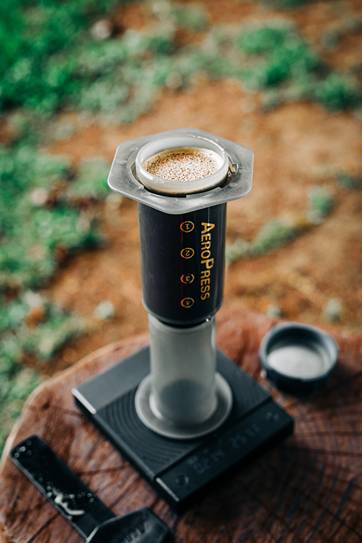 In addition, metal in particular isn't well suited to form the seal that's needed to brew effectively with the AeroPress.
With either material, you'd lose a great deal of portability and physical resilience.
Metal may store easily enough, but try jamming it in a stuffed backpack where every square inch counts, and you may end up with little more than a sad storage tube for your ground beans.
---
But Could It Be Done?
The AeroPress itself was a stroke of genius the coffee world hadn't seen the likes of since the espresso machine was invented a century earlier.
With enough time, patience and ingenuity, we're pretty confident in our caffeinated counterparts' abilities to create new ways to brew their beans.
Although, all things considered, if such a device were possible, but the materials inherently changed the capabilities or qualities of what the AeroPress is now, would it still technically be an AeroPress?
Let us know what you think.