When planning a hotel stay, many travelers look forward to the little perks and amenities that can make their trip more enjoyable.
One such perk often found in hotel rooms is the convenient in-room coffee maker, allowing guests to kick-start their morning with a cup of their favorite brew.
But does this amenity always come at no additional cost, or are there sometimes fees involved?
While many hotels happily offer their guests complimentary in-room coffee, it's important to remember that this may not be the case everywhere.
The cost of coffee in hotel rooms can vary based on factors such as hotel policies, the location of the hotel, and the type of accommodation you're staying in.
Regardless, understanding what to expect can go a long way in ensuring a smoothly caffeinated hotel stay.
Is the Coffee in Hotel Rooms Free – Key Takeaways
Hotel room free coffee is often complimentary in most hotels, but not always.
The cost of coffee may be covered within the room rate or charged separately.
Be aware of health and hygiene concerns when using a hotel room coffee maker.
---
Hotel Room Amenities
As you stay in hotel rooms, you may notice various amenities offered for your comfort and convenience.
Here, we'll discuss some common hotel room amenities that can typically be found.
Complimentary Coffee and Tea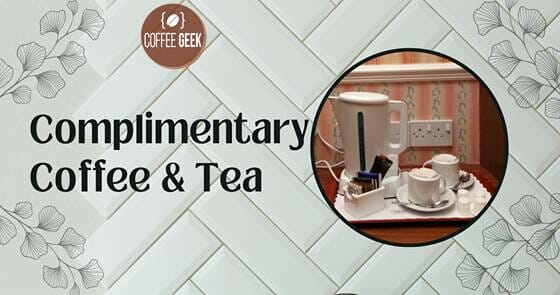 Most hotels provide complimentary coffee and tea in your room. You'll usually find a coffee machine, an assortment of tea bags, and maybe some cream and sugar packets.
These drinks are typically free of charge and are there to help you start your day with a soothing beverage.
Just keep in mind that while the coffee and tea are free, they are considered part of your overall room rate and not entirely "free."
Toiletries and Other Essentials
Hotels also usually provide an array of toiletries in the bathroom for your needs. These may include shampoo, conditioner, shower gel, soap, and body lotion.
Additionally, many hotels offer other essentials like bathrobes, slippers, and a hairdryer for you to use during your stay.
While these amenities are designed to make your stay more comfortable, remember that they may vary from one hotel to another.
Thus, always double-check what your chosen hotel offers to ensure you have everything you need.
Regardless, hotel amenities like complimentary coffee, tea, toiletries, and slippers are made to enhance your overall experience and enjoy your stay.
---
In-Room Coffee Makers
Brewing Equipment
When staying at a hotel, you might find different brewing equipment for in-room coffee making.
Some common types of coffee makers found in hotel rooms include:
These coffee makers are usually easy to use and come with detailed instructions.
Keep in mind that each type of hotel coffee maker may require different brewing methods, so be sure to familiarize yourself with the process.
Quality of Coffee
The quality of coffee provided in your hotel room can vary greatly depending on the hotel and the brand of coffee they offer.
In most cases, hotels provide complimentary coffee to their guests in the form of pre-packaged coffee grounds or single-serve pods.
While these options may not be the highest quality or your preferred choice, they are generally sufficient for a quick morning caffeine boost.
If you're particular about your coffee preferences, you might want to consider visiting the hotel's lobby or nearby coffee shop to find a better-quality cup of coffee.
Alternatively, you can bring your own coffee grounds or pods to use with the provided hotel coffee maker in your room.
By understanding the brewing equipment and quality of coffee offered in hotel rooms, you'll be better prepared to make the most of your in-room coffee experience.
Remember to always check if the coffee and tea provided are free for the taking, and enjoy your morning cup of java!
---
The Cost of Coffee In Hotel Rooms
When you stay at a hotel, one of the small luxuries you might look forward to is enjoying a warm cup of hotel coffee in the comfort of your room.
In this section, we'll discuss the cost of coffee in hotel rooms and how it varies based on the type of accommodation and hotel loyalty programs.
Budget Accommodations
In budget accommodations, such as motels and economy mid-range hotels, you can generally expect to find complimentary coffee in your room, for hotel guests.
These establishments aim to provide you with essential amenities at an affordable price, and offering free coffee is one way they enhance your stay.
The cost of coffee is usually factored into the room rate, so you don't need to worry about any additional fees when you enjoy your morning brew in your room.
Hotel Loyalty Program
If you're a member of a hotel's loyalty program, you may have access to additional benefits during your stay, including free or upgraded coffee options.
Some hotels offer complimentary in-room coffee for their loyalty program members as a way of rewarding their loyalty and enhancing their guest experience.
It's always a good idea to check with your specific hotel and membership tier to determine if you get complimentary coffee or any other beverage perks included with your stay.
In conclusion, the cost of coffee in hotel rooms varies depending on the type of hotel and whether you're enrolled in a hotel loyalty program.
While many hotels provide complimentary coffee, it's always a good idea to confirm with the hotel beforehand to avoid any surprises.
Enjoy your next hotel stay and the warm cup of coffee that may come with it!
---
Hotel Policies and Guest Experience
Availability of Coffee
As a hotel guest, you'll often find hotel coffee free available in your hotel room as part of the complimentary services provided.
This can be a nice touch, allowing you to enjoy a warm cup of coffee in the comfort of your room.
Most hotels also offer coffee in their lobby, where you can socialize with other guests or grab a cup on your way out to explore the city.
The quality and type of coffee and coffee-making equipment may vary depending on the hotel, so keep in mind that your experience might differ.
Some hotels offer single-use coffee makers with pre-packaged coffee, while others provide more advanced machines and a selection of premium coffee blends.
Unexpected Charges
Although coffee in hotel rooms is generally free, it's essential to be aware of hotel policies regarding extra charges.
Before indulging in your in-room coffee, double-check if it's indeed complimentary or if it comes with a fee.
You can do this by reading the hotel's information booklet or contacting the front desk for confirmation.
Some hotels may also require the use of a key card to access certain complimentary services, such as the coffee machines in the hotel lobby.
Make sure you're familiar with your hotel's policies to avoid any unexpected charges and enjoy a seamless, pleasant guest experience.
Remember to enjoy your stay and take advantage of the complimentary services your hotel offers.
Just be mindful of any potential fees and make sure to stay informed about hotel policies.
---
Health and Hygiene Concerns
Cleanliness of Coffee Makers
When enjoying your hotel stay, it's natural to wonder about the cleanliness of the coffee maker in your room, especially given the risk of bacteria and germs.
Although hotel staff usually clean coffee makers as part of their daily routine, it's still a good idea to inspect the appliance before using it.
Keep an eye out for any signs of residue or buildup, as these may indicate a lack of thorough cleaning.
If you're unsure about the coffee maker's hygiene, you can always request that staff clean it for you.
Alternatively, you can take advantage of complimentary coffee often provided in hotel lobbies.
Preventing Bacterial Growth
To ensure your coffee experience is both enjoyable and safe, it's essential to take some steps to prevent bacterial growth.
Whenever you use the coffee maker, be sure to clean and dry all removable parts immediately after use.
Stagnant water and leftover coffee grinds can become breeding grounds for bacteria.
Moreover, pay attention to the quality of the water you're using.
You might consider using bottled or filtered water instead of tap water if you have concerns about the local water quality.
By following these simple guidelines, you can mitigate health risks and enjoy your coffee worry-free during your hotel stay.
---
Additional Services and Offerings
Minibars and Room Service
During your stay at a hotel, you have access to various amenities that can make your experience enjoyable and convenient.
One such offering is the minibar, which often contains snacks, bottled water, and occasionally mini bottles of shampoo, conditioner, and body lotion.
It's worth noting that not all items in the minibar are complimentary. So, before indulging in a snack or beverage, it's best to double-check the prices.
Another valuable service is room service, where you can order food to be delivered directly to your room.
While it's a fantastic luxury, keep in mind that room service often comes with additional fees, including a service charge and gratuity.
If you're staying at Best Western, you may be lucky enough to enjoy free water as part of their hospitality.
In your room, you'll likely find coffee and tea-making facilities, along with packets of creamer and sugar. Usually, hotels offer complimentary coffee and tea for your convenience.
Pet-Friendly Accommodations
If you're traveling with a furry friend, you'll be happy to know that hotels often offer pet-friendly accommodations.
This type of lodging usually comes with an additional fee to cover the costs of maintaining the room for both you and your pet.
When packing your suitcase, it's essential to bring all the necessary supplies for your pet, including food, toys, and bedding.
Some pet-friendly hotels might provide a few pet essentials, but it's always best to be prepared for your pet's comfort and well-being.
Remember that not all hotels allow pets, so confirm the pet policy before making your reservation.
Additionally, be courteous to other guests by keeping your pet well-behaved and considerate of the hotel's rules and regulations.
---
Frequently Asked Questions
Do hotels provide free coffee in guestrooms?
Yes, usually hotels provide free coffee in guestrooms. It's a complimentary service meant to make your stay more comfortable and enjoyable. However, there might be exceptions in some budget hotels or lodging facilities, so it's always a good idea to check with the hotel before your arrival.
Are in-room beverages like coffee and tea complimentary?
In general, in-room beverages like coffee and tea are complimentary in most hotels. They aim to provide a pleasant experience for their guests. It's not uncommon for hotels to also offer complimentary bottled water, but it's best to double-check with the hotel to confirm their offerings.
Which hotel chains offer complimentary in-room coffee?
Many hotel chains for their guest satisfaction offer complimentary in-room coffee, including but not limited to Marriott, Hilton, Holiday Inn, Best Western, and Hyatt. However, the availability of free coffee in a hotel room may differ across specific properties or locations. You can always verify this information with the hotel during booking or at check-in.
Is the in-room coffee service available 24/7?
The availability of in-room coffee service may vary depending on the hotel. While some hotels offer 24/7 coffee service, others restrict it to specific hours. Be sure to inquire with the hotel about their in-room coffee service schedule so you can plan your hot cup accordingly.
What type of coffee brands do hotels usually provide?
Hotels typically provide well-known and popular coffee brands in their guestrooms. Common brands include Starbucks, Nespresso, or Keurig, but the exact brand may vary depending on the hotel and its location. If you have a specific preference or dietary requirement, you can always request it from the hotel or bring your own coffee.
Can I request additional coffee supplies in my hotel room?
Yes, you can usually request additional supplies in your hotel room coffee free. Hotel staff are generally accommodating to guest requests, within reason. If you find out you need more free stuff than what's initially provided in your room, simply call the front desk or housekeeping, and they should be able to replenish your supplies.