As the coffee-making culture continues to evolve, new products are invented and discovered every day in the market that offer interesting, innovative features to make a better brew.
Keurig Mini is such an example; in this article, I will give you a detailed Keurig Mini review to see if it deserves space on your kitchen counter. The Keurig K Mini is what we will be deep diving on to be exact.
---
Overview
Here is a brief Keurig k Mini coffee maker review for brewing coffee and give yourself a treat with a perfect coffee cup.
The Keurig k Mini is one of the perfect choices for anyone seeking something simple and an affordable coffee maker.
It's a compact coffee machine that's just 5-inches in width, so it's great for small space. It's not fancy, yet it will give you the most delicious, strongest, and tastiest cup of coffee you've ever had the pleasure of tasting in your entire life.
Pros:
Easy to use and inexpensive
Compact and light
Modern exterior and design
Available in many colors
Cons:
Not as luxurious
No timer or programming
A bit loud
Compatibility with only K-cups
It requires the use of aluminum coffee pods
---
Keurig Mini Review
This review includes a detailed product evaluation based on features, brew quality, ease of use, coffee pod compatibility, maintenance, and cleaning.
Features
Keurig k Mini is the standard version of coffee makers in the K Mini line, and it's awe-inspiring.
The model has two buttons: Power Button and Brew Button, along with a curved light that flashes to inform you that the machine is now ready to make a brew.
With such a tiny water reservoir and no way to limit the size of your cup, it is necessary to fill it with water every time.
You can add between 6 to 12 ounces of water, and then when you press the Brew button, the machine will make use of all of it.
An outstanding characteristic is the drip tray that can be removed. It is possible to remove it to clean it up or utilize the Mini as a higher travel cup.
With no drip tray, the Mini will fit mugs with a height of up to 7 inches.
There aren't any fancy-to-haves in this machine, such as timers, clocks, or adjustments to brewing strength.
The most efficient feature this machine comes with is an auto-off feature, which turns off after 90 seconds following every brewing cycle. And it offers four color choices.
For this machine to be used, simply add water, put in the k-Cup, push the lever, and press the button to brew. After a few minutes, you'll be enjoying freshly brewed coffee. It doesn't get any more convenient than this.
Brew Quality
The quality of the coffee brewed by this machine is excellent. Since it uses the standard K-Cups, Keurig k Mini makes the same extraordinary coffee that you get from its larger models.
It's not just coffee. Teen and cocoa are equally tasty!
Try adding ice to your hot-brewed coffee for delicious tasty iced drinks. Moreover, the coffee lovers say the coffee tastes great that is made using Keurig mini brewer and you can ground coffee in it in about a minute.
Ease of Use
Keurig Mini is easy to use. All it requires is to fill it up with fresh water, then press the button. Bam! Delicious coffee squirted straight into your cup or travel mug.
Nothing goes wrong while making coffee using this machine. As long as you have the K-Cups, you can create all sorts of coffee, tea, as well as hot chocolate.
Another feature making this coffee maker simple to use by anyone is its slim design. Therefore, it is not necessary to create space or make room on the counter in the kitchen like with larger coffee makers.
It is possible to squeeze this 5-inch coffee maker between salt and pepper. This makes the operation significantly easier for all. Plus, it serves best for travel mugs as mentioned earlier or a single-serve to enjoy coffee. You can also save energy by using Keurig brewers.
Coffee Pod Compatibility
Keurig k Mini is compatible with every regular size K-Cup pod. However, it's not compatible with K-Carafe or K-Mug Vue and Rivo pods.
The good thing is this isn't Keurig 2.0, which means you don't need to be worried about it not being able to read your K-Cups.
And if you prefer to use reusable K-Cups, you can use the My K-Cup universal filter using this model.
Maintenance and Cleaning
While it's true that the Keurig k Mini is indeed easy to clean, it does not have the same number of parts that are removable as the Plus models.
That means that you'll need to stick your cloth in the corners to clean everything down. But, the drip tray can be removed, so the machine is easy enough to wash quickly. So, overall, the requirements for cleaning are reasonable.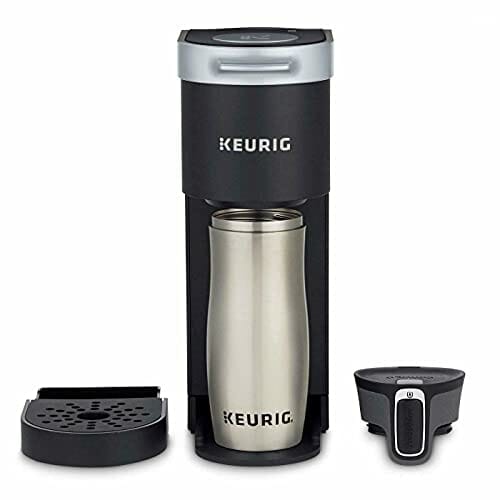 Even with the maintenance of the device, there's not much to do. It has a place to keep the cord in case of transportation, which is helpful.
To make the coffee, you only need to dispose of the K-Cup after you're done. So, it's always useful as a coffee drinker or coffee lover to get one of these Keurig machines as it's user-friendly to clean after drinking a hot cup of coffee.
---
FAQS
Does the Keurig Mini use regular K cups?
Yes! You can use regular size K-cups.
You can also use Keurig K-Cup pods and the Keurig Universal My K-Cup Reusable Coffee Filter.
What's the difference between Keurig Mini and Mini Plus?
The K Mini is a cost-effective and straightforward machine. It's just 5 inches wide, and there aren't any frills, but it makes the perfect cup in just a couple of minutes.
The K Mini Plus is among Keurig's top-rated coffee makers. It is slim in a 5-inch design, which can hold up to 12 ounces of water, and also has a strong brew option to give those who require an extra kick in their mornings.
This strong button is the most considerable distinction among the two K Mini models. This feature is available in K Mini Plus but not K Mini. The second significant distinction is that Mini Plus's reservoir for water is removable, which makes it easier to get it cleaned (or replenish it) at the sink.
How does a Keurig K Mini work?
Before Brewing
Take off the packing tape from the machine. Pull the plug and extend it from the storage for cords on the back of the brewer. Plug the device into a grounded outlet. Press the power button to turn it on.
Take one cup (8oz) of water and pour it into the water reservoir (don't fill it past the MAX or below MIN Fill lines), then place the cup onto the drip tray. Be aware that you should not use water that is distilled.
Lift, then lower the handle. Do not insert a K-Cup(r) pod. The indicator light for brewing will blink to signal that the brewer is in the process of being ready.
Press the Brew button. The indicator light for brewing will glow solid and start to blink as the brewer heats up. After about two minutes, the brew indicator light will be illuminated again as the water begins to disperse. Pour the hot water into your sink. The setup is complete, and you're all set to make your brew!
Brew The First Cup
Pour the desired amount of water into the cup (6oz minimum 12-ounce maximum). Add this water to the reservoir. Lower the lid, and place your mug in the drip tray.
The handle should be lifted. Put the K-Cup(r) pod inside the K-Cup(r) pod holder. The handle should be lowered completely to seal the lid. The indicator light for brewing will flash to indicate the brewer is in use. Do not take off the foil lid on the K-Cup(r) pod.
Brewing at high altitude: When you hold the handle of the brewer up to the sky, slowly push down onto the K-Cup(r) pod inside the pod holder until the top part of the K-Cup(r) pod is punctured with the exit needle.
Click the Brew button. The brew indicator will glow.
---
Conclusion
After a thorough Keurig Mini review, I will say that according to my testing, there are no frills in this basic model, there's no timer or a clock, and no option to set up sizes or strength of brews.
I also discovered it is pretty loud, and the restless heads in your household might not be able to tolerate it.
However, it is an excellent single-serve coffee maker with superb value for its attractive price. It's simple to use and clean and makes delicious hot, aromatic, tasteful coffee.
The bottom line is that Keurig K Mini is a simple one-serve, low-cost espresso maker worth your time and money.