In a perfect world, you can brew a cup of coffee and make all the mess you want and everything will take care of itself so you don't have to dread cleaning up afterward.
In the real world, you need to stick to your principles and maintain a regular cleaning and descaling routine for your coffee machine. But with the help of technologies, your chore tray is becoming less and less.
In this article, I will show you all the tips and tricks on to How to Clean a Ninja Coffee Maker inside out with minimal effort thanks to its self-cleaning function.
---
How Often Should You Clean Ninja Coffee Bar?
General Maintenance
Like you would with any other coffee machine, you need to clean the Ninja Coffee Bar regularly after every use or at the end of the day to ensure an optimal brew quality for the next person and the next day.
For your own good cup of coffee, develop a neat cleaning habit to keep your Coffee Bar in good shape for as long as possible.
Ninja Coffee Bar Clean Light On
In addition, you also need to run a deep cleaning cycle on the Ninja Coffee Bar around once a month or two months using a cleaning solution.
But once a month is only a mere suggestion based on the average usage frequency. For heavy users, it's better to clean it more often. This could be every one or two weeks.
The best indication of when this should be performed is when the clean light of the machine illuminates.
But if you think you've been using it often and there seem to be enough mineral and oil build-ups that can affect the taste, aroma, and overall quality of your cup of Joe, feel free to make a judgment call and run the cleaning cycle before the clean light signal.
We always feel more compelled to do something ourselves than having others tell us to do it.
In the next sections, I will show you how to perform a deep clean cycle using traditional vinegar and a dedicated descaling solution.
---
How To Clean A Ninja Coffee Maker For Daily Maintenance?
First, I'll go through the Ninja Coffee Bar cleaning process for general maintenance.
Filter Basket
This step isn't exclusive to the Ninja Coffee Bar.
Whenever you finish making coffee, immediately remove the filter basket and discard the coffee grounds that have been used.
You can run a simple rinse under tap water or hot water to remove any residual coffee particles and oils still stuck to the filter and filter holder and you're golden.
You can also use soapy filtered water or distilled water and a soft non-abrasive sponge to wash the mesh filter.
If there are still blocked holes on the filter basket, you can take the more drastic measure and soak the filter basket in hot water, add a cleaning tablet, and let it sit for around 20 minutes.
For both of the methods above, remember to rinse properly. You don't want any unwanted flavor carry-overs in your next cup of Joe.
Milk Frother
Like you would with the filter basket, you also have to clean the milk frother right after using to prevent clogging and nasty bacteria build-ups that can spoil the cup of the next person to brew coffee.
To clean the built-in milk-frother, follow the steps below:
Step 1: Fill half a cup with warm water. You can add one or two drops of soap if you need a more thorough cleaning cycle.
Step 2: Soak the frother in the solution and turn it on for around 20 seconds.
Step 3: Discard water and clean the cup. Fill the cup with just water this time and give the frother another clean cycle run or two.
---
Carafe
After you finish drinking from the coffee pot, make sure to clean it thoroughly with warm soapy water and a soft non-abrasive sponge or brush, per Ninja's recommendation.
If you're a busy person, depending on the material of the carafe, you can pop it in the dishwasher to save some time and effort.
According to Ninja, the glass carafe, permanent filter, and brew-through lid are top-rack dishwasher-safe. However, the THERMAL carafe is NOT dishwasher-safe. Don't get confused between the two and make a regrettable mistake.
Exterior
While you're cleaning the kitchen counter after dinner, wipe down the exterior of your beloved Ninja Coffee Bar as well to keep the machine looking shiny and new and tie the satisfying clean kitchen look together.
A simple damp non-abrasive cloth should do the job just fine to wipe any coffee splash from brewing coffee or accumulating dust.
No matter the coffee machines, don't use abrasive materials to clean any part to avoid causing accidental scratching and damages.
---
How To Descale A Ninja Coffee Maker With Cleaning Solution
Next, I'll show you how to deep clean your Ninja Coffee Makers using different cleaning solutions when the clean light is on to effectively remove calcium build-up and return the coffee brewers to their tip-top shape.
How To Clean Ninja Coffee Maker With Vinegar
When you see the clean light illuminate on the unit or based on your judgment call that the Ninja Coffee Bar should be cleaned, follow the below step-by-step guide to having a clean coffee maker.
Step 1: Preparation
Clean the empty water reservoir with warm soapy water and a non-abrasive sponge or put it in the dishwasher.
Clean the filter basket and carafe according to the general maintenance instructions above.
Place the clean carafe under the brew basket.
Step 2: Fill The Water Reservoir
Fill the empty water reservoir to the Travel Mug line (16 oz / 473 ml) with white vinegar.
Add water to the water reservoir until the solution reaches the Max Fill line.
Step 3: Run The Clean Cycle
Select Full Carafe size.
Press the CLEAN button to start the clean cycle.
After around 1 minute, press the CLEAN button again to pause it. This will allow the vinegar solution to enter the inner pipes of the machine and deal with the calcium build-up.
Wait for around 30 minutes.
Step 4: Finish The Clean Cycle
After 30 minutes, press the CLEAN button again to clean your Ninja Coffee Bar.
You can see the countdown begin on the clock display, which is around 8 minutes.
During the clean cycle, do not press any buttons.
Step 5: Clean The Carafe And Water Reservoir
The clean light should turn off upon completion.
Empty and clean the carafe, brew basket, and water reservoir after the clean cycle is completed using the methods in Step 1.
Put them back in place.
Step 6: Run 2 Extra Rinse Cycles
Fill the water tank with fresh water to the Max Fill line.
Press the CLEAN button to run a flush cycle uninterrupted.
Discard rinse water from the water tank and fill it with clean water again.
Press the CLEAN button and run another empty cycle.
Feel free to add fresh water and run another rinse cycle to clean your Ninja Coffee Bar if you think the vinegar smell and taste are still there to prevent flavor carry-overs.
How To Clean Ninja Coffee Maker With Descaling Solution
The steps to clean the Ninja Coffee Bar using a descaling solution are basically the same as using vinegar. The main difference is in Step 2.
You can find this descaling solution here which contains citric acid recommended by the brand Ninja Coffee Bar or from your local supermarket.
Follow the instructions of the descaling solution to get the right concentration level when filling the water reservoir.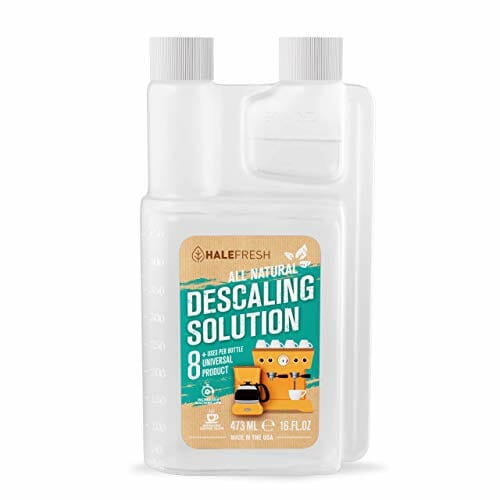 NB: If you're interested in Ninja Coffee Bar Recipes, check them out here.
---
FAQs
Should You Clean The Ninja Coffee Bar With Vinegar?
Some coffee aficionados may frown when they see a coffee maker getting cleaned with white vinegar. Before you make any judgment, hear me out.
Descaling solutions are more highly recommended as vinegar can be too much and damage certain internal parts of some coffee brewers.
Moreover, vinegar can also leave a more intense smell and taste on your coffee machines, which requires more rinsing cycles to get them off your coffee tastes.
But, at the end of the day, plain white vinegar and clean water are still considered an option as a cleaning solution for many coffee makers thanks to their thorough cleaning capability.
And in this case, specifically, if you can't get your hand on a specialized descaling solution, you can use vinegar to clean your Ninja Coffee Bar and have a good night's sleep knowing you've run the machine clean.
You don't have to trust my words on this. It's a suggestion from the manufacturing brand Ninja of the Ninja Coffee Bar as well.
How Long Does It Take To Clean A Ninja Coffee Bar?
Daily maintenance can take up to 5-10 minutes top. If you love coffee, make regular cleaning a habit to have good coffee.
From the guide provided above, you can expect your Ninja Coffee Bar to be squeaky clean in around an hour and a half, accounting for the extra clean cycles with clean water to get rid of residual vinegar and descaling solution.
For a once a month or once every other month deal, the descaling process to get rid of calcium buildup and basic lime and preserve your flavorful brew isn't that demanding.
All of the hard jobs are covered by the machine's technologies, though you have to hand wash some components. But most of them can be popped into the top rack of the dishwasher if you don't feel like it.
You can also set up a timer and go off to doing your other chores while letting the machine sit and do its thing.
Why Won't The Clean Light Turn Off On Your Ninja Coffee Maker?
If you're sure the Ninja Coffee Bar is clean yet the clean light doesn't turn off, you can unplug the machine and wait for about 5 minutes to reset the machine.