It's hard to beat a cafe experience when it comes to the rich, full-bodied flavor of a specialty coffee drink.
Steam-powered espresso shots and milk that is frothed to creamy, foamy perfection require a good deal of expert machinery and a deft hand to get just right.
Enter the Ninja Coffee Bar. This brand wants to put all the power of a cafe experience into your hands at home.
Through their own blend of modern technology and traditional methods, these brewing devices work as a system to deliver a variety of options.
How well do they succeed? We'll take you through each model's features and functionality to show you how they compare to each other, how they stack up against competitors, and where they ride the line between setting trends and bucking standards.
First, let's talk about some pointers when it comes to deciding which is the best Ninja Coffee Bar System for you.
---
Our Top Pick: CF112 Coffee Maker
This model proves all our favorite points about why a Ninja Coffee Bar system works so well for at-home specialty drinks.
The four brew sizes, which range from a single cup to an extra-large multi-serve setting, can be made according to four different taste profiles.
Classic fits the needs of anyone who loves the standard drip-brew flavor. Rich allows for a bolder flavor.
Choosing Over-Ice tells the machine to recalibrate so that the strength of the brew it serves up compensates for ice and prevents that watered-down taste other methods leave behind.
Then there are the Specialty and Cafe Forte options, which give you the closest to a cup that any drip-brew is likely to achieve. Froth milk to pour into any of these for a creamy, smooth finish.
Check out our review of best drip coffee brewers if you're looking for more versatility.
---
The Best Ninja Coffee Bar System – Comparison Chart
Coffee Maker
Product
Features
Price

Top Pick

Brew Types: Classic, Over-Ice, Rich, Specialty, Cafe Forte
Serving Size: Cup, XL Cup, Travel Mug, XL Multi-Serve
Frother: Wand

CHECK PRICE

Budget Pick

Brew Types: Classic, Over-Ice, Rich, Specialty, Cafe Forte
Serving Size: Cup, XL Cup, Travel Cup, XL Multi-Serve, Half Carafe, Full Carafe
Milk Frother: Wand

CHECK PRICE

Ideal For Brew Coffee Lover

Brew Types: Classic, Rich, Over-Ice, Specialty, Cafe Forte
Serving Size: Cup, XL Cup, Travel Mug, XL Multi-Serve, Half Carafe, Full Carafe
Frother: Wand

CHECK PRICE

Best Programmable

Brew Types: Classic brew, Rich brew, Over-Ice, Specialty
Serving Size: Cup, Travel Cup, Half Carafe, Full Carafe
Frother: Beaker

CHECK PRICE

Ideal For Single Serves

Brew Types: Classic, Over-Ice, Specialty, Rich, Cafe Forte
Serving Size: Cup, XL Cup, Travel Mug, XL Multi-Serve
Frother: Wand

CHECK PRICE

Best Automatic Brewer

Brew Types: Classic, Rich, Over-Ice, Specialty
Serving Size: Cup, Travel Cup, Half Carafe, Full Carafe
Frother: Beaker

CHECK PRICE
---
What to Consider When Buying a Ninja Coffee Bar
These machines have a lot to offer the beginner and the expert barista alike. Read through our considerations, then check out the comparison chart and reviews for each Ninja Coffee Bar to see which one has all the features you'd like best.
1. Unique features and settings Versatility is one of this brand's biggest selling points.
Even in models that function primarily as a single-serve brewer, there are many serving size choices and strength adjustments that allow for a consistent and satisfying range of brews.
The brand touts a specifically calibrated thermal component, the Auto-iQ one-touch Intelligence technology, that measures the exact amount of pre-heated water for each setting for an accurate brew every time.
This includes an iced brew option, which isn't common for many other brands.
2. Aesthetics and countertop space The Ninja Coffee Bar systems aim to provide a miniature version of a barista's station, so even the single-serve models tend to take up a bit of space on the counter.
This can be an important detail to consider for those who have a limited area for their brewing accessories.
Models that include a frothing wand tend to need at least a little clearance on that side so the wand can swing out when in use, though it can be tucked away after for simple storage.
Cabinet height matters when it comes to condensation and refilling the water reservoir, though models where the reservoir detaches make that step easier.
As we show you what we love about our top choice and the best option for a budget-buy, consider the space you have and how likely you are to use all the versatility any Ninja Coffee Bar model provides.
Later on, we answer some frequently asked questions to wrap everything up.
---
Ninja Speciality Coffee Bar Systems – How They Perform
This brand includes a lot of feature-rich options for most of its models, which means there's a great option for every kind of shopper. It comes down to personal preference and a few minor details as to which one works best for you.
Budget Pick: CF091
Although cheaper than our single-serve top pick, the CF091 offers more versatility and so it may be a better buy for anyone who wants the entire range of specialty brew options and styles.
PROS
Full range of brew options
All five available brew methods
Frothing wand powered by machine
CONS
Large size requires equally large countertop space
The permanent filter can allow small particles through
Buttons and display on base may be vulnerable to damage
---
CF097 – With Thermal Carafe System
While this model doesn't differ much in terms of functionality and settings, it does offer more accessories than other options.
Not only does it use a thermal carafe, but it comes with a pitcher to brew a batch of iced coffee, too.
---
PROS
All brew options available with this model
Allows for all five coffee styles
Includes iced coffee carafe
CONS
Takes up a lot of countertop real estate
Stop-drip may still leak
Basket continues to drip even after brewing ends
---
CF080Z Coffee Bar
This model limits its brewing profile in favor of focusing on a few special features.
It also comes with a to-go mug that can be used for hot and cold drinks, plus a frothing beaker that has a microwave-safe base.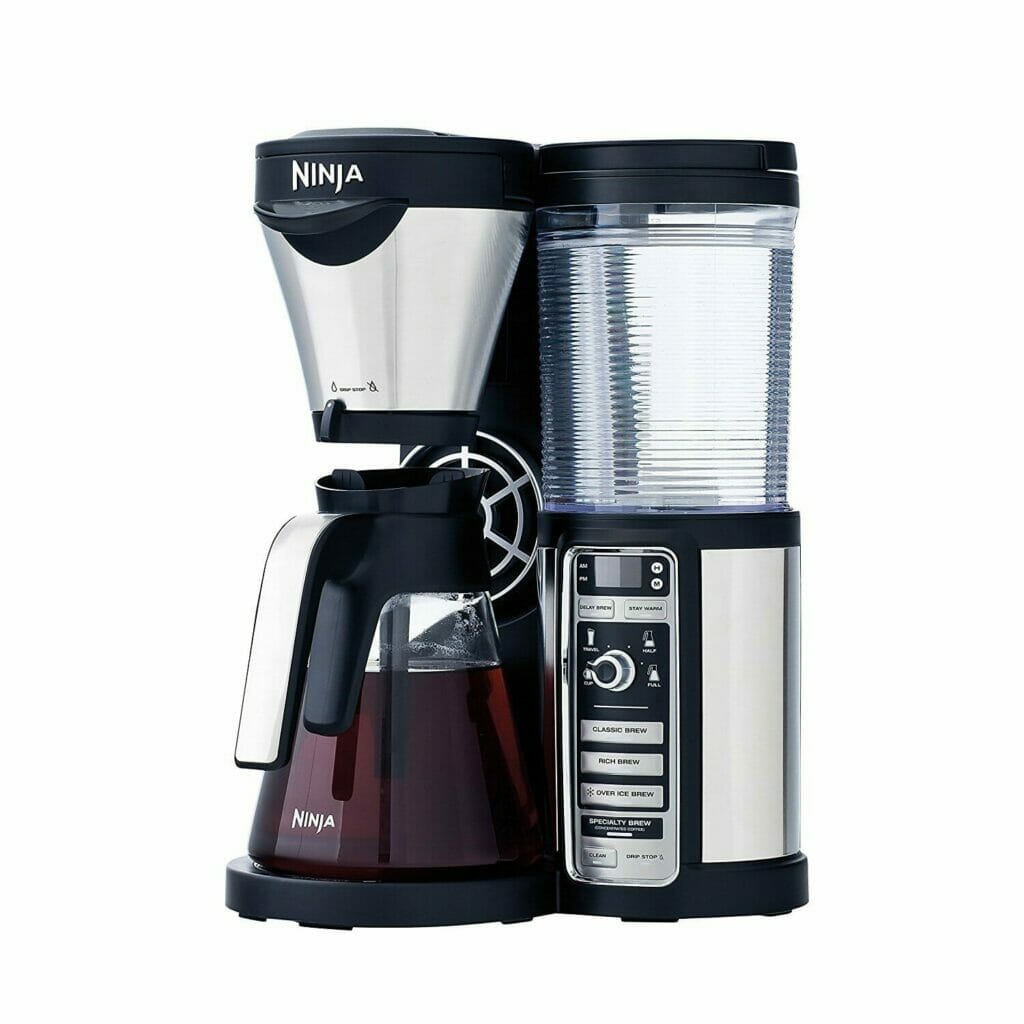 PROS
Brews all sizes from a single cup to full carafe
Permanent filter cuts down on extra purchases
Comes with 18-ounce to-go mug
CONS
Limited brew types compared to other models
No built-in frothing wand
Not compatible with a thermal carafe
---
CF111 – Ninja Coffee Bar Single Serve System
Like our top pick, this model focuses on the single-serve options that Ninja provides.
You get all the same technology and features for a slightly more affordable price given this is a slightly older version in that line.
PROS
Removable water reservoir
Built-in frothing wand
Pre-heats water for faster brewing
CONS
Older model in this line
Clean light can sometimes stay on despite being clean
The temperature may not always be accurate
---
CF085Z
Much like the CF080Z, this model's design offers a more compact design that looks more like other traditional drip-brew machines.
While it is limited on brewing sizes, it's still versatile enough to satisfy small or large batch brewing.
PROS
Thermal carafe keeps coffee hot without overheating
Brews single-serve sizes, plus half or full carafe
More compact build than other models
CONS
No built-in frothing wand
Not compatible with glass carafes which need a warming plate
Does not brew the extra-large cup or multi-serve options
---
How to Clean a Ninja Coffee Bar System
1. Cleaning the exterior
The exterior of a Ninja should be cleaned using only warm water, soap and a non-abrasive cloth.
To avoid any risk of damage, unplug the machine before cleaning and do not allow water or run over the buttons and brew selection display.
2. Washing the components
If the model uses a removable reservoir and wand, detach these and clean them with mild soap and water and allow to thoroughly dry before placing them back on the machine.
Glass or thermal carafes can also be cleaned with a gentle soap and warm water. If they have a build-up of residue, consider using a solution specifically created to break down this film.
3. Descaling the system
Check with each model's manual for model-specific instructions before cleaning. Generally speaking, the Ninja's automated cleaning cycle requires a cleaning solution and some rinse cycles before it completes.
A full cleaning cycle can take up to an hour and the flush cycle can take up to 15 minutes. If either part of the cycle is interrupted before completion, the Clean light may not turn off.
While descaling a Ninja Coffee Bar Brewer with vinegar is a suitable at-home solution, there are special formulas available that may not smell as potent as a vinegar cleanser does.
---
Ninja Coffee Bar vs Keurig
Like Keurig brewers, Ninja systems offer single-serve options in a variety of sizes. This typically ranges from a standard cup to an extra-large mug size.
The strength settings found on Keurig's best coffee makers are also common on Ninja Bars, which impact how bold each cup's taste ends up being.
Where they differ is the brewing mechanism itself. Keurig machines all rely on pre-packaged or reusable pods.
If the models are part of Keurig's Plus series, they are only compatible with 2.0 pods.
Ninja's brewing systems use traditional filters, either permanent mesh or paper ones, so you can use the grounds of your choice.
---
Frequently Asked Questions
Can paper filters be used with these brewing devices?
Even if the model comes with a permanent filter, a paper filter can be used in combination with it to reduce the amount of volatile oils that brew into the cup. Some consumers choose this method for a milder flavor.
Are single-serve models compatible with K-Cup pods?
No, the Ninja Coffee Bar System's single-serve settings are not designed to work with any pod-style brew cup. Filters and coffee grounds to a medium-coarse size work best with this brand's brewers.
What is the difference between the frother wand and beaker?
Models with an attached frothing wand are powered by the machine itself and spin the frothing mechanism at the push of a button, which can be used with cold or pre-heated milk. The beaker uses a manual push-pump method for frothing milk.
Does the frothing wand heat the milk?
No, milk must be preheated before using a frothing wand if you want your milk warm. The frothing wand can be used with cold milk, too.
Does the Ninja Coffee Bar make espresso?
Because it does not use pressurized steam extraction, these devices do not brew espresso like espresso machines.
However, the brew strength settings and Specialty or Cafe Forte choices can help you get a similarly bold and full-bodied flavor that is similar to the concentrated taste of espresso.