These two machines are within the same price range, so, is what they can offer comparable as well? How different are they from each other? And, which espresso machine would suit your coffee brewing needs better?
In this article, you can find out detailed answers about Gaggia Classic Pro vs Breville Barista Express.
Short on time? Jump to the Final Verdict to read our summary of each espresso machine.
---
Gaggia Classic Pro Espresso Machine
The water pressure is always kept under control to ensure a consistent extraction process and easy removal afterward.
And, even if you're not the most tech-savvy barista, Gaggia Classic Pro with its straightforward button interface and indicator lights shouldn't be a challenge.
What's more, it's even compatible with coffee pods to provide extra speed and convenience for busy users.
---
Breville Barista Express Espresso Machine
So, you can truly taste third-wave specialty coffee at home.
---
Gaggia Classic Pro Vs Breville Barista Express – Similarities
Semi-Automatic Espresso Machines – Is Breville Barista Express Semi-Automatic?
Yes, and Gaggia Classic Pro as well. You don't have to manually put in the effort to apply high pressure on the water flow but the entire espresso brewing process isn't fully automated either. You still have control over how the extraction is carried out (dose, volume) and manually perform certain tasks (milk texturing).
Bar Pressure
How Many Bars Gaggia Classic Pro?
The Gaggia Classic Pro pressure can achieve 15 bars to recreate the authentic Italian espresso experience featuring a satisfyingly thick layer of light brown crema.
How Many Bars Is Breville Barista Express?
Breville Barista Express pressure is produced thanks to the 15-bar pressure pump. But, when brewing espresso using freshly ground coffee beans, only 9 bars are needed for satisfying flavor extraction.
Volumetric Control
You can manually control the coffee volume on both the Breville Barista Express and Gaggia Classic Pro semi automatic espresso machine by pressing the brewing button when you want to start and stop.
Instant Hot Water
Both coffee machines allow you to get instant hot water for preheating the cup and making Americanos quickly and conveniently without having to boil a separate kettle.
You can also utilize this source of hot water for making instant foods and beverages like instant noodles, tea, or hot chocolate.
Dry Puck
Having trouble cleaning up the filter basket after brewing espresso because it's so wet, sticky, and grimy?
Worry no more! The Dry Puck feature on the Breville Barista Express espresso machine BES870XL is here to the rescue. It releases water pressure from the used coffee grounds in the filter basket so it's easy to dispose of the coffee puck.
The Gaggia Classic Pro semi-automatic espresso machine is also equipped with some similar technology.
It has a 3-way solenoid valve that controls the water pressure throughout the operation of the machine. So once you've got your perfect espresso, the pressure ceases and you can pull out a perfectly dry coffee puck, ready to be removed.
---
Gaggia Classic Pro Vs Breville Barista Express – Differences
Water Tank Capacity
Integrated Grinder – Does Gaggia Classic Pro Come With Grinder?
No, but its competitor, Breville Barista Express, does.
The bean hopper on top of the Breville Barista Express coffee machine can carry up to 1/2 lb (226.8 g) of beans, which is as many as some dedicated grinders in the market.
You can adjust the Breville Barista Express grind settings via the Grind Size Selector on the side of the device.
There are 16 different precise settings to pick from, ensuring that you'll find a suitable size for whatever type of high-quality coffee beans you decide to use.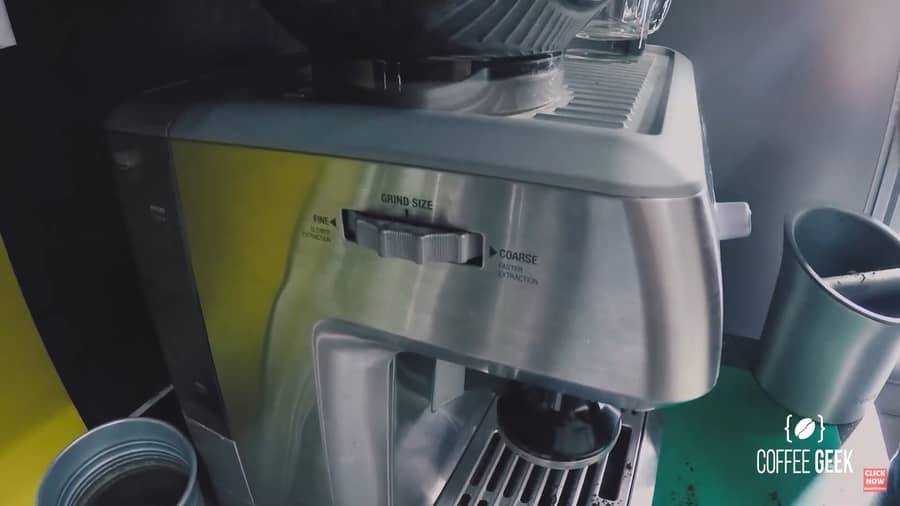 What's more, you may also adjust the default setting of the inner top burr to get access to more grind sizes, if the ones available can't accommodate your needs.
Other than that, you may also adjust the amount of coffee you want to use to meet the coffee-to-water ratio you have in mind. Or, you can rely on the automatic dosing function and call it a day.
Heat-Up Time
How Long Does The Breville Barista Express Take To Heat Up?
You can start making coffee with the Barista Express after 2 minutes from its cold state, thanks to its 1700W high power and Thermocoil heating system.
Just turn it on and go brush your teeth and the machine should be ready when you return.
How Long Does It Take Gaggia Classic Pro To Heat Up?
The Gaggia Classic Pro warm up time takes a bit longer – around 5 minutes. It relies on dual heating elements to heat its single boiler.
Low-Pressure Pre-Infusion Function
Similarly, when brewing espresso, you can "pre-infuse" the coffee grinds with some water before the actual extraction. But, under low pressure which is then slowly built up.
Here, the Barista Express automatically takes over that role to produce better espresso quality, a true third-wave experience.
Temperature Control
PID
The modification is very affordable and totally reversible, though it'd have been more convenient if they had been manufactured with it in the first place.
Adjustable temperature control
The Barista Express also allows you to adjust the water temperature in small degree increments in the Advanced Temperature setting mode to ensure that you have absolute control over the brew.
You can't make great espresso if it's too cool or hot to your liking.
This feature isn't available on the Gaggia Classic Pro.
Thermocoil heating system
The Barista Express also relies on the integrated stainless steel water coil heating system to enhance the temperature control, ensuring that the ideal degree is maintained throughout the extraction process.
The Gaggia Classic Pro doesn't come with this.
Interface
However, a beginner home barista may find the extremely simple and minimalistic design hard to pull off a quality shot on their first few tries.
Since there's no Gaggia Classic Pro pressure gauge or any brew timer to follow, it's hard to assess the extraction and learn from your mistakes.
Again, you can find modifications and add a pressure gauge to the machine for more convenience. But, it'd have been nice if you didn't have to do that in the first place.
The Barista Express machine, on the other hand, boasts a much more crowded interface, featuring numerous buttons and dials.
More buttons mean you'll need to rely on the manual more to navigate around, though it's still very easy to use once you're used to the grind.
The Barista Express is also well-loved for its pressure gauge that can help you assess the extraction and predict the outcome before the process even ceases. It's a great way to identify what you're doing wrong and how to improve.
Programmability Options
Another big difference between Gaggia Classic Pro vs Breville Barista Express is programmability.
You also have plenty of other programmability options, such as adjusting the preset volume, the water temperature, grind amount, etc. to achieve a cup of Joe that better suits your ideals.
Coffee Pod Compatibility
Accessories
What is included in the Breville Barista Express? Aside from the machine itself, you may also find these Breville Barista Express accessories:
Razor Dose Trimming Tool
Stainless Steel Portafilter (*)
1-cup & 2-cup Single & Dual Wall Filter Baskets (**)
Coffee Scoop
Integrated Tamper
Stainless Steel Milk Jug
Cleaning disc and tablets
Cleaning brush, tool, and Allen Key
Water Filter Holder and Water Filter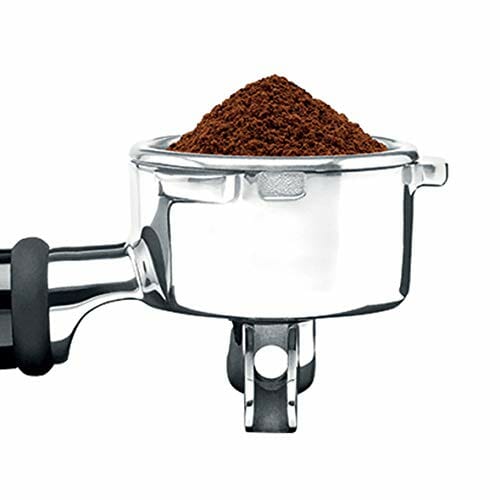 (*) What size portafilter in Breville Barista Express? It's 54 mm, the standard Breville portafilter size, in general.
(**) Is Barista Express pressurized? Yes, it comes with both pressurized (dual-wall) and non-pressurized (single-wall) filter baskets.
I recommend sticking to the single-wall filter baskets when grinding fresh beans to have more control over the extraction.
The dual-wall filters apply more pressure on the water flow to cover for the less perfect pre-ground beans and poorly ground ones (by blade grinders and bad-quality burrs).
Regarding the Gaggia machine, you can find these accessories:
Chrome-plated brass portafilter (***)
3 types of filter baskets (****)
Milk Jug
Grounds doser
Tamper
(****) Can you use pre-ground coffee in Gaggia Classic Pro? Is Gaggia Classic Pro pressurized? Yes and yes. The included pressurized baskets can be utilized for pre-ground beans.
Once you've gotten used to them, move onto the professional-level ones to have more control over the brew. There's also a filter basket specifically for brewing espresso with coffee pods.
What size basket comes with Gaggia Classic Pro? You can find options for both single and double shots.
Size
If you're especially worried about the machine taking up too much space, note that the Gaggia device's compact size is one of its highlights.
Price
Both devices are within the mid-high-end price range. And, as you can probably guess, the Barista Express is more expensive than the Gaggia device, around $200, to be exact.
But, since the Gaggia Classic Pro semi-automatic espresso machine doesn't come with a built-in grinder, you need to buy a separate grinder to brew the freshest coffee. So the additional cost for a quality burr can cover the $200 difference.
However, even with a grinder, the Classic Pro still doesn't possess Breville's long list of convenient techs and programmable functions. So you may still need to spend more money on modifications.
---
Final Verdict
To wrap up this Breville Barista Express vs Gaggia Classic Pro, personally, I strongly favor the former machine. I've also chosen it as the best performing espresso machine in other line-ups before, including the best espresso machines in the market.