Starbucks and Dunkin' are 2 of the biggest coffee chains in the US (1). So it's no wonder that coffee drinkers are arguing over which offer better quality coffee and service than the other.
In this article, you'll be able to read the ultimate Dunkin' vs Starbucks showdown. We'll look at their coffee, their stores, their menus, customer service, and more!
Could Dunkin' take the crown despite its second place? Let's find out.
---
What Is Dunkin' Donuts?
Dunkin' Donuts is an American multinational coffee and baked goods chain, which means they offer more than just donuts.
Founded in 1950 in Quincy, Massachusetts, the first Dunkin' Donuts originally served coffee, pastries, and sandwiches. The name was inspired by the act of dunking donuts into cups of coffee, pretty self-explanatory.
The brand actually went through a rebranding of its name and image in 2019, mostly in the US market.
It dropped the "Donuts" in the name, leaving only "Dunkin'" left to emphasize its diversification efforts on other items beyond coffee and donuts. So if you're wondering whether Dunkin' is going to stop selling donuts, it's not.
Other than the more upscale image, the menu now includes more premium and non-coffee drinks as well as merchandise as Dunkin' is trying to inch closer to becoming a lifestyle brand.
But in most countries in the world, the original name still remains, with some exceptions. For example, the brand is referred to as Dunkin' Coffee in Spain.
---
What Is Good About Dunkin' Donuts?
Coffee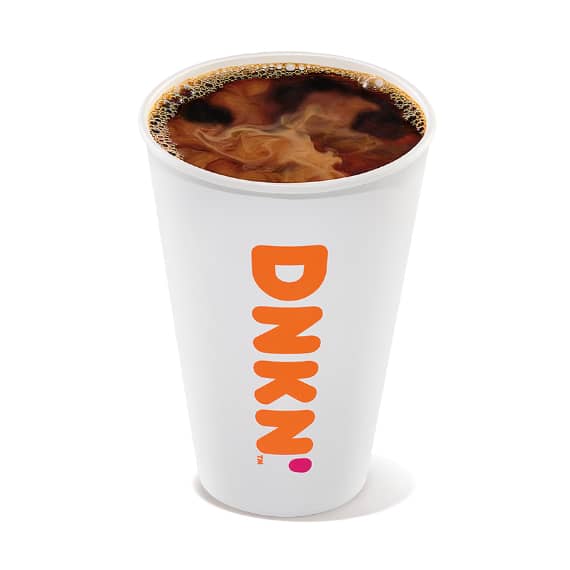 Donuts
Other than good coffee, can you guess what else is drawing the customers to Dunkin'? Ring, ring, ring! Donuts!
Although the brand has dropped "Donuts" from its name, the quality and variety are still maintained to accompany visitors' cup of Joe.
Dunkin' is currently offering over 80 different flavored donuts. That's an insane number of choices to fill your grains food group for the day.
And, we all know that many donuts are empty in the middle. But these donut holes aren't tossed away. They're instead utilized to make up the Munchkins Donut Hole Treats for Dunkin'.
You'd think that they'd also be available in as many flavors as the main treat. The bad news is the company only offers 10 options. But the good news is they're all tasty treats to munch on together with your drinks.
Menu Variety
And other than one of the most popular things the brand's known for (it was clearly in the brand's name) and coffee (being a coffee chain and all), Dunkin' also serves a large menu of other drinks and food.
For those who don't drink coffee but still want to consume caffeine of some form to function like the rest of society, you can grab a cup of tea.
If that's too British for you, the Dunkin' Refreshers may be the answer. The green tea is paired with flavored fruit concentrate and vitamin Bs to keep you energized and fun!
Food-wise, you can get more baked goods like bagels and muffins, a light meal like sandwiches and wraps, and fried snacks like hash browns to get comfy for breakfast or brunch.
---
What Is Starbucks Coffee?
What? Who's asking this question?
You already know that Starbucks is one of the biggest coffee and roastery reserves chains that's expanded beyond America to many countries and regions in the world. Over 80 countries, to be specific.
Founded in 1971, started from the bottom as a roastery and retailer of coffee, tea, and different spices. Now you can't cross the street without running into one of the Starbucks stores.
---
Why Is Starbucks So Successful?
What differentiates it from the average coffee shop? What makes people keep coming back to this chain?
Ambiance
Starbucks pays special attention to the customers' comfort by optimizing its store design. The inviting coffee aroma, the relaxing music, the cozy color scheme and furniture, and the warm lighting.
Every little detail contributes to building an environment that's pleasant and comforting enough for customers to catch a break to casually sip on their cup of Joe, catch up on their study and work, or catch up with their friends and business partners.
And just like that, Starbucks has become a go-to location for many coffee and non-coffee drinkers.
And of course, the premium experience and brand image also play a part in fulfilling the customers' psychological needs.
Coffee
But still, Starbucks offers some good damn coffee drinks as well. Good enough that some of them have gone on to become funny memes (*cough* Pumpkin Spice Latte *cough*).
The brand also trademarked its Frappuccino menu, which is essentially a line of blended iced coffee drinks.
What's more, as the brand has a background as a roastery, Starbucks also takes special care when it comes to the beans.
The brand uses 100% Arabica, which is usually considered to be the superior type with a milder, less bitter flavor, more complex acidity, and less caffeine.
Menu Variety
And other than the hot coffees and Frappuccinos I've mentioned, Starbucks also offers different iced coffee, hot and iced teas, and other soft drinks to keep the non-coffee drinker company during their stay.
The brand also serves a food menu that goes beyond your typical baked goods. You can have a hot breakfast, oatmeal and yogurt, and even lunch.
---
Starbucks Vs Dunkin' – Which Store Is Better?
Experience
Although Dunkin' has been trying to step up its game since it's leaving the "Dunkin' Donuts" image to move on to the premium "Dunkin'" only, the clear winner is still Starbucks.
With beautiful, elegant, and sometimes very unique architectural design and all of the environmental elements I've mentioned earlier, Starbucks serves an excellent traditional coffee shop experience to visitors.
On the other hand, Dunkin' still gives off a more industrial fast-food chain with its bright and funky colors and design, which can be fun and upbeat, but definitely not as warm, cozy, and inviting.
Nonetheless, this debate can be up to personal tastes.
Coffee
Now, let's talk about coffee tastes. Which one has better coffee?
Since you're going to a coffee shop, the least you would expect is decent coffee, right?
Both Starbucks and Dunkin' can meet your caffeine needs. But, Dunkin' stores can only sell you "decent".
Between the two, Starbucks definitely offers stronger coffee, from light to dark roast, from a simple cappuccino to Nitro Cold Brew.
What's more, many coffee trends started from Starbucks. Think Pumpkin Spice Latte and Nitro Cold Brew. Non-coffee? Think Chai Latte and Teavana teas. They need to taste good to become popular.
Other Food and Beverages
If you're here to drink, Starbucks should have a wider variety of beverages, especially coffee.
But if your main goal is sweet treats and sugar, Dunkin' undoubtedly has a larger menu, especially donuts.
Cost
Due to having a different target market, Dunkin' takes up a more competitive pricing strategy to be more affordable.
And when you come to a Starbucks store, you need to pay slightly more money to match the premium ambiance and service that it offers.
---
To Wrap Up – Dunkin' vs Starbucks – Who Wins?
Overall, Dunkin' is a pretty good option to spend your morning at. It's fun and upbeat. You get to drink a large amount of decent coffee for a cheaper price than a Starbucks drink. And you get a wide selection of donuts to dunk them.
But, Starbucks should still keep its first place in the market for the attention to detail in both the brews and customer experience.
---
References
(1) https://www.statista.com/statistics/250166/market-share-of-major-us-coffee-shops/