Coffee lovers often find themselves wondering if they can grab a cup of their favorite brew any time of the day.
McDonald's, known to offer a variety of food options, also caters to coffee enthusiasts with their McCafé menu.
Many customers are curious to know does McDonalds serve coffee all day, allowing them to satisfy their coffee cravings whenever they hit.
But in short:
Yes, McDonald's serves coffee all day through their McCafé menu, offering both hot and iced coffee options. The availability and specific offerings might vary by location.
McDonald's McCafé menu includes a range of coffee-based beverages, such as espresso drinks, lattes, and cappuccinos.
Additionally, for those looking for a cold treat, McDonald's offers frappes all day in flavors like caramel, mocha, and vanilla.
Not only can customers enjoy coffee at any time, but McDonald's also offers delivery options for their McCafé drinks through Uber Eats.
With the convenience factor in mind, it's evident that McDonald's is undoubtedly a coffee option worth considering for those who seek satisfying caffeine fixes throughout the day.
---
Does McDonalds Serve Coffee All Day?
Yes, McDonald's serves coffee all day, catering to those who need a caffeine fix at any time.
Their coffee menu, known as McCafé, offers a variety of delicious options to suit different preferences.
Whether you're a fan of hot coffee or iced coffee, McDonald's has it covered with its range of espresso drinks and coffee beverages.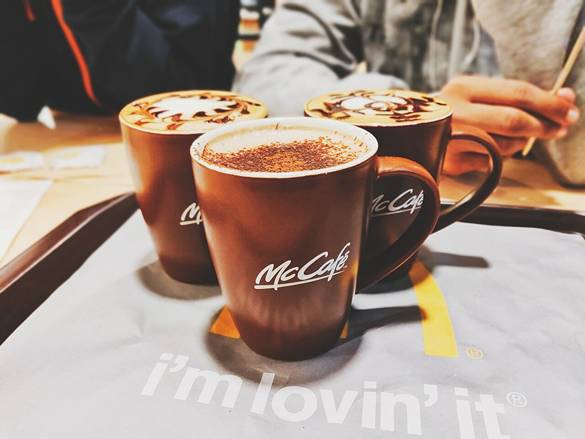 The McCafé menu includes the following options:
Iced Caramel Latte
French Vanilla Latte
Iced French Vanilla Latte
Caramel Frappé
Mocha Frappé
In addition to these, McDonald's also offers classic iced lattes, frozen coffee drinks, hot cappuccinos, and caramel macchiatos.
For those who prefer a simpler option, freshly brewed hot coffee, and iced coffee are available as well.
It's important to note that while McDonald's serves coffee all day, the availability and menu options may vary based on location.
It's always a good idea to check with your local McDonald's store to confirm which options are offered.
Apart from their delectable coffee options, McDonald's also provides a variety of creamers, allowing customers to customize their coffee beverages according to their taste preferences.
---
Types of Coffee and Beverages at McDonald's
Mcdonald's Hot Coffee
McDonald's serves a selection of hot coffee beverages, ensuring there's something for everyone.
They use 100% Arabica coffee beans for their hot coffee options, which are known for their smooth and consistent flavor.
Some popular hot coffee selections are:
Regular Coffee
Premium Roast Coffee
Decaf Coffee
Americano
Mcdonald's Iced Coffee
For those who prefer a cold beverage, McDonald's offers Iced Coffees in an array of delicious flavors, cream, and flavored coffee syrup, including Iced French Vanilla coffee, Iced Caramel Macchiato, and Mocha.
These refreshing drinks provide a perfect way to cool off while still enjoying the taste of coffee.
Espresso
The McCafé menu includes a variety of espresso-based drinks made with rich, bold espresso. Options include:
Hot Cappuccino
Latte
Mocha
Iced Latte
Tea
In addition to coffee and espresso, McDonald's also serves hot tea, including standard black tea and green tea.
These options cater to customers who prefer a slightly lower caffeine content or enjoy the taste of tea.
Lattes
One of the most popular offerings on McDonald's coffee menu is their selection of lattes. Choose from classic flavors like Caramel, French Vanilla, or Mocha, or opt for a plain Latte.
These drinks are available both hot and iced, catering to personal preferences and seasonal demands.
Frappes
Customers looking for a sweet, blended treat can explore the Caramel and Mocha Frappés on the McCafé® menu.
These frozen coffee drinks are deliciously indulgent and perfect for those hot summer days or simply as a special treat.
These McDonald's coffee and beverage offerings cater to various tastes and preferences, ensuring that everyone can find a satisfying option.
From the classic, smooth taste of hot Arabica coffee to the rich and creamy frappes, McDonald's ensures customers can enjoy their favorite caffeinated drinks any time of the day.
Mccafé Quality and Ingredients
Mcdonald's McCafé line of coffee beverages is known for its commitment to quality and taste.
One of the key aspects of McCafé's quality is the use of 100% Arabica beans. Arabica coffee beans are known for their smooth, rich flavor, making them a preferred choice for many coffee lovers.
In addition to using Arabica beans, McDonald's ensures that its coffee is sustainable.
As of 2017, 54% of their McCafé coffee was sourced sustainably through certifications such as Rainforest Alliance UTZ,
Fair Trade International, and Fair Trade USA. This demonstrates the chain's commitment to both the environment and the coffee farmers who cultivate the beans.
Another aspect of McCafé's quality is its caffeine content. Caffeine levels can vary depending on the type of drink, size, and preparation methods.
However, generally, McCafé beverages provide a reasonable amount of caffeine, making them an ideal choice for those looking for an energy boost without overloading on caffeine.
To cater to different customers' preferences, McDonald's offers a variety of McCafe coffee drinks, including:
Iced Caramel Latte
French Vanilla Latte
Iced French Vanilla Latte
Caramel Frappé
Mocha Frappé
The availability of such a diverse menu means there's a coffee beverage to suit nearly everyone's taste.
It's also worth mentioning that McDonald's freshly brews its McCafé coffee throughout the day at participating locations, ensuring that customers can enjoy the rich taste of their coffee any time they visit.
This dedication to freshness is another reason why McCafé has become a popular choice for many coffee drinkers.
---
At-Home McDonald's Coffee Options
For those who enjoy McDonald's coffee and want to savor it in the comfort of their homes, the company offers a range of McCafé® at Home products.
This includes various blends, flavors, and packaging options to meet the different preferences and needs of coffee lovers.
Customers can choose from 100% Arabica coffee that comes in K-cup pods, bags, and cans.
Arabica coffee is known for its smooth and consistent flavor, making it a popular choice for coffee drinkers.
The moderate caffeine content and versatile pairing with many foods add to its appeal.
The McCafé at Home line offers a variety of blends to match everyone's tastes.
Whether someone prefers a light, medium, or dark roast, they can find a suitable option in the McCafé® lineup.
Each blend is crafted to deliver the rich aroma and delicious taste customers have come to expect from McDonald's coffee.
When it comes to packaging, McCafé at Home products are available in different formats to accommodate various brewing methods:
K-Cup pods: Perfect for those with a Keurig machine, ensuring a quick and easy brewing process.
Ground coffee bags: A versatile option suitable for use with drip coffee makers, French presses, or espresso machines.
Coffee cans: Providing an easy storage solution and help to maintain optimal freshness.
In summary, McDonald's McCafé® at Home range provides numerous options for customers to enjoy their favorite coffee blends in the convenience of their own homes.
With a variety of roasts and packaging formats, there's an option to suit every preference and brewing method.
Promotions and Specials
McDonald's is known for offering various promotions and specials throughout the year, particularly for their coffee products.
One notable promotion is the McCafé® Coffee menu, which showcases a selection of espresso drinks that customers can enjoy any time of the day.
This menu includes iced lattes, caramel macchiatos, and even frozen coffee drinks like Frappés.
Additionally, the McDonald's app offers several deals and perks for coffee lovers.
On Fridays, users can take advantage of the Free Fries Day promotion, which provides free medium Fries with any $1 minimum purchase.
Just be sure to opt in for the Rewards program.
McDonald's also has the popular $1, $2, $3 menu, featuring a variety of low-cost options for customers to choose from.
This menu can be accessed through the McDonald's app or at any of their restaurant counters without the need for specific coupons.
Lastly, if you are looking for a free coffee opportunity, make sure to keep an eye on special events or limited-time promotions.
McDonald's is known to offer free coffee giveaways during specific periods, like National Coffee Day or customer appreciation events; though these offers may vary by location and time of the year.
In conclusion, McDonald's enthusiasts can enjoy coffee all day and find numerous promotions and specials.
Just remember to use the app, sign up for the Rewards program, and stay updated on upcoming events to get the best deals possible!
The Golden Arches' Coffee Evolution
Over the years, McDonald's, also known as the Golden Arches, has come a long way in providing coffee to its customers all day long.
Initially known for its fast food menu, the introduction of McCafé allowed McDonald's to tap into the world of coffee chains and compete with industry giants like Starbucks.
One key aspect of their coffee evolution has been the usage of advanced coffee machines.
These machines ensure that the coffee is brewed to perfection, maintaining a consistent taste across all outlets.
The golden arches prioritize upkeep and maintenance for their machines and have invested in proper cleaning schedules.
To maintain cleanliness, McDonald's uses a well-formulated cleaning solution to ensure their machines remain hygienic.
Regular cleaning protocols also help extend the life of the machines, reducing the risk of malfunctioning or breakdowns.
Furthermore, McDonald's has also diversified their coffee offerings with the introduction of various coffee-based beverages.
Ranging from simple brewed coffee to fancy lattes and frappuccinos, they cater to different tastes and preferences, giving customers plenty of options to choose from.
In conclusion, McDonald's has successfully evolved its coffee game to keep up with the growing demands of customers, staying relevant in the competitive world of coffee chains.
With its focus on quality coffee and machines, as well as consistent maintenance, the golden arches have made sure that customers can enjoy freshly brewed coffee any time of the day.
Q&As
Does McDonald's still serve coffee all day?
Yes, McDonald's still serves coffee all day. According to their website, they offer a variety of hot and iced coffee drinks that are available all day long.
Can you get McDonald's iced coffee anytime?
Yes, McDonald's offers iced coffee drinks that are available all day long. They have a variety of flavors and sizes to choose from.
What types of coffee drinks does McDonald's offer?
McDonald's offers a variety of hot and iced coffee drinks, including regular coffee, lattes, mochas, cappuccinos, and iced coffee drinks. They also offer flavored syrups and creamers to customize your drink.
Can you order McDonald's coffee online?
Yes, you can order McDonald's coffee online through their mobile app or website. You can choose to pick up your order in-store or use their delivery service.
Does McDonald's offer any deals or promotions on their coffee?
Yes, McDonald's occasionally offers deals and promotions on their coffee drinks. You can check their website or mobile app for current offers.