Just so you know, if you click on a product on CoffeeGeek.tv and decide to buy it, we may earn a small commission to help us keep making more awesome guides like this.
Pulling a third-wave specialty shot can be hard for the average coffee drinker.
However, with the help of Breville automatic espresso machines that come with innovative technologies and user-friendly features, you too can brew cafe-quality coffee at home.
In this article, I will compare two espresso machines that are both capable of delivering you an astounding espresso experience, Breville Oracle vs Oracle Touch.
They might appear incredibly similar at first glance, but beneath the surface, one may suit your personal preferences much better.
---
Breville Oracle Espresso Machine
The Breville Oracle espresso machine has an integrated conical burr grinder that offers high precision and consistency for espresso grinding in terms of both size and dose.
It also provides excellent coffee temperature control to automatically extract coffee and steam milk simultaneously with great speed and ease.
Moreover, it's engineered with a water pressure valve that helps apply the optimal amount of pressure throughout the coffee extraction without going overboard. From pulling an espresso shot to making milky espresso-based coffee, you'll navigate through its intuitive LCD screen and user-friendly buttons and dials.
You'll manually make suitable adjustments and have the espresso machine automatically do the actual deed. It's suitable for anyone who desires convenience and ease of use but also a bit of hands-on action and manual tweaking.
---
Breville Oracle Touch Espresso Machine
The Oracle Touch also comes with a built-in grinder and milk texturizer, allowing you to go through the entire process of making fresh specialty coffee brews.
It's equipped with state-of-the-art technologies to maintain the optimal water temperature and apply the ideal amount of pressure on the water flow during the espresso pull.
Most brilliant of all is its interface. The well-designed and colorful touchscreen display allows you to make brews that meet whatever coffee preferences you have with the swipe of a finger.
You also get to make and save personalized coffee recipes to waste no time getting your favorite brews in the busy mornings.
Thanks to the Oracle Touch features, this espresso machine can automatically create fresh third-wave specialty coffee while requiring only minimal effort from the user.
---
Breville Oracle Vs Oracle Touch Espresso Machines – Similarities
Like other Breville products, they're both designed with the 4 Keys Formula to bring a third-wave specialty experience that features rich, full-bodied, and balanced coffee and velvety smooth textured milk.
Fully-Automatic Espresso Machine
Both Breville espresso machines can be considered to be fully automatic as they can automatically carry out all related tasks, from grinding coffee beans, brewing coffee, to steaming milk.
This is also what they're currently being promoted as on many eCommerce platforms, including Amazon. So…
Why Is A Breville Oracle BES980XL Espresso Machine A Semi-Automatic?
You may also find some label Breville the Oracle as a semi-automatic. This confusion arises due to how it was introduced initially.
Breville claims that it was the first automatic manual espresso machine that automates the most difficult parts of espresso-making, grinding, dosing, tamping, and milk texturing.
And espresso is still "manually" pulled with appropriate temperature and pressure. But all of those complexities that you have to be mindful of when using a manual machine are now taken care of by the high techs of the original Oracle.
The same can be said about the Breville Oracle Touch coffee machine. You can also find it under the name: Breville Oracle Touch automatic-manual coffee machine BES990.
Water Tank Capacity
Both the Breville Oracle and Oracle Touch can carry up to 84 oz (2.5 l) of water, which is a lot more than what some other Breville machines are capable of.
Bean Hopper Capacity
They also share the same bean hopper capacity with 1/2 lb (226.8 g) of coffee beans being the limit.
Burr
Both machines have a built-in hardened steel conical burr grinder that's optimized for espresso grinding in terms of both grind size and consistency.
This way, you don't have to buy a separate grinder and can start brewing coffee right after grinding the whole beans for peak freshness.
Hands-Free Automatic Grind, Dose, & Tamp
Once you lock the portafilter in and pick the grinding options, take your hands off, go ahead, and take care of the rest of your morning routine while these machines do the hard work:
Automatic grinding
Automatic dosing
Automatic tamping
You'll receive a properly tamped puck of coffee grounds in the right size and dose with minimal intervention necessary.
You can also manually adjust the tamp parameters to fine-tune the tamping force and polishing duration. After all, a tamp too loose or too tight can also affect the shot performance.
Grind Size Dial
You can easily adjust the grind setting via the dial to ensure it suits the beans you're using and the coffee strength you're aiming at.
Grind Settings
Both the Oracle and Oracle Touch have 45 different grind settings from coarse to fine to satisfy your needs.
Breville Oracle Touch & Breville Oracle Bar Pressure
Breville espresso machines offer a 15 bar pressure pump that can apply and maintain an ideal pressure amount of 9 bar during the extraction process.
Heat-Up Time – How Long Does The Breville Oracle Touch Take To Heat Up?
It takes a couple of minutes (~ 2 minutes) for the Oracle and Oracle Touch to heat up, unlike the Breville Barista Touch, which is ready for use in a matter of seconds thanks to its ThermoJet Boiler.
Automatic Self-Cleaning Steam Wand
Similar to grinding, these devices also can also deliver an automatic hands-free milk texturing session.
No more struggling to find the right angle to hold the milk pitcher.
All you have to do is select the programmable milk temperature and milk texture that you desire (silky smooth latte, frothy and creamy cappuccino microfoam, or anything in between).
And, when leaving the automatic steam wand in the downward position, the machine will automatically purge to get rid of the residual milk inside and prevent blockages.
But, if you want to improve your coffee knowledge and learn to steam milk properly by yourself on the weekends, feel free to switch to the manual milk texturing mode.
Simultaneous Coffee & Steam – Is Breville Oracle Dual Boiler?
Both the Oracle and Oracle Touch come with a stainless steel dual boiler dedicated to brewing espresso and steaming milk independently. That's why you can make coffee and steamed milk at the same time with no wait time.
Precision Control
PID Digital Temperature Control
If you're familiar with Breville products, you must have heard of the programmable digital PID control.
Digital temperature controls help maintain the water temperature precision during the brewing process for a consistent and balanced extraction.
Actively Heated Group Head
The commercial-size group head is also capable of maintaining thermal stability if the previous technology hasn't convinced you of how seriously Breville takes this.
Regulated Extraction Pressure
The machines are equipped with an over-pressure valve that can limit the maximum pressure to optimally extract flavors.
As mentioned above, the pressure pump is capable of 15 bars, but in action, only 9 bars are actually needed.
Low-Pressure Pre-Infusion Function
Rather than raising the water pressure to the 9-bar point right away, this feature gradually builds it up as the ground coffee slowly expands when coming into contact with hot water.
This ensures an even and thorough extraction from the beginning to the end.
Dual Pumps
Thanks to the stainless steel dual boiler, you get dedicated boiler pumps as well.
Programmable Shot Temperature
Feel free to adjust the water temperature to meet your temperature preference. No more dreading that the coffee's too hot or too cold.
Manual Shot Volume Override
Generally, the machine would automatically extract following the preset 1-cup (1 oz) and 2-cup (2 oz) volumes.
But if you find them too little or too much, feel free to switch to the manual extraction mode to take things into your own hand.
Auto Start & Auto Off
Have the machines turn on at any given time so you can wake up to the smell of freshly brewed coffee in the early morning. And you can program them to automatically turn off from 0.5 – 8 hours after use.
Does The Breville Oracle Make Regular Coffee? Does Breville Oracle Touch Make Regular Coffee?
Yes, the Oracle and Oracle Touch can make anything from a simple espresso shot and other espresso styles (Ristretto, Long Shot) to espresso-based coffee drinks like latte, Flat White, or cappuccino.
Accessories – What Does The Breville Oracle Touch Come With?
Other than the machines themselves, you can also find these accompanying accessories helpful during your time together:
Mini Grinds Bin
58mm Full Stainless Steel Portafilter
1-cup & 2-cup Single Wall Filter Baskets
16oz (480 ml) Stainless Steel Milk Jug
Steam Wand Spare Parts
Cleaning Kit
Water Hardness Test Strip
Water Filter Holder and Water Filter
---
What Is The Difference Between The Breville Oracle And The Breville Oracle Touch?
| | | |
| --- | --- | --- |
| | Breville Oracle | Breville Oracle Touch |
| Dimensions (WxDxH) | 14.5″ x 14.7″ x 17.6″ (36.8 x 37.3 x 44.7 cm) | 14.7″ x 14.7″ x 17.8″ (37.3 x 37.3 x 45.2 cm) |
| Weight | 34.5 lbs (15.6 kg) | 37.3 lbs (16.9 kg) |
| Material | Stainless steel | Brushed stainless steel |
| Type of espresso machine | Fully automatic | Fully automatic |
| Water tank capacity | 84 oz (2.5 l) | 84 oz (2.5 l) |
| Bean hopper capacity | 1/2 lb (226.8 g) | 1/2 lb (226.8 g) |
| Low-pressure Pre-infusion | Yes | Yes |
| Optimal Water Pressure | Yes | Yes |
| PID Temperature Control | Yes | Yes |
| Programmable water temperature | Yes | Yes |
| Actively heated group head | Yes | Yes |
| Manual volumetric control | Yes | Yes |
| Dual Boiler | Yes | Yes |
| Interface | LCD display, buttons, and dials | Touch screen display |
| Pre-programmed menu | No | Yes |
| Savable Customized Coffee | No | Yes (up to 8 drinks) |
| One-Touch Americano | Yes | No |
| Shot clock | Yes | No |
| Steam wand | Automatic | Automatic |
| Built-in burr grinder | Yes | Yes |
| Grind settings | 45 | 45 |
| Hands-free grinding, dosing, & tamping | Yes | Yes |
| Auto Start & Auto Off | Yes | Yes |
| Accessories | Yes | Yes |
And I definitely can't compare Breville Oracle and Oracle Touch without mentioning how different they are from each other.
Interface
The key differences between these 2 machines lie in their interface.
The Breville Oracle fully automatic espresso machine boasts not 1 but 3 intuitive LCD displays:
Main LCD: shows the current settings and programmable settings to simplify the process.
Grind LCD: shows the current grind settings.
Steam LCD: shows the current milk temperature and texture settings.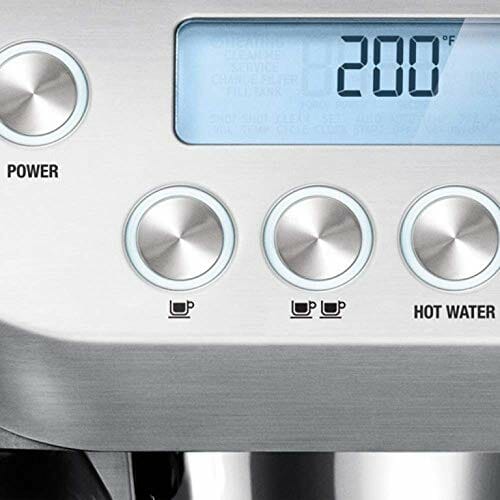 You'll mainly navigate around with the iconic Breville buttons and dials.
The Oracle Touch, on the other hand, offers insane convenience that saves you both effort and time with the colorful well-designed touch screen.
By merely swiping and tapping on the screen, you can order the Oracle Touch to automatically do anything you want, from selecting high-quality pre-programmed drinks to personalizing your own brews, which I'll go into more detail in a little bit.
So, rather than making adjustments via manual buttons and dials, you'll navigate through the intuitive touch screen which hardly calls for a manual to operate.
Pre-Programmed Coffee Settings
On the touch screen of the Oracle Touch, there's a pre-programmed café-quality menu that contains the most common espresso coffee drinks, including espresso, Long Black, Latte, Flat White, and cappuccino.
It's like having a personal barista at home. Just swipe and select the drink you desire on the menu and the automatic barista will serve you one in no time.
Customized Drinks
Other than that, the Oracle Touch also allows you to adjust the coffee strength and milk texture and temperature to your personal liking.
Then save the customized drinks and create your own personal menu for next time (up to 8 personalized cups).
One-Touch Americano
The Breville Oracle coffee machine doesn't come with as many shortcuts as the Oracle Touch. But, if you're a fan of the dark Americano, you'll be happy to hear that the former comes with a helpful one-touch Americano button!
It prompts the automatic machine to deliver a double espresso and add the right amount of hot water through a separate spout right afterward! So you don't have to manually do it yourself.
Shot Clock
If you're used to timing your espresso shot, this shot clock on the Breville oracle espresso maker will surely come in handy as it displays the duration of the extraction.
You'll be able to tell how your shot will turn out before the process even wraps up!
Size – Breville Oracle & Breville Oracle Touch Dimensions
They're not that much different in size, so you'll hardly need to worry about this.
Just make sure that you have the space for them on your kitchen counter as they aren't the most compact machines around here.
Breville Oracle: 14.5″ x 14.7″ x 17.6″ (36.8 x 37.3 x 44.7 cm)
Breville Oracle Touch: 14.7″ x 14.7″ x 17.8″ (37.3 x 37.3 x 45.2 cm)
Price
Overall, both are very high-end machines. The Oracle Touch would obviously be the more expensive one out of the two ($1,500 more, to be specific), which is likely out of many casual coffee drinkers' budgets.
But, those who can afford it obviously welcome the level of automation and personalization that it offers to save time and energy and get served the perfect cup at home.
---
Final Verdict – Breville Oracle Vs Oracle Touch Review
Both are similar in many aspects but the big difference in the user interface sets them far apart. Whether you go for Breville Oracle or Oracle Touch, make sure it meets your personal needs (and budget).
Is The Breville Oracle Worth It?
Personally, I prefer the Breville Oracle and all the controls that it come with.
Although almost every step of the way is automatic, I still get to operate it like a semi-automatic via the buttons and dials.
Not to mention the neat shot clock that's a big help in assessing the extraction.
Is Breville Oracle Touch Worth The Money?
The Breville Oracle Touch appeals more to those who desire full automation and great speed and ease of use to match their busy schedules. It's practically like hiring a live-in barista to make delicious third-wave specialty coffee any time.