There are many electric espresso machines in the market that can relieve the pain of manually applying high pressure on the water flow to pull an espresso shot.
But, did you know that there is more than one level of automation? Busy coffee lovers would certainly love as much convenience as possible to make speedy yet tasty brews at home.
In this article, I will compare the Breville Oracle Touch vs Barista Touch espresso machines, both of which are known for their ultimate ease of use via the touch interface.
If you're looking for the best Breville espresso machine, definitely consider these 2.
Read on to find out how they're similar and different from each other and which can fulfill your coffee needs the best!
---
Breville Oracle Touch Espresso Machine
It's an all-in-one espresso-making solution for anyone who can't be bothered to buy multiple separate coffee gear just to make a simple coffee shot.
Breville Oracle Touch coffee machine comes with a built-in grinder and automatic steam wand that makes the entire coffee-making process effectively streamlined and automated with minimal hiccups.
The device accurately grinds, doses, and tamps the optimal coffee grounds size and amount to maximize coffee flavor extraction.
Breville the Oracle Touch is also equipped with technologies that can accurately adjust and maintain the water pressure and water temperature during the brewing process, which can lead to more consistently high-quality coffee brews getting extracted.
The most notable feature of the Oracle Touch Breville is the intuitive touch screen that allows users to easily and quickly swipe and select to pick their favorite coffee options.
Many coffee lovers will also enjoy the savable personalized coffees feature. It can significantly reduce coffee-making time in the morning while still providing enough freedom to give users the third-wave specialty coffee cup that they prefer.
---
Breville Barista Touch Espresso Machine
The Breville Barista Touch espresso maker also delivers an excellent coffee-making experience to busy coffee drinkers.
Similar to its cousin, this device also comes with an integrated grinder and dedicated steam wand. Feel free to experiment with the simplest espresso shot to the finest milky espresso-based drinks.
Everything from the grind size of the coffee beans to the water pressure and milk temperature will be automatically taken care of by the Breville the Barista Touch espresso machine to ensure that they're optimal for coffee extraction and milk texturization.
And, the Barista Touch Breville also simplifies your navigation via its convenient touch screen display and saves your time via its savable personalized coffees feature. So, you can still grab your favorite brews in the rushing morning hours.
---
Breville Barista Touch Vs Oracle Touch – Similarities
As Breville devices, they're designed with the 4 keys formula, including the right dose of freshly ground coffee, the right water pressure, the right water temperature, and the right steaming temperature, to allow users to make cafe-quality coffee at home.
Super-Automatic Machine – Is The Breville Barista Touch Fully Automatic?
Since both Breville Oracle Touch and Barista Touch enable automation in every step, from grinding coffee beans to brewing espresso and steaming milk, they can be referred to as super-automatic or fully-automatic machines.
But, while presets and automation can come in handy, especially when you don't have much time to spare, these devices also allow users to switch to manual modes and gain more freedom over the brewing process.
And, if you're wondering why some retailers label Breville® the Oracle Touch complete espresso maker as a semi-automatic espresso machine, there's a very reasonable explanation for it.
Though many steps are automated, the machine still runs hot water through the coffee grounds puck under high pressure to "manually" extract coffee compounds.
So, it was initially marketed as an automatic manual/semi-automatic device that simplifies the brewing process while preserving the manual espresso taste that many admire.
Bean Hopper Capacity
Both Breville coffee makers share the same bean hopper capacity of 1/2 lb (226.8 g), enough to freshly prepare coffee for any household.
Burr – What Type Of Grinder Is In The Barista Touch?
Both machines allow you to prepare fresh coffee grounds on the same device via their built-in hardened steel conical burrs, optimal for espresso grinding.
Rather than producing one uniform grind size, conical burrs dispense consistently dual-sized grounds that are more ideal for pulling an espresso shot.
Hands-Free Automatic Grinding & Dosing
That's right. You can keep your hands to yourself while the Breville machines accurately grind the coffee grinds size you've picked and dose the amount you've chosen.
No more messy grinds sprinkle all over your kitchen counter.
Bar Pressure
Breville machines, including the 2 devices we're discussing today, are equipped with a pressure pump capable of delivering 15 bar of pressure. But, when in action, only 9 bars are necessary.
PID Digital Temperature Control
The digital temperature control helps maintain the optimum extraction temperature throughout the process to produce a cup of Joe that's consistent in quality.
Adjustable Shot Temperature Control
If you find the default coffee temperature too cold or too hot, feel free to adjust it to your personal preference and avoid that McDonald's incident!
Low-Pressure Pre-Infusion
As you start the brewing process, the coffee grounds slowly expand and release gases as they come into contact with hot water.
During this, it's better to slowly build up the pressure to pre-infuse them rather than applying 9 bars immediately.
Volumetric Control
The preset 1-cup and 2-cup brewing volumes are 1 oz and 2 oz respectively. If that's too little or too much for you, switch to the manual brewing mode or reprogram the default volumes.
Instant Hot Water
Both come with a dedicated hot water outlet to conveniently make a cup of Americano or instant beverages and foods.
Interface
Both Breville Barista Touch vs Oracle Touch are well-known for their intuitive touch screen display that simplifies and speeds up the coffee preparation process.
All you have to do is add your favorite coffee beans to the hopper, swipe and select brewing options available on the touch screen, and wait for the optimum coffee extraction to automatically happen.
Preprogrammed Drink Recipes
If you can't be bothered with the detailed adjustments, simply swipe through the five preprogrammed drink recipes – the classic espresso, Long Black, Latte, Flat White, and cappuccino. It's like ordering at coffee shops!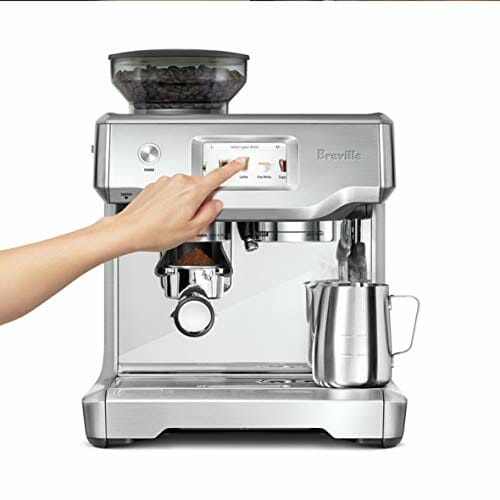 Automatic Steam Wand – Can You Manually Froth Milk With Barista Touch?
The automatic hands-free steam wand allows users to create any style of textured milk effortlessly. No need to learn all the complicated steaming tricks from how you should hold the pitcher to how long should the process last. There's also an automatic purge function that helps effectively remove the leftover milk after you're done to prevent clogging and damage to the wand.
You can also switch to the manual texturing mode to do it yourself and sharpen your brewing skills.
---
What Is The Difference Between Barista Touch And Oracle Touch?
| | | |
| --- | --- | --- |
| | Breville Oracle Touch | Breville Barista Touch |
| Dimensions (WxDxH) | 14.7″ x 14.7″ x 17.8″ (37.3 x 37.3 x 45.2 cm) | 12.7″ x 15.5″ x 16″ (32.3 x 39.4 x 40.6 cm) |
| Weight | 37.3 lbs (16.9 kg) | 26.8 lbs (12.2 kg) |
| Material | Brushed stainless steel | Stainless steel |
| Type of espresso machine | Fully automatic | Fully automatic |
| Water tank capacity | 84 oz (2.5 l) | 67 oz (2 l) |
| Bean hopper capacity | 1/2 lb (226.8 g) | 1/2 lb (226.8 g) |
| Heating system | N/A | ThermoJet |
| Heat-up time | 2 minutes | 3 seconds |
| Low-pressure Pre-infusion | Yes | Yes |
| Optimal Water Pressure | Yes | Yes |
| PID Temperature Control | Yes | Yes |
| Programmable water temperature | Yes | Yes |
| Manual volumetric control | Yes | Yes |
| Dual Boiler | Yes | No |
| Actively heated group head | Yes | No |
| Over Pressure Valve | Yes | No |
| Instant hot water | Yes | Yes |
| Interface | Touch screen display | Touch screen display |
| Pre-programmed menu | Yes (5 drinks) | Yes (5 drinks) |
| Savable Customized Coffee | Yes (up to 8 drinks) | Yes (up to 8 drinks) |
| Steam wand | Automatic | Automatic |
| Built-in burr grinder | Yes | Yes |
| Grind settings | 45 | 30 with adjustable inner top burr |
| Hands-free grinding & dosing | Yes | Yes |
| Automatic tamping | Yes | No |
| Manual grinding & dosing option | No | Yes |
| Auto Start & Auto Off | Yes | No |
| Dry Puck | No | Yes |
| Accessories | Yes (with mini grinds bin & 58mm portafilter) | Yes (with double-wall filter baskets, Razor dose trimmer, & Knock Box) |
As similar as they may appear on the surface, there are some big differences between these 2 Breville espresso machines that can serve different needs of different coffee enthusiasts.
Water Tank Capacity
The Breville® Barista Touch espresso maker can accommodate up to 67 oz (2l), which is a lot on its own to serve espresso for many people throughout the day.
But, the Breville espresso Oracle Touch still has a larger water tank capacity – 84 oz (2.5 l). This can actually be considered to be an outlier compared to other Breville espresso machines.
So, generally, the Breville maker Barista Touch espresso machine should suffice, unless you have a large household of coffee fanatics, expect companies to frequent your home often, or consider getting a machine for your office.
Automatic Tamping
Though both are capable of automatically grinding and dosing, the tamping feature is only available on the Breville Oracle Touch fully-automatic espresso machine.
The device also allows you to manually adjust certain tamp parameters (tamping force and polishing duration) to ensure that the automatic tamp suits whatever type of coffee beans, grind size, or the amount you're using.
With the Breville BES880BSS Barista Touch espresso machine stainless steel, however, you have to take things into your own hand. Grab the accompanying tamper and take some extra minutes out of your day to learn the art of manual tamping (and cleaning the messy drip tray afterward).
Breville Oracle Touch & Breville Barista Touch Grind Settings
The Breville espresso machine Oracle Touch (45 settings) boasts a wider grind range than the Breville espresso Barista Touch (30 settings), which means the former promotes higher size precision than the latter.
Keep in mind that both devices also allow users to adjust the inner top burr other than the outer grind dial.
The default setting of the inner burr is 6 on a range of 1 – 9, so you can still make an extra effort to achieve a finer or coarser grind than what's seemingly available.
Manual Grinding & Dosing
Only the Breville ® Barista Touch ™ brushed stainless steel espresso machine allow you to switch to manual grinding and dosing if you find the automatic result unsatisfactory.
Dual Boiler
Is Breville Oracle Touch Dual Boiler?
A notable Breville Oracle Touch vs Barista Touch difference is the dual boiler construction. One is dedicated to brewing espresso, while the other is for making steamed milk. This means you can perform 2 functions at the same time.
Is The Barista Touch A Dual Boiler?
This isn't available on the Breville BES880BSS Barista Touch espresso maker so you have to queue up and steam milk after making coffee.
Heat-Up Time
How Long Does The Breville Oracle Touch Take To Heat Up?
If you wake it up from its cold idle state, wait for around 2 minutes for the machine to fully warm up before using. But, once it's on properly, it brews coffee and steams milk simultaneously thanks to its dual boiler construction.
How Long Does The Barista Touch Take To Warm Up?
The Barista Touch shortens that wait time significantly to only 3 seconds, all thanks to the ThermoJet heating system. This state-of-the-art technology that's only available on later Breville models also allows users to immediately transition from the espresso to steam function to eliminate wait time completely.
Savable Customized Coffees
Previously I mentioned a preset menu that's available on both devices.
And, other than that, a coffee drinker can also make eight customizable drink profiles that suit their personal preferences and save them as a personal coffee menu.
But the adjustment options vary a little bit between Breville Barista Touch vs Oracle Touch. The former allows you to adjust the shot volume while you can change the coffee strength for the latter.
So, same-same (varying volumes bring varying coffee strength) but different. If you don't know much about brewing coffee, the Oracle Touch system would appear more straightforward.
They both do let you adjust the milk texture and temperature to produce suitable steamed milk, frothed milk, or latte art.
Actively Heated Group Head
The group head of the Breville Oracle Touch BES990BSS espresso machine has an embedded thermal stabilizing element that helps maintain the ideal temperature during the brewing process to promote a more consistently extracted cup.
Together with the espresso dedicated boiler and steam boiler, that means the Oracle Touch has a triple heat system.
Over Pressure Valve
As I've mentioned, the pressure pump of a Breville coffee maker is capable of 15 bars, but only 9 is ideal.
So the Oracle Touch is equipped with the Over Pressure Valve to limit the pressure to avoid extracting the bitter flavors.
Auto Start & Auto Off
You can also program the Oracle Touch to automatically turn on at any time and turn off after brewing from 0.5 to 8 hours.
Dry Puck
If you dread cleaning up the portafilter after brewing because of how wet and messy the coffee puck is, the dry puck feature on the Barista Touch that removes excess water can make the task much more tolerable.
Accessories
Both coffee makers come with:
Single (1 & 2 Cup) Filter Baskets
16 oz (480 ml) Stainless Steel Milk Jug
Cleaning Kit
Water Filter
What Does The Breville Oracle Touch Come With?
Other than those common accessories, the Oracle Touch is also accompanied by a Mini Grinds Bin and a 58mm full stainless steel portafilter, which is a bit larger than your average Breville's.
What Comes With Breville Touch?
The Breville Touch also comes with double-wall filter baskets that can accommodate pre-ground coffee for those days you can't be bothered with grinding whole beans.
And, since you need to tamp manually, the Razor precision dose trimming tool is added to the purchase to help you clean up the puck properly after each tamp.
You'll also find the accompanying Knock Box helpful for dosing, tamping, and discarding used grounds, just like professional baristas.
Size
Considering the Oracle Touch's larger water tank capacity and more convenient features, you can expect the Barista Touch to be the more compact espresso machine.
Breville Oracle Touch dimensions: 14.7″ x 14.7″ x 17.8″ (37.3 x 37.3 x 45.2 cm)
Breville Barista Touch dimensions: 12.7″ x 15.5″ x 16″ (32.3 x 39.4 x 40.6 cm)
Price
And those extra functions and features also translate to the price as well. In this Breville Touch vs Oracle Touch battle, the Barista Touch is obviously less expensive (considerably, in fact).
---
Final Verdict For Breville Espresso Machines
Is The Breville Oracle Touch Worth It?
Though significantly more expensive, it's definitely worth it for anyone who's looking for a practical stay-in barista at home that can make them specialty brews whenever they want.
The amount of automation and adjustments are enough to steal any busy coffee lovers' hearts. It's especially great for those who know little about making coffee.
Find a more detailed Breville Oracle Touch review if you're interested.
Is The Barista Touch Worth It?
Compared to the Oracle Touch, it's so much more affordable yet still offers a decent amount of automation, personalization, and an intuitive interface.
You can also switch to the manual mode more freely on the weekends to hone your coffee-making skills. But, your skills are needed where automation isn't available, such as tamping.
If you prefer this, why not read a more in-depth Breville Barista Touch review here?