Breville espresso machines are well-known among coffee lovers for the amount of control and precision they can offer to make third-wave specialty coffee at home.
By investing in powerful and reliable espresso machines like them, you can drink good coffee, hone your barista skills, and inch closer to becoming a full-fledged coffee aficionado.
In this article, we'll compare the 2 rather similar Breville espresso machines, Breville Infuser vs Barista Express to identify how exactly they're different from each other and which would suit you better.
---
Breville Infuser Espresso Machine
The Breville Infuser is a high-quality espresso machine that can enhance the precision of the extraction process with the innovative technologies that it's equipped with.
The water pressure is developed slowly from the beginning of the process to make sure all flavor compounds are drawn out thoroughly and favorably.
The water is also well-managed thanks to the digital PID temperature control.
The user also has the option to adjust the temperature to achieve a more ideal brew per their personal preference.
The Breville Infuser offers both preset settings and manual control over the espresso volume as well.
What's more, the espresso machine also has an integrated manual steam wand so you can experiment with various espresso-based drinks and have fun with creating latte art.
Overall, it's a durable standard espresso machine that should satisfy the basic needs of a home barista.
---
Breville Barista Express Espresso Machine
The Breville Barista Express can assist the user with every aspect of making espresso, which means it doesn't stop at just pulling the shot.
Starting from the grounds up. The Breville Barista Express espresso machine comes with a built-in grinder that's optimally designed to dispense the perfect dose of espresso ground coffee directly into your portafilter.
When it comes to the brewing process, the water pressure and temperature are properly developed and controlled to ensure a thorough, precise, and smooth extraction.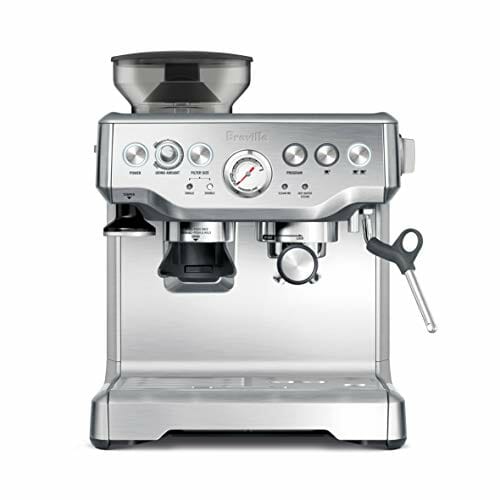 The user can also make use of the manual steam wand to create textured microfoam milk to enhance the espresso cup in terms of both taste and visual.
The Breville Barista Express is the best-seller super-automatic coffee machine on Amazon and the best Breville espresso machine in my book as well for the efficiency that it offers, despite my 'twist plot' preference below. Sorry in advance!
---
Is Breville Infuser Same As Barista Express?
These 2 Breville coffee machines are so similar that many people figure they're probably one and the same. Well, it's true that, when it comes to espresso brewing functions, they pretty much are.
Both the Breville Infuser and Barista Express are designed to incorporate Breville's 4 keys formula.
It guarantees the right amount of grounds, water pressure, water pressure, and steam temperature to produce a satisfying third-wave specialty-worthy cup of coffee.
Semi-Automatic/Automatic Espresso Machines
They can both be considered semi-automatic or automatic espresso machines.
Different from the manual devices that require the user to use their own power to pull an espresso shot, the automatic machines have an electric pressure pump that can automatically apply the right amount of pressure on the water flow, relieving the user from the hard work.
But the Breville Infuser and Breville Barista Express aren't fully-automatic either because not every step of the brewing process is fully implemented by the machines.
That isn't necessarily a bad thing, however. For example, you can have the freedom to adjust the size of the ground coffee and the water temperature and steam milk however you want.
That means you get the chance to improve your espresso brewing skills and the cup of coffee that you produce will be much closer to your personal ideals.
PID Temperature Control – Does Breville Infuser Have PID? Does The Breville Barista Express Have PID?
Both the Breville Barista Express and Breville Infuser are equipped with digital PID temperature control, which can enhance temperature stability to maintain it around the ideal temperature for pulling espresso shots (93 degrees Celsius/199.4 Fahrenheit).
This way, your coffee would be consistently extracted from the start to the end of the process.
Thermocoil Heating System
The Breville Infuser and Breville Barista Express also come with an integrated stainless steel thermocoil heating system.
It helps improve the water temperature precision so that you can accurately control adjust it to the degree that you desire.
No more too hot or too cold coffee because the temperature of the coffee machine is now adjustable in small increments (4 degrees Fahrenheit).
Heat-Up Time
How Long Does It Take The Breville Infuser To Warm Up?
It can take as fast as less than 30 seconds for the Infuser to heat up. However, it's best to wait for at least a couple of minutes (up to 10) to let it warm up properly, especially from its dead cold idle state.
How Long Does The Breville Barista Express Take To Heat Up?
Same as the Breville Infuser, the Barista Express also takes a few minutes to heat up correctly.
Bar Pressure – How Many Bars Of Pressure Are In Breville Barista Express and Breville Infuser?
All espresso machines from Breville utilize a 15 bar Italian pump. But when in action, only 9 bar of pressure is applied to best extract the flavor compounds while still allowing the water to evenly pass through the freshly ground coffee puck.
Low-Pressure Pre-Infusion
The Breville Barista Express and Breville Infuser both have a pre-infusion function.
It lets water come into contact with the ground beans at a low pressure initially before gradually building it up along the process to make sure all coffee compounds are drawn out thoroughly and evenly.
And thanks to the pre-infusion function, the result is a balanced and flavorful cup of coffee that makes all the difference.
Breville Infuser Pressure Gauge & Breville Barista Express Pressure Gauge
One of the most desirable features of the Breville Barista Express and Breville Infuser is the analog pressure gauge.
It displays the amount of pressure being applied to the hot water throughout the entire brewing process.
The pressure gauge helps the user monitor and assess the coffee extraction and learn the outcome of the shot before it's even done.
Overall, it's a very convenient tool to identify possible fails (under-extraction, over-extraction) and find ways to fix the issues on the next brew accordingly.
Though beginner home baristas may not be familiar with it and would prefer a more straightforward indicator or assessment method, with learning and practice, anyone can master the use of the pressure gauge.
Control Panel
To operate the Breville Infuser and Barista Express, users navigate with the classic Breville buttons and dials.
Volumetric Control
Like other Breville machines, the Breville Infuser and Barista Express also offer preset 1 (1 oz) and 2-cup (2 oz) volumes to help the user conveniently pull a single or double shot.
Feel free to manually override or reprogram the shot volumes if you find them too little or too much personally.
Steam Wand
The commercial-grade manual stainless steel steam wand is also available on the Breville Infuser and Breville Barista Express.
It's an extremely powerful steam wand with a 1650 W element that enables 360-degree swivel action for users to effortlessly create third-wave specialty-worthy milk froth to add to the cup of espresso.
With this, you can explore the vast realm of milky espresso-based coffee drinks with little but very clear distinctions between one another.
You can also get your creative juices flowing with different styles of latte art that may be a bit more difficult to master than you might think.
Instant Hot Water Dispenser
The Breville Infuser and Barista Express also provide a hot water outlet for preheating serving cups and making Americanos or other types of instant beverages (tea, hot chocolate) and foods (noodles, oatmeal).
Drip Tray Indicator
Both machines should warn you to clean to drip trays when they're full. Look out for when it shows "Empty Me!".
Cleaning Alert
The cleaning alert is available on coffee makers to ensure that users clean the machines regularly. Keeping them in tip-top shape helps maintain the coffee's consistently good quality and lengthen the products' life cycle.
Dry Puck
Have you ever had any issue or inconvenience when disposing of the used coffee grounds after brewing? They're all wet, sticky, and messy, aren't they?
Here's a solution. The dry puck feature of the Breville Infuser and Barista Express helps remove the excess water from the ground beans in the filter basket after the extraction to make cleaning the coffee puck less messy and so much easier to handle.
Accessories – What Comes With Breville Infuser And Breville Barista Express?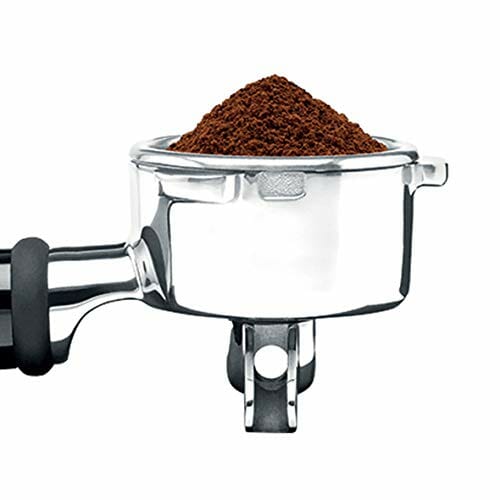 When buying a coffee maker, most of the time, you can expect to get more than just the device itself. The accessories that come along with the coffee maker can assist with the brewing and cleaning process.
Here are what you can find when buying the Breville Infuser and Barista Express:
54mm Stainless Steel Portafilter
1 cup & 2 cup Single & Dual Wall Filter Baskets (*)
Coffee Scoop
Stainless Steel Milk Jug
Cleaning disc and tablets
Cleaning brush, tool, and Allen Key
Water Filter Holder and Water Filter
Razor Dose Trimming Tool
(*) You should always use freshly ground coffee beans to ensure the freshness of the cup of coffee, which can make a significant difference in taste, aroma, and overall quality.
And the freshly ground freshly roasted beans should be brewed with the single-wall filter basket which gives you more control over the extraction, as long as the coffee beans are properly ground with a high-quality grinder.
Otherwise, if you have to use pre-ground coffee or beans that are poorly ground, it's best to opt for the dual-wall filter baskets which can apply more pressure on the water flow to assist with the extraction process.
---
What Is The Difference Between Breville Infuser And Barista Express?
The biggest difference between the Breville Infuser vs Barista Express is the integrated grinder, which isn't available on the former coffee maker.
The Barista Express is actually part of the Barista Series of Breville that provides an all-in-one solution to brewing espresso.
From grinding and brewing to steaming milk, all are available on this one-destination coffee maker to deliver a consistently high-quality coffee brew.
| | | |
| --- | --- | --- |
| | Breville Infuser | Breville Barista Express |
| Dimensions (WxDxH) | 12.3″ x 10.1″ x 13.1″ (31.2 x 25.7 x 33.3 cm) | 12″ x 11″ x 13.5″ (30.5 x 27.9 x 34.3 cm) |
| Weight | 17 lbs (7.7 kg) | 23 lbs (10.4 kg) |
| Material | Brushed stainless steel | Steel |
| Water tank capacity | 61 oz (1.8 l) | 67 oz (2 l) |
| Bean hopper capacity | N.A. | 1/2 lb (226.8 g) |
| Heating system | Thermocoil-integrated | Thermocoil-integrated |
| Low-pressure Pre-infusion | Yes | Yes |
| Optimal Water Pressure | Yes | Yes |
| PID Temperature Control | Yes | Yes |
| Pressure gauge | Yes | Yes |
| Volumetric control | Yes | Yes |
| Steam wand | Manual | Manual |
| Instant hot water | Yes | Yes |
| Built-in burr grinder | No | Yes |
| Grind settings | N.A. | 18 with adjustable inner top burr |
| Dose control grinding | N.A. | Yes |
| Hands-free grinding | N.A. | Yes |
| Drip tray indicator | Yes | Yes |
| Cleaning alert | Yes | Yes |
| Dry Puck | Yes | Yes |
| Accessories | Yes (tamper not included) | Yes |
Integrated Grinder – What Grinder Is In Breville Barista Express?
The Barista Express is equipped with a stainless steel conical burr grinder which is optimal for grinding beans for brewing espresso.
Unlike a flat burr grinder which prioritizes grind uniformity and produces one single size, the conical burr grinder consistently creates dual-sized grounds comprising both smaller and larger particles.
Together, they work well to optimize the coffee-to-water contact as well as the water flow for excellent espresso extraction.
The stainless steel material also makes the burr grinder more durable and less prone to chipping. It's very popular for commercial machines.
Adjustable Grind Size
The Barista Express offers 18 different grind settings from coarse to fine so you can pick the right size for whatever type of beans you're using or brews you're trying to make.
Adjusting the grind size is also a great idea to change the coffee strength and make it fit your personal preference better.
You may also adjust the inner top burr to access a wider grind range (coarser or finer) than what's available on the outer Grind Size selector.
The default setting for the inner top burr is number 6 (on a 1 – 9 range). You can adjust it to a bigger number for a coarser size or a smaller number for a finer size.
Adjustable Grind Amount
Feel free to adjust the amount of ground coffee being dosed into your filter basket so that it suits your personal coffee strength preference and the fineness of the grinds better.
Automatic Dosing
By using the FILTER SIZE button, the Barista Express coffee maker will automatically dispense the required amount of grinds for a single or double cup dose.
As convenient as it is, feel free to switch to the manual mode whenever you want for more control and precision.
Hands-Free Grinding
Thanks to the auto-stop function and the innovative portafilter cradles, you can carry out the grinding process on this home espresso machine without the need for your hands.
It's great to have your hands down at some point during the busy mornings.
Bean Hopper Capacity
The Breville Barista Express can carry up to 1/2 pound (8 oz/226 g) of beans. But I recommend only putting precisely the amount of beans for that coffee shot or that day to ensure the freshest brew possible, as opposed to just stacking the hopper with beans to be used for days on end.
Integrated Tamper
The Barista Express also comes with an integrated tamper to help compact the coffee puck and make sure the water wouldn't flow too fast or too slow through it.\
This is a great and reasonably important step to get a perfect cup of coffee that's well-extracted.
The tamper that comes along with the Barista Express is ideally designed for the 54 mm portafilter. As long as you get the technique right, your tamp should turn out just fine.
Removable Water Tank Capacity
Much to everyone's surprise, the capacity of the water tanks on these two machines are actually different. The Barista Express can accommodate up to 67 oz (2 l) while the Infuser can only carry up to 61 oz (1.8 l).
So, in this round of Breville Infuser vs Barista Express, the latter wins by a couple more shots of coffee.
Make sure not to add more than the maximum allowed amount to the water tank as these machines aren't designed to brew for big carafes and containers.
Size
In this round of Breville Infuser vs Barista Express, though the built-in grinder of the Barista Express should ensure a big enough difference in sizes, they're, in fact, not that smaller or bigger than each other.
The Barista Express is only slightly taller than the Infuser (13.5 inches/34.3 cm vs 13.1 inches/33.3 cm) due to its protruding bean hopper and built-in grinder.
There's also only a slight difference in width and depth between the Breville Infuser (12.3 x 10.1 inches/31.2 x 25.7 cm) vs Barista Express (12 x 11 inches/30.5 x 27.9 cm), possibly due to the smaller water tank on the Infuser.
Overall, unless you have very limited counter space and a specific size in mind, this shouldn't be that big of a concern.
Price
Both the Infuser and the Barista Express lean on the high-end price range and aren't the most affordable. But, essentially, you get what you pay for.
And, as you can probably tell, the Barista Express is more expensive compared to the Infuser due to the built-in grinder.
The extra grinder costs extra money – ~$120 – which should be roughly enough to cover the cost of a separate grinder for the Infuser.
Keep in mind that buying a better quality grinder can cost more than that, so buying the Barista Express may even save you money.
But, a separate grinder with a wide range of grind settings can cover other brewing methods other than espresso as well.
So, if you're a home barista who experiments with different types of brew, getting the Infuser and a grinder can be a better trade.
---
Final Verdict – Breville Infuser Vs Barista Express
Both the Infuser and Barista Express are great options if you're looking for a durable home machine that can pull off a variety of third-wave specialty espresso coffee brews.
They share a similar interface, including the pressure indicator, which is likely favored by coffee aficionados (including me). But it's not hard for beginners to learn the craft either.
As long as you don't mind trials and errors and actively making efforts to get the coffee right, these semi-automatic/automatic are definitely for you. Otherwise, if you prioritize convenience, ease, and speed, you should look at fully-automatic devices.
When it comes to Breville Barista Express vs Breville Infuser, at the end of the day, it's all about personal preferences. Pick the device that suits your personal needs better.
But, when push comes to shove with what I would pick, I would choose the Infuser and buy and separate grinder as I personally like more control over the grind settings.
And, in case the grinder breaks or needs servicing, I can still have my morning coffee by using pre-ground beans with the Infuser.
Is Breville Infuser Good Machine?
Yes, Breville Infuser is a high-quality espresso machine that's very similar to the Barista Express. Though it doesn't come with a grinder and accommodates a little less water, it comes at a reasonable price considering those cuts.
The Infuser is suitable for those who have already owned a coffee grinder and regularly experiments with different methods outside of espresso as well.
---
Is Breville Barista Express A Good Machine?
Though it's more expensive, the Breville Barista Express is an excellent option for anyone who wants a streamlined one-destination device to pull barista-quality espresso shots at home.