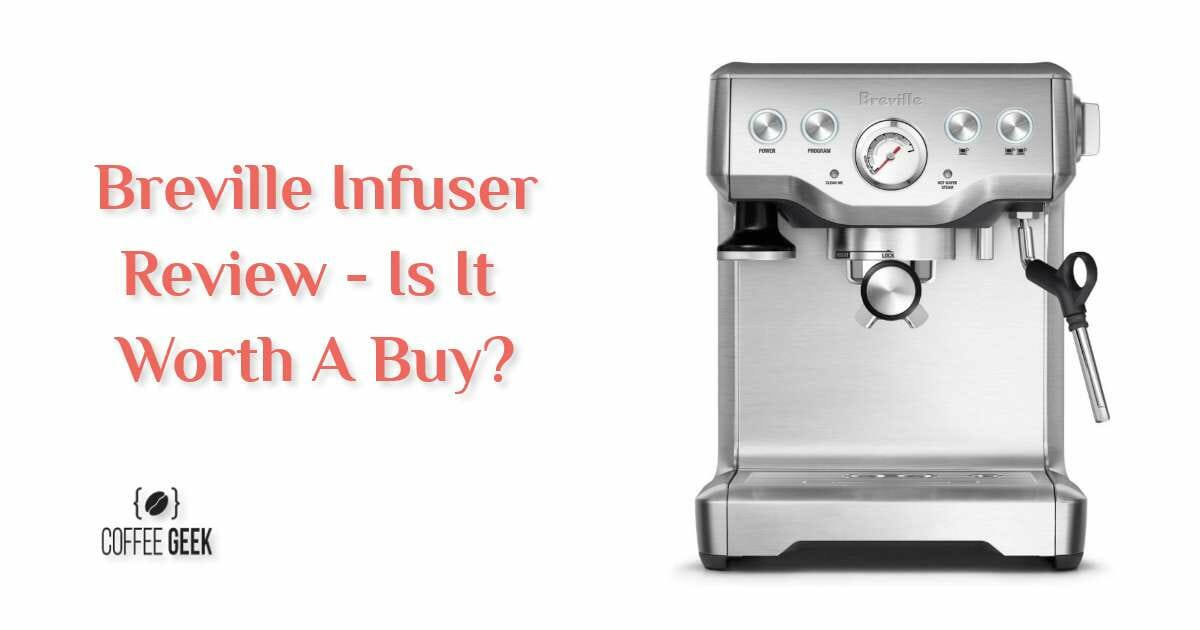 So you've read about the Breville BES840XL Infuser espresso machine is one of the best semi-automatic ones for an exceptional at-home brewing experience and you want to know "is it worth the buy"?
So, what can you expect from the Infuser?
In this Breville Infuser review, we'll deep dive on this reputable espresso machine and brand to uncover all you need to know to make an informed buy.
There's also one thing you should know about the Breville Infuser, but we'll cover that off later.
---
Breville Infuser Review – The Details
The machine is engineered to have an appropriate amount of automation to give you peace of mind, while not entirely depriving you of any fun to get some satisfying home espresso.
However, do keep in mind that, unlike some other Breville Espresso Machines, the Breville Infuser espresso machine doesn't come with a built-in grinder.
But I assure you its desirable functions and good looks might make you change your mind if the above fact turns you off.
However, with the Infuser, you can have barista-quality espresso made in the comfort of your own home. Let's take a look at some of the features:
Functions:
This one provides an amazing combination of automation and manual work you can find in an espresso machine.
You can make your coffee at ease as all of the temperature controls will be taken care of for you thanks to the 1650W thermocoil heating system and the auto-purge function which adjusts the temperature after steam.
The 15 bar made-in-Italy pump also gives you access to water pressure presets to make your life easier.
That doesn't mean all of the hard work is taken away from you though.
As aforementioned, the Infuser BES840XL doesn't come with a grinder, so preparing ground coffee is your responsibility.
What's more? Any attempt at finishing touches with the steam wand (like latte art!) is also part of the hands-on experience when you can go all out with creativity.
And of course, you can manually adjust the volume, temperature, and pressure gauge as well, once you've got to know each other better.
Appearance:
If we're speaking strictly of the visuals, the sleek-looking stainless steel grey appearance of the machine can match any interior setups. It comes in various color options to suit your taste visually as well.
The Specs
Weighs 17 pounds (7.7 kg).
Stainless steel.
Removable water reservoir capacity: 61 oz.

Pre-infusion function

for more even espresso extraction.
1650W thermo-coil-integrated stainless steel water path for excellent temperature control.
Auto-purge function for ideal

espresso temperature.

15 bar pump, manufactured in Italy, providing volume presets and manual controls.
Comes with a set of accessories.
---
Best Features of The Breville Infuser
Much like their other espresso makers, Breville really threw it out of the park with this machine. So, why buy the Breville Infuser?
Dictate the
brewing volume
If you are a beginner, worry not! The Breville Infuser can lend you a hand with straight-out-of-the-box automatic volumetric control thanks to a sensor. Your perfect cup of espresso is taken care of after a few touches of buttons.
But, if you want to be more involved and think even more out-of-the-box, you certainly don't have to stick to the presets.
One selling point of the Breville Infuser is allowing you to have manual control over espresso-making in addition to automation features. In particular, you can easily adjust the volume of each pour to get "your type".
However, it's difficult to pull the desired result right away. Start picking around once you've got used to the espresso machine and learn as you go. Practice makes perfect!
Clear-cut
espresso extraction
1. Pre-infusion feature
The Breville Infuser enables ground beans to be pre-infused with hot water at a stable low pressure before the extraction process starts. Your coffee grounds then lightly expand prior to exposure to high pressure.
This pre-infusion feature makes the extraction become even and preserves the grinds' quality, generating an optimally flavorful and balanced end result.
2. Pressure control
On the note of semi-automation, you can also make use of predetermined pressure options or experiment by manually adjusting the 15 bar pump.
The machine equips it on the front so you can see the whole operation process.
3. Temperature control
The Infuser incorporates the PID temperature control mechanism which automatically reflects and corrects for better control over temperature.
The coffee machine also has a 1650W thermocoil heating system, enabling better control of hot water temperature. It is also adjustable in 2 or 4 degree F increments, giving you some level of freedom.
Another perk of the heating system is the high-pressure steam and speedy temperature building features. You can already feel the heat past the first half minute and enjoy your home espresso earlier.
Manual micro-foam
milk texturing
Another noteworthy point about the aforementioned features of the heating system is, they add another quirk to espresso-making: latte art.
You can have fun indulging in a true third-wave specialty coffee experience by tweaking at the micro-foam generated from high heat and pressure with a steam wand, which doesn't come with all espresso machines out there.
Adjustable shot control
Again, you can use the presets and choose a single or double shot or manually control the amount of espresso you want as you experiment with different types of beans and brewing techniques.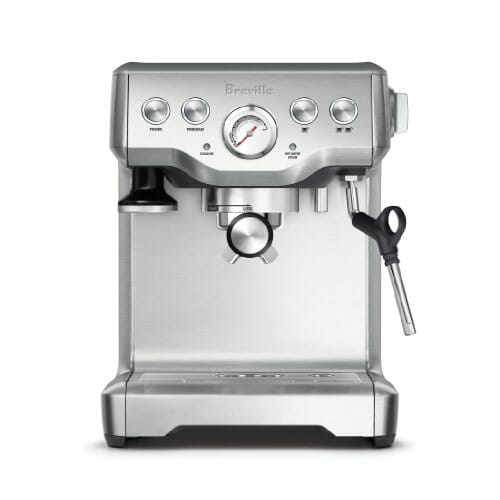 Maintenance alerts
Your life is now a lot easier thanks to convenient indicators for whenever cleaning and maintenance are needed. Breville certainly knows how exhausting it is having to deal with a high-maintenance type.
Part-of-the-package accessories
If you are sad that the Infuser doesn't come with a grinder, you might be excited to learn that what you receive won't be the espresso machine alone.
Other than the coffee scoop, filter baskets and cleaning tools that usually come with an espresso maker, a razor dose trimming tool, a stainless steel milk jug, and a water filter will also accompany the Infuser.
What are these for, you ask?
The

nifty razor

dose trimming tool helps get an even and optimal dose in the portafilter each time.
Does the

milk jug

look familiar? That's right, you must have seen a barista use it at the

shop to create

latte art. Since the jug maintains the

milk's temperature

when it's heated up, captures and blocks steam, and allows more air to be absorbed, it is essential to the frothing and art

creating process.

Water

filtering is important

to not only the quality of your brew but also the

health of your espresso

maker.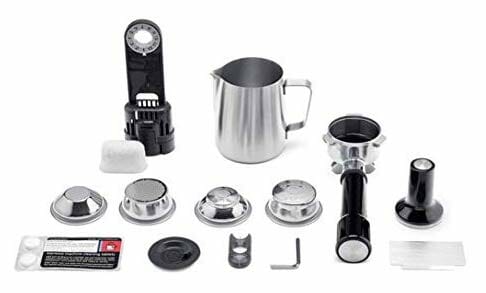 ---
The Downsides of The Breville Infuser
For the sake of the review, let's go through what about the Infuser might turn you away.
You have to be willing to put in the work
The perfect cup of coffee doesn't come to you very easily. The semi-automatic infuser espresso machine requires a bit of experimenting with the beans and different levels of imposing temperature, pressure, and volumes, as stated above.
Certainly, this can be considered a plus for those who believe success has to be earned!
It is not the most friendly-to-budget machine
I'll be honest. The Infuser is one of the more expensive espresso machines on the market. So obviously not everyone can afford the price and may be quick to look elsewhere for an alternative.
Depending on the buyer's lifestyle and plans with the espresso maker, the machine can be worth the investment.
There is no built-in grinder
Once again, the Infuser doesn't come with a grinder. So you either have to buy a separate one (which is another investment), grind the coffee beans at the grocery store, or get pre-ground coffee from the start. We have some suggestions if you are looking for a separate grinder.
---
How To Clean The Breville Infuser
The Infuser has maintenance indicators letting you know when to do the "dirty work".
Each time the descale/clean light flashes, you need to do a cleaning cycle. And if the descale/clean signal is actively lit up (not just flashing), it is time for descaling.
These are two different processes. Descaling is only needed after a certain layer of mineral from hard water has built up over time, affecting the quality of the brew and the espresso machine's operation.
Other than general maintenance, the steam wand, filter baskets, portafilter, shower screen, storage tray, drip tray, coffee puck, outer housing tray, and cup warming tray also need to be removed and cleaned regularly as well.
You can find the instructions in detail here. Or watch my video below:
---
Main Competitors – How Does It Compare?
As impressive as it sounds so far, the Infuser faces fierce competition with other espresso machines from its own mother brand, Breville, and externally.
Some of the main competitors that can do the job that the Breville Infuser espresso machine cannot are:
Breville Infuser vs Breville Barista Express
As both are semi-automatic coffee makers from the same brand, they are very similar to each other in terms of features and functions.
Like the Infuser, the Barista Express has presets and manual controls, allowing the user to easily make adjustments. However, just like its sibling, that comes with the need for experimentation to brew good espresso.
You can add further touches by creating latte art with the steam wand. This competitor also has an identical aesthetically pleasing stainless steel look.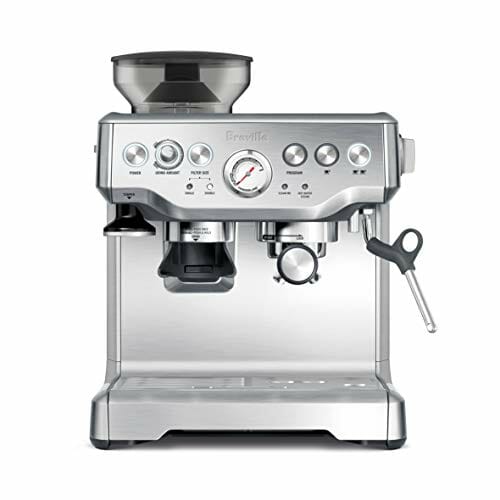 The biggest difference is, the Barista Express has the convenience of a built-in grinder. As attractive as it is, however, the grinder limits the number of brewing methods.
While it is perfect for pulling espresso shots, other techniques that require types of grinds outside the provided options sadly don't stand a chance.
Another distinct factor of the competing machine is, you have to clean the drip tray every day. Because it is directly below the portafilter, it catches more stray coffee grounds and gets dirty faster.
If you want to avoid as much cleaning as possible and don't mind having to grind coffee beans separately, buy the Breville Infuser.
---
Breville Infuser vs Gaggia Classic Pro
The Gaggia Classic Pro is a more compact machine with similar features and functions at the same price point.
Like the Infuser, it doesn't come with a grinder or require a lot of cleaning.
You can also make latte art with it. In fact, the job is easier thanks to the Gaggia Classic's more convenient steam wand design.
The added Panarello intake hole can assist you with milk frothing if you aren't very experienced.
Nevertheless, that doesn't mean there is no function the Infuser excels in.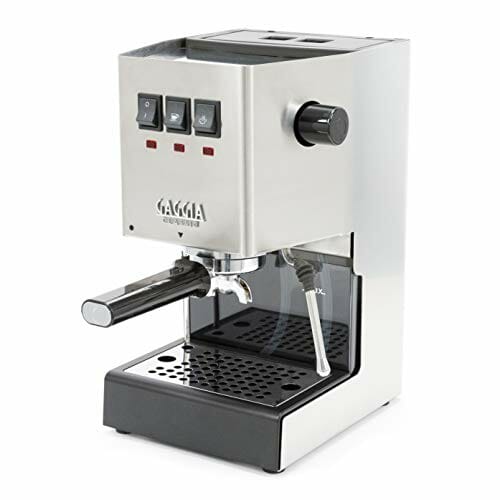 The automatic maintenance indicators, pre-infusion feature, and water filtering are some of the characteristics that can change your espresso-making experience considerably.
Yet they are not available in the competitor. There is also a common concern about the competing machine, that the steam valve may leak.
Appearance-wise, the Gaggia Classic is more industrial looking, which can be a dealbreaker for those who prefer the sleek aesthetic.
---
Our Final Verdict
Though the Breville BES840XL Infuser is far from having the most budget-friendly price out there, it is a well-worth long-term investment if you are looking for a semi-automatic espresso machine.
It is best for those who have already found a grinder they love or don't mind going out of their way to separately grind the beans.
The machine is also a good choice for those who want to expand their barista horizon and experiment while still having the safety net of automation.
I hope you found this Breville Infuser review helpful. Thank you for visiting CoffeeGeek!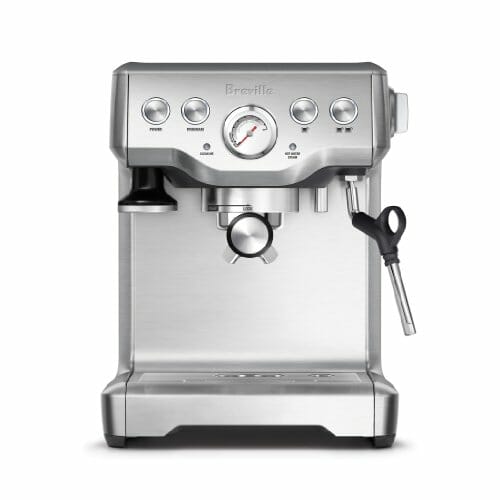 Frequently Asked Questions
How long does the Breville BES840XL last?
The lifespan of the Breville BES840XL may vary depending on usage and maintenance. However, with proper care and regular cleaning, it can last for several years.
When was the BES840XL made?
The Breville Infuser BES840XL Espresso Machine was released in 2013.
Is the Breville Infuser the same as Barista Express without grinder?
No, the Breville Infuser BES840XL and the Barista Express without grinder are two different espresso machines. While both machines are manufactured by Breville, the Infuser BES840XL is a semi-automatic espresso machine that requires a separate grinder, while the Barista Express without grinder is an all-in-one machine that includes a built-in grinder.