Looking for a compact espresso machine that can fit on your limited counter space? But you can't sacrifice every other functional feature just for the size. Big or small, the espresso maker has to be able to make third-wave specialty coffee.
Luckily, Breville and De'Longhi, 2 well-known brands in the coffee community, also sell solutions with a small footprint so that you can brew high-quality results regardless.
In this article, I will compare and contrast Breville Bambino vs DeLonghi Dedica in every aspect to help you find your brand new caffeine-packed roommate.
---
Breville Bambino Espresso Machine
The Breville Bambino is designed so that it can live up to Breville's 4 Keys Formula necessary to make specialty brews. It ensures the ideal amount of ground coffee, water pressure, water temperature, and milk temperature are used to achieve a rich, full-bodied, and velvety smooth cup of Joe.
The espresso machine Breville Bambino belongs to the Bambino line that prioritizes a small footprint and speedy heat-up time thanks to Breville's innovative heating system.
The machine also boasts a simple interface that anyone can easily navigate.
Users can also make milky espresso-based coffee drinks with the integrated powerful manual steam wand.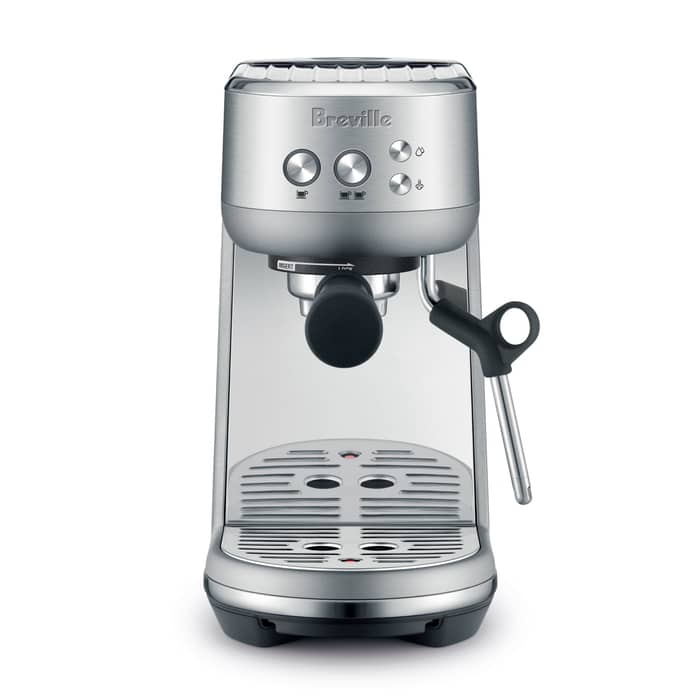 ---
DeLonghi Dedica Espresso Machine
DeLonghi Dedica EC680 is also popular for its petite size and quick heat-up time to achieve the ideal brewing temperature.
But you shouldn't underestimate its capabilities just from its size. The machine can offer a traditional authentic Italian espresso and cappuccino experience thanks to its patented manual cappuccino system along with the built-in steam wand.
The control panel is very straightforward and user-friendly.
And other than coffee grounds, you can also use compatible coffee pods to quickly prepare coffee with your preferred taste and strength.
---
DeLonghi Dedica Vs Breville Bambino – Similarities
Let's dive in and find out what exactly these espresso machines have in common.
Semi-Automatic Espresso Machines
Both of them can be considered to be semi-automatic espresso machines since some processes still require users to be manually involved.
This also means users get to have more control over how their coffee is brewed and hone their coffee-making skills.
Bar Pressure
How Many Bars Of Pressure Are In Breville Bambino?
Like other Breville espresso machines, the Breville Bambino is equipped with a 15-bar Italian pressure pump. During espresso extraction, an ideal pressure of 9 bars is applied on the hot water to shoot it through the coffee puck for a rich, sweet, and balanced-tasting cup.
How Many Bars Are In DeLonghi Dedica?
Similarly, the DeLonghi semi-automatic espresso machine is also capable of 15 bars of pressure to produce espresso within the optimal coffee length of around 25 – 30 seconds.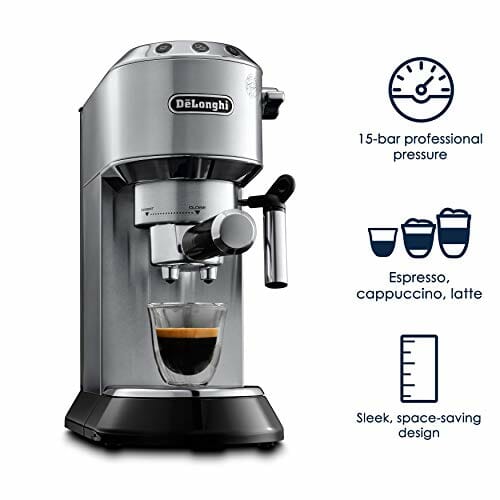 Instant Hot Water Dispenser
Both coffee machines can dispense instant hot water via the milk frother. On the Breville Bambino espresso maker, there are separate buttons for each function.
And, on the DeLonghi Dedica EC680 15-bar pump espresso & cappuccino machine, you can get hot water by switching the dial position from Steam to Hot Water.
You can use the hot water for preheating cups and making Americano and other instant foods (noodles, oatmeal) and beverages (tea, hot chocolate).
This feature also conveniently helps you manually purge the adjustable milk frother after each use to get rid of leftover milk and prevent blockages.
Volumetric Control
Both coffee machines allow you to adjust the volume of a single or double espresso shot if you find the presets (1 oz and 2 oz, respectively) too little or too much. You can program the shot volume or take manual control during the espresso extraction.
---
Breville Bambino Vs Delonghi Dedica – Differences
| Features | Breville Bambino | DeLonghi Dedica |
| --- | --- | --- |
| Dimensions (WxDxH) | 7.7″ x 12.6″ x 12.2″ (19.6 x 32 x 31 cm) | 5.9" x 13" x 12" (15 x 33 x 30.5 cm) |
| Weight | 10.91 lb (4.9 kg) | 9.3 lbs (4.2 kg) |
| Material | Stainless steel | Stainless steel |
| Water tank capacity | 47 oz (1.4 l) | 35 oz (1 l) |
| Heating system | ThermoJet | Thermoblock |
| Heat-up time | 3 seconds | 40 seconds |
| Low-pressure Pre-infusion | Yes | No |
| PID Temperature Control | Yes | No |
| Adjustable coffee temperature | No | Yes |
| Volumetric control | Yes | Yes |
| Coffee pods compatibility | No | Yes |
| Instant hot water | Yes | Yes |
| Interface | 1 & 2-cup brews and hot water and steam buttons | 1 & 2-cup brews and hot water/steam buttons and dial |
| Steam wand | Manual | Manual |
| Auto shut-off | No | Yes |
| Double drip tray | No | Yes |
| Accessories | Yes | Yes |
| Portafilter | 54 mm stainless steel | 51 mm aluminum |
| Filter baskets | 1 & 2-cup pressurized & non-pressurized | 1 – 2 cup pressurized & pod-compatible |
They're both seemingly reserved in size, easy to navigate, and speedy espresso machines. So, what exactly set them apart?
Water Tank Capacity
If you make coffee often throughout the day and prioritize as much capacity as possible, the Breville Bambino BES450 should be your top choice as it can accommodate up to 47 oz (1.4 l). The DeLonghi Dedica cappuccino maker EC860, on the other hand, can only carry up to 35 oz (1 l) of water.
Interface
Both of them have a simple control panel, including shot volume brewing and steam buttons.
The little difference between Breville Bambino vs DeLonghi Dedica is:
The Breville home espresso machine has different buttons for hot water and steam operation;
The DeLonghi Dedica coffee machine has a single button for both functions and the user can navigate between the 2 via a separate dial.
For simple everyday coffee-making sessions, you can pretty much use these machines without the need for a manual thanks to the incredibly user-friendly control panel.
But, when it comes to programmable features and advanced adjustments so that the brews suit your personal taste preferences better, you need to press a combination of buttons, which certainly calls for the manual's help.
Low-Pressure Pre-Infusion
If you're familiar with Breville machines, you must have heard of this pre-infusion function, which isn't available on the DeLonghi Dedica cappuccino machine.
At the beginning of the espresso extraction process, when the water hits the coffee grounds, they'll slowly expand and release the excess gas left inside to ensure better coffee-to-water contact and draw out the flavor compounds more effectively.
So, instead of increasing the pressure to the ideal 9 bars right away, this function slowly builds it up to achieve a more thorough and consistent extraction.
Heating System
ThermoJet Heating System
The espresso machine Breville Bambino is also equipped with the innovative ThermoJet system. It enables the device to achieve the right temperature in only 3 seconds! So you don't have to wait around in the morning for it to warm up before making coffee.
This system also supports the milk texturing wand, as I've mentioned earlier.
Thermoblock Technology
The DeLonghi Dedica EC680 espresso machine comes with a different technology called Thermoblock which helps improve the machine heat-up time and maintain the brewing temperature.
But, compared to the ThermoJet of Breville Bambino BES450, Thermoblock can only help the Dedica reach the ideal temperature in 40 seconds as the fastest. So you do have to wait around for a bit.
PID Digital Temperature Control
This temperature control technology works exactly like what you have in mind – help the Bambino keep the extraction temperature under control and maintain it within the ideal range.
DeLonghi doesn't have this technology.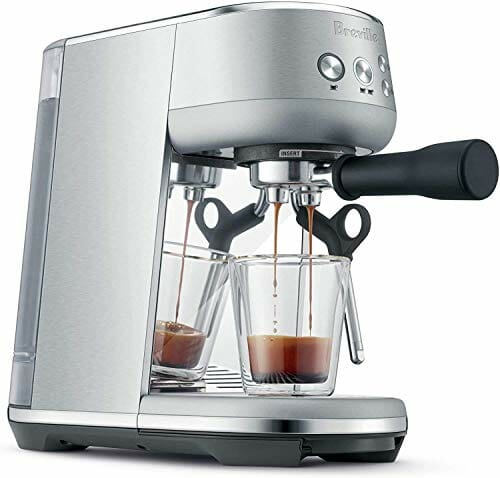 Adjustable Coffee Temperature
But, the DeLonghi Dedica espresso maker can give you the ability to adjust the brew temperature, in case you find it too cool or hot to your liking. You can pick either low, medium, or high.
This feature isn't available on the Breville Bambino.
Coffee Pods Compatibility
What's more, you can even use coffee pods with the DeLonghi Dedica espresso machine EC680 to make espresso coffee extremely quickly and easily.
The device comes with a filter for coffee pods. All you have to do is insert the pod into the filter and start brewing. If you have trouble positioning it properly, check the pod pack for instructions.
What Pods Are Compatible With DeLonghi Dedica?
Pods that conform to the ESE (Easy Serving Espresso) standard system are compatible with the device.
Does The Breville Bambino Use Pods?
No, the Breville Bambino espresso maker only allows you to brew coffee using coffee grounds. So either freshly grind coffee beans right before the process or opt for pre-ground coffee to get the job done. As a coffee aficionado, however, I only recommend the first option as freshness is a big factor that can affect the quality of the final brew.
Manual Milk Frothing Wand
If you're looking for an automatic steam wand, here comes the bad news. Personally, I prefer a manual milk frother as I get to have more control over the resulting frothed milk, though it takes time and practice to manually froth perfect milk.
Breville Bambino Steam Wand
Unlike its sibling, Breville Bambino Plus, the Bambino comes with a manual steam wand. It's powered by the brand's state-of-the-art proprietary heating system to quickly and accurately adjust the steam pressure to the ideal point – 226 degrees Fahrenheit (107.2 degrees Celsius).
It can assist you with creating the ideal milk texture for latte art or whatever espresso-based coffee drinks you have in mind.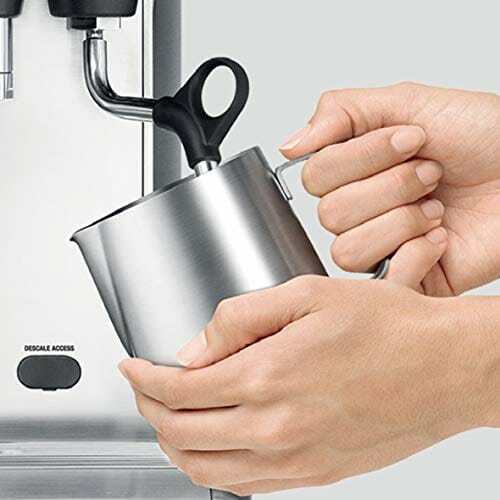 DeLonghi Dedica Steam Wand
The DeLonghi Dedica EC680 also boasts an advanced manual milk frother that can produce a long-lasting microfoam, especially for your cappuccino cup.
But, I would say it's not as capable as the Bambino in terms of foam formation and milk temperature.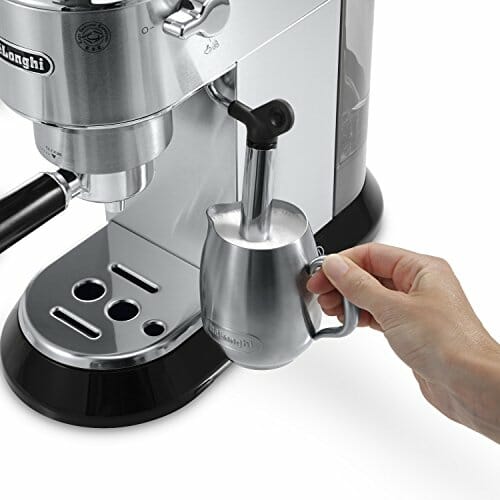 Auto Shut-Off
The DeLonghi Dedica espresso cappuccino maker is also designed to automatically shut off 20 minutes after the last brew to save energy even if you forget to manually turn it off.
So, make sure to check whether you've turned off the Breville Bambino when you leave the house.
Double Drip Tray
The Dedica has a removable double drip tray to fit taller cups and shorter cups. But, rest assured that you can have coffee dispensed into both tall and short cups on the Bambino as well, though it doesn't have the Dedica's convenient extra tray.
Accessories
Aside from the main brewing unit, both the Breville Bambino and DeLonghi Dedica espresso and cappuccino machine also come with these accessories:
1 cup & 2 cup filter baskets
Milk carafe
Portafilter
Tamper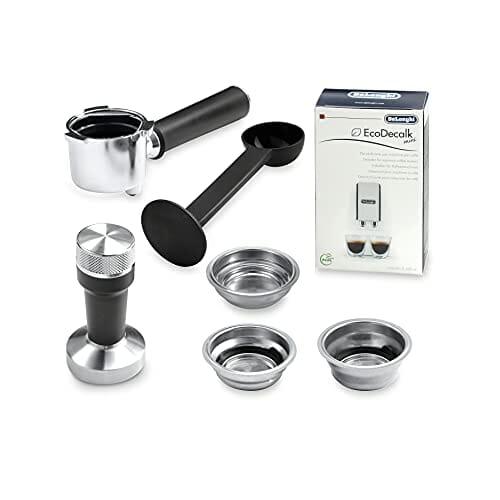 But there are some differences that you need to note:
Portafilter
Breville Bambino portafilter size is 54 mm and made of durable stainless steel material
DeLonghi Dedica portafilter size is 51 mm and made of aluminum, which is less durable.
Filter baskets
Is Breville Bambino pressurized?
Yes and no. The device comes with both pressurized (dual-wall or double-wall) and non-pressurized (single-wall) filter baskets.
Pressurized baskets are more suitable for brewing with pre-ground coffee.
As I've mentioned earlier, this type of coffee grind isn't very fresh, which can compromise the extraction consistency and precision. So double-walled baskets can apply extra force on the water flow to ensure a better extraction.
They can also help correct the mistakes of unevenly grinds prepared by bad grinders (looking at you, blade grinders).
Generally, if you work with fresh grinds that are properly ground with a quality burr, which I recommend, it's not hard to get the perfect espresso with the single-wall baskets. They also offer much better control over the brew.
Is DeLonghi Dedica pressurized portafilter?
Yes, the machine comes with pressurized filter baskets. However, if you want more freedom over how the brew turns out, buy an extra non-pressurized filter basket.
The Dedica also has a filter basket for pods, specifically.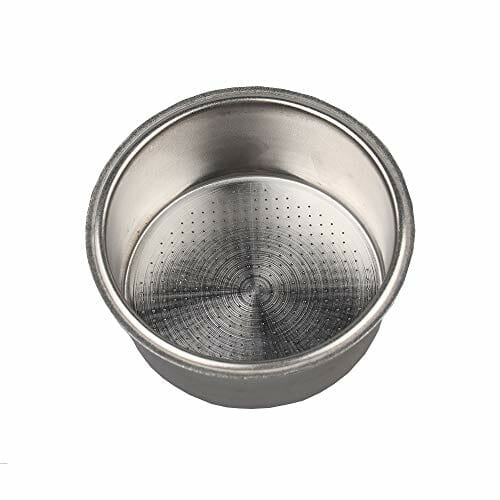 Size
They're relatively similar in size:
Breville Bambino dimensions: 7.7″ x 12.6″ x 12.2″ (19.6 x 32 x 31 cm)
DeLonghi Dedica dimensions: 5.9" x 13" x 12" (15 x 33 x 30.5 cm)
Overall, both have a compact footprint that few machines can come close to. The DeLonghi Dedica EC680, in particular, can be considered to be the slimmest machine ever to fit on a counter.
Price
Both can be considered mid-range espresso machines and around the same price point as each other.
Sadly, they both don't come with a built-in grinder, so you'll also have to invest some more money into a separate quality burr grinder.
If you decide to get the Breville Bambino, a high-quality Breville grinder – Breville Smart Grinder Pro – should complement it well. Otherwise, check out my list of the best coffee grinders of this year!
---
Final Verdict – Breville Bambino Vs DeLonghi Dedica
Breville Bambino Review
Affordable, compact, and capable. If all you ask for is simple functions, an intuitive interface, programmability, and advanced technologies to take coffee-making at home to the next level, the sturdy and minimalistic mid-range coffee machine Breville Bambino is likely "the one".
If you're looking for the Bambino version with an automatic steam wand, check out the Breville Bambino Plus. We've also compared Breville Bambino Plus vs Breville Bambino before.
Is The DeLonghi Dedica Worth It?
To wrap up this DeLonghi Dedica review, this mid-range espresso machine can also be a good option, especially for those who enjoy simple and straightforward adjustments to their coffee and the pod brewing option.
---