Electric coffee makers, including espresso machines, tend to be big and heavy due to all of the pumps, motors, and expensive technologies needed to turn the magic beans into amazing coffee.
But you can also make great espresso with these 2 Breville espresso machines that have a relatively small footprint.
In this article, we'll take a look at the brewing performance of the Breville Bambino vs Bambino Plus, identify how they're similar and different from each other, and decide on which should be your new espresso machine.
---
Breville Bambino Espressso Machine
Other than its remarkably small size, the Breville Bambino espresso machine stands out among the Breville line-up with its extremely simple and minimalistic interface.
This makes it very easy to use and navigate to (learn to) brew third-wave specialty coffee, even for those who've never used an espresso machine before.
Another special feature of the Breville Bambino is the state-of-the-art heating system.
It enables an insanely fast heat-up time and also powers the manual steam wand to make textured milk and beautiful latte art.
The digital temperature control technology perfectly adjusts to the optimum extraction temperature.
Not to mention the optimal water pressure that slowly builds up to ensure a thorough extraction of flavor compounds from the beginning to the end of the pull.
Overall, it makes a fine entry-level espresso machine for beginners to start learning to make third-wave quality coffee at home.
---
Breville Bambino Plus Espressso Machine
The Breville Bambino Plus is another Breville espresso machine with a smaller footprint and a faster heat-up time thanks to the proprietary heating system.
No more waiting around in the morning for the espresso machine to recharge yourself with some good doses of caffeine.
The same heating system also powers the steam wand to make silky smooth microfoam milk as well as elegant latte art for your cup of cappuccino.
And, the good news is you don't have to lift a single finger. The automatic milk frothing wand knows exactly what to do, so you can keep your hands to yourself.
Just pick from the adjustable milk temperature and texture settings, wait, and you should be served your desired milk froth in no time.
There are also an exact temperature and pressure control in place for maximum flavor extraction and a smooth-sailing brewing process, as long as you get the ground coffee right, of course.
---
Breville Bambino Vs Bambino Plus – Similarities
Both the Bambino and the Bambino Plus are engineered with Breville's 4 keys formula to enable a coffee shop quality espresso performance at the comfort of the users' home.
These Breville machines are also part of the Bambino series which significantly enhances the speed for faster results without sacrificing the espresso quality, all of which is possible within a very compact footprint and simple interface.
Semi-Automatic/Automatic
Both can be considered semi-automatic or automatic espresso machines. Users can rely on the electric pressure pump for optimal espresso extraction instead of manually applying high pressure on the water which was the case with a manual espresso maker.
Although there are automatic presets, users also get to manually override and pull the shots.
Bar Pressure – How Many Bars Of Pressure Are In Breville Bambino Vs Bambino Plus?
All Breville espresso makers, including both the Breville Bambino and Bambino Plus, are equipped with a 15 bar Italian pump. But the pump only delivers a high pressure of 9 bar when brewing espresso as that's the optimal amount for a barista-quality performance.
Low-Pressure Pre-Infusion
This low-pressure pre-infusion technology slowly builds up the water pressure from the beginning of the extraction rather than applying the ideal amount right away.
This enables the water flow to draw out the coffee compounds more thoroughly from start to finish.
Digital Temperature Control PID – Does The Breville Bambino Have A PID?
The electronic PID precise temperature control helps increase the water temperature stability to maintain it around 93 degrees Celsius (199.4 degrees Fahrenheit) for precise extraction.
Volumetric Control – Is Breville Bambino Programmable?
Both machines come with preset 1 and 2-cup volumes which can be manually overridden and reprogrammed per the user's espresso shot volumes preference.
ThermoJet Heating System
As I've repeatedly mentioned, part of the appeal of the Bambino line is its heat-up speed.
The secret lies in the innovative ThermoJet heating system that can bring the water temperature to the ideal point in the lightning speed of 3 seconds!
You can pretty much start making high-quality espresso the moment you turn on the semi-automatic machine instead of waiting like you would with most other machines, such as the Breville Barista Express.
Instant Hot Water
You can also get access to instant hot water via the steam wand to preheat serving cups, make espress0-based drinks (long blacks, Americano style drinks), and other types of instant foods (instant noodles, oatmeal) and beverages (tea, hot chocolate).
However, some may not find this same function on the Bambino Plus, as it may depend on the version. Try to follow the instructions in the manual and find out.
Can You Make Good Coffee With Breville a Bambino or Bambino Plus?
Yes, both the Bambino and the Bambino Plus are capable of delivering precise espresso extraction with rich and complex flavors that can be found in coffee shops, as long as you use high-quality coffee beans and an excellent coffee grinder as well.
Without freshly ground beans, your cup of Joe can't reach the third-wave coffee potential at its full potential.
Other than the standard espresso shot and other drinks I've mentioned in the previous section, you can also take full advantage of the steam wand to brew milky espresso-based beverages like latte and cappuccino and whip up some beautiful latte art.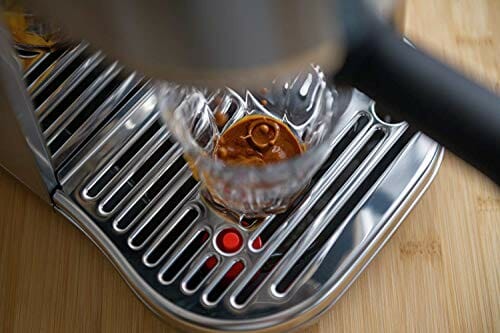 Compact Footprint
Both the Bambino and the Bambino Plus share the same size (7.7″ x 12.6″ x 12.2″/19.6 x 32 x 31 cm), making them the narrowest and smallest Breville espresso machines ever.
If you have limited counter space, thank goodness you don't have to consider the size factor between the Bambino vs Bambino Plus. All you need to focus on are their outstanding features and, of course, price point.
Accessories – What Comes In The Breville Bambino Box? What Does Breville Bambino Plus Come With?
Accompanying the espresso maker are additional accessories to assist with the brewing and cleaning process.
In both the Bambino and the Bambino Plus, you should be able to find these useful tools as well:
1 cup & 2 cup Single Wall & Dual Wall Filter Baskets
Milk Jug
54 mm Portafilter
Tamper
Cleaning tool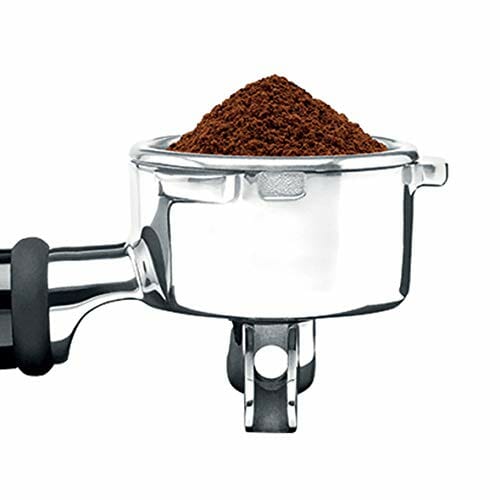 ---
What Is The Difference Between Bambino And Bambino Plus?
| | | |
| --- | --- | --- |
| | Breville Bambino | Breville Bambino Plus |
| Dimensions (WxDxH) | 7.7″ x 12.6″ x 12.2″ (19.6 x 32 x 31 cm) | 7.7″ x 12.6″ x 12.2″ (19.6 x 32 x 31 cm) |
| Weight | 10.91 lb (4.9 kg) | 3.1 lbs (1.4 kg) |
| Material | Stainless steel | Stainless steel |
| Water tank capacity | 47 oz (1.4 l) | 64 oz (1.9 l) |
| Heating system | ThermoJet | ThermoJet |
| Low-pressure Pre-infusion | Yes | Yes |
| Optimal Water Pressure | Yes | Yes |
| PID Temperature Control | Yes | Yes |
| Volumetric control | Yes | Yes |
| Instant hot water | Yes | Yes (may depend on the version) |
| Interface | 1 & 2-cup brews and hot water and steam buttons | 1 & 2-cup brews, steam button, and milk temperature and milk foam adjustment buttons |
| Steam wand | Manual | Automatic |
| Milk temperature and texture adjustment | No | Yes |
| Drip tray | Sturdier | Flimsier (due to the temperature sensor) |
| Accessories | Yes (Razor precision dosing tool not included) | Yes |
Capacity
Compared to its older cousin, the Bambino Plus is much more upgraded in terms of capacity. It's able to carry up to 64 oz (1.9 l), while the Bambino can only put up with 47 oz (1.4 l) maximum.
So, in this round of Bambino vs Bambino Plus, the latter obviously wins if you need a larger water capacity to accommodate your larger brew quantity and higher brew frequency.
Otherwise, the Bambino should suffice for day-to-day espresso consumption.
Steam Wand
One of the biggest differences between the Bambino vs Bambino Plus is the steam wand.
With the Bambino, you still need to steam the milk manually, which means it requires real skills that have to be developed with a learning curve to create different types of textured milk that you desire.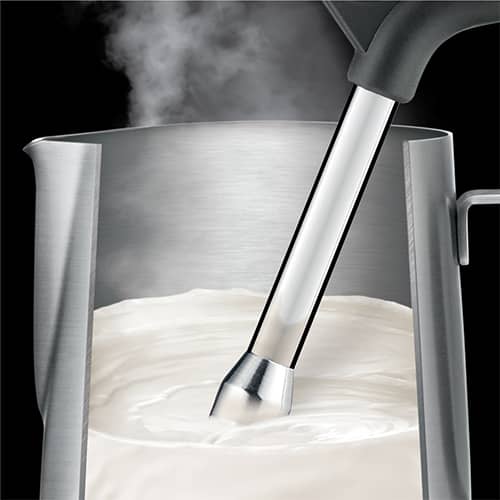 In other words, the steaming performance depends on you, as long as the steam wand functions properly.
If you can't steam milk or just aren't super excited to put in the hard work, the Bambino Plus can be there for you.
The steam wand has been upgraded with automatic texture control and milk temperature adjustments to add the right microfoam to your espresso.
But, if you feel like taking the job into your own hand one day, feel free to disable the automatic frothing and auto shut-off functions to switch to manual steaming.
Another difference is in the design of the wand. The Bambino boasts a more basic setup with a single-hole tip, while the Bambino Plus comes with a 3-hole nozzle. This can enhance the foam quality and increase efficiency.
What's more, the Breville Bambino Plus can also automatically purge the milk frother when returning it to the lowered position to prevent possible blocking issues.
This isn't the case on the OG Bambino as you have to manually purge the milk wand by running steam through afterward.
The upper hand when it comes to the steam wands should be a big deciding factor, especially for those consuming lattes often but don't want to bother with manually steaming milk on a daily basis.
Interface
While the control panel on both the Breville Bambino and Bambino Plus is designed straightforwardly with simple button navigation and flickering light indicators, the Bambino has fewer buttons due to more limited functions.
You get to pick from the 1 and 2-cup brew options and play around with the hot water and steam buttons. And that's pretty much it.
On the Bambino Plus, other than the main 1 and 2 cup and steam buttons, you also get to set the milk temperature (warm, ideal, and hot) and the milk foam (low, medium, high), to make sure that they're suitable for the milk you use.
The Bambino Plus will then automatically carry on the texturing session with the milk jug following your setup.
Drip Tray
When steaming milk manually, you need to hold the milk pitcher and remove it from the wand once it's hot to touch. So you're probably wondering how the Bambino Plus does it? The key is in the temperature sensor under the drip tray of the Bambino Plus.
Some argue that due to the integrated temperature sensor to gauge the optimal temperature of the milk, the drip tray on the Bambino is more sturdy and easier to slide in compared to the Bambino Plus.
Razor Precision Dosing Tool
Some Breville espresso machines, including the Bambino Plus, come with this proprietary dosing tool to clean up the coffee puck after tamping.
Though useful as an additional touch, I don't find it super necessary, so don't dread that the Bambino doesn't have it.
Price
With more upgraded features and enhanced convenience, you can probably already tell which one is more expensive (yes, it's the Bambino Plus).
---
Breville Bambino Vs Bambino Plus Espresso Machines – The Final Verdict
Both Breville Bambino and Bambino Plus have their own perks and can serve different coffee drinkers with varying needs.
Breville Bambino Review
The Bambino is a more affordable option for coffee lovers with limited counter space. It's perfect for those who want a super simple and intuitive control panel with programmability and don't mind a little learning curve. You also get to enjoy the fast heat-up time and sturdy and minimalistic design.
Is The Breville Bambino Plus Worth It?
Though pretty pricy, the level of automation, efficiency, and level of control that the Breville Bambino Plus machine can deliver are definitely worth the price.
There's virtually little to no learning curve and you can even switch to manual operation whenever you want.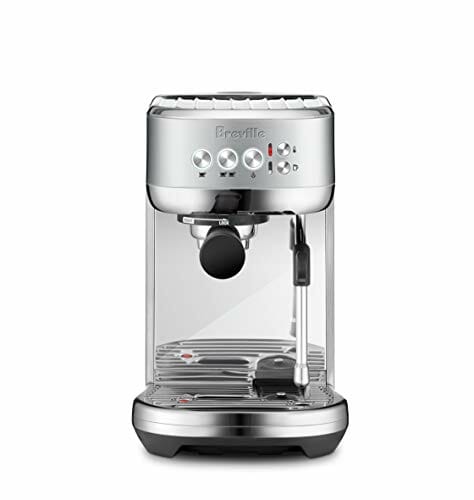 ---
FAQs About Breville

Breville is a popular Australian kitchen appliance brand founded in 1932 and has been serving consumers with high-end high-quality devices, from cooking appliances (food processors, toasters, microwave) to coffee gear (espresso machines, Nespresso machines, drip machines, and coffee grinders).
Where Is Breville Located?
Breville's headquarter is located in Sydney, which is also where it was originally founded.
Are Breville Appliances Good?
Their products are definitely less affordable compared to many brands out there. But you can expect to get what you pay for in terms of performance, convenience, and durability.
Breville espresso machines can last from 5 to 10 or 15 years, as long as you take care of them well.