Starbucks is a beloved coffee chain, and its drinks have become an iconic part of the American landscape.
Whether it's a classic latte or a secret menu drink, there are plenty of Starbucks beverages to choose from.
But which one should you try? Read on for the best Starbucks drinks to try this year.
---
Best Starbucks Drinks
1. Pumpkin Spice Latte
You can't go wrong with a classic Starbucks drink. The Pumpkin Spice Latte features a combination of sweet pumpkin, espresso, steamed milk, and the star of the show – pumpkin spice topping. Add some whipped cream for an extra-special treat!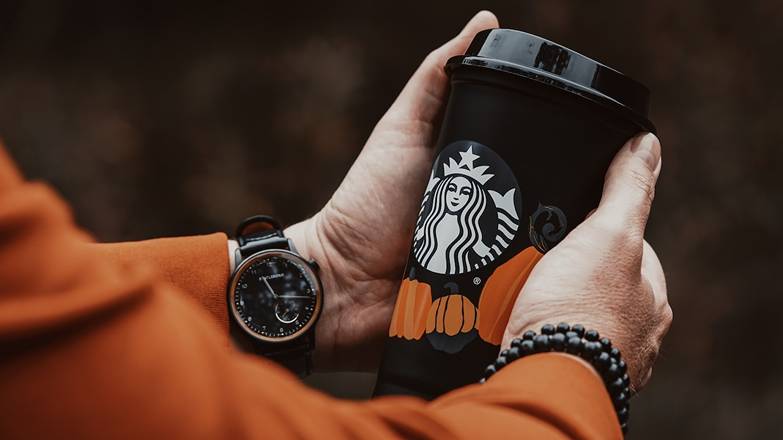 Coffee connoisseurs can also opt for unique twists on this Starbucks menu classic.
Add a caramel drizzle for a sweet and salty flavor combination, or try something totally new with white mocha sauce or cinnamon dolce syrup.
I've recently discovered the deliciousness of the new brown sugar syrup. It adds a more complex flavor and takes this classic to a new level!
---
2. Coconut Milk Latte
It's perfect for those who are lactose-intolerant, vegan or prefer a dairy-free alternative to regular milk.
I've tried the Coconut Milk Latte a few times, and it's been one of my favorite coffee drinks at Starbucks.
The coconut milk adds the perfect amount of sweetness without being overly rich, and it pairs wonderfully with the espresso.
---
3. Pink Drink
It's a delicious and refreshing treat that will leave you feeling energized and ready to take on your day.
---
4. Caramel Frappuccino
My personal favorite is adding a cinnamon dolce or vanilla flavor to give it an extra kick.
No matter how you choose to make it, the Caramel Frappuccino is among the best Starbucks drinks for coffee aficionados who like experimenting with flavors.
---
5. Iced Caramel Macchiato
While it may not be the most innovative drink on the menu, it will satisfy any caffeine craving.
---
6. Honey Almond Milk Flat White
The Honey Almond Milk Flat White is a perfect way to start off your day or as a pick-me-up during the afternoon.
Whether you opt for the hot or iced version, you're sure to be delighted with the flavors in this delicious latte.
And, for those who like to personalize their drinks, you can add espresso shots, caramel drizzle, or vanilla for a more tailored experience.
---
7. Pumpkin Cream Cold Brew
I'm sure you've heard of Starbucks' Pumpkin Spice Latte (we'll get to that later), but have you tried its equally delicious sister drink, the Pumpkin Cream Cold Brew?
Plus, the vanilla syrup and ice blend in perfectly with the other ingredients.
It's definitely a must-try for anyone looking for something special to enjoy during the fall season.
Plus, you don't need to worry about it being too sweet or spicy. After all, this drink is designed to make anyone smile.
---
And for a fun twist, you can top it off with whipped cream, chocolate chips, and a touch of mocha drizzle for a truly decadent experience.
---
9. Caramel Brulée Latte
The Caramel Brulée Latte is another fan favorite from Starbucks. My niece is obsessed with this drink and has made it her go-to when we order from the cafe.
For those wanting to customize their latte, you can swap in non-dairy milk (like coconut or oat) and add a shot of espresso for an extra kick.
You can also request it with "no whip" if you want a healthier option. Adding extra caramel is always a good idea, too!
If you're looking for a treat to indulge in, the Caramel Brulée Latte is it.
---
10. Caramel Ribbon Crunch Frappuccino
For those looking to make the drink even healthier, you can switch out the regular milk for nonfat, coconut, or oat milk.
You can also add other flavors, such as hazelnut or mocha, to make it your own.
---
11. Honey Citrus Mint Tea
It has healing properties that can help with sore throats and colds, which is why it was originally called the Medicine Ball.
It's an incredibly refreshing drink that is dairy-free, making it a great option for those who are vegan or lactose intolerant. You can add a pump of peppermint syrup for extra flavor.
---
The Iced Dirty Chai Tea Latte is made with a chai tea latte base and a single shot of espresso.
Adding the espresso gives it an extra bold flavor that will surely keep you energized throughout the day.
The drink's texture also changes with the addition of espresso. The latte-like texture gives it a creamier mouthfeel than your regular iced chai tea, making it an incredibly enjoyable drink.
The caffeine content is also on the higher end, with 95 mg (0.095 g) of caffeine in a grande-sized drink and an additional 75 mg (0.075 g) of caffeine from the espresso shot.
This makes it a great option for those who need an extra energy kick.
The only drawback of the Iced Dirty Chai Tea Latte is that it is not made with real chai tea. Instead, it is made with a chai tea concentrate mix, so it's not as flavorful as the real thing.
But if you're looking for a quick and easy pick-me-up, the Iced Dirty Chai Tea Latte is definitely worth a try.
---
13. Pumpkin Spice Latte
The combination of espresso and pumpkin spices is a match made in heaven, making it one of the most delicious drinks Starbucks offers.
The PSL is one of those drinks you can order all year round, but it's especially welcome during the fall and winter.
So, if you're looking for a comforting, sweet treat to help you get through the colder months, I have no doubt the PSL will not disappoint.
And, if you're feeling adventurous, there are tons of variations to the PSL.
You can add an extra shot of espresso, switch out the regular milk for nonfat or coconut milk, or add other flavors such as cinnamon dolce syrup.
---
14. Nitro Cold Brew Coffee
I'm sure you've seen a Starbucks barista pulling a shot of Nitro Cold Brew from the tap in front of the counter.
It's also incredibly refreshing and energizing, making it a great option for those who need an extra energy boost in the morning.
You can also customize your Nitro Cold Brew by adding toffee nut syrup, pineapple ginger syrup, or any other flavor to create your own unique drink.
Whether you're looking for a cold and refreshing coffee to enjoy during the summer months or an extra energizing drink to get you through your day, try a Nitro Cold-Brew for an invigorating experience.
---
15. Hot Chocolate
At Starbucks, the Hot Chocolate is made with steamed milk, vanilla, and chocolate syrup. It also has a dollop of whipped cream and chocolate drizzle to really bring out the chocolatey flavor.
If you're looking for something a little more adventurous, you might want to try one of the other drinks.
But if you're in the mood for some nostalgia and want to stay cozy during the cold winter months, then this is certainly the go-to choice.
---
What Should I Order at Starbucks?
---
FAQs