Just so you know, if you click on a product on CoffeeGeek.tv and decide to buy it, we may earn a small commission to help us keep making more awesome guides like this.
Love your brand new AeroPress coffee maker but not sure whether the AeroPress filters that come with your device (1) are the best choice?
But then, what AeroPress filter should you try instead? We've got you covered!
In this article, the Coffee Geek will showcase the 9 best filters for AeroPress in the coffee world to help coffee lovers make an informed purchase decision in this market flooded with thousands of products.
With the right AeroPress filter, you can produce the signature delicious, full-bodied, strong cup of espresso-style coffee that AeroPress coffee makers are so well-loved for.
Read on to learn more and get the right filter for you!
---
9 Best Filter for AeroPress – Our Comparison
Filters for AeroPress
Product
Features
Price

Winner (paper)

Includes 700 pieces

Made of cotton

Biodegradable

CHECK PRICE

Runner-up (paper)

Includes 100 pieces
Made of thick paper material
Reusable

CHECK PRICE

Includes 350 pieces
Unbleached and chlorine-free
Reusable

CHECK PRICE

Winner (metal)

01 10K micro filter and 02 micro filters combo
Non-mesh
Made of stainless steel
Drying Disc and carrying case included

CHECK PRICE

Includes 1 piece
Made of stainless steel with titanium coating
Ultra space-saving

CHECK PRICE

Includes 1 piece
Made of paper etched stainless steel
Reusable

CHECK PRICE

Includes 1 piece
Made of stainless steel

CHECK PRICE

Includes 1 piece
Made of stainless steel
Ultra-slim design with carrying case included

CHECK PRICE

Winner (cloth)

3 pieces
Made from Certified Organic cotton
Reusable

CHECK PRICE
What Can I Use For AeroPress Filter? AeroPress Paper Vs Metal Filter Vs Cloth Filter
First, let's learn what types of AeroPress filters are available in the market.
You most likely already know of the proprietary paper filters that all AeroPress coffee makers come with.
Aside from those, AeroPress metal filters and cloth filters are also pretty common-place.
1. Paper Filters – The Classic Choice for an AeroPress
The classic AeroPress coffee filters that come with your brewing device are a great place to start.
AeroPress paper filters will give you a nice, clean cup of coffee with very little sediment if there's any at all.
Health-wise, they can also effectively remove concentrations of diterpenes phytochemicals in coffee that can affect your ability to control your cholesterol levels.
And, if you're looking for an even cleaner cup of coffee, you can pre-heat your paper filter with hot water before using it.
These filters are also amazing at highlighting brighter floral notes of the coffee beans, especially when you're using lighter roasts.
However, the resulting brew is definitely not as full-bodied as the other types of AeroPress filters.
And, although they're incredibly convenient and cheap to buy and discard after each use and compostable, many coffee drinkers may still feel icky about the amount of trash that results from disposable filters.
2. Metal Filters – The Reusable Option
A metal AeroPress filter allows more volatile oils from the coffee bean through, which means the coffee flavor tends to be bolder and deeper with a heavier body and mouthfeel.
This makes it rather similar to a cup of French Press coffee. (See more on the best coffee beans for Aeropress here.)
But that also means a lot of coffee particles and rather concerning coffee oils like diterpenes are more likely to slip through the filters into your cup of Joe.
Sustainability-wise, metal disks are reusable, so you can keep using them until they wear out.
However, metal AeroPress filters do require a bit more cleaning than paper ones.
And, although you have to pay a more expensive price upfront, the investment can become cheaper in the long term.
3. Cloth Filters – A Vintage Option
Cloth filters are reminiscent of the ones used in traditional Italian espresso makers.
They provide a richer, fuller flavor than paper filters.
They can also be reusable like the metal AeroPress filters but are much better at filtering out the sediments, though not as well as their paper counterparts.
So, if you like the cleanness of paper ones but prefer something fuller-bodied, go for the cloth ones!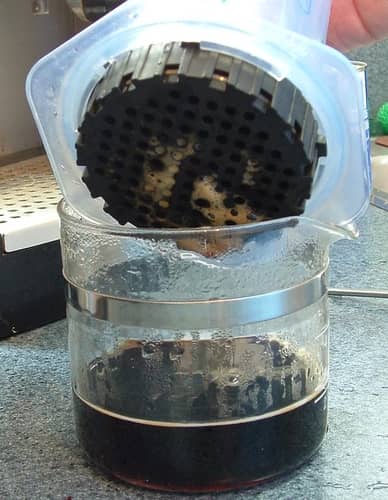 However, cloth ones require the most cleaning of all three types of AeroPress filters. So if ease of cleaning is your priority, you can just skip the AeroPress cloth filter.
---
How To Choose The Right AeroPress Filter For You
Now that you know about the different filters available, how do you choose the right one for you?
Here are a few things to keep in mind:
1. The Type Of Coffee You Like
If you prefer a light, clean cup of coffee, then paper filters are the way to go.
If you like your coffee with a bit more flavor and body, then metal or cloth ones might be a better choice for you.
2. The Amount Of Time You Have
If you're short on time, paper filters are the quickest and easiest option to use.
Metal and cloth ones require a bit more time to set up, brew coffee and clean properly.
3. Your Personal Preference For Cleaning
As mentioned earlier, metal and cloth ones require more cleaning than paper filters.
So if you're not keen on spending time cleaning your coffee maker, paper filters are the way to go and avoid cloth ones.
---
---
Best AeroPress Paper Filter
AeroPress Replacement Filter Packs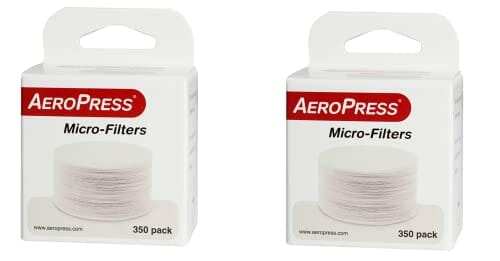 If you're a fan of the original paper filters that your AeroPress device arrived with, make sure to stock up with these AeroPress Replacement Filter Packs so you never run out of them when you crave some delicious brew.
These paper microfilters are made of cotton, designed to optimally prevent grounds and unhealthy oils from entering your cup of Joe.
The micro-filtered coffee tastes clean and smooth, with little to no sediments or oil residue remaining in your cup.
The box comes with 700 biodegradable circular disc filters that fit perfectly inside the AeroPress coffee maker.
Pros
Original paper filters made of cotton
Coffee tastes clean and smooth
Includes 700 disc filters
Biodegradable
Convenient disposal
Cons
A bit more pricey than knock-off ones
---
AESIR Filters
Looking for other filters? Try out the AESIR filters (100 pack)!
They're made from more strictly produced paper that offers better thickness, consistency, and smaller hole size.
The result is a cup of coffee with less sediment and fewer oils, more brightness, and clarity, even with a finer grind.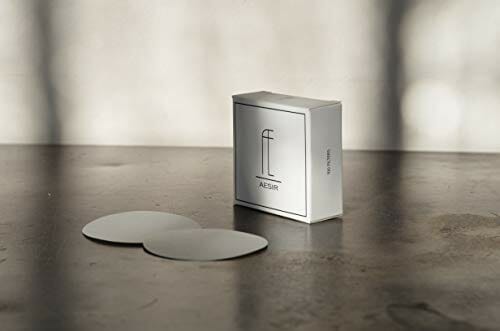 These filters are used by many coffee shops and enthusiasts around the world, including winners of the AeroPress Championships.
Pros
Thicker paper material for better brew filtration and consistency
Smaller hole size that can accommodate finer grinds
A very clean and bright coffee
Can be reused after rinsing and drying
Cons
A bit more pricey than the OG AeroPress filters
---
Perky Brew 350 x 2POUR Filters
If you're a specialty coffee enthusiast who's environmentally conscious, you probably worry about the bleaching issue with paper filters.
This non-bleached version from the brand Perky Brew can alleviate your concern.
They're unbleached and totally chlorine-free to ensure nice-tasting AeroPress coffee with less effect on the environment.
The brand actually listened to customer feedback and redesigned the product back in 2019 to reduce the use of plastic in packaging and increase the diameter of the premium filter so that it can fit the AeroPress coffee maker better.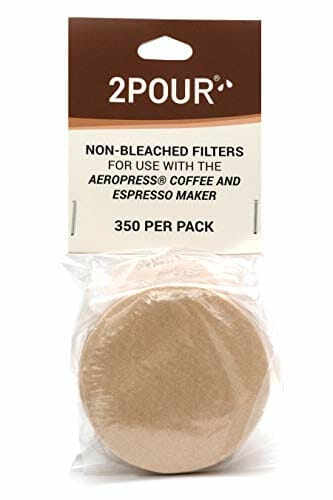 That means you won't have to worry about sediments slipping through the rims where the old version couldn't cover properly.
And, you can reuse this a couple of times as well by gently rinsing them under running tap water after use!
Pros
Unbleached and chlorine-free
Modified to fit the AeroPress properly and reduce plastic packaging
Can be reused several times by rinsing
Biodegradable
Cons
Coffee is not as clean as the AeroPress proprietary ones
Not optimal for the Inverted Method AeroPress recipe

---
Best Metal Filter For AeroPress
ameuus Stainless Steel Reusable Filter
If you want to experiment with different coffee grind sizes and coffee strengths, you will definitely enjoy the different filter hole combinations that the ameuus o1 24K & o2 Micro Filter Combo offers to accommodate your needs!
The o1 10K has around 10,000 holes with an average size of 100 microns, suitable for a medium and coarser grind.
The o2 combo has around 50,000 holes with an average size of 30 microns.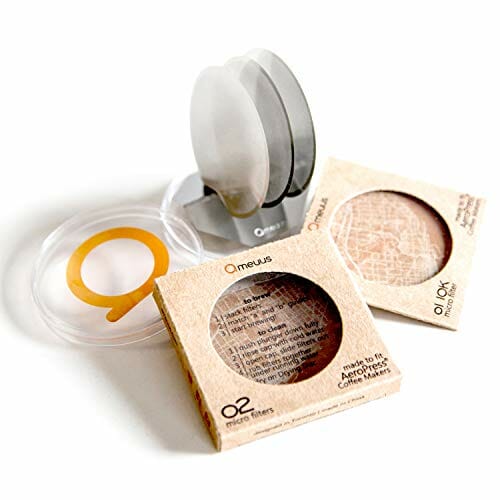 And, as reusable stainless steel filters, they let more coffee oils in to boast a bolder AeroPress coffee taste, though not as intense as the French Press.
Well, you must be thinking of the sediments problem that plague all AeroPress metal filters. But, ameuus filters are actually a lot better at filtering out loose coffee grounds than other competitors due to their smaller filter hole sizes.
This is especially the case with the o2 filters, which is understandable as the 30-micron hole size is even smaller than the diameter of a strand of human hair!
What's more, the o2 Micro Filters are the first in the world to come with a convenient high-quality stainless steel drying stand and a small carrying case for easy and neat storage no matter where you're heading.
And, these non-mesh filters can fit neatly in the brew basket of the AeroPress. So you don't have to worry about any potential leaking issues.
Non-mesh ones like these are also much easier to clean as the crevasses of the reinforced border don't get in the way.
All you have to do is rub the filters against each other under running water and let them dry on the accompanying Drying Disc.
Pros
Flexibility in filter hole size for varying coffee grind sizes and brew strengths
Good at filtering out sediments
Non-mesh made of food-grade stainless steel
Convenient Drying Disc and carrying case
Easy to clean
---
CAFE CONCETTO Filter Disc Fine
If you're looking for a metal filter that gives you a full-bodied brew with a quicker plunge time, the CAFE CONCETTO Filter Disc Fine is perfect for you.
Since it's an AeroPress metal filter, it can retain the coffee oils that paper filters remove while increasing the plunging pressure on the extraction in the brewing chamber and allowing you to brew with less drips.
The result is a juicier, richer cup of coffee with enhanced flavor and heavier mouthfeel.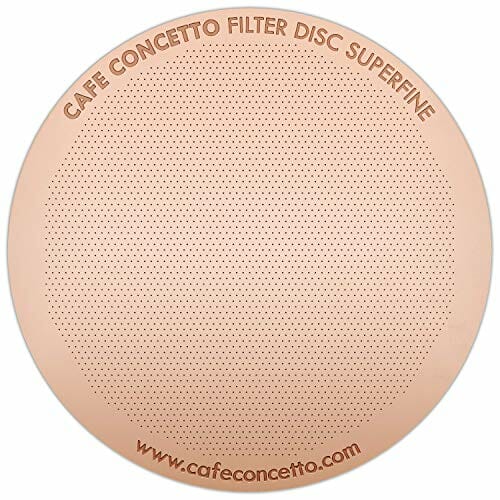 The design of these fine mesh filters allows you to easily lock your metal disk into the filter, making them ultra-portable and space-saving for easy storage.
It's precision-machined from high-strength stainless steel and titanium coated, making it durable and extremely long-lasting. Plus, this reusable AeroPress filter comes with a Lifetime Warranty!
And, according to the brand, you can save on 1000s of paper filters in the process! So if you're looking for sustainable options, this is definitely worth more than a glance!
Nevertheless, the stainless steel mesh filter still can't filter out sediments as effectively as the classic and traditional options – paper and cloth filters. So if that bothers you a lot, you should probably pass.
Pros
Rich, strong, and full-bodied coffee
Portable and space-saving
Durable stainless steel material with titanium coating
Reusable
Lifetime guarantee
---
Able DISK (Fine)
Next on the list is a super skinny candidate from the brand Able DISK Fine reusable coffee filter, originally designed specifically for the AeroPress.
On the surface level, it looks like stainless steel. But that's only half the truth.
The DISK Fine design is actually made from a piece of paper (photo) that's etched with stainless steel.
This allows the metal disk to operate very similarly to a regular AeroPress paper filter, capable of producing a clean morning cup of Joe with little to no sediments remaining at the bottom thanks to the fine holes.
But, since it's so thin, be careful when handling it to avoid causing accidental bending or damage.
Pros
Innovative design made of paper etched stainless steel
Can make a clean and smooth cup of coffee like a paper filter
Reusable despite being made of paper
Easier with the Inversion AeroPress brew method
---
Able DISK (Standard)
If the thin material is putting you off but you like the idea of the design, you should consider getting the Standard version of the Able DISK.
This stainless steel Able DISK can produce a fuller-bodied cup of Joe due to its larger holes, but you'll have to accept that more fines will slip in the extraction process as well.
But, since it isn't made of paper like its Fine sibling, the Standard coffee filter is a lot thicker and more durable to accompany your AeroPress for years.
You can also grab the Able DISK (Fine + Standard Set) to switch up between the two filters whenever you want.
Pros
Produce a more robust, and fuller-bodied brew with a rich flavor
Durable stainless steel material that's hard to bend or break
Cons
Some sediments can slip in
---
Altura The MESH Reusable Metal Filter
The Altura corrosion-resistant stainless steel filter is an excellent choice if you're looking for a durable and reusable solution that can also produce a fairly clean cup.
Unlike paper filters, the MESH doesn't absorb the delicious coffee oils. So you'll be able to enjoy the full range of flavors your beans have to offer, including bolder flavors and aromas.
The filter can be stored inside a cap, making it great for traveling or camping so you don't have to bring along a stack of single-use paper filters with you.
The MESH filter pairs best with the medium to fine grind range, including even finer sizes like espresso or Turkish coffee.
It's ultra-slim so it can fit both older and newer AeroPress models. And like all stainless steel coffee filters, it boasts durability that'll let you use it for years of excellent coffee.
For maintenance, you only have to push the used grounds into the compost bin and give it a quick rinse after each use.
The Altura brand also offers a No question asked 90-day Money Back Guarantee and Lifetime Warranty to assure you of its confidence in the quality of its product.
Pros
Durable corrosion-resistant stainless steel material
Bolder coffee as the oils aren't filtered out
Great for medium to fine grind sizes
Ultra-slim design with carrying case, making it portable
Easy to clean
Cons
The filter hole size can be quite large, so water may run through before plunging.
---
Best AeroPress Cloth Filter
CoffeeSock Disc-Style Filters
Cloth filters aren't very popular, but if you want the best of both worlds between paper and metal filters, consider these from CoffeeSock.
These 3 disk-style filter pieces are responsibly made from Certified Organic cotton.
They can effectively absorb some of the coffee oils, making them a great reusable alternative to their regular paper counterparts.
What's more, they still let the bright coffee particles pass through so you can enjoy a robustly crisp and rich cup of Joe with none of the oiliness that's usually the case with metal filters.
You also don't have to worry about potential flavor carry-over as the cotton is tasteless, odorless, and insoluble in water, unlike the paper ones.
Other than the AeroPress, CoffeeSock cloth filters can also fit siphon coffee makers!
And, despite being cloth ones, these are pretty easy to clean and dry.
Pros
Made of Certified Organic cotton
Clean yet robust and rich coffee, good middle-ground between paper and metal ones
No flavor carry-over
Pretty easy to clean
Cheaper than metal ones
Cons
The size is a bit smaller than the standard AeroPress filter so it can take time to adjust it before brewing
Not optimal for the Inverted Method
---
Which AeroPress Filter Is Best?
We find the AeroPress Replacement Filter Packs as the best AeroPress paper filter option for its filtration ability and value for money.
But, if you've tried the ones that come with your AeroPress and haven't had the best experience, you can opt for the runner-up, AESIR Filters.
If you enjoy metal filters, I recommend the ameuus Stainless Steel Reusable Filter as the best AeroPress metal filter on the list, given its flexibility in filter size and iconic never-seen-before filter drying rack.
For those who love both perks of metal and paper filters, you should be able to produce desirable delicious coffee with the CoffeeSock Disc-Style filters that are easy to clean and affordable.
So there you have it – the 9 best AeroPress filters and how to choose the right one for you. No matter what type of coffee drinker you are, you should be able to find the best AeroPress filter for you!
---
FAQs
Does The AeroPress Need A Filter?
Yes. Without AeroPress filters, a lot of hot water may just fall right into your cup the moment you pour it in. And a lot of the used coffee grounds will end up in the final cup as well. The filter also contributes to the pressure that's applied to the extraction when you push down the plunger, which affects the richness and body of the coffee.
Can You Use Regular Coffee Filter For AeroPress?
Yes, you likely can, as long as you can cut them to fit the AeroPress filter cap properly.
Can You Use Any Filter For AeroPress?
Basically, yes, as long as it fits the AeroPress filter cap. But, as you can see from our comparison above, some coffee filters definitely work better than others
Sources: