If you're a fan of coffee, you know that there are any number of ways to brew it: in a French press, with a drip machine, or even with a homemade contraption called a "plunger pot."
AeroPress is a simple and easy way to make coffee.
It's also a great way to get the most out of your coffee beans—you can use it to make espresso-style coffee, Americanos, lattes, cappuccinos, and more.
But if you wish to take your AeroPress game to the next level, we've got you covered.
In this article, we will discuss the best AeroPress recipes so you'll be able to make some of the best coffee you've ever tasted in under 5 minutes.
---
Alan Adler's Original AeroPress Recipe
Invented in 2005 by Alan Adler, it has become a staple for coffee geeks' kitchens. This recipe is simple and affordable to make an espresso-like cup of coffee.
It's certainly the best AeroPress recipe worth a small cost for a good coffee.
Alan Adler's recipe calls for:
15 grams grind size like fine espresso
80 to 90 grams of hot water (80°C (175 F) for medium-roasted coffee and 85°C (185 F) for lightly roasted coffee)
Brewing time: 10 sec.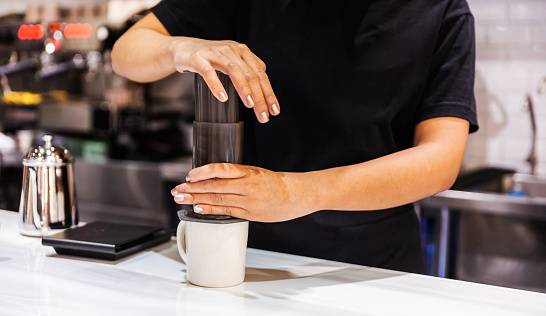 Process:
Place the paper filter position in the AeroPress filter cap and wet it with hot water. (Check out our list of coffee filters for AeroPress to find what filters you can use.)
Place the AeroPress plunger in the chamber and add 1 scoop of finely ground coffee to the chamber
Slowly pour water into the concentrated brew, which should fill the brew chamber up to the number 1 mark
Use a stirring rod to stir the coffee ground and water mixture for 10 seconds.
Next, connect the plunger at the top of the vessel to prevent heat loss during brewing
Insert it down into the chamber, gently pressing for 20–40 seconds
Slowly push the used coffee back out of the chamber with the plunger.
Rinse the filter and rubber seal with heated water only after each use.
The AeroPress is an incredible tool for brewing coffee at home—and it's not just hype!
It's been used within the coffee community and in competitions all over the world, including the World AeroPress Championship.
The Original AeroPress Recipe by Alan Adler:
---
Tim Wendelboe Coffee Recipe
Tim Wendelboe is a famous barista who has competed in World Championships and won a few times.
He recommends this recipe for beginners because it's very easy to make and tastes great!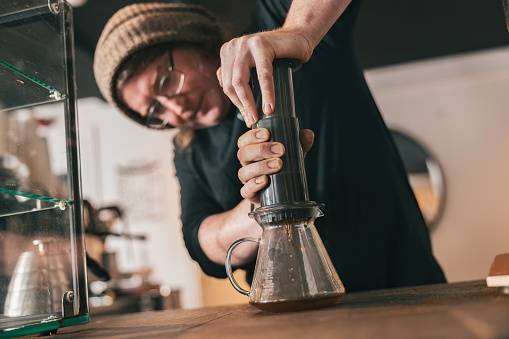 Tim Wendelboe's recipe is simple and to the point:
14g of ground coffee (medium-fine grind)
200g of room temperature water (96°C/175°F)
Brew time: 60 seconds
Process:
Place the paper filter in the filter cap and clean it with running water for 10 seconds
Put 14g of grind coffee in the chamber
Pour the remaining water into your AeroPress until it reaches 200g total
Stir vigorously the filter ground coffee three times, then place the plunger on top
Remove the plunger, then stir 3 times back to front
Place the plunger and slowly press for 30 seconds
With the right grind size setting, this recipe is a great way to get your caffeine fix in the morning. Even using a finer grind, it's not bitter like other coffee drinks can be.
How to use an Aeropress w/ Tim Wendelboe:
---
James Hoffmann's Ultimate AeroPress Recipe
James Hoffmann's recipe is one of the most popular and well-loved recipes out there.
It's easy to follow, makes great coffee, and comes in at under $10 per batch—which means it's perfect for anyone who wants to try their hand at making coffee at home without spending too much money upfront.
Here are the ingredients:
11g of ground coffee (Finer end of medium)
200mL of water
For the light roast: 99°C/210°F; For the medium roast: 90-95°C; For the dark roast: 85-90 °C of room temperature water
Brew time: 2.5 mins
Process:
Grind 11g of coffee for every 200 ml of water you want to brew
Immediately insert the plunger to stop the dripping
Wait 2 minutes before pressing down all the way
Holding the brewer and the plunger, press gently
Wait 30 seconds
Holding the brewer and plunger for 30 seconds, gently swirl the brewer so that all of your grounds get wet evenly
Pour out your finished cup
From espresso-like to Americano and every important step in between, James Hoffman's recipe makes you satisfied with a great well-made cup of coffee once you find the right grind size.
AeroPress Recipe | James Hoffmann's Ultimate AeroPress Recipe:
---
Michael Butterworth's Inverted Method Recipe
Michael Butterworth's brew style Inverted AeroPress Recipe is one of the finest recipes out there. It only requires two ingredients: coffee grounds and water.
Recipe:
15g of ground coffee (Medium Grind)
225g of water (100°C/212°F)
Brew time: 1.5 mins
Process:
Place two paper filters in the filter cap and rinse with hot water.
Add 15g of ground coffee and pour 225g of 100°C water onto the grounds
Stir evenly ensuring all the grounds are wet
Insert the plunger at the top of the chamber and lift it up slightly to create a seal
Carefully flip it until it reaches the bottom of the chamber (Inverted AeroPress method)
Let it sit for 30 seconds, and then press down on the plunger again.
So if you're in need of a new way to brew your morning cup of Joe's style inverted coffee, give this one a try!
AeroPress Recipe | The only AeroPress recipe you'll ever need
---
World AeroPress Championship Recipe by Wendelien Van Bunnik
The World AP Championship is one of the most prestigious barista competitions in the world. The winner receives the title "World AeroPress Champion."
The 2019 World AeroPress Champion is Wendelien Van Bunnik from Amsterdam's Coffee Company, and she used this recipe to take home the gold.
Ingredients:
16g of coarsely ground coffee (between drip and French press)
230g of water at 94-96°C
Brew time: 1 min.
Process:
Rinse the paper filter and dump the water
Assemble AeroPress inverted brewing style
Add coffee and ensure to shake all the coffee evenly
Pour 230g of 94-96°C water gently into the brew chamber and press out excess air
Stir it 5 times and add the filter cap
Flip the AeroPress & press slowly for 30 seconds
About half of all AeroPress champions preferred the inverted method, so this recipe is absolutely worth your time.
My easy go-to Aeropress Recipe by Wendelien van Bunnik (World Aeropress Champion 2019)
---
The Best Aeropress Recipes Conclusion
I think it's safe to say that AeroPress has become a very popular method of brewing coffee.
It is usually compared to the French press or cold recipe brew style, but the AeroPress gets a cleaner-tasting cup of Joe due to the better paper filter.
All in all, each recipe is really great on its own. As a coffee geek, I think that this selection is going to keep you content for a long time because it has a little bit of everything.
These Recipes are portable and convenient for quick travel mornings, but if you want to brew a pot at home, those recipes fit the bill as well. If you are away from home, the Aeropress Go makes a great travel-brew solution.
As always, feel free to experiment and adjust recipes to your liking—you might even develop your own unique favorites other than the standard method add coffee. Also see our Bulletproof Aeropress coffee recipe here.
Check out our article about the tips and tricks on using an AeroPress to help you get the perfect cup.
---
FAQs
How Do You Make the Best AeroPress?
When you're making an AeroPress, there are a couple of things you need to keep in mind: first is temperature; second is grind size and grind setting; third is pressing time, and the last one is pouring technique.
What Roast is Best for AeroPress?
It depends on your personal preference, but lighter roasts tend to be more acidic and fruity, while darker roasts tend to be more bitter or chocolatey. You can check out our article about the best coffee beans to use for Aeropress to find out which one is perfect for your preference. 
What is the Correct Ratio for AeroPress?
It depends on how strong you want your brew—we recommend starting with 1 tablespoon of grounds per 6 ounces of water and adjusting from there based on taste preference.