Do you know you can make flavorsome Thai iced coffee at home even without a fancy coffee maker?
My fascination with this refreshing drink started as I was looking for a way to switch up my routine as a digital agency owner.
Hopping from one cafe to another in Chiang Mai, Thailand, I discovered Thai iced coffee. This glass of refreshing, sweet, and creamy beverage got me hooked instantly.
I got home and searched for popular recipes to make Thai iced coffee. I made several attempts to make a glass for myself. In no time, I developed a perfect recipe to make a refreshing glass of Thai iced coffee.
Now, you don't have to move to the Land of Smiles to find out what is Thai iced coffee. Nor try a number of trial and error mixes for that perfect-tasting joe.
Sit back and read on to know more about this cold brew.
---
Homemade Thai Iced Coffee
Coffee is an art form; it requires skill to make a good tasting one.
More so, it requires skill and creativity to create the mind-blowing Thai iced coffee. I could not imagine that a strong brewed coffee could become this magic in its iced coffee form.
What makes Thai coffee different?
As coffee lovers, we all know the deal in brewing coffee; your espresso shot serve with added creamer and at times, a dash of sugar for a bit of sweetness.
But a taste of Thai coffee made me realize the diverse coffee world awaiting those who decide to set forth beyond the coffee products widely sold in the market.
---
Coffee culture
Thailand, being a producer of coffee has an interesting coffee culture that the Thai people trace back to history.
Coffee shops in the Land of Smiles were enormously popular long before Starbucks came to open its first store in 1998.
Interestingly, traditional coffee shops are favorite hangouts, where people share news and other important information. This led to the collective love of specialty coffee among the locals.
---
How they brew traditional coffee
A brewing technique unique to the Thai culture is the Kafae Boran.
This technique can be traced back to the Second World war, where grains, spice, and sugars were roasted together with robusta beans to solve the problem of scarcity.
The blend is placed in a cotton filter and steeped in boiling water. The brew is served over iced and sweetened condensed milk or evaporated milk with syrup.
---
What is Thai iced coffee
A Thai specialty beverage that found its way in the west is the 'oliang', which means 'black cold'.
This delicious drink is prepared by mixing robusta bean, brown sugar, grains such as corn and soybean.
---
Difference between Vietnamese coffee and Thai coffee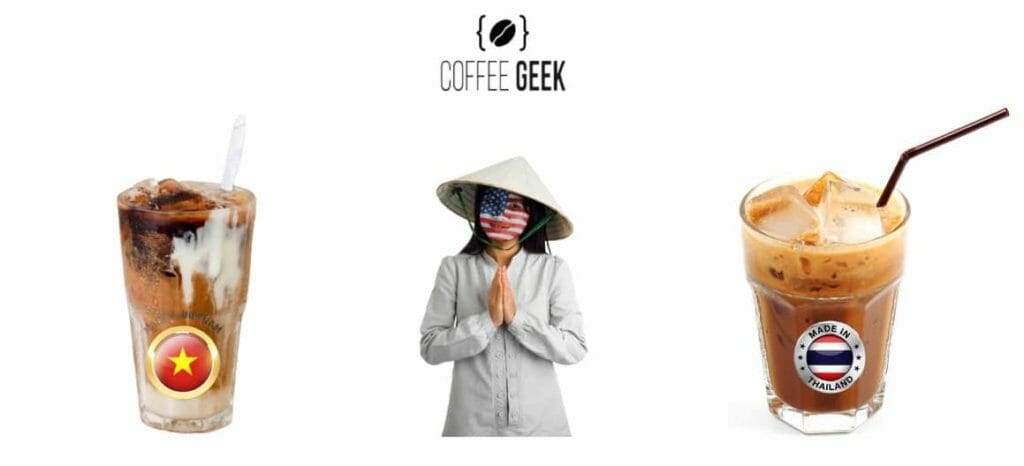 If you are most brew lovers, you must have heard about Vietnamese iced coffee. So, how is Thai iced coffee different from Vietnamese iced coffee?
Save for the ice that makes them refreshing, these versions of creamy drinks have elements of similarity as both are made from dark roast coffee beans.
But they are completely different. To make a Vietnamese iced coffee, you will use a drip apparatus called Phin.
Watch the following video below to know about hose to use a Phin filter to make Vietnamese iced coffee or drip coffee.
For Vietnamese iced coffee, you will only need to drip your coffee into sweetened condensed milk.
The sweet mix is poured over a glass of ice to make that glorious iced drink.
With Thai iced coffee, you will need to place a sock strainer in a cup or a pot. Fill the strainer with the ground, pour hot water, and let it steep.
You can add sugar and sweetened condensed milk to make Thai iced coffee. But one thing that creates the distinct taste of this coffee is the cardamom.
Adding cardamoms to Thai iced coffee balances its bitterness.
So, while your only need condensed milk and coffee to make Vietnamese coffee, you will use different spices for more flavoring.
Trying both Vietnamese and Thai iced coffee is a refreshing and delicious way to enjoy your coffee drinking journey!
---
Thai Iced Coffee Recipe
With the refreshing and satisfying flavor of this iced coffee, most would think it is one of the complicated recipes out there.
But iced coffee is one easy recipe to prepare. Here's a simple recipe for that tasty drink.
4 cups strong coffee
2 cups heavy cream
3 tablespoon granulated sugar
1/4 almond extract
3 cardamom pods or 1/4 teaspoon of its grounded form
Instructions
crush the cardamoms for their aroma essence
simmer cream, heavy cream, and cardamoms
remove from fire and let it steep for about 15 minutes
take out the cardamom, and put in the almond extract
equally, divide the blend into 4 tall glasses filled with ice.
pour the strong blend into the cup or glass
---
How to make 3-ingredient Thai Iced Coffee
16 oz or 2 cups of strong brewed coffee
5 tablespoons of sweetened condensed milk
1 teaspoon of almond extract
This is a 3-ingredient iced coffee recipe, but you're welcome to add a pinch of ground cardamom for an aromatic essence.
---
Steps to make 3-ingredient Thai iced coffee
Get the ingredients ready.
Pour the hot blend in a container large enough for mixing and pouring
Add sweetened condensed milk and stir well.
Add the desired amount of ice cubes. Refrigerate.
For added flavor, add a few tablespoons of evaporated milk and stir.
Serve immediately.
---
What does Thai iced coffee taste like?
The blended flavor of strong coffee grounds, milk, ground cardamom, and other flavoring make this specialty beverage creamy, sweet, and refreshing.
---
Why is Thai iced coffee so good?
The combination of condensed milk, evaporated milk, spices, and a very strong coffee base make this iced coffee flavorsome.
Most people consider it a freshening beverage, especially during the hot summer days.
But for me, it's a delicious inviting refreshment that spices up my mornings.
---
What makes Thai ice coffee different?
It's a different way to enjoy the morning. Instead of a black joe, you can opt for this cold specialty refreshment to set your mood. Chill!
One time, I consumed Thai ice coffee and wondered what goes on in it that made it so different. It tasted unique, true to other kinds of cuisine in the Land of Smiles.
I searched online and came across recipes, including street vendors' recipes for Thai tea and coffee.
So, just like other types of Thai cuisine that use distinct techniques in cooking, Thai iced coffee is also made differently.
---
Is Thai iced coffee strong?
While this refreshment is expected to come off strong, the sweetened milk or creamer helps lessen the strong black coffee extract. Its sweetness offsets its strength and makes it even more delicious.
---
Watch the full video tutorial!
Here's a step-by-step video tutorial below on how to make a 3-ingredient ice coffee that tastes divine!
---
To Wrap Up
Thai iced coffee has a very strong but creamy taste that you will surely love every time!