As the spooky season approaches, it's time to indulge in some frighteningly delicious Halloween drinks at Starbucks.
From classic seasonal offerings to chilling secret menu items,
Starbucks has something for everyone looking to get into the Halloween spirit.
Whether you're a coffee fanatic or prefer non-caffeinated delights, these spooky concoctions are sure to delight your taste buds.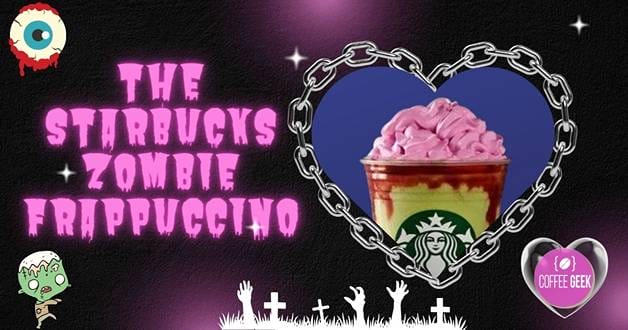 If you want to take your love for Halloween Starbucks drinks a step further, why not try creating your own spooky concoctions at home?
With a few creative twists on ingredients, you can make a bewitching beverage that's perfect for Halloween parties or just a fun night in.
And if you're a fan of Starbucks Halloween merchandise and trends, be on the lookout for their festive cups and apparel to complete your spooky celebration.
Key Takeaways
Starbucks offers a variety of Halloween drinks for both coffee and non-coffee lovers

You can create your own spooky Starbucks drinks at home with a little creativity

Keep an eye out for festive Starbucks Halloween merchandise and trends to enhance your spooky season experience
---
Start your Spooky Season Right with Halloween Starbucks Drinks
As Halloween approaches, it's time to embrace the spooky season and indulge in some delicious Starbucks concoctions.
With a variety of Halloween-themed drinks available, you can practically smell the crisp autumn air as you sip on your favorite bewitching beverage.
For a classic option with a spooky twist, try their Pumpkin Cold Brew.
You'll enjoy the perfect balance of cold brew coffee and vanilla syrup, topped with pumpkin-flavored sweet cream cold foam and a dash of pumpkin spice powder.
This drink will get you in the mood for fall and its delightful festivities.
When you're craving something a little bolder, check out the secret menu items inspired by iconic horror film characters like Leatherface and Pennywise or even the Nightmare Before Christmas.
These Halloween frappuccinos and more are available any time of the year, but they taste best during the month of October.
Don't forget to pick up some hauntingly beautiful Halloween drinkware this season.
Starbucks is offering a limited-time collection of Halloween-themed tumblers, cold cups, mugs, and more while supplies last.
These spooky designs can accompany you throughout this magical time of year.
So, go ahead and treat yourself to some enchanting Starbucks Halloween drinks that'll have you embracing the autumn spirit.
Just remember, always enjoy these beverages responsibly—after all, you don't want to turn into a real-life zombie!
---
Classic Starbucks Halloween Drinks
Pumpkin Spice Latte
It's that time of the year when you can enjoy the iconic Pumpkin Spice Latte at Starbucks!
This fall favorite combines espresso, steamed milk, and a blend of pumpkin, cinnamon, nutmeg, and clove flavors.
Topped with whipped cream and pumpkin pie spice, it's the perfect drink to get you in the Halloween spirit.
Pumpkin Cream Cold Brew
If you're looking for a cold, refreshing take on a pumpkin drink, try the Pumpkin Cream Cold Brew.
It starts with Starbucks Cold Brew, sweetened with a hint of vanilla sauce.
The drink is then topped with velvety pumpkin cream cold foam and a dusting of pumpkin spice. It's a delightful twist on a classic flavor combination.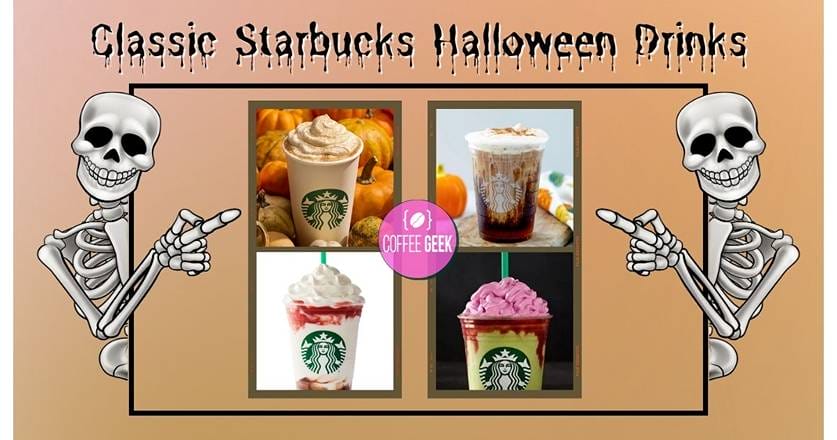 Frappula
The Frappula is an eerie and delightful Starbucks Halloween creation. To order this spooky concoction, request a White Chocolate Crème Frappuccino and ask for the cup to be lined with mocha sauce.
Finish it off with strawberry purée and whipped cream for a vampire-inspired treat that's both chilling and delicious.
Zombie Frappuccino
Another spooktacular option is the Zombie Frappuccino. This undead-themed drink features a ghastly green base made from green caramel apple powder, Frappuccino Roast, and a drizzle of dark mocha sauce.
It's topped with pink whipped cream that's meant to resemble brains, making it the perfect drink for a zombie apocalypse… or just enjoying the Halloween season at Starbucks.
---
Starbucks Secret Menu Scare
Looking for some spooky Starbucks drinks this Halloween season? Check out these secret menu options that will surely give you the chills while satisfying your sweet tooth.
Candy Corn Cold Brew
Imagine the sugary goodness of candy corn infused in your favorite cold brew to get candy corn cold brew. That's exactly what the Candy Corn Cold Brew is all about.
Nightmare Before Christmas
Pay tribute to this classic spooky film with the Nightmare Before Christmas drink. Nothing screams Halloween more than Jack and Sally infused in your Starbucks beverage.
Jack Skellington Frappuccino
Speaking of Jack, the Jack Skellington Frappuccino is another perfect pick for Halloween fans.
A creamy concoction inspired by the Pumpkin King himself is sure to bring you Halloween vibes with Jack Skellington Frappuccino all month long.
Wednesday Addams Drink
Embrace your dark side with the Wednesday Addams Drink, inspired by everyone's favorite spooky goth girl. Sip on this coffee creation while channeling your inner Addams family spirit.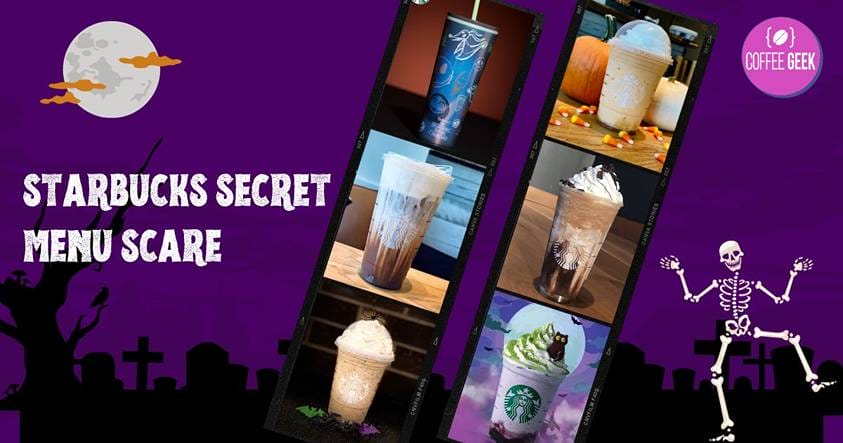 Dirty Werewolf
Unleash your wild side with the Dirty Werewolf drink, a blend of intense flavors that will have you howling at the moon. Perfect for the brave souls who crave a little extra adrenaline this Halloween season.
Spook-a-ccino
The Spook-a-ccino is a ghostly treat that will spook your tastebuds and delight your senses. This chilling concoction is equal parts eerie and delicious.
Midnight Creeper Frappuccino
As the clock strikes midnight, the Midnight Creeper Frappuccino sneaks onto the secret menu. With its dark and mysterious flavors, it's the perfect drink to enjoy during those late-night Halloween movie marathons.
Sanderson Sisters Frappuccinos
Last but not least, honor the iconic witches from "Hocus Pocus" with the Winifred, Mary, and Sarah Sanderson Frappuccinos. These enchanting brews will cast a spell on your tastebuds and leave you feeling bewitched.
So, go ahead and add a little magic to your Halloween season with these Starbucks secret menu drinks. Just remember to keep them under wraps… it's called the secret menu for a reason!
---
Coffee Ingredients for Halloween
As Halloween approaches, you might be looking to try something new and spooky with your Starbucks drinks. In this section, we'll cover some popular coffee ingredients that can transform your ordinary drink into a Halloween-themed treat.
First, consider adding some chai to your drink. The spicy blend of cinnamon, cloves, and cardamom mixes perfectly with other festive flavors.
For example, if you're a fan of chai tea lattes, try ordering a Chai Tea Latte with toffee nut syrup for a delicious and spooky twist.
Next, don't underestimate the power of mocha sauce and vanilla syrup. By mixing these two ingredients, you can create a flavorful base for a variety of Halloween-inspired drinks.
Add some espresso and milk, and you'll have a delightful blend that can be elevated with other ingredients like mocha drizzle or caramel drizzle.
Speaking of caramel, a drizzle of caramel drizzle creates a sinfully sweet blend when combined with soy milk. This pairing is perfect for those with lactose sensitivities or vegans who still want to indulge in a Halloween treat.
Add in some mocha sauce or matcha powder for a deliciously spooky concoction.
Chocolate chips and mocha drizzle make a perfect pair for your Halloween drinks, creating a delicious, spooky appearance. When blended with milk, mocha drizzle and espresso, the hidden chocolate bits add a delightful surprise for your tastebuds.
Raspberry syrup pairs well with vanilla syrup and espresso for a drink that is both bold and sweet.
Adding a splash of raspberry syrup to your favorite latte adds a ghoulish red hue and fruity taste to your drink.
Finally, using toffee nut syrup and vanilla bean powder in a Pumpkin Cream Cold Brew or chai tea latte creates a warming, festive beverage that is perfect for the chilly Halloween season.
Remember to be creative and enjoy experimenting with different combinations of ingredients to create your perfect spooky drink.
Just ensure you communicate your desired changes clearly with your barista for the best possible outcome. Have fun and happy haunting!
---
Non-Coffee Spooky Delights
Halloween is the perfect time for Starbucks to showcase their spooktastic drink offerings.
If you're not a coffee lover or simply craving something sweet and chilling, check out these non-coffee spooky delights to get your taste buds tingling and boost your Halloween spirit.
You can start by trying the famous Frappula Frappuccino, a fang-tastic beverage filled with layers of mocha sauce, whipped cream, and white chocolate.
Or maybe you'd prefer the Booooo Frappuccino from Guilty Eats, an all-black delight blending frappuccino, bitter caramel sauce, and sweet pumpkin pudding lurking at the bottom.
If you're in the mood for a bewitching blend of colors, the Witch's Hat Frappuccino will surely put a spell on you with its mixture of a Vanilla Bean Crème Frappuccino and Matcha Crème Frappuccino.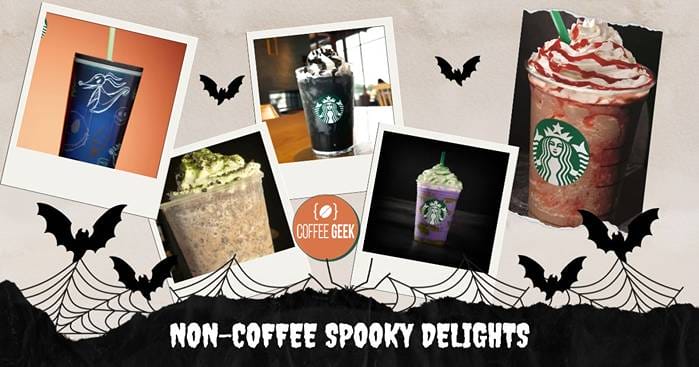 Another wickedly delightful option is the Witch's Brew Crème Frappuccino, although take note that it might not be available in some locations due to the discontinuation of raspberry syrup, as mentioned by Insider.
For the monster in all of us, try the Frankenstein Frappuccino – a blend of green tea combined with java chip for a monstrously good experience.
And don't forget the Oogie Boogie Frappuccino, inspired by the notorious burlap-sack villain from The Nightmare Before Christmas.
This drink is a concoction of Matcha Crème Frappuccino and whipped cream, eerie enough to send shivers down your spine.
Finally, sink your teeth into a Vampire Frappuccino, a hauntingly delicious blend of strawberry puree and a Vanilla Bean Crème Frappuccino base, mimicking blood swirling within the white concoction.
So go ahead, unleash your inner ghoul, and savor these non-coffee spooky delights this Halloween at your nearest Starbucks. Enjoy!
| Drink Name 🎃👻 | Description | Ingredients |
| --- | --- | --- |
| Wicked Caramel Macchiato | A spooky twist on the classic favorite, with caramel and a hint of dark magic. | Espresso, steamed milk, caramel syrup, black food coloring. |
| Pumpkin Potion Latte | A bewitching blend of pumpkin spice and a touch of enchantment. | Pumpkin spice syrup, espresso, steamed milk, whipped cream, cinnamon sprinkle. |
| Midnight Mocha | A rich and mysterious chocolatey delight with a hauntingly dark appeal. | Mocha sauce, espresso, steamed milk, whipped cream, black chocolate shavings. |
| Ghostly Cold Brew | A chilling cold brew that sends shivers down your spine, topped with ghostly vanilla foam. | Cold brew coffee, vanilla syrup, ghost-shaped vanilla foam. |
| Zombie Frappuccino | A monstrous frappuccino with layers of green slime and blood-red raspberry drizzle. | Green tea frappuccino base, raspberry syrup, whipped cream, raspberry drizzle. |
| Caramel Apple Spell | An apple-flavored concoction with a caramel swirl, casting a delicious spell. | Apple juice, caramel syrup, whipped cream, caramel drizzle. |
| Haunted Cinnamon Chai | A spiced chai latte with a haunting twist of cinnamon and nutmeg. | Chai concentrate, steamed milk, cinnamon syrup, nutmeg sprinkle. |
Make Your Own Spooky Starbucks Drinks
Recipes
Feeling creative this Halloween season? Why not try your hand at making some spooky Starbucks drinks at home!
Here are a couple recipes to get you started:
Witch's Brew Frappuccino: Blend together milk, ice, matcha powder, and a scoop of java chips.

Add some peppermint syrup for an extra kick. Top with whipped cream and a drizzle of caramel with peppermint syrup it will complete your magical concoction.

Pumpkin Chai Latte: Start by brewing your favorite chai tea with steamed milk of your choice (soy milk works great, too). Stir in a few pumps of vanilla syrup and pumpkin sauce for a delicious fall twist.

Finish with a layer of whipped cream and a sprinkle of pumpkin pie spice.
Ingredients and Tips
Mixing the perfect homemade spooky Starbucks drink requires some key ingredients.
Here are a few you'll likely need:
Pumpkin sauce: This sweet pumpkin-flavored syrup is essential for pumpkin-based drinks. You can find it at your local grocery store or online.

Matcha powder: For those green witchy vibes, matcha powder is a must. It can be found at most grocery stores or online.

Java chips: Add some crunch and extra chocolate flavor to your frappuccinos with java chips. You can swap them out with your favorite chocolate chips.

Strawberry puree: Add a blood-red touch to any drink with a drizzle of strawberry puree. Make your own by blending fresh strawberries or use store-bought puree.
Barista Advice
Take your creations to the next level with these tips from experienced baristas:
Experiment with different types and ratios of milk (or milk alternatives) to find the perfect texture and flavor for your drink.

Use a quality espresso for any coffee-based recipes to make sure your drink is strong and delicious.

Don't be afraid to get creative with whipped cream and drizzles. Try different colors and flavors to make your whipped cream drink truly spooky.

Remember that practice makes perfect. If your drinks don't turn out exactly like Starbucks' creations, don't worry — there's always room for improvement! Just keep refining your techniques and have fun.
---
Halloween Starbucks Merchandise
Hey there! Have you seen the latest spooky season offerings at Starbucks? They've got a fantastic new collection of Halloween-themed merchandise that's perfect for your eerie sipping experience. All the merchandise is available for a limited time, so be quick!
If you're a tumbler fan, you're in for a treat. First up is the Green Pumpkin Tumbler, an adorable and slightly creepy pumpkin-shaped cup that glows in the dark.
Pair that with the Brown Pumpkin Tumbler and you'll have your very own pumpkin patch for your daily caffeine fix. How fun is that!
The Green Drip Cold Cup is a scene-stealer with its slime-like green accents that glow in the dark too. It's perfect for your Halloween parties or adding some flair to your everyday coffee routine.
Speaking of adding some glamour, don't miss the Black Bling Cold Cups available in 16 and 24 ounces. They're dazzling and spooky at the same time.
Starbucks is taking their cold cup game to a whole new level with the Multicolor Drip Cold Cup.
It's like a candy-colored explosion on your cup! Meanwhile, fans of Starbucks mugs will not be disappointed with the unique Calavera Skull Mug.
It's hauntingly beautiful and adds the perfect touch of spookiness to your morning brew.
For all those on-the-go coffee enthusiasts, Starbucks hasn't forgotten about you.
They've got Halloween Reusable Hot Cups up for grabs too. They're eco-friendly, stylish, and will make your hot drink experience a little more festive this season.
Oh, and here's the cherry on top: it's all over TikTok! Just search "Starbucks Halloween" on the app and you'll see tons of reactions and unboxing videos showcasing all this cool merchandise.
So, go on and treat yourself to some wickedly delightful Halloween Starbucks drinkware. After all, it's the perfect way to enjoy your favorite brews during this spooky time of year.
---
Popular Starbucks Halloween Trends
Hey there! Are you ready to get into the spooky spirit with some Starbucks Halloween drinks? You're in luck, because Starbucks has great options for you to enjoy this eerie season.
During Halloween, the iconic Pumpkin Spice Latte (PSL) always takes center stage. But, there's more to explore like Halloween secret menu drinks inspired by your favorite creepy characters!
Social media platforms like TikTok have played a huge role in unveiling these concoctions.
One popular trend is the Nightmare Before Christmas-inspired drinks. Sink your fangs into a Jack Skellington Frappuccino.
To order it, start with a Grande Pumpkin Spice Frappuccino, ask for Frappuccino chips to be blended in, add 2 pumps of white mocha syrup, and top it off with whipped cream and mocha drizzle.
But what's Jack without his Sally – Grande Vanilla Bean Frappuccino? Try the Sally Frappuccino by ordering a Grande Vanilla Bean Crème Frappuccino and asking for a scoop of matcha to be blended in.
For the Wednesday Addams in your life, there's the Oogie Boogie Frappuccino. To create this spooky masterpiece, order a White Chocolate Frappuccino with java chips and chocolate whipped cream.
Add a sprinkle of matcha powder for that extra Halloween touch.
Now you know how to embrace the Halloween spirit at Starbucks. Enjoy these creepy concoctions, and feel free to share your own spooky drink creations with the world!
---
Frequently Asked Questions
What's the recipe for Witches Brew at Starbucks?
To get the Witches Brew at Starbucks, you'll need to order a bit differently, as it's a part of their secret menu. Unfortunately, raspberry syrup, a main ingredient in Witches Brew, has been discontinued.
Keep an eye out for any updates or substitutes that might come up in the future.
What are some horror movie-inspired Starbucks drinks?
There are some cool horror movie-inspired Starbucks drinks that you can try! One such drink is the Handmaid's Tale Refresher, inspired by the TV series.
To order it, ask for a Venti Strawberry Açaí Refresher with no water, light passion tea, light strawberry purée, and two pumps of raspberry syrup.
How can I get Starbucks' Japan-exclusive Halloween drink?
Unfortunately, you can't get Japan-exclusive Starbucks drinks outside of Japan. To taste them, you'll have to either visit the country or maybe find a copycat recipe online.
Japanese Starbucks often has unique, limited-time offerings for different seasons, so it pays to keep an eye on their social media accounts if you're a fan!
What is the purple Halloween drink at Starbucks?
The Zombie Frappuccino is a purple Halloween drink you can get at Starbucks.
It's a secret menu item that resembles a caramel-covered apple in a cup. The drink has a spooky aesthetic that's perfect for the Halloween season!
Where can I find Starbucks' Halloween cups?
Starbucks typically releases seasonal cups, including Halloween-themed ones, around different holidays.
Keep an eye on their social media accounts or website for updates on Halloween cup releases.
You can also check in-store at your local Starbucks for any available seasonal merchandise.
How to order from Starbucks' secret menu in 2023?
To order from Starbucks' secret menu, you'll have to be specific with your drink modifications and additions.
Tell your barista the exact recipe, including the base drink, any syrups or sauces, and other customizations.
Keep in mind that secret menu drinks aren't officially endorsed by Starbucks, so being polite and patient with your barista is always appreciated as you guide them through your desired order.