Citavo coffee is a wonderful experience that brings together the rich flavors and unique characteristics of coffee beans sourced from around the world.
With a diverse range of coffee blends and origins, Citavo offers a delightful cup of coffee that caters to a variety of tastes and preferences.
Each coffee blend is expertly crafted to ensure a memorable experience for everyone who enjoys a great cup of coffee.
Not only does the Citavo brand specialize in coffee blends, but they also offer a tempting selection of flavored coffees, teas, and cocoas, ensuring a perfect choice for everyone's taste buds.
Citavo line takes great care in packaging and presenting its products, making it even more enjoyable to discover its offerings.
When you purchase Citavo coffee, you can trust the quality assurance and safety measures in place, ensuring that you receive nothing short of the best.
Key Takeaways
Citavo brand offers a diverse range of expertly crafted coffee blends from various origins to cater to all taste preferences.
The company also provides an enticing selection of flavored coffees, teas, and cocoas to suit every palate.
Citavo maintains high standards in quality assurance, safety, and packaging to ensure a delightful experience for consumers.
---
Citavo Coffee Products
As a coffee enthusiast, I'm always on the lookout for new products to indulge in.
Recently, I came across Citavo, a line of coffees and teas that are expertly sourced from around the world and delivered locally.
Sysco, a leading global food service company, is behind this fantastic brand.
One thing I noticed about Citavo coffee is the selection of beans.
High-standard 100% Arabica beans are blended with nutty Robusta coffee beans, creating a balanced and smooth cup.
For those who enjoy flavored coffees, Citavo coffees offers various options, including caramel, hazelnut, and vanilla—all available on Amazon.
Apart from a wide range of hot coffees, Citavo also caters to iced coffee and iced tea preferences.
One popular product is the Citavo Imperial Cold Brew Concentrate, an easy way to keep up with the growing cold brew trend.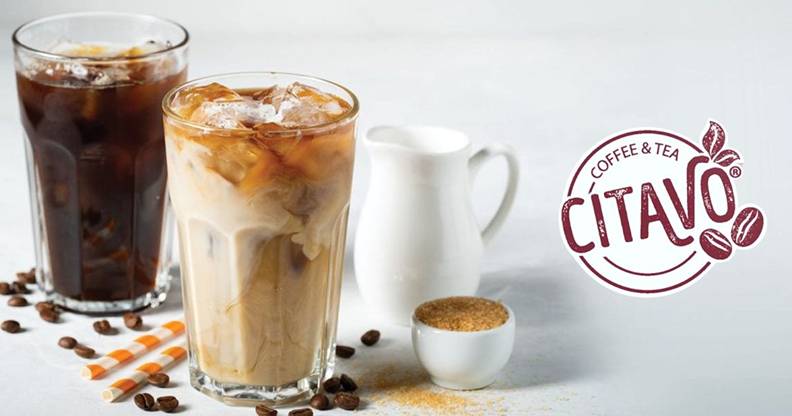 As for their hot teas, the Citavo line has a delicious range of flavors that cater to different tastes.
My personal favorites include the Supreme Single-Origin Guatemala Blend Roast and the Certified Organic Dark Roast.
I appreciate how Citavo Line sources their beans from family-owned farms, which assures me of their commitment to the industry and the environment.
Finally, Citavo's packaging makeover caught my attention.
The modern aesthetic on their products not only makes for an attractive presentation but also speaks of their commitment to safety, reliability, and quality assurance.
In conclusion, Citavo Coffee offers an impressive line-up of products for every coffee lover.
Whether it's their hot coffees, iced beverages, or teas, there's something for everyone in their selection.
For those interested in trying out these delightful beverages, you can find them on Amazon or inquire with your Sysco Sales Consultant.
---
Coffee Blends and Origins
Sustainably Sourced Coffees
As a coffee lover, I'm always eager to share information about some unique coffee blends.
Citavo Coffee offers a variety of sustainably sourced coffees that benefit the environment and positively impact small family-owned farms.
Products such as Costa Rica Blend consist of 100% Arabica beans and are ethically sourced.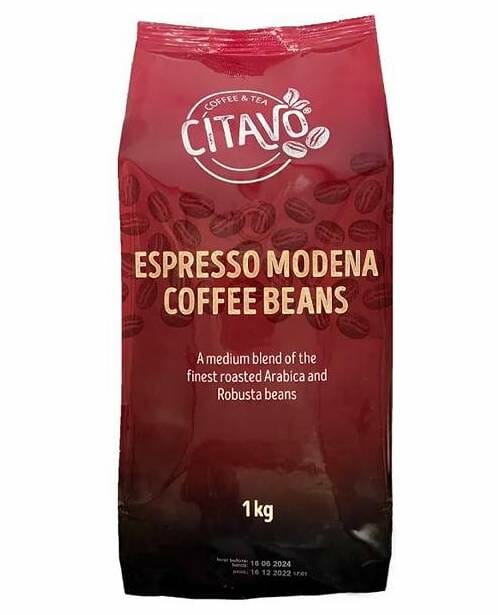 Not only does this make the coffee more environmentally friendly, but it also ensures a pure and delicious flavor.
Supreme Single-Origin Blends
My personal favorite is the Citavo Supreme Single-Origin Guatemala Blend.
This Guatemalan coffee is grown and sourced with care and attention, ensuring a high-standard taste that stands out among other blends.
In addition, Citavo also offers a Costa Rica Blend, which adds another layer of flavor to the single-origin options.
Both of these selections are perfect for those who want to savor unique tastes from around the world.
Organic Dark Roast Coffee Beans
For those who prefer a bolder flavor, Citavo has a Certified Organic Dark Roast that is rich and full-bodied.
This special blend is crafted with 100% Arabica beans and is certified organic, making it a perfect choice for environmentally-conscious coffee enthusiasts.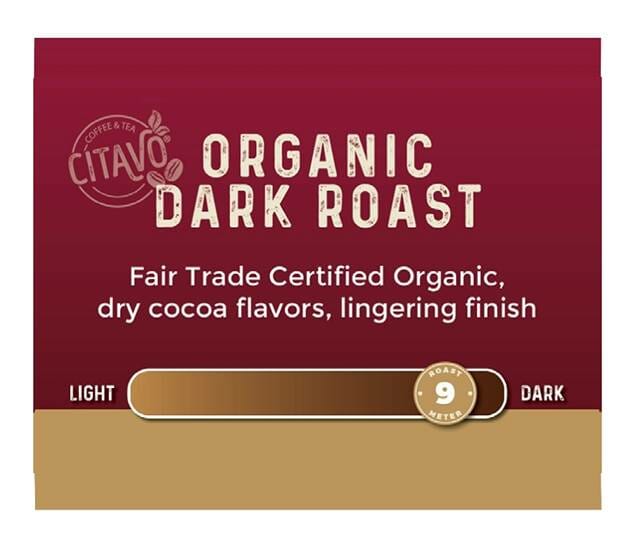 And for those looking for a decaf option, without caffeine, worry not! Citavo also provides decaf selections so that you can enjoy these exquisite coffee blends without caffeine.
From Colombian coffee to the more unique blends, like the Citavo Supreme Single-Origin Guatemala Blend, I am continually impressed with the variety and quality of Citavo's offerings.
I especially appreciate their dedication to sustainability and ethically sourced beans.
Whether you're a casual coffee drinker or a true aficionado, Citavo coffee is worth exploring for a delicious and eco-friendly beverage experience.
---
Flavored Coffees
When it comes to Citavo coffee, I can't help but get excited about their wide variety of flavored coffees. One of my personal favorites is their caramel-flavored coffee.
The rich, buttery taste of caramel combined with the smooth coffee is truly a match made in heaven and perfect for sipping on when it comes to having a sweet treat of the day.
Hazelnut, on the other hand, offers a subtle yet nutty aroma that complements the coffee's natural flavors so well.
It's truly an experience that even those who are not hazelnut fans can appreciate.
The nuttiness of the hazelnut flavor adds an interesting twist to the coffee, making it the perfect option for those who like to indulge in something unique and special from time to time.
If you prefer something a little more classic, Citavo's vanilla-flavored coffee might be the perfect choice for you.
The smooth, creamy taste of vanilla mixed with the warm coffee creates a soothing and comforting drink that I enjoy any time of the day. It's like a little hug in a cup.
Moreover, it is easy to pair with different meals and snacks, which makes it a versatile option that you can experiment with.
Apart from these single-flavored coffees, the Citavo line also offers some delightful blends different coffees that incorporate various flavors, broadening the taste palette for coffee lovers.
The delicious combinations derived from caramel, hazelnut, and vanilla add an extra layer of excitement to your daily cup of coffee, putting a delightful spin on your coffee break.
As a coffee enthusiast, I find Citavo's flavored coffees to be truly enjoyable, adding a touch of uniqueness to the ordinary coffee-drinking experience.
It's worth giving them a try if you are looking for something new and exciting to discover in your cup of java.
---
Teas and Cocoas
My friends, let me tell you about Citavo's amazing selection of teas and cocoas.
Besides being known for their delicious coffees and cappuccinos, Citavo also offers a variety of hot and iced teas to enjoy any time of the day.
Their teas are expertly sourced from around the world, ensuring the perfect cup every time.
I couldn't believe my taste buds when I first tried their iced teas. On a hot summer day, there's nothing more refreshing than sipping a cool, flavorful Citavo iced tea.
They have a range of flavors to suit everyone's preferences, making it a perfect addition to any meal or as a standalone thirst quencher.
Now, if you're a cocoa lover like me, you're in for a treat! Citavo cocoas are perfect for those chilly evenings when all you want is a warm, comforting drink.
Their rich and creamy hot cocoas bring joy to my heart with every sip I take.
Here are some highlights of what Citavo has to offer:
Hot Teas: Carefully selected and beautifully blended for an exquisite and comforting taste experience.
Iced Teas: Refreshing and thirst-quenching options to cool you down on a hot day.
Cocoas: Indulge in a velvety smooth, chocolatey treat that warms your soul.
I can't recommend Citavo's teas and cocoas enough, and I'm sure you'll fall in love with them just as I did. Give them a try, and savor the moment with every sip.
---
Packaging and Presentation
When I first came across Citavo Coffee, I noticed their logo immediately. It has a classy look that speaks to the expertly sourced coffees and teas from around the world.
The logo exudes a sense of luxury, making me feel like I'm about to enjoy a high-quality cup of coffee or tea.
Recently, Citavo underwent a packaging makeover to reflect a more modern aesthetic. The new design has eye-catching colors and clean lines, making it stand out on the shelves.
I appreciate how Citavo has evolved their packaging to keep up with current trends, while still staying true to their commitment to quality and tradition.
As for the packaging itself, I must give credit to the thoughtfulness put into it.
With clear labeling and easy-to-open bags, Citavo ensures a hassle-free experience when brewing and enjoying their coffees and teas.
It's evident that the company puts the consumer's convenience first in their packaging choices.
In summary, Citavo Line has done a great job of combining their rich history and modern design elements in their packaging and presentation.
From the eye-catching logo to the updated design and user-friendly packaging, they have certainly made an impression on me, and I look forward to brewing my next cup of Citavo coffee.
---
Purchasing Citavo Coffees
As a coffee enthusiast, I recently discovered Citavo Coffee—an inspiring blend of flavors from around the globe.
If you're interested in purchasing this delicious coffee, let me share the options available for you.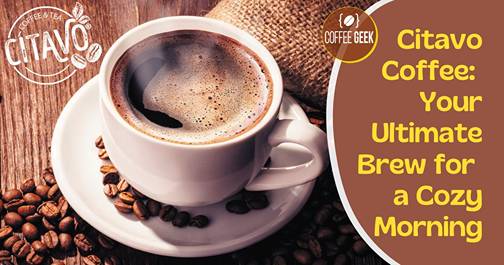 Firstly, you can buy Citavo Coffee from their partner, Sysco. They offer a comprehensive range of Citavo products, including coffees, teas, and hot cocoas.
You can find their full menu of offerings on their official website.
For those who prefer the convenience of online shopping, Amazon is another fantastic platform.
You can find a variety of Citavo Coffee options on their Amazon Citavo page, including ground coffee and different roast levels.
The prices are quite reasonable, with some products offering a Subscribe & Save discount or even coupon savings.
Just make sure to keep an eye on delivery dates, as they may vary based on your location.
One more option for purchasing Citavo Coffees is through Target. They often have sales and coupons, making it an affordable choice.
Sysco Citavo Coffee is a premium coffee grown in Central America's mountains.
Lastly, if you prefer to try the Citavo House Blend, you can order it from Century Food Service.
The prices range between $45.95 to $145.00, with the coffee beans providing a nutty and smooth finish suitable for any coffee enthusiast.
So, no matter whether you're looking for a new addition to your daily coffee routine or an exciting blend to try just once, Citavo Coffee has a variety of options available for you.
Happy shopping!
---
Citavo Brand Quality Assurance and Safety
As a Citavo coffee enthusiast, I feel confident knowing that Citavo's quality assurance and safety standards are top-notch.
From bean selection to roasting and packaging, every step of the process adheres to the highest standards to ensure a delightful and reliable coffee experience.
My confidence in Citavo's quality assurance comes from knowing that Sysco's Quality Assurance team, the largest in the industry, oversees all of its coffees and teas.
This means that there's complete transparency, safety, and the best-tasting beverage experience in every Sysco cup.
Their commitment to quality is evident in the range of Citavo coffees products, including sustainably sourced coffees like their Citavo Supreme Single-Origin Guatemala Blend and Costa Rica Blend.
These offerings not only enhance my coffee experience but also positively impact small family-owned farms by being environmentally friendly.
Safety in coffee production is paramount, and I appreciate Citavo's adherence to Good Hygiene Practices (GHP) and rigorous quality systems.
These practices align with international safety and quality guidelines like the ISO 9000 series (NBR-19000) and store Total Quality Management (TQM).
This guarantees a consistently safe and delicious cup of Citavo coffee ever sold.
To sum up, every time I take a sip of Citavo coffee, I'm reassured by the uncompromising attention to quality assurance, reliability, and safety standards upheld by the company.
It's not just about the taste; it's about having a coffee experience with peace of mind, knowing that I'm enjoying a high-quality beverage every time.
---
Consumer Demographics and Market Trends
As I dive deeper into the world of Citavo Coffees, we found that it's essential to understand the consumer demographics and the trends shaping the market.
The world coffee industry has shifted significantly in recent years, with younger consumers playing a crucial role in defining these patterns.
Did you know that the majority of coffee drinkers fall within the 18 to 34 age group? That's true!
This specific demographic has a strong affinity towards newer and more innovative coffee products.
They are the driving force behind the growth of the specialty coffee sector and the introduction of various specialty drinks like flavored lattes, cold brews, and Nitro coffee.
For Citavo Coffee, catering to these diverse taste preferences calls for the constant development of unique blends, roasts, and presentation styles.
It's not just about a cup of hot black coffee anymore; it's about making coffee a complete sensory experience. Moreover, transparency is crucial to these consumers.
They appreciate ethical sourcing, and sustainability practices, and value brands that make a positive environmental impact.
Speaking of market trends, it's clear that the rise of coffee shops is a significant factor. The coffee shop culture has transformed the way we perceive and enjoy our daily cup of joe.
It's not merely an energy kick anymore but a social activity. Citavo can capitalize on this trend by providing high-quality coffee and creating a welcoming atmosphere for its customers.
Another remarkable trend is the work-from-home culture, which has led to a massive increase in the demand for at-home coffee experiences.
In response, Citavo should focus on creating innovative and easy-to-use coffee products that cocoon consumers in a genuine coffee shop experience while being nestled in their homes.
To sum it up, understanding the vital role that consumers aged 18 to 34 play in the coffee market, the significant growth they drive, and the market trends they influence helps Citavo Coffee to adapt and cater to their ever-changing preferences better.
By staying on top of these trends, Citavo Coffee can maintain a competitive edge in this dynamic industry and continue to delight coffee lovers everywhere.
And that's what I believe to be the secret sauce for a thriving coffee brand!
---
Frequently Asked Questions
What types of Arabica coffee does Citavo offer?
Citavo offers a variety of Arabica coffee options, including various blends and roasts to suit different tastes. Their selection includes light, medium, and dark roasts from Latin America, Africa, and other regions, ensuring a rich and diverse coffee experience for everyone.
Are there a variety of Citavo tea bag flavors?
Yes, there is a variety of Citavo tea bag flavors available. Citavo is known for its robust selection of coffees, but they have also expanded its offerings to include a range of hot tea and iced teas. This provides tea lovers with plenty of options to choose from, including classic flavors and herbal blends.
How does Citavo French Vanilla Creamer taste?
As a fan of Citavo French Vanilla Creamer Cafe, I find it delightfully smooth and sweet. This creamer adds luscious, velvety richness to coffee, perfectly complementing the beverage without overpowering its natural flavors. It's a fantastic choice for most people who appreciate a hint of sweetness in their coffee.
What are the nutritional facts for Citavo French Vanilla Creamer?
While I don't have the exact nutritional facts for Citavo French Vanilla Creamer, I recommend checking the product label or contacting the manufacturer directly for up-to-date information. What I do know is that it contains milk and milk products, making it unsuitable for those with lactose intolerance or dairy allergies.
Which ingredients are in Citavo French Vanilla Coffee Creamer?
Although specific ingredient information for Citavo French Vanilla Coffee Creamer is not provided, it's worth noting that Citavo coffee creamer is not dairy-free and contains milk and milk products. For detailed information about the ingredients, I suggest referring to the product label or contacting the manufacturer.
Is Citavo Iced Tea available and what flavors does it have?
Yes, Citavo offers a variety of iced tea flavors, allowing customers to love their favorite teas in a refreshing, chilly version. Their product line includes traditional black and green iced teas as well as unique and flavorful variations like peach, raspberry, and passionfruit.