The key to pulling off a perfect cup of Pour-Over coffee doesn't just lie in the high-quality coffee beans and your expert pouring techniques.
Like most other brewing methods, you need to take into account the grind size of your coffee beans as well.
But not any grinder in the market can give you the right size and consistency due to varying grind settings and power, yet is still easy to use and reasonably priced.
That's why in this article, I will introduce the 9 best coffee grinders for Pour Over, including shopping tips to help you navigate through the overwhelming shelves of coffee grinders and find "the one".
---
Our Top Pick – Breville BCG820BSS Smart Grinder Pro Coffee Bean Grinder
I've had my fair share of experience with Breville in terms of both coffee makers and coffee grinders and I'm happy to feature it once again.
The all-rounded Breville Smart Grinder Pro is equipped with an excellent set of conical burrs and 60 different and precise grind settings to meet all of your grinding needs.
From a Cold-Brew coarse to espresso fine, and Pour-Over certainly isn't out of the equation either.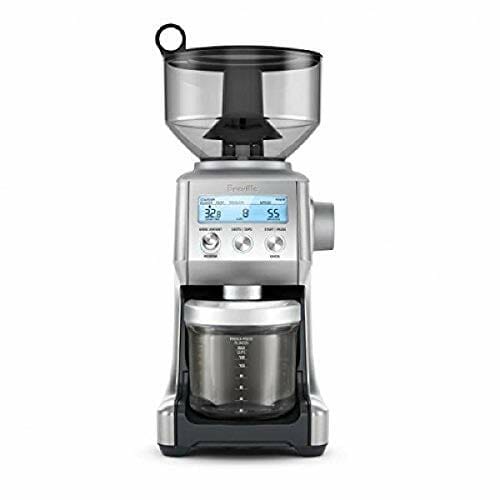 The intentional stainless steel design is put in place to minimize grinding heat. This helps avoid overheating the beans, which can cause unfavorable burning aromas or flavors.
This Breville electric coffee grinder also comes with a state-of-the-art Precision Electronic Timer, enabling the user to easily adjust the grind time to their liking in as little as 0.2 second increments for the best grinding results.
You can navigate through the machine's intuitive LCD display which should show the selected grind setting, the grind time, and the number of cups or shots.
For extra ease of use and convenience, the user can grind directly into their Pour-Over paper filter, filter basket, grinds container, or portafilter for making espresso.
Pros
A very wide range of settings
Precision Electronic Timer for very small increments adjustment for optimal consistency
Very large capacity with easy removal
Direct grinding into any container
Cons
More suitable for those who frequently make other types of brew as well, especially espresso
Not cheap
---
The 9 Best Coffee Grinders For Pour Over – Our Comparison
Coffee Grinder for Pour-Over
Product
Features
Price

Editor's Choice

Dimensions: 8.5 x 6 x 15.5 inches (21.6 x 15.2 x 39.4 cm)
Burr: Stainless steel conical
Operation: Electric
Hopper Capacity: 18 oz (510 g)
Grinding Settings: 60

CHECK PRICE

Best grinder with timed grinding

Dimensions: 6.69 x 6.69 x 12.6 inches (17 x 17 x 32 cm)
Burr: Hardened alloy steel
Operation: Electric
Hopper Capacity: 8 oz (226.8 g)
Grinding Settings: 40

CHECK PRICE

Best entry-level grinder

Dimensions: 4.7 x 6.3 x 13.8 inches (11.9 x 16 x 35.1 cm)
Burr: Conical
Operation: Electric
Hopper Capacity: 8 oz (226.8 g)
Grinding Settings: 40

CHECK PRICE

Most user-friendly grinder

Dimensions: 5.3 x 7.8 x 12.8 inches (13.5 x 19.7 x 32.5 cm)
Burr: Stainless steel conical
Operation: Electric
Hopper Capacity: 12 oz (340 g)
Grinding Settings: 15 (+ micro settings)

CHECK PRICE

Best dosing grinder

Dimensions: 15.3 x 14.2 x 7.3 inches (38.9 x 36.1 x 18.5 cm)
Burr: Conical
Operation: Electric
Hopper Capacity: 10 oz (283 g) (variable)
Grinding Settings: 70

CHECK PRICE

Most affordable grinder

Dimensions: 13.78 x 9.96 x 6.97 inches (35 x 25.3 x 17.7 cm)
Burr: Metallic flat burr
Operation: Electric
Hopper Capacity: 8 oz (227 g)
Grinding Settings: 12

CHECK PRICE

Best gear reduction grinder

Dimensions: 5 x 7.75 x 10.5 inches (12.7 x 19.7 x 26.7 cm)
Burr: Steel conical
Operation: Electric
Hopper Capacity: 8.8 oz (249.5 g)
Grinding Settings: 16

CHECK PRICE

Best on-the-go manual espresso grinder

Dimensions: 6 x 2.3 x 1.8 inches (15.2 x 5.8 x 4.6 cm)
Burr: Ceramic conical
Operation: Manual
Hopper Capacity: 20 g (0.7 oz)
Grinding Settings: n/a

CHECK PRICE

Best all-rounded manual grinder

Dimensions: 4.1 x 3.9 x 8.1 inches (10.4 x 9.9 x 20.6 cm)
Burr: Ceramic conical- Operation: Manual
Hopper Capacity: 100 g (3.5 oz)
Grinding Settings: n/a

CHECK PRICE
---
Baratza Virtuoso+ Conical Burr Coffee Grinder
Baratza is another popular brand that offers coffee gear. Its grinders have actually won the Specialty Coffee Association Award and are used and trusted by many coffee aficionados and professionals around the world.
The Baratza Virtuoso+ is definitely among Baratza's best coffee grinders with a simple design yet all of the conveniences you need to pull off a cup of Pour-Over.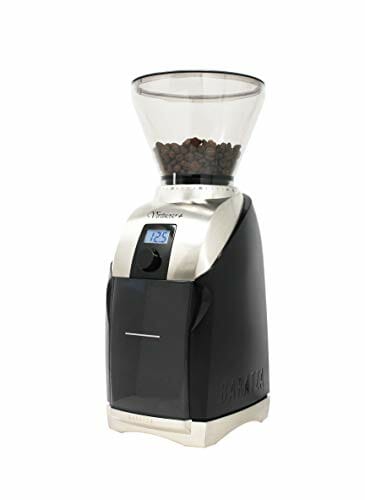 This conical burr grinder is commercial-grade with 40 grind settings for a wide range of brewing experiences outside of the Pour-Over realm as well.
Your grinding endeavor is also made easier thanks to the 40-second digital timer that can be adjusted in 0.1-second increments for optimal precision and consistency to achieve the best freshly ground coffee.
The burr grinder also comes with an LED-backlit grounds bin to ensure more accurate dosing each time.
And, with a grinding speed of 2 g/second and a small footprint, this Baratza electric burr grinder should fit snugly into any coffee drinker's morning routine and kitchen counter.
Pros:
Useful digital timer and a backlit grounds bin
Wide and easily adjustable range of settings
Commercial-grade burr
Simple classic design
Small footprint
Cons:
Can be a bit noisy but within the reasonable range
---
Baratza Encore Conical Burr Coffee Grinder
If the commercial-grade burr grinders are too intimidating for your personal grinding skill, consider getting the Baratza Encore, one of the best entry-level coffee grinders for Pour-Over as well as other coffee brewing methods.
In terms of appearance and basic features and functions, it's pretty similar to the previously mentioned Baratza Virtuoso+.
For example, they're both compact conical burr grinders made of hardened alloy steel with 40 different grind settings.
What makes this Pour-Over coffee grinder much easier to use is the straightforward controls.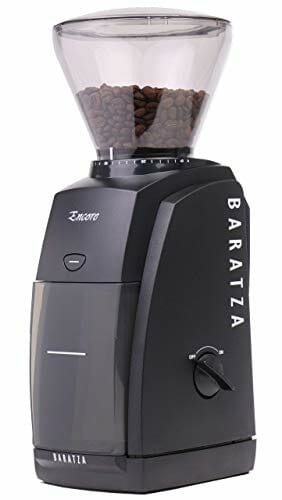 For a continuous grinding session, use the on/off toggle switch. And for a brief grind burst, make use of the front-mounted pulse button as a final touch on your coffee grounds.
Pros
Wide range of settings
Commercial-grade burr
Beginner-friendly navigation via a switch
Small footprint
Cons
Can be noisy
Material is a bit flimsy
A bit expensive for a beginner grinder
---
OXO Brew Conical Burr Coffee Grinder
If you're looking for more affordable burr grinders that are capable of grinding beans for different types of coffee other than the Pour-Over brewing method, especially espresso, pay more attention to conical burrs like the OXO Brew Conical Burr.
This machine can grind coffee beans just as consistently at a more reasonable price tag with its set of durable stainless steel burrs.
Although the OXO Brew grinder only has 15 different settings, which means your choices are definitely more limited, it should still be able to give you the right grinds for your morning cup made with Pour-Overs, classic drip coffee maker, espresso machine, and more.
What's more, the one-touch start timer on this machine is also capable of memorizing your last setting to immediately run following the routine for your next cup of Joe.
Pros
Moderate range of settings
Convenient one-touch start timer that saves the last setting
Fairly quiet
Cons
A bit of static generated so cleaning can be quite messy
---
KitchenAid KCG8433BM Burr Coffee Grinder
This sleek and industrial-looking KitchenAid burr grinder appears a bit different from the other electric coffee grinders we have on our list today.
But you can trust its conical burrs and 70 crazily precise grind settings to get the job done with ease no matter how you're trying to brew coffee, Pour-Over, or other methods.
KitchenAid understands it can be confusing for users to navigate through 70 different adjustments. So its designers made sure to add reference brew method icons that match the grind size to make your life much easier.
The machine is also equipped with innovative anti-static technology to help effectively reduce the static charge to prevent any bean shooting incidents.
What's more, this good coffee grinder is capable of automatically dosing any number of cups or shots that you desire as well thanks to the Automatic Smart Dosing Technology. Because ain't nobody got time for that in busy mornings.
Pros
Very big range of settings with useful reference brew method icons
Automatic Smart Dosing Technology for the right cups or shots
Anti-Static Technology to reduce static charge
Cons
More suitable for those who make coffee other than Pour-Over as well
Not cheap
Quite bulky
---
KRUPS Precision Grinder
If you prioritize getting a uniform grind above all, flat burr grinders should suit your needs.
This affordable Krups Precision flat burr grinder has an excellent performance with a 33% greater grinding range thanks to the flat burrs of any coffee brewing methods, from the coarse grind for French Press to medium-fine grind for Pour-Over and more.
The metallic flat burr electric grinder can put you in the driver seat with full control over the grind size of the ground coffee for the most consistent grind from beginning to end.
You can easily pick from the 12 available grind settings or make micro-adjustments via intermediary settings to achieve the highest level of precision.
The user can navigate with the simple one-touch operation – on/off button, which should be easy to understand for any coffee drinker.
You can also select between 2 – 12 cups of coffee grinds to get the exact amount each time as the grinding would automatically cease at the end of the cycle.
Pros
Flat burr offers better grind uniformity
Moderate range of settings with intermediary settings to boot
Convenient cup size selection
Easy one-touch operation
Very affordable
Cons
Quite loud
A bit of static
Not very precise grind size
Quite bulky
---
Capresso 560Infinity Conical Burr Grinder
This great coffee grinder from Capresso is also equipped with commercial-grade solid steel conical burrs for grinding coffee into any grind size.
But what especially sets this machine apart from other burr coffee grinders is that it's a gear-reduction machine.
The cutting-edge gear reduction motor helps the electric grinders operate more quietly with less heat and static being generated compared to other grinders that run at a higher speed. Ultimately, coffee lovers get to enjoy a better-rounded aroma and flavor.
And like most electric burr grinders, the Capresso also offers different grind settings for convenience, 16 in this case.
You can easily produce a coarser grind for French Press or very fine grinds for the Turkish coffee brewing method. And that range also includes a medium size for brewing coffee with Pour-Over makers.
Pros
Commercial-grade burr
A moderate number of settings
Gear reduction motor to reduce noise and static build-up
Small footprint
Affordable
Cons
There's still quite some noise
Not very intuitive navigation when it comes to pausing
---
Porlex Mini Stainless Steel Coffee Grinder
Onto the manual grinders lane, one of the best coffee grinders in the market is the Porlex Mini from Japan.
Its ceramic conical burrs make this manual grinder durable, sharp, and optimal for grinding fine coffee for your shot.
Despite its miniature appearance, this hand grinder can handle up to 20 g of beans, enough for pulling at least 2 shots of espresso, 3 shots if you like it more diluted.
Its stainless steel and static-free body also make it ideal for making coffee on the go and serving simple and single coffee connoisseurs.
Pros
Ceramic burrs are more durable and quiet in the long run
Manually adjustable and wide range of grounds size
Static-free material
Small and portable
Cons
Takes more time than its electric counterparts
---
Hario Ceramic Coffee Mill 'Skerton Plus' Manual Coffee Grinder
Another manual one I would consider to be the best coffee grinder for espresso is the Skerton Pro ceramic grinder from another Japanese brand called Hario.
Does that ring any bell? Yes, this is indeed the brand that invented the iconic Hario V60 dripper cone that's gathered quite a following in the Pour-Over fanbase.
This stainless steel and glass grinder comes into the grinding battle prepared with an excellent set of ceramic conical burrs, optimized for grinding precisely dual-sized grounds.
Its detachable handle, strong burr shaft, and nonslip rubber are designed and enhanced so that the manual grinding process would be smoother and more stable.
No one likes their grinder moving around in the middle of the deed.
The glass hopper can hold up to 100g of grounds, which is enough to brew around 8 cups of coffee.
Now you can really enjoy fresh batches of coffee anywhere any time as long as you have a portable coffee brewer with you as well.
Pros
More durable ceramic burrs that generate less heat and noise
Strong grind shaft and burr stabilization plate for more uniform grinds of any size
The crank handle can be detached to be small and portable
Very affordable
Cons
Requires considerable arm strength
Takes quite some time and effort
---
Final Verdict – Which Coffee Grinder Is Best for Pour Over?
The overall best coffee grinder has to be the Breville Smart Grinder Pro with its expertly designed conical burrs, extra-large range of grind settings, convenient electric timer, and other useful features.
This grinder should be the best friend to not only your Pour-Over coffee maker but other coffee machines as well.
---
FAQ
How Do You Grind Pour-Over Coffee?
Many Pour-Over devices can brew delicious coffee. Each device may call for a different grind size so that the flavor compounds can be best extracted during the brewing process.
But generally, for Pour-Over, you need consistent grounds within the range from medium-coarse to medium-fine, which should be achievable with burr grinders. That's why throughout the list I made no mention of a blade grinder.
Blade grinders, though cheap, can only cut the beans into smaller uneven pieces, which isn't optimal for your Pour-Over brew. Essentially, you get what you pay for.