Just so you know we do earn a small commission when you purchase a product from the affiliate links used in the post to help us create more helpful content for you.
As most coffee lovers, coffee is your happy place. You've tried most coffee beverages, such as the all-time favorite black coffee and the flavorful espresso.
But, you know it's not just the cup of coffee that satisfies you.
When you are a coffee lover, you know how important it is to find the best coffee cups for you and your family's drinking experience.
Certainly, you want to sip that creamy espresso-based drink from the best cappuccino cup!
And size matters, they say. And so are the colors, functionalities, shapes, and volume of your cappuccino cups. Also, remember that each beverage is different.
This means that even your traditional cappuccino should be poured in a cup that enhances its appeal. This is especially so when you are drinking a cappuccino.
Whether you prefer a glass cappuccino cup or a porcelain cup, what's important is to drink warm cappuccino served in the best cups and saucers.
For your reading pleasure, we've searched the internet for the best cappuccino cups in the market today.
Our Comparison of the Best Cappuccino Cups
With all that was said about drinking from the best cappuccino cups, we can all agree that buying these mugs requires thoughtful consideration.
---
What is a Cappuccino Cup?
A cappuccino cup is made for, of course, drinking cappuccino!
So, your traditional cappuccino cup is typically designed for a single espresso shot, poured with steamed frothed milk.
By standards, a cappuccino cup is about a five to six-ounce dome-shaped cup.
But why fret over the size and shape of your cappuccino cup?
That's because you'll not enjoy what you love about a cappuccino when it is served in the wrong type of mug.
Drinking your cappuccino in a big mug, you won't see the beauty of your creamy mix. Serve it in a tall drinking glass, and your beverage will immediately go cold on you.
And these are just some of the reasons why no barista would embarrass himself by serving cappuccino in just any glass cup.
For your convenience, Coffee Geek put together a selection of the top cappuccino cups available in the market.
---
Our Top 9 Picks for Best Cappuccino Cups
1. The Sweese Porcelain Cappuccino cups with saucers
Who wouldn't want the most elegant cappuccino cups and saucers in their coffee bar wall hanger? These Swedish porcelain cappuccino cups will not only look classy in your coffee bar but will also provide you with pleasant morning drinks!
Design
The Sweese Porcelain cup holds 6 ounces, which is enough for most coffee aficionados to receive a good fill.
With their capacity, these ceramic cappuccino cups are ideal, not only for cappuccinos, but also for espresso, coffee, and hot chocolate.
You'll surely consider this mug as one of the best cappuccino cups for its shape and curves. If you love brightly colored mugs, this Swedish cup is the best option for you.
Quality
Did you know that acidic drinks such as coffee may cause the lead to percolate out of ceramics?
Another reason to consider Swiss Porcelain as the best cappuccino cup is that each mug is made with your health in mind.
These cappuccino cups are FDA-approved and lead-free.
Reason to buy the Sweese porcelain cappuccino cup
The cappuccino mugs come in six-piece sets and are suitable in a variety of settings, including at home, at work, and when dining in coffee shops and restaurants.
As it is safe and microwavable, you can make a cappuccino by just heating the cold-brewed coffee in the microwave. Plus, if the cup breaks within the first 30 days of purchase, Sweese will gladly replace it, for free!
Pros
value for your money
you can expect it to last longer than other cappuccino cups
comes in a durable set of 6 cups and saucers
30-day warranty
Cons
not designed for a double shot
narrow handle
---
2. The Loveramics Egg Cappuccino Cup
The Loveramics egg cappuccino cup would look chic on the counter. A classic-looking coffee cup and the best brews make a perfect coffee day.
Design
You'll find this cup different from the small cappuccino cups in most coffee shops. You can basically make different kinds of coffee with it, but its 8.5 oz size is best for a barista who wants to show off his latte painting talents.
It's well-designed for the convenience of the coffee drinker. It fits well in your palm for effortless drinking and latte making for baristas.
If you are a person who loves colors, you'll surely love the Loveramics Egg range as it comes in black, white, yellow, mint, brown, and red tones.
Quality
If you are looking for quality, then this cappuccino cup will most likely be your ideal cappuccino cup. It is a perfect cup for your creamy coffee, as it is made from the finest commercial porcelain.
As stated in one of the popular cappuccino cups reviews, it's durable and is not easily broken!
It is well-made and you can expect it to stand a very high temperature. These cappuccino cups are dishwasher and microwave safe, you can literally bake them at a very high temperature!
Reason to buy the Loveramics Egg Cappuccino cups
Its ergonomic design makes this an ideal cup for most coffee enthusiasts. It comes with the thickest wall possible that keeps the drink at a high temperature for much longer.
Pros
contemporary design
meets the SCA standards
durable
good ergonomic design
Cons
more expensive than most brands of cappuccino cups
---
3. Kitchables Glass Double Walled Cappuccino Cups
Kitchables Glass Cappuccino Cups is a double-walled glass cup that is popular among coffee enthusiasts.
This is made of thermo-insulated glass, which is designed to keep you from getting burned.
Design
The new style of the cup will undoubtedly help to make your cup shelf stand out. On your table, they'll be lovely cups.
It is also long-lasting and difficult to break when dropped due to the double-walled glass.
Quality
These glass cups are shatterproof and scratch-resistant, making them easy to clean and maintain. More than just glassware, it is made of borosilicate glass, which can stand very hot liquids.
Reasons to buy Kitchable Glass Double-Walled Cappuccino Cups
Coffee mugs can alter the taste of your favorite joe.
With these double-walled coffee glasses, you can keep the flavor of your drinks. And, the mug maintains the ideal temperature for longer, allowing you to fully enjoy your beverage.
Pros
keep your cappuccino warm for a longer time
highly insulated, so it keeps your hand from getting burned
attractive design
no chemical breakdown as the cappuccino cup sets are made of borosilicate glass
Cons
does not come with a handle
---
4. De'Longhi 5513214601 Double Walled Cappuccino Cups
Everyone loves the standard traditional Italian cappuccino cups, and porcelain cups are probably your favorite.
But any cappuccino lover will most likely choose DeLonghi cappuccino glasses as one of the best cappuccino cups.
With the cup's double-wall protection, you can be sure your hands are free from scalding.
Design
This cappuccino glass is designed for a better grip and the capacity to stand hot temperatures. The double-wall allows you to comfortably hold the glass in your hand, and the thermal properties ensure that your beverage stays hot for longer.
Cappuccino, coffee, tea, and just about any other drink can be served in this cappuccino cup.
And, what's great about this glass is that it's dishwasher safe!
Quality
The disadvantage of glass cups is that most are not made of material that can maintain heat. This makes the Delonghi Double-Walled Thermo different.
This double-walled glass cup is made of solid borosilicate glass, so you can expect your morning cup of coffee to remain hot for an extended period of time.
Reason to buy De'Longhi 5513214601 Double Walled Cappuccino Cups
The DeLonghi cappuccino cups are one of the best cappuccino cups, not only for their heat retention capacity but also for being more sanitary than traditional cappuccino cups.
Pros
have a double-wall glass designed to protect your hands'
durable
fair price for its quality
Cons
the difficulty of putting a hole
its double-wall
---
5. Nuova Point Cappuccino Cups
Just like fashion, cappuccino cup design and style come and go. But the Nuova Point cup style remains classic and eternal.
Design
The interior of the cups is flawlessly smooth and spherical like an espresso cup should be. The cup comes with elegant saucers too!
Not everyone is a fan of saucers, but these are really helpful in keeping a lot of spillages.
Quality
You'll appreciate the Nuova Point Cappuccino cup if you want your porcelain cups to be thick and durable. With Nuova Point Cups, you don't have to concern yourself with the delicate bone China porcelain that is likely to break in a week.
Reason to buy Nuova Point Cappuccino Cups
Essentially, Nuova Point Cups are lovely and well-made with thick walls for longer heat retention. Anyone who often uses espresso cups knows that the handles are nearly usually the first to break, but it's not the case with your Nuova Point cups.
Pros
come in a set of 6 cups with saucers
thick walls to keep the beverage hot longer
made of porcelain
Cons
the difficulty of finding the white version of these cappuccino cups
---
6. Konitz Coffee Bar Cappuccino Cups
Let the Konitz Coffee Bar Cappuccino bar collection transport you to the scenic alleys of Italy.
Enjoy your coffee in authentic Italian elegance, with each of the 11 white porcelain cup shapes of Konitz Coffee Bar cups.
And, if you are looking for a set of cappuccino cups for your family and friends, the Konitz White Cappuccino Cups are an excellent option.
Design
So, the Konitz Coffee Bar Cappuccino cups are designed to make it easy to pour and to help the barista create beautiful foam art.
Quality
These cups were created with the help of prominent baristas from across the globe to ensure that they were made to the highest standards.
Reason to Buy Konitz Coffee Bar Cappuccino Cups
They say a coffee mug is more than just a vessel. For coffee enthusiasts, mugs serve as a mark of identity that people share with their members.
That's the reason why the Konitz Coffee Bar Cappuccino cup is a favorite among coffee enthusiasts. This brand of cappuccino cup was created with the participation of baristas across the globe.
Pros
made of the durable material
dishwasher and microwave safe
perfect for your cappuccino, and great for beginners looking to practice their latte art skills
Cons
thick-walled but cannot keep heat as much as other types of cappuccino mugs
no color variations for this brand of cups and saucers
---
7. The NotNeutral Lino Cappuccino Cup
The Notneutral Lino cup shows how a clean, simple look never goes out of style. The cups and saucers look fantastic, and just everything about the design, feel, and functionalities are spot on.
Design
If you have trouble finding a coffee cup that's the perfect size and design, the NotNeutral Lino cappuccino cup is for you.
It's a favorite among coffee drinkers for its elegant shape and ergonomic design that ensures your comfort and control of the cup.
Quality
You just have to love this mug. They are made to last longer than most types of cappuccino cups, are beautifully designed, and properly proportioned and every cup shows great workmanship.
Reason to buy the NotNeutral Lino Cappuccino Cups
This cappuccino cup is a dream to use for every coffee drinker. It just makes you feel like you were in your favorite cafe, even while having your drink at home.
Pros
retain heat longer
great design
durable
Cons
more expensive compared to other cappuccino mugs
---
8. The Illy Cappuccino Cup
This Illy Cappuccino mug is one of those brands that you will surely buy again in a heartbeat. The coffee mugs are designed to reflect elegance, yet they are also durable enough to last long.
Design
IIly wares are designed to reflect elegance and style. The rim shape of this cup is great for pouring foam, making it perfect for your cappuccino drinks.
Quality
You know you're in for a fantastic cup of coffee when you see the red Ily logo.
This cappuccino cup has a greater diameter than most espresso cups. Also, an Illy Logo Cappuccino Cup is 2.75 inches tall and can contain up to 4 ounces of liquid.
Reason to buy the Illy Cappuccino Cup
It's an absolute pleasure to drink from an Illy cappuccino cup. It's a classy durable cup that looks classy in
Pros
durable and crack-resistant
classic porcelain coffee cup, with a rim designed for foam art
Cons
it's a small mug that may not suit everyone's liking
requires preheating to ensure that your drink stays hot for longer
---
9. The Le Creuset Stoneware Cappuccino Cup
Are you looking for a cup that will last while in your cupboard?
The Le Creuset Stoneware cups are highly durable and you can expect them to last longer than your standard coffee cups.
Stunning, stylish, and functional, these stonewares can give your kitchen a touch of class, and they're great for their weight, thickness, and durability.
When you offer a cappuccino in a stoneware cup, you're sharing with them your personality and thoughtfulness.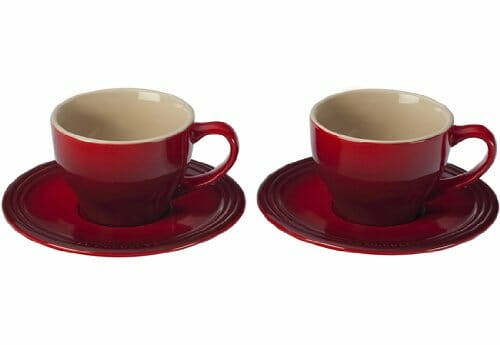 Design
The Le Creuset Stoneware cup is crafted to perfection. It is made from a special type of clay, so you can expect it to maintain your coffee temperature.
Quality
Unlike most porcelain coffee mugs, these cappuccino cups and saucers are made of strong and durable stoneware.
Reason to buy the Le Creuset Cappuccino cups
They give my kitchen a touch of class, and they're great for times we want to spoil ourselves. They also fit neatly beneath the head of the espresso machine, making them ideal for a fast dose of espresso.
Pros
the attractive enamel glaze design
durable
good heat retention
large enough for coffee lovers who want a generous dose of their coffee
Cons
high-priced for a set of two
---
What to look for in Cappuccino cups
Coffee cups come in different sizes, shapes, colors, and materials. You can find standard size as well as large cappuccino cups in most kitchens.
Considering the variations, what should you look for when buying your next set of cappuccino cups?
Here are things to consider when buying cappuccino cups
Size and Shape
The standard recommendation for a cappuccino size is 5 to 6 ounces for a "good" fill of cappuccino.
A cappuccino cup that can hold up to 6 ounces is what you'll need for a ratio of 1 espresso to 1 steamed milk to 1 foamed milk.
Choosing the right cappuccino cup size also allows you to finish your drink in the most classic way possible.
Material
Your coffee flavor is influenced by the cup material. It makes sense to consider the type of material a coffee cup is made of.
Some of the factors to look for in choosing your cappuccino mug materials are:
heat retention
dishwasher safe
easy clean
double-walled coffee mugs
Many coffee drinkers believe that a ceramic mug is the best coffee mug material, but it may not always be the case depending on the type of coffee or even the occasion.
So, have you ever thought about why most homes have either bone China or porcelain cappuccino cups?
That's because these materials are durable, which means your mug will not break easily even with the pressure of a very high temperature.
Porcelain is one of the best options if you are looking for a coffee mug that is resistant to breakage, easy to clean, and microwave safe
However, you'd also want to look at glass mugs. Some people would think that glass mugs should only be used for cold drinks.
But, there's a valid reason why glass cappuccino cups have recently made waves in the coffee industry.
Other than their elegant sophisticated design, you can definitely enjoy your cup of joe in a glass cup. You'd want your glass cup to be made of sturdy material.
So, coffee mug manufacturers created double wall mugs that are durable and good at heat retention.
With double-walled glass cups, you can drink a fill of your favorite coffee drink without worrying about hot liquid shattering the mug.
Aesthetics
On a beautiful morning, color adds to the entire pleasure of enjoying a cup of cappuccino. The typical white cappuccino cup is a must-have for most coffee enthusiasts.
Many businesses provide colored porcelains and color-glazed stoneware if you want to be unique, artisanal, and creative. Why not let your coffee mug express your personality? It's entirely a personal choice.
Handles and saucers are included in most cappuccino cups. They're useful, but a nice cup of coffee can be had without them.
We prefer saucers because they allow you to set a good spoon, sugar cubes, or even biscotti next to your cappuccino cup. Don't you think it's a lovely addition?
Durability
Take into account the fact that many people consume coffee on a regular basis. Good cappuccino cups should last a long time, whether they're for personal use or for customers at a café.
You wouldn't want to constantly replace them because they were chipping and breaking, would you? Choose dishwasher-safe, microwave-safe, oven-safe, and freezer-safe cappuccino cups wherever possible. Keep in mind that the cup's longevity is mostly determined by the material used. Cheap cappuccino cups endure longer than those made of glass, glazed, or enamel.
Insulation
Cappuccinos are frequently consumed while having long chats with friends or reading a beloved book.
A double-wall cappuccino cup should be at the top of your list if you enjoy enjoying your coffee.
The slower your drink cools, the thicker the walls of the cappuccino cups are.
---
---
FAQs
Are glass cappuccino cups better?
Yes. That's if they are double-walled glass cups as can keep your coffee warmer or cooler for longer as they don't allow the heat to escape or enter.
Glass cappuccino cups are aesthetically appealing and eco-friendly. They are also good for your health, as it does not release harmful elements compared to other types of mugs.
However, the downside of using glass cappuccino cups is that they are less durable and may readily break. For coffee drinking purposes, most will not hold heat as much as other ceramics.
Does the right cup improve my coffee drinking experience?
We believe sipping from the correct coffee cups can enhance your coffee drinking experience!
Other than its aesthetic appeal, the right coffee cup will make your coffee drinking more enjoyable.
A study published in the Food Quality and Preference Journal examined the relationship between the shape of the mug and the coffee served in them.
The researchers confirmed that the test subjects associated narrower mugs with better aroma, shorter mugs with a stronger flavor, and wider mugs with a sweeter taste.
This means that the vessel can greatly affect the coffee drinker's experience.
What are the best size coffee cups for a cappuccino?
Cappuccino is best served in a 5 to 5.5oz or 150 ml to 160 ml cup.
Are latte and cappuccino cups the same?
A cappuccino cup is slightly smaller compared to a latte cup. You serve a cappuccino drink in a 150 ml cup, while you pour over a latte in a 240 ml cup.