There is a variety of coffee-making equipment available; however, each machine has its own ups and downs.
For those who love coffee and have experience as a barista, a built-in espresso maker is a huge help in brewing the perfect cup of coffee.
That's why we chose to write a guide for finding the best built-in coffee machines.
---
Our Review of the Best Built-in Coffee Machines
If you're thinking of looking into modern integrated coffee machines that are more than just the typical, perfectly adequate preparation of coffee, here are some recommendations:
Coffee grinders
Product
Features
Price

Editor's Choice

Stainless steel color
Home connect app
Remote monitoring
14 modes for brewing

CHECK PRICE

Adjustable coffee temperature
Removable water rank
Adjustable coffee intensity
Fully automatic

CHECK PRICE

Adjustable
Coffee spout
Simple one-touch button settings
LCD screen
Drip Tray Sensor

CHECK PRICE

Integrated premium milk carafe
10-step adjustable grinder
AquaClean filter

CHECK PRICE
Why Buy A Built-In Coffee Maker?
Here are five advantages built-in coffee machines offer that you should consider before deciding on the most suitable built-in coffee machine.
Remote Programming
Many coffee makers with the built-in coffee system are designed keeping in mind the contemporary intelligent home style.
They have WiFi connectivity! You can set up your automatic coffee machine remotely to ensure that you'll have the hot beverages ready for you when you arrive in the kitchen.
A fully automatic coffee machine with remote access is similar to having a barista at your fingertips.
Simple Operation
Built-in coffee makers are created to be as efficient and straightforward. Everything you'd like in your coffee machines is just a click away.
The top coffee systems that are built-in come with everything: whole bean grinders with direct water flow, automatic cleaning, integrated built-in sensors, and an intuitive control panel.
The control panel is made for one-touch operations. Additionally, every element of the coffee can be adjusted. You can alter the coffee intensity, temperature, size, and coffee type to make the perfect cup of coffee.
Multiple Sensor Function
Many coffee makers with built-in sensors are with a variety of sensors. Cup sensors, for instance, will determine the coffee cup size and stop the system from filling too much of your cup.
However, sensors in the water reservoirs will inform you when there's a problem with water flow. In addition, bean container sensors will notify you when to replenish the beans with coffee.
These sensors are fantastic for you if you're the kind of person who can forget about the coffee machine! They ensure that your built-in coffee maker functions well and immediately warn you of any issues.
Hot Water Function
It may sound like a basic advantage, but having access to hot water is a benefit you can use when you have a built-in espresso machine.
If you seek other hot drinks besides coffee, it is easy to take a hot cup of water to make tea or hot chocolate.
Memory Preference
In addition to adjusting the drink specifically to your preferences, some coffee makers with built-in filters also have the option of saving the exact preferences for your drink.
This means that you don't have to program every element of your drink separately. Instead, you just have to select the saved option.
This is an excellent option for you if you live with your friends or in a populated household with people who drink coffee.
Every person can save their favorite coffee preferences and let the machine prepare drinks at the push of one button.
---
---
Bosch offers a contemporary and sleek style that is elegant and capable of bringing a touch of class and style to every kitchen.
Additionally, this coffee maker can connect to your smartphone, tablet or laptop, and even your desktop. You can alter the settings and choose the beverage you would like to drink from a wide range of choices.
Once the coffee is prepared, you'll receive a notification on your device, and you can go out and take a sip.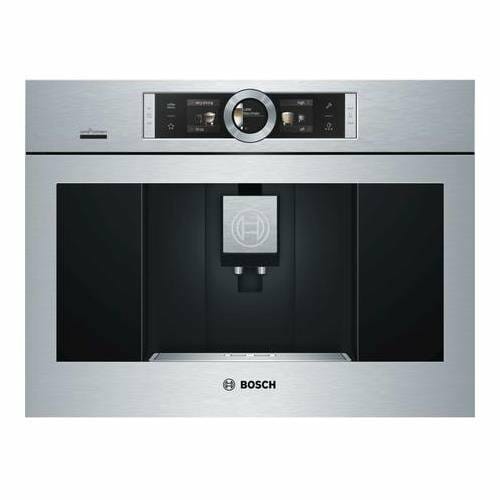 The method is pretty simple to clean this model; the coffee machine has incorporated automatic cleaning, descaling, and steam washing.
As with any best built-in quality model, it should provide consistent pressure. In this respect, the Bosch does a great job by delivering constant pressure with the aroma whirl brewing technology.
In the case of drinks, which need steamed milk, it allows keeping milk in the canister for up to eight hours.
In addition, Bosch has an automatic descaling and milk steam rinsing function, so you don't need to take part in maintenance and operation.
The mug has a greater capacity for water, which is 2.4 Liters. Furthermore, you'll have the ability to change the size of your coffee cup. This is an excellent addition as US coffee mugs tend to be larger.
Pros
Modern & elegant design
Connectivity to smartphones
Pre-programs when to make drinks
Makes one or two cups at one time
Automatic cleaning system
Cons
Brewer Group unit sometimes create problems
---
It is an old-fashioned and fully automated production. It is made of stainless steel; it could be pretty heavy to carry around too frequently.
Moreover, you can make as many as 2 cups at once and adjust the level (amount of caffeine) that can be set to extra light, light, moderately strong, and extra strong. You'll be able to "up the tempo" during hectic times of the year.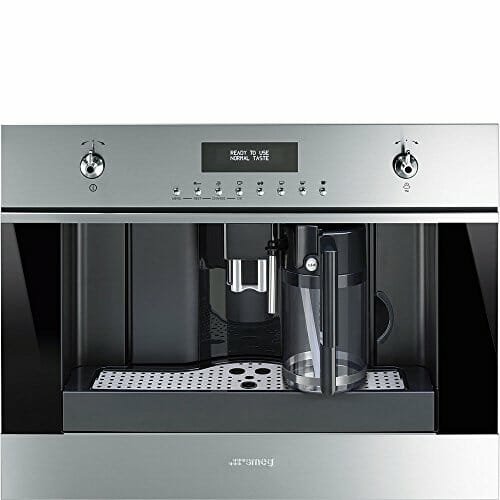 The integrated grinder on Smeg offers a wide range of pre-sets. And we all know that the method for grinding beans can affect the flavor and the quality of the beans.
The tank for water is removable (and perhaps swapped for a bigger one). This option is very important when the product is being used in offices or places where many people want more coffee.
Smeg is a product that follows current trends since it is constructed out of stainless steel with a fingerprint-resistant coating and a Multilanguage LCD screen.
Pros
Completely automated
Wide range of pre-sets
LCD screen
Removable drip tray
---
The Thermador easy-to-use coffee machine can serve up to 10 different coffee drink options. Its One-Touch Function can serve double or single coffee cups.
The stylish stainless-steel look is excellent for your kitchen's top design. The machine comes with 6 adjustable coffee strengths.
Additionally, it can serve 15 cups in various sizes, from small single-shot glasses to large travel cups.
This coffee maker could be the best machine because of the ability to program coffee flavor settings.
The best thing about the Thermador coffee maker is the one-touch capability it offers.
The built-in sensor acts as the guardian angel the machine is equipped with.
It will ring automatically when the grinder or the water tank is low. The device also features two boilers.
You can also add 5/8-gallon water into the tank. The steam cleaning and descaling process is why this coffee maker is of the best quality.
Furthermore, it is not necessary to worry about cleaning the machine regularly.
However, even with all these glowing characteristics, the coffee machine has received many bad reviews.
The customers have not much positive to say about it since the expensive machine starts causing problems after a few months.
Pros
Built-in milk frother
Coffee spout that can be adjusted
Simple one-touch button settings
Offers ten different coffee drink options
Cons
Prices start at $4000.
Limited coffee cup sizes for coffee
Negative Customer feedback
---
It is possibly one of the most effective coffee makers with built-in technology available. It comes with the biggest selection of drinks available.
It makes 11 different types of coffee, including Espresso beverages, cappuccino, macchiato, and latte drinks, all available at one push of a button.
Phillip integrates many different items into one package: grinder, brewers, milk frothers, and more.
This is an outstanding piece of technology that is modern-day such as it grinds coffee using the most cutting-edge (pun meant) ceramic cutting blades.
This coffee maker allows you to alter strength, aromas, and temperature to create the perfect blend for the perfect cup of coffee. 10 grinder settings is another feature you can explore.
Because this machine utilizes Aqua Clean, you'll be able to consume more than 5,000 cups of coffee without having to remove the scale.
It's not taking up much space, considering the array of features this product offers. The product weighs 15.87 tons (7kg)
Pros
Ten grinder settings
Transportable and easy to carry
Brews 11 varieties of coffee drinks
Simple to set up
Cons
Considerable price
In some nations (like Australia), they ask for additional purchases
---
How To Clean Built-In Coffee Maker
Here are some suggestions to get the most out of your equipment and extend your machine's lifespan.
Be sure to descale when your device tells you to.
Do not put oily beans into your grinder; they will cause a blockage in the machine. If you must put them in, spread them on a baking tray and clean them with towels.
Icy milk at 2% will provide the most effective results from your milky drinks. Oat milk can be the preferred alternative to dairy because of its creamy consistency.
If your coffee doesn't have enough crema or is not strong enough to be brewed, you can dial in the grinder to achieve the desired outcomes. Another option is to alter the settings of the consumption of beans per cup. Consult your user manual for directions.
---
Coffee Making Procedure Drip vs Built-in Coffee Maker
The unique thing about built-in coffee makers is the quality of their coffee and the design enhancement they offer.
Drip coffee maker
Many people are aware of making drip-brewing or pour-over coffee using a drip coffee maker.
It is an approach that involves pouring hot water over medium-sized, roasted coffee beans in a filter to extract the coffee.
A coffee machine pushes hot water through the ground coffee under pressure to create your coffee
It doesn't matter if you use a simple pour-over machine, an electronic coffeemaker, or a semi-automatic machine; they all strive to make an ideal brew.
Built-in Coffee machines
The built-in coffee machine produces coffee differently; the method is similar to what the barista at your local café uses.
Each one has a hopper that allows you to place coffee beans that match your preferred coffee flavor.
If you don't find the flavor you like, they have a bypass dozer, giving you the option of making ready-ground coffee.
This is an excellent option; you can make decaf or other special coffee without taking the beans into the machine.
Built-in coffee makers make great coffee with each click of a button or two, from the start with the end of the line, with no intervention.
This means that anyone can make coffee whenever they want with their built-in coffee systems; they are often called One-Touch machines.
---
Things To Look For When Buying The In-Built Coffee Maker
The best built-in coffee maker is the latest way to make it for yourself. Make your coffee with the flavor you prefer with just a single touch.
The ease of use and quality of the coffee you make are among the things you're seeking. We have listed a few of the characteristics an espresso machine with a built-in filter should possess:
Espresso Machine Boiler
The boiler generates the steam—the materials of this component matter. In particular, if you prefer to steer clear of the aluminum coffee machine boiler.
While it's quick to heat up, it's not as long-lasting as other metals. A steel boiler could be the better option, particularly when you have to make lots of shots in a short time.
Because steel can hold heat and absorb it and retain warmth, you'll be able to create a huge number of shots since the boiler won't cool as rapidly.
Brass is the most popular choice of those who manufacture high-end coffee machines with built-in features. Similar to steel, brass also retains heat. Additionally, it offers good temperature stability.
Water Reservoir
It's another important element. A few coffee machines are connected directly with your plumbing system inside your home.
While this could be an advantage as you won't have to replenish the water every couple of minutes, it can be a problem if you regularly change locations.
Pump
This is, without a doubt, an essential instrument in the barista's arsenal. Espresso pumps with greater power give you the ability to use more fine grinds.
It allows you to have much more coffee's distinctive flavor. The majority of pressure pumps offer a minimum of 9 bar of power.
Price
The price tag is usually the primary factor to consider when choosing kitchen appliances.
Most of these models cost more than $3000 due to their high-end materials, top-quality build, and the latest technology.
Do not look for a lower-end machine because it's not likely to last for long and will likely be a source of problems after buying.
Specification and Reviews
Be sure to look over the top built-in coffee machines' specifications and reviews to find the best beverage options and customize capabilities.
It is essential to find a machine that makes delicious espresso and latte macchiato coffee. There are coffee machines that can make various beverages, from espresso macchiato to cafe americano.
Customization options can help you select the ideal grind size quantity, coffee strength, temperature, and coffee flavors for your preferred blend to bring out the aroma and flavor.
So, look for the specification and decide what you want in your coffee maker.
---
Verdict
With the proper built-in machine, you'll be able to make your perfect cup from the comforts of your home.
SMEG is the ideal option for people on a budget; it's not expensive and has excellent features and a distinctive design.
However, Bosch is the best overall option for a built-in coffee maker. It is user-friendly and flexible, even for novices.
---
FAQs
How long does an espresso machine last?
An espresso machine can be expected to last anywhere from 5 to 15 years. Maintenance is often a driving factor in how long the machines last, as is the frequency they are used.
Do coffee machines require water?
Yes. Coffee isn't made without water. The method of getting it there depends on your personal preferences and your kitchen setup. If there is a water line you'd like to connect to your machine, search for a direct plumb device. If you don't, an internal reservoir that is refillable manually can work.
How long can my built-in coffee maker last?
An espresso machine is predicted to last from five to fifteen years. Maintenance is usually a major factor in determining the length of time your appliance will last, along with the frequent usage.