The world of gourmet coffee revolves around a few key facts: expertly roasted beans require precision grinding and proper extraction to achieve the best possible flavor no matter how its brewed.
It sounds simple enough, but in reality, it can be an incredibly complex series of steps.
One of the most essential appliances in this journey is the electric coffee grinder itself.
We're taking a look at some unique features in this OXO conical burr coffee grinder review to see how well it holds up to its promise of precision and consistency.
Do the OXO grinder's conical burrs and integrated scale really help it stand out from the rest? Let's find out.
---
The Details Of OXO Conical Grinder with Integrated Scale
This OXO conical burr mill pairs adjustable step grinding with programmable settings that include grinding by weight, time or quantity.
You also have the ability to dial in a strength preference on top of all those specifications, which adds an extra opportunity to personalize your results that isn't found on many other top rated burr coffee grinders.
The hopper's 16-ounce capacity is almost double the size of most grinders in the same price range and with similar functionality.
It has a built-in scale for measuring by the gram, which is a welcome treat in comparison to many of its competitors, too.
There is a lot to list in terms of technical specs for this conical burr grinder, but check out what we think are its best features to see which bells and whistles really impress us.
The Specs
Built-in digital scale
High torque, low-speed DC motor
38 grind size settings
40mm conical stainless steel burrs
Bean hopper holds 16-ounce of coffee
125-gram bin container enough for 12 cups of coffee
Weight: 5 pounds
Countertop dimensions: 11.1 x 7.3 x 16.4 inches
---
Best Features
What the OXO conical burr grinder proves is that this brand knows the science behind good coffee.
To that end, they've packed their conical burr grinder full of interesting and useful features.
While some of these are standard features for most grinders, OXO adds a special innovative touch to the way they function on this grinder.
Other ideas completely change the game for grinders at this price range by giving professional grinder capabilities in the comfort of your own kitchen at home.
Different approaches to grind settings
The option to grind enough coffee per number of cups desired, which is incredibly helpful.
You can also measure by the gram or set it for manual and let it grind as long as you'd like.
This setting is typically used for single-use doses like you would need for a portafilter or a measure based on volume rather than weight.
Adjustable for strength preferences
When grinding per cup, you can adjust the level of strength you prefer. This means adding or subtracting roughly 4 grams from each notch's total.
The default per cup is 8 grams, which is an industry-standard measure.
Built-in digital scale
Measuring by volume, or by the scoop as many people do with pre-ground coffee, is the least accurate way to brew a truly satisfying cup of coffee.
Coffee beans change density as they go through different roast levels, so measuring by grams is an important step in the right direction towards perfecting the at-home brew.
UV-tinted hopper with a bottom closure
As smart as the digital scale and adjustable settings are, the simpler function of the OXO's hopper is easy to miss.
However, it's the little things that sometimes matter a lot. Light and air can negatively impact the quality of the volatile oils in coffee rapidly, so the tinted hopper tries to prevent some of that.
The trap door at the base of the hopper lets you detach it from the grinder without losing beans in the process.
While this conical burr grinder is priced for entry to mid-level aficionados, some of its settings and features require a small learning curve to master–we'll tell you how to make the most out of them a little later on.
---
What type of coffee is
best suited

for the OXO Conical grinder?
Judging which brewing methods and coffee makers the OXO conical burr mill favors are where things start to get tricky.
Despite the all-purpose nature of a grinder that has so many stepped adjustments and extra touches to further dial in fine-tuned tweaks, it's impossible for the OXO to get it just right for every type of coffee.
What it does do best sits right in the medium range of grinds. This means the regular drip coffee maker and standard pour-over devices will pair beautifully with this grinder.
Depending on what kind of coffee bean you're grinding and the type of coffee maker you're using, it will do just fine as you move along the coarser side of the grinding scale, like for french press pots and cold brew options.
Unfortunately, it doesn't perform as well for the finer grinds that steam-powered espresso machines require.
There just isn't the consistency required to pull a shot with the perfect amount of crema every time. Turkish coffee, one step further into the ultra-fine territory, also needs more reliable production than this grinder provides.
---
Making the most out of this conical burr grinder
As we mentioned earlier, some of the features that make this grind pull ahead of the pack are also features that may take a little longer to learn how to use properly.
When using functions that depend on the integrated scale built into the machine, make sure it's fully tared so that you get a true measure of how much coffee you're grinding.
You can do this by holding down the button until it shows 0 grams on the digital interface. In order to find the sweet spot for your chosen coffee maker, play around with the recommended grind settings by scaling it up or down by a couple of notches.
Most manufacturers suggest something that should be in the middle of any given industry standard, but your personal tastes and your own device may require minor changes from there.
It's fair to expect a little tweaking when getting used to a new grinder, but there are some inconvenient design details that could get in the way of making the most of this grinder.
Read on to see where we felt this device failed to live up to its promises.
---
The downside of this OXO burr grinder
The OXO brew conical burr coffee grinder does have a lot of features that we love, but unfortunately, not all of them work as well as we would hope given their professional design.
Just one button controls everything, which isn't as intuitive as it could be. Taring the scale isn't exactly easy to understand at a

glance.You

have to hold that main button down and let it cycle through the other settings available before it tares the scale. While that's not the worst of flaws, it is surprisingly inconvenient.

Additionally, the per-cup grind settings and their strength adjustments don't allow a dual-reading of quantity and its weight, so it can be difficult to know if it's grinding an accurate amount or what that amount may be.

This grinder can jam up pretty frequently, even after cleaning. Dark roasted beans produce a lot of oil, so they may not be a good match for this grinder, which cancels out how well it grinds for press pots that typically call for those dark roasts.
---
How to clean this conical burr grinder By Oxo
Cleaning the OXO is a fairly straightforward set of steps. Electric grinders should never be submerged or soaked in water, but you should also be careful while wiping down the digital screen to be sure excess water doesn't seep into the seams and ruin the interface.
1. Remove hopper, container and scale plate.
These can all be wiped down easily with warm or soapy water depending on how deep your cleaning will be. The hopper's bottom piece has a locking door to block beans from spilling, so that makes spot-cleaning the burr assembly easy.
2. Remove upper burr from its seat.
The upper burr lifts out easily and can be wiped clean or brushed with a bristle brush. Avoid washing this piece with soap and water unless absolutely necessary since the water can lead to bacteria build-up if not allowed to fully dry.
3. Brush out the inner burr assembly and chute.
You can turn the machine over a bowl or bin and tap out loose grinds after giving the inner grooves a vigorous brush. There are other products on the market that can be sent through the grinder to help clean out the grooves of these pieces, too, but must be used while the machine is fully assembled.
4. Put everything back together.
All interlocking pieces fit only one way. The no-bean censor of the hopper depends on a proper fit and the machine will not turn on if the hopper is empty or doesn't fit.
---
Main competitors to the OXO Conical grinder
Some of the features that the OXO on conical burr coffee grinder boasts just can't be found in grinders that share its price point, while other electric burr grinders provide more consistency or versatility for the same cost or less.
Capresso Infinity
The Capresso Infinity is not only more affordable, generally speaking, but it does a better job of grinding for fine enough for espresso coffee and Turkish coffee brewing methods.
Its interlocking bin also contains stray grinds better than the OXO. There's nothing digital about this coffee mill and it doesn't allow as many adjustments as others, but it's solid and straightforward.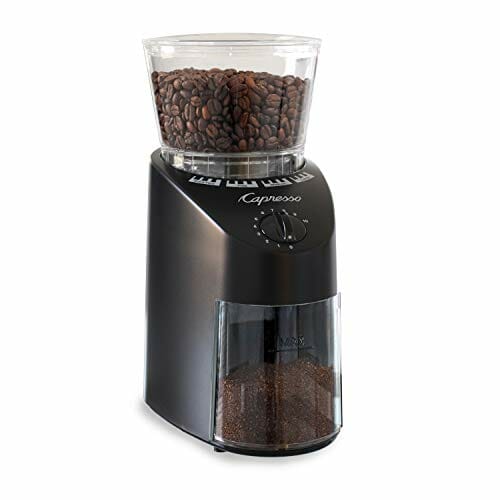 Cuisinart CBM-18N
This grinder matches the Oxo's digital interface and programmable settings, but minus the built-in scale.
That can work out just fine for some consumers, however, especially considering it has settings for the per-cup measures and keeps its grind selections to a minimum for those who don't need as much versatility as they do dependability.
---
Final Verdict On OXO Burr Grinder
The OXO brew conical burr coffee grinder has plenty of extras packed into a fairly durable build.
Some of those features are trend-setting and truly impressive at this price point, like the scale and the strength selector. It might not be the best fit for those who want a lot of variety along the scale from coarse to fine.
However, it's a great fit for those who know what they like in that medium-coarse range with a choice to grind enough for a little or a lot.