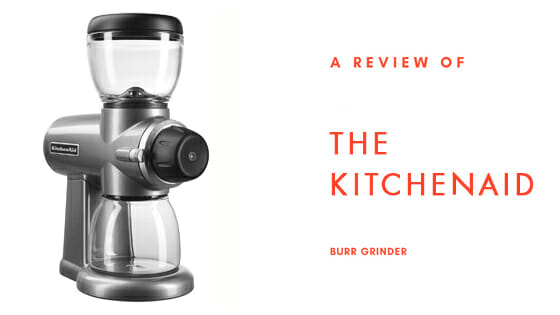 When it comes to burr grinders, extra features are fun and a stylish overall look is eye-catching, but the most important factors are the burr grinder's build and how smoothly it functions at each step of its various grind settings.
Providing a perfect and consistent grind across the range of options from coarse to fine is easier said than done.
When you're ready to pay serious money for top-of-the-line equipment, there's nothing worse than finding out the machine you've purchased isn't capable of handling your favorite coffee beans.
In this KitchenAid burr coffee grinder review, We break down the quality of the grinder's performance for personal or professional use so you know exactly where it stands in the line of best burr grinders on the market.
---
The Specs
Internal components: 450 RPM motor, 40mm stainless steel conical burrs
Hopper capacity: 7 ounces
Countertop dimensions: 5.9 x 10 x 9.8 inches
Total weight: 9.9 pounds
Controlled rate grinding with 15 grind settings
---
Important Details
KitchenAid has a long history of setting the standard for personal kitchen appliances that look and function at a professional level.
Their forays into burr coffee grinders are no different in that regard. As a brand, their name is frequently associated with high-end quality and a price tag to match.
In the world of best coffee burr grinders, however, this model hovers at the mid-range level of cost.
We've already mentioned the die-cast metal body looks great, but we're just going to say it again: the curve and contour of this model's design is a delightfully retro style that matches their other appliances in style and shape, such as their famous stand mixer.
The front-end dial for setting the grind offers eight full turns and seven half turns so that you can find the perfect size for your favorite brew.
The on-off switch on the side is easy to toggle with a flick of the finger. The plastic lid on the bean hopper has a snug press-to-fit design rather than a threaded screw-top, which makes refilling whole beans quick and easy.
---
Our

Favorite

Features Of Kitchenaid Coffee Grinder
Aside from looks, there are a few key components that really make the grade and put the KitchenAid burr coffee grinder at the top of its class.
The brand is known for its durability and quality.
KitchenAid's chef-inspired traditions make it a heavyweight competitor for any piece of equipment in the kitchen, so their take on a burr coffee mill is going to offer up a great blend of quality components and competent manufacturing.
Easier to clean than many competitors.
Glass canisters on the top and bottom prevent the volatile oils that give coffee its potency from lingering and going rancid or discoloring the containers through different cycles of varying roasts.
Fine-tuning the calibrations is simple.
The 15 grind settings include half-step increments for fine-tuning your brew style and strength.
Even light roasts can be ground fine enough for an espresso brew, which allows you to experiment with craft coffee concoctions that focus on the origin flavors instead of the roast factors.
Powerful but low-heat motor.
This burr grinder's motor only clocks 450 rpm, which means it doesn't run hot — and that's cool, since heat while grinding starts to break down flavorful components in the beans.
Professional value with an affordable cost.
Serious coffee lovers know that when they're ready to equip their kitchen with a professional-level burr grinder, it may require an equally professional-level budget — but the KitchenAid burr grinder isn't going to break anyone's bank when it comes to upgrading the at-home coffee game.
---
Maximizing

This Grinder's Best Features

While roasts preferences are simply a matter of personal taste, there are some industry standards that guide what bean to brew and when.

Typically speaking, high-quality espresso coffee drinks are made with medium and dark roasts that have been finely ground.

Don't let anyone fool you, though, because it's fine to experiment with making espresso drinks that use a lightly roasted coffee bean with this burr grinder, and we're ready to talk about just that.

The pronounced oils of a dark roast may contribute to an espresso shot's rich color and deep flavor, but it's the steam-powered extraction process of a super-fine grind that controls the time and pressure required for a proper shot.

You can still pull a perfect shot of espresso with the right grind on a lighter roast, and the KitchenAid burr grinder can definitely do that for you consistently.

This grinder can also match the perfect level of coarseness needed for pour-over and French Press brews, too, which work well with light-to-medium roasts that need consistent contact with hot water in order for their flavor to bloom best.

Coffee lovers who want to enjoy the complex flavor profiles of unique roasts need the kind of flexibility this burr grinder provides to brew their beans in a variety of ways.

Keeping the hopper and burrs clean between different roasts and regions of origin will maximize the consistency of quality grinds every time, which we'll show you how to do step-by-step a little later on.
---
What The KitchenAid Burr Coffee Grinder Lacks
We'll be totally honest with you: the KitchenAid burr grinder isn't perfect. In fact, some of the details we love have the potential for major issues. Let's talk about that.
A die-cast metal body looks impressive and has the kind of durability that could last decades, but it's definitely not easy to move around if you're redesigning the layout of your kitchen or need to slide it over for a thorough countertop cleaning.
The glass canisters also look great, are easy to clean and their friction-reducing surface helps keep fine coffee grounds from sticking to the sides, but they can crack or break far more easily than a plastic hopper and bin.
The clear glass also lets in light unfiltered, which can sometimes spoil the integrity of whole or ground coffee beans
---
Cleaning Your KitchenAid Grinder
Because keeping a burr coffee grinder is so important to the machine's operation, we're going to take you step-by-step.
Keep in mind that the glass components are dishwasher safe, but the body of the grinder should only be wiped down and never be submerged or soaked with water.
Always unplug the machine while cleaning its internal components.
1. Remove bean hopper and lid, plus bottom container. These can be washed with warm, soapy water at the sink or in a dishwasher. Because they are made of glass, handle them with care to prevent breakage or cracks.
2. Cleaning the dial component and conical burrs. Loosen the screws on either side of the dial by hand and pull off the dial and burr-shaft assembly. These can be brushed clean (with a cleaning brush) to free them of leftover coffee grounds.
3. Accessing the motor housing. Once the dial and burr-shaft assembly are removed, you can access the motor housing and internal burr, which should be brushed clean of any loose grounds.
4. Reattach components and plug back in. The burr-shaft assembly and dial can be put back into place as soon as they have been brushed clean. The glass hopper, its lid and the bottom container should be completely dry before grinding again.
---
How The Competition Compares
KitchenAid is a tough act to follow for most competitors, but there are a few burr grinders that stack up.
The variety of settings on the Baratza Encore conical burr grinder offers some of the most consistent grinds across all types of roasts, which is an important feature for those who like a dark roast for their fine grinds.
The technological features of the Breville Smart Grinder Pro make it a more modern choice and its compact size and precision settings mean its a serious contender on the market.
The Cuisinart DBM-8 Supreme holds its own on the lower end of the price range, although it's not as consistent as the KitchenAid burr grinder when it comes to brew-worthy results.
---
Our Final Thoughts On The KitchenAid Burr Grinder
Like most of KitchenAid's products, this model has a unique and attractive design that makes a statement on any countertop it graces.
While we definitely love the look of it, the brand has also built a solid piece of kitchen machinery that's sure to last.
Certain vulnerabilities won't impact you much if you don't need to move the grinder around much, are keeping it away from bright sources of light and are storing your beans in another air-tight container between grinding sessions.
The KitchenAid burr grinder is a great buy and an excellent fit for the home or office kitchen.