Whether you're a first-time buyer or just looking for the next new shiny toy to add to your great coffee collection, choosing a burr grinder presents several challenges.
This is why we spend plenty of time going over every detail and comparing each grinder to the next.
These days, coffee lovers aren't afraid to spend a fair amount on an appliance as important as a quality grinder is for their at-home setup.
The key factors that define quality? Consistency, versatility and durability. Where does that leave a grinder like the Gaggia MDF coffee grinder? Let's take a close look.
---
The Details Of These Automatic Coffee Grinders
As a company, Gaggia has some natural advantages when it comes to staking a claim anywhere in the coffee-making market.
They're a leading manufacturer of espresso machines in their native Italy, and they enjoy a reputation for well-made and easy-to-use equipment for those machines.
It's easy to assume that their grinders, and the 8002 MDF model, in particular, should hold up just as well in for casual use in the home.
It has a sturdy build and a simple, effective system of grinding and dosing coffee beans in a way that makes anyone feel like a professional barista in their own kitchen.
After we break down the technical points of interest, we'll show you how they translate into some of our favorite features.
---
The Specs Of Gaggia MDF Grinder
34 grind settings
50mm tempered-steel burrs
10-ounce bean hopper
8-ounce grounds container
Pull-lever dosing mechanism
Weight: 9 pounds
Countertop dimensions: 20 x 4.5 x 14 inches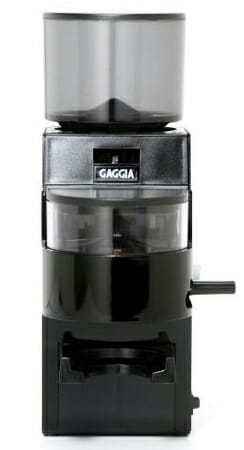 ---
Best Features Of This Electric Mill Grinder
Gaggia offers features with the barista in mind. We love that attention to detail and it's easy to see how the brand has won its place among coffee aficionados across the world.
Tinted plastic housing for bean hopper

Because this grinders may be used in a small cafe as well as the home for french press or drip coffee maker, they've taken into consideration that beans and their grounds may need to sit inside the machine for longer than a single serving. To that end, tinting the plastic and giving compartments tight-fitting lids goes a long way towards keeping everything fresh.


Expertly calibrated internal components

The high-torque motor connected to the tempered-steel burr assembly reduces noise, but that also means it reduces the heat each piece generates as the burrs spin. This helps keep the oils in the coffee beans from spoiling at the touch, but it also lends longevity to the components themselves.


The ability to dose cafe-style into a portafilter

The entire dosing mechanism looks and feels like it fits right in at a proper espresso-making station, which is a delightful detail for the at-home barista. It's also really convenient for keeping things consistent when making multiple shots or drinks for friends and family. There's a reason why this is considered to be one of the best coffee grinder for espresso.


Straightforward settings and operation

Once you're locked into a calibration that gets you the grinds you need for your brewing preferences, it's as simple as hitting the on switch. There's no timer, but the grounds won't dispense until you pull the dosing lever.
Even though these are great features for a burr coffee grinder, we go over what just didn't work for us with the Gaggia MDF coffee grinder a little later on.
---
What type of coffee is
best suited

for the Gaggia coffee grinder?
It's no wonder that with Gaggia's history with espresso machines, this grinder performs extremely well on the finer side of grinds.
The entire machine is built for that purpose, in fact, despite having so many options for other grind settings. The fixed portafilter holder and dosing lever illustrate how specific the 8002 MDF's purpose is for pairing with an espresso machine.
Unfortunately, it's a little too specific. Though the grinder has an incredibly durable build and produces consistently sized grinds along the full range of its 34 settings, it's simply not an intuitive design for dispensing those grinds easily for anything but a portafilter.
---
Making the most

out of this grinder

When you're grinding, be sure to keep the grounds container lid on to avoid an extra mess.

Fine grinds can have a mind of their own as they come out of the chute. Keep it on a slip-resistant mat to prevent slipping on the counter when pulling the dosing lever.

Also, due to the lack of a timer, be mindful of grinding too much unless you know you'll be able to use it up within the first half hour afterward.

As with many grinders, it's incredibly important to keep the burr assembly and chute clear of old beans and grounds to preserve the integrity of the device and quality of your coffee's flavor.

We'll walk you through that in just a bit.
---
The downside of this Gaggia MDF coffee grinder
Though this grinder has a great build and durable components, it is very specifically designed to suit espresso drinkers almost exclusively. At this price point, that may not be a great fit for someone who frequently prefers other methods of brewing.

It also has a large countertop footprint compared to other grinders at or just below it in cost and capabilities. Because it's on the heavier side for a grinder, it's not as easy to move around if you have a small kitchen and need to put appliances up between uses.

Cleaning the machine, which you'll read about in the next section, is also not intuitive and requires different steps than most at-home grinders. We'll show you the steps involved, then compare this burr grinder to others so you can see their basic differences.
---
How to clean this Electric grinder
The build quality of the Gaggia 8002 MDF offers a durable, long-lasting machine. As with any electrical appliance, remember to unplug it before cleaning and never submerge or soak the machine.
1. Remove bean hopper and burr assembly.
Two screws each hold the container and faceplate in place. After removing these, the adjustment ring's hex bolts will be exposed and can be unscrewed to remove it, too.
The upper burr plate can now be removed. The plastic bean container can be wiped down with a cloth and warm water.
2. Brush both pieces of the burr assembly clean.
Use a bristled brush to dust the upper burr plate clean and set it aside to brush out the lower burr chamber and connecting chute until they are clear of loose grounds. A small nozzle attachment on a vacuum hose can also be used.
3. Recalibrate the burr assembly.
When replacing the upper burr plate back on the lower burr chamber. Find the "absolute zero" placement by putting the bean hopper back on, unscrewed, and turning clockwise.
At this point, the machine can be plugged back in and tested for calibration. When toggled, the motor will stop immediately if the burrs touch and are not calibrated properly.
4. Reassemble adjustment ring and bean hopper.
After calibration is confirmed, remove the bean container in order to replace the adjustment ring, faceplate and container with their matching screws.
Make sure they're all tightened properly. The adjustment ring's #1 setting should be centered in the faceplate's window.
---
Top competitors to the Gaggia 8002 MDF burr grinder
The competition in this price range can vary wildly between features and function, so we're taking a look at what's missing from the Gaggia MDF coffee grinder and which grinder may be better suited for the kind of coffee maker you use.
DeLonghi KG521 Dedica
While this grinder offers fewer adjustment steps than many others in its price range, we really appreciate some of the features it focuses on, instead.
This has a portafilter attachment but also gives you an easy option to dispense large quantities in the included container that has an air-tight lid.
We also appreciate the inclusion of a smart display, plus the ability to choose strength levels in addition to grind sizes.
KitchenAid Burr Grinder
As another brand known for quality and durability with its appliances, KitchenAid's burr grinder allows all the same comforts of a manually adjustable dial for 15 different grind levels.
The consistency of grinds this produces outweighs the limited choice, especially considering how well suited it is for the coarser grinds that press pots, drip brews and pour-overs require.
---
Gaggia MDF vs. Baratza Virtuoso
At a glance, these two burr grinders look fairly similar, but how well do they compare across all our measures for what makes a good coffee grinder great?
Let's give it a side-by-side examination.
Gaggia MDF
Gaggia lives up to its reputation with the 8002 MDF. The resilient, crack-resistant plastic housing for the body, bins and bean hopper stand up to daily use, even in a small cafe setting.
Gaggia MDF coffee grinder's gear-reduction motor helps keep things cool, which is especially necessary for finely ground coffee batches. The torque it takes to pulverize coffee beans builds up heat, which destroys the important oils in the beans. This grinder is set up to pair best with espresso machines, so that's a great feature along with the built-in portafilter holder.
Gaggia keeps it super simple with 34 step adjustments and just one power button. There's no timer, but the dosing lever releases grounds 7 grams at a time to help measure portions for the portafilter.
Baratza Virtuoso
Baratza's Virtuoso is no slouch either, though. The simplicity of its design and the stout nature of its build helps it to fit easily in any size kitchen and survive several grinding sessions.
The Virtuoso can grind fine enough to pull great espresso shots, too, but because it does so at almost twice the speed of many other grinders on the market, there's a risk of heat transferring despite the quality build of the burr assembly.
The Virtuoso may not have a portafilter holder, but it has a pulse button in addition to its on/off switch, which means grinding for small cups or espresso shots is even easier to get exactly right.
---
Final Verdict
Unless you're brewing with other devices so regularly that the fixed portafilter holder or dosing lever become an inconvenient obstacle between you and your morning cup of joe, this is still a versatile and dependable machine.
For espresso lovers, this burr grinder with doser is an excellent fit.
The expertly-crafted internal components simply suit this complex and complicated method of brewing best, and that's great given how hard it can be to grind coffee that fine consistently and properly.
Is the Gaggia 8002 MDF Coffee Grinder suitable for making espresso?
Yes, the Gaggia 8002 MDF Coffee Grinder is suitable for making espresso. It has 50mm tempered steel burrs that can grind coffee beans to a fine consistency, which is ideal for making espresso.
What is the capacity of the Gaggia 8002 MDF Coffee Grinder?
The Gaggia 8002 MDF Coffee Grinder has a bean hopper capacity of 10.4 ounces and a ground coffee container capacity of 8.5 ounces.
Is the Gaggia 8002 MDF Coffee Grinder easy to clean?
Yes, the Gaggia 8002 MDF Coffee Grinder is easy to clean. It has a removable hopper and burrs for easy access and cleaning. It also has a convenient cleaning brush included.
What is the construction of the Gaggia 8002 MDF Coffee Grinder?
The Gaggia 8002 MDF Coffee Grinder has a sturdy and durable construction with a brushed stainless steel finish. It also has a heavy-duty motor and a high-torque transmission for efficient and reliable performance.
Does the Gaggia 8002 MDF Coffee Grinder have a doser?
Yes, the Gaggia 8002 MDF Coffee Grinder has a doser that dispenses a predetermined amount of ground coffee into the portafilter for easy and consistent dosing.
What is the power rating of the Gaggia 8002 MDF Coffee Grinder?
The Gaggia 8002 MDF Coffee Grinder has a power rating of 120 volts and 60 hertz.