Starting the day with a delicious cup of freshly brewed coffee is wonderful.
Even better is having your own espresso machine do the brewing for you. Just the convenience you need for a busy day.
But what if your budget is tight at the moment?
No worries because this list of best espresso machines under $200 has got you covered!
Our selection of best espresso machine options that are worth below $200 will not only fit your budget but will also ensure you are able to drink your morning cuppa each day.
Whatever type of coffee you'd like to drink – be they cappuccino, latte, macchiato, or straight-up espresso – any of these affordable coffee machines will meet your needs.
---
The Best Espresso Machine Under $200: Coffee Geek Comparison
Editor's Choice
Has a mini cup warmer and a frothing wand
Comes with a dual-wall filtration system
Removable drip tray
Runner Up
Has an adjustable cup tray
One-touch control panel
The milk frother is automatic
3rd Place
Comes with a fully stainless steel casing
Has a built-in grinder
Has a self-priming feature
---
Coffee Geek's Choice

– Breville ESP8XL Cafe Roma

Breville is a trusted name in the espresso machines industry and they do not disappoint with the ESP8XL Cafe Roma model.

It is an affordable and aesthetically pleasing machine that can easily become a favorite.

I prefer this espresso machine not just because of the name and price but it's one of the most robust machines in the category that will get you results.

Pros
15 bar pump with ThermoBlock technology
Has a dual-wall filter system for tasty crema production
Comes with a warming place
Has a froth enhancer for fancier cuppas.
Includes a tamping tool and a stainless steel frothing pitcher
Cons
Some customers have noted that this machine pulls too fast
There could be issues with the heating light
---
Mr. Coffee BVMC-ECMP1102
The Mr. Coffee Café Barista is another of the most popular espresso machine choices that are worth below $200.
It weighs 9lbs only and has a compact size of 12" x 14" x 12.2". It looks great on any countertop and anyone who loves the minimalist and modern aesthetic will find this product to their liking.
You will find that one of the reasons why Mr. Coffee Café Barista Espresso Machine is the best is that it is super easy to use.
It has a one-touch control panel for convenience. Feel free to customize your cup of brew, whether you prefer a single shot or double shot, via the panel.
Note that this feature is standard for more expensive machines. For it to appear on an under-$200 coffee maker is definitely a sweet deal!
Pros
It is a 3-in-1 semi-automatic machine that can make a cup of espresso, latte, and cappuccino
Features a 15-bar brewing pump system
The milk and water reservoirs are both removable
High-quality portafilter
Cons
Some users have noted that the machine can be a bit load while operating
It is not fully automatic
---
Klarstein Passionata Rossa 20
The Klarstein Passionata 20 Espresso Maker is closer to the $200 upper limit, which makes it one of the higher-priced options in this list.
Still, it is within the budget range and is one of the best choices out there.
It is a top-quality product with plenty of advantages to offer.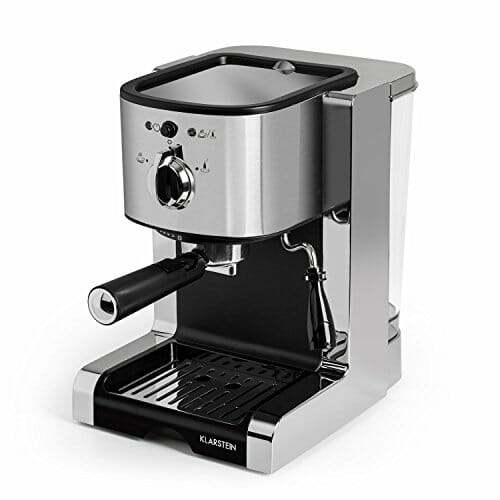 Pros
Has a self-primer system and a 20-bar pump
Built-in grinder
Easy to use dial for espresso-making and frothing
Comes with a steam nozzle and an ESE filter
Also features a removable milk reservoir
Removable water tank with a capacity for 6 cups at a time
Cons
Heavier than most machines in this list
Espresso pulls are not automated
Its filter has plastic components, which makes that part more susceptible to wear and tear
---
Nespresso C60 Pixie
As its name suggests, the Nespresso C60 Pixie Espresso Machine is all about being compact and sleek.
It is one of the best espresso machines under $200. It also has more of a retro design, which can be striking on your countertop.
This machine is capsule-based only. So, if you prefer using coffee grounds, then this may not be for you.
However, if you are looking for an espresso maker that is affordable, convenient, and easy to use – then the C60 Pixie is a great choice.
Pros
A capsule or pod-based machine great for any drinker who doesn't want to deal with any mess and who wants a quick prep time
Features a 19-bar pressure pump
Designed with ThermoBlock technology, which enables preheating in under 30 seconds
Can accommodate 10 used capsules at any given moment
There are different programmable buttons available depending on the type of caffeinated drinks you prefer
Has a water level indicator with a backlit LCD design
Cons
The option to use ground coffee for machines is ideal but this one doesn't have it and the Nespresso capsules available for this machine are on the higher-priced range
Doesn't come with a frother so you can't make a cappuccino or latte unless you have a separate milk froth
Cannot brew if display malfunctions
---
Delonghi EC702 Espresso Maker
One of the best (if not the best) espresso machine with a price tag under $200 is the Delonghi Ec702 15-bar Pump Espresso Maker.
This is a high-quality option for all coffee lovers on a budget.
Most of the machines below a couple of hundred bucks are made of plastic, but not the Ec702.
It sports a sleek stainless-steel body that you can be proud of.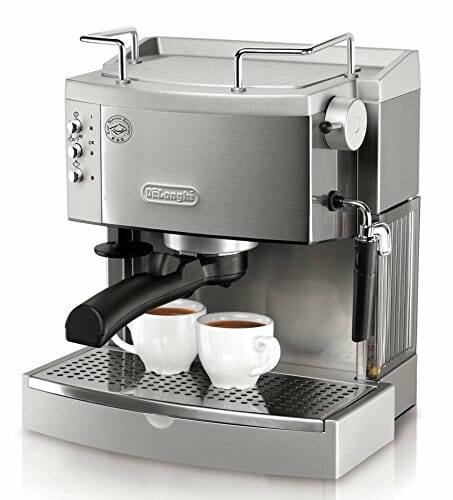 Pros
Has a 15-bar pump to ensure great-tasting espresso daily
This is a rapid-shot machine, which means that the temperature will remain the same per cup
Users have the option to use coffee grounds or pods.
Automatic self primer
Comes with a water level indicator
Cons
The frother is manually operated, which can be an inconvenience for those who prefer automatic frothers
---
Staresso Portable Espresso Machine
This is yet another deserving option in this best espresso machines lineup that is below two hundred dollars.
The STARESSO Portable Espresso Maker is super light, weighing less than a pound. It doesn't need electricity to operate.
You can bring it anywhere. Enjoy a good cup of espresso while traveling or camping with the family.
Pros
20 bars of pressure available
Easy to use and clean
Has an attractive design and sleek features
You can use Nespresso pods with this machine
Cons
you can only brew one shot at a time
The rest of its body is made of plastic
---
Capresso Espresso Machine EC100
The Capresso 116.04 makes quick shots of your favorite morning brew. It lets you enjoy espressos or cappuccinos.
This is definitely one of the espresso machines you should consider.
It is made of quality materials and sports a sleek design that will look nice on your modern kitchen counter.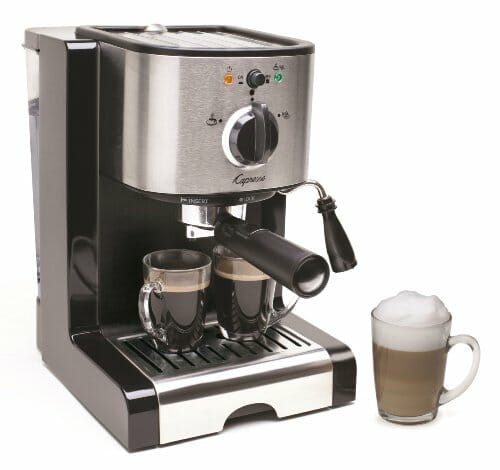 Pros
Stainless steel-lined pump enhanced with ThermoBlock heating technology
Has dual swivel frothers for creamier and more delicious coffee
Removable water container with a capacity of 46 ounces
Stainless steel dip trays
Cons
Taller cups may not fit
A few users have had issues with the water reserve seal
---
Lello 1375 Ariete Cafe Prestige
The Lello 1375 Ariete Cafe Prestige is another good option for anyone looking for the best espresso machines under $200.
Like the others within the same price range, it is lightweight.
Its dimensions are 9 ½ " x 9 ¼ " x 12 ½ ".Users will find that this machine is very similar to the Capresso but it does have its own stand-out features.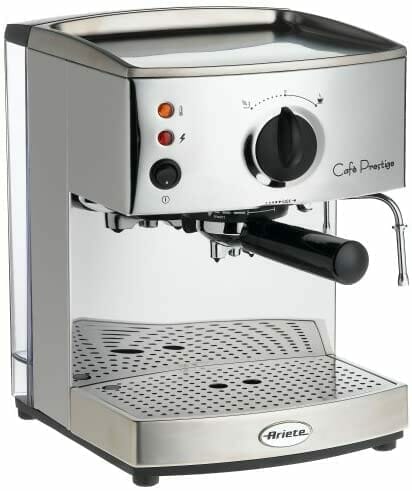 Pros
Made of stainless steel, this product can withstand daily use
15 bar pump pressure
ThermoBlock heating technology
Easy-to-follow usage instructions
The water reservoir is removable
Has a cup warming area that lets you warm up to 9 cups as at a time
Cons
May not have enough pressure for very fine grounds
Does not have a built-in grinder so you'll need a separate one
---
Brewsly 15 Bar Espresso Machine
Another great deal in the espresso machines under $200 category is the Brewsly 15 Bar Espresso Machine.
It features a compact and light design and is easy to operate for novice and long-time coffee drinkers alike.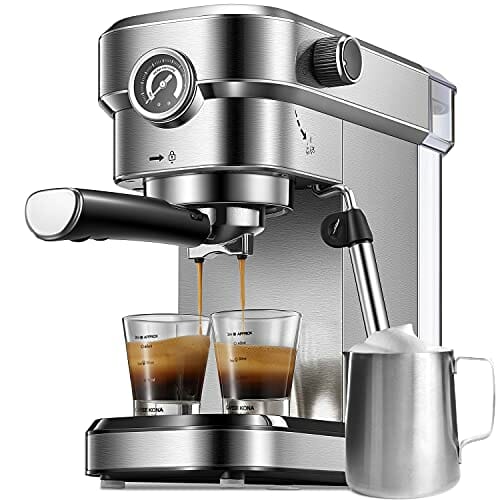 Pros
15-bar Italian pressure pump
Has an adjustable pressure control for both milk and water
Comes with a pressure gauge with a visual analog design
The milk frother is fully adjustable and is side-mounted
Has a 2-in-1 filter holder for no-fuss brewing of single or double shots espresso
Cons
The frother on this machine is not automated so it may take some adjustment on your part to operate
Pressure may not be enough for ultra-fine coffee grounds
---
Hamilton Beach 40792
A great performer, the Hamilton Beach 40792 Espresso Maker deserves a spot on this list.
Similar to the other machines, it has a sleek design and won't take up much space on your countertop.
It may not be as durable as the top 3 espresso machines here, but for the price range, it does pretty well.
If budget is your top priority, then this espresso maker is the right decision.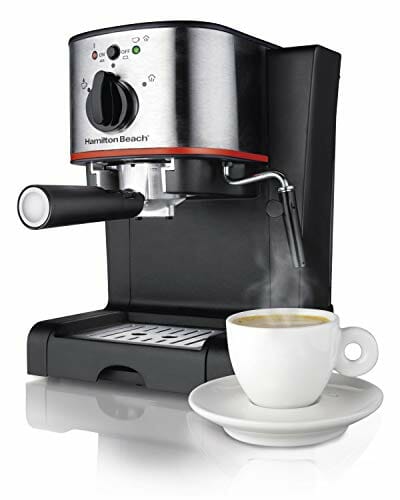 Pros
15-bar Italian pump for good-tasting and cafe-quality coffee
You can make espressos, cappuccinos, and lattes with this machine
A steam wand with swivel design for frothing milk to your liking
Has a slide-in portafilter
Slim design and lightweight
Setup is easy and there aren't a lot of parts to fiddle with or stress over
Cons
Most of its body components are made of plastic
Some coffee brands may oxidize and leave deposits on the filter and filter holder
---
How to Pick the Right Inexpensive Espresso Machine
Now that you know your entry-level coffee machine options, which one do you pick?
Before you make the final decision, understand that espresso machines can be categorized into three:
Manually operated
Semi-automatic
Automatic
Your choice should depend on which of these three you are most comfortable using.
If you need convenience and a quick way to make your coffee, going the automatic route is recommended.
However, if you want more versatility and control over the pulling and brewing process, then the semi-automatic or even the manual ones are worth considering.
If your budget is a top priority, then most of the options that are on the lower spectrum of the below $200 range are manual espresso machines. 
You can always up your budget by looking at this list of espresso machines up to $500.
Aside from all of that, consider as well if you want an espresso machine that provides the option to use capsules/pods and coffee grounds.
Most of the options listed here enable you to use both except for the Nespresso machine, which is built for capsules only.
For slightly expensive options check our article on the best espresso machines here. However, if you're still on an even tighter budget, check out this list of espresso machines under $100.
---
Get the Espresso Maker That Fits Your Budget
By knowing your options and what to consider when buying espresso machines, you are on your way to getting the product that will meet your needs.
Through this guide, finding the best coffee machine under $200 is easier.
Check out the top pick as well – the Breville ESP8XL Cafe Roma. It is an excellent choice and won't disappoint.