When it comes to automatic drip makers, few brands have as rich a history as the Bunn-O-Matic Corporation enjoys.
Its founder, George R. Bunn, is often credited as a major player in changing the game from the once-popular percolated coffee of yesteryear to the filtered, drip methods we enjoy now.
Still, most coffee-lovers categorize BUNN coffee brewer as diner stalwarts or office break room fixtures rather than at-home brewers.
We think there's a lot to love about bringing the brand's domestic offerings into the home, so we're here to give you our thoughts on our favorite models.
Read up on our top choice, then check out how we think other BUNN coffee brewers compare with each other.
We've got you covered with answers to questions about how to brew, clean and maintain a BUNN coffee maker, too.
---
Our Top Choice:

BUNN NHS Velocity Brew 10-Cup Coffee Brewer

We love the NHS Velocity Brew for the combination of BUNN's classic features and the sleek look of newer generation drip makers.

Don't let the simple functionality fool you, there are precision components at work between the stainless steel walls of this brewer's build.

Like most BUNN coffee brewers, it uses the always-on internal water heater for one of the fasted brew cycles on the market.

The NHS Velocity is calibrated for a range between 4 to 10 cups of coffee depending on your preferences.
The NHS Velocity Brew 10-cup thermal carafe boasts a proprietary spout design that wicks the drips and lets you pour a mess-free cup of coffee every time.
These features amongst many gets our verdict of the best BUNN coffee maker in our opinion.
Need to know how to make the most of BUNN's drip-brew makers and their unique features? Read on for our best practices, tips and tricks.
---
Top BUNN Coffee Makers – Our Comparison
Coffee Maker
Product
Features
Price

Editor's Choice

Max Capacity: 10 Cups
Brew Time: 3 minutes
Carafe Material: Glass

CHECK PRICE

Fast Single-Serve Coffee!

Max Capacity: Single Serving
Brew Time: 25 seconds
Carafe Material: N/A

CHECK PRICE

Non-Stop Hot Coffee with 2 Carafes

Brews 3.8 gallons (14.4 liters) per hour
Brew Time: 3 minutes
Carafe Material: Glass

CHECK PRICE

Brew Stays Hot, Longer

Max Capacity: 10 Cups
Brew Time: 4 minutes
Carafe Material: Thermal

CHECK PRICE
---
How to Use a BUNN Coffee Maker
This brand has a few signature features that change the way you should be treating them in the home or office when it comes to proper care and extraction.
Don't worry, there's nothing complicated about a BUNN coffee maker. They make some of the most straightforward brewers available.
Fill it with water, put coffee in a filter basket, then press start. Paying attention to these specific details will help you make sure they last long and brew true.
Choose appropriate countertop space
One of BUNN's signature features is its always-on setting for their stainless steel hot water container.
This maintains a constant 200-degree temperature so that when you press the brew button, you're just a few minutes away from hot coffee.
Because of this, you'll want to give models with the always-on feature enough counter space so that you're not storing anything against its warmed sides.
The reservoirs in most models aren't removable. Make sure you have enough height clearance so refilling it is convenient.
Use fresh, filtered water
No matter what brewing method or brand model you're working, fresh and filtered water is a key component of making great hot coffee.
Even though many of the brand's models feature that always-on heating element for the reservoir, it works best the quicker you're going through brew cycles.
This complicates the fresh, filtered water rule for people who only drink a few cups at a time or go several days between brewing.
If this sounds like a potential issue for you, take a look at our review of this brand's single-serve coffee maker down below. The smaller brewing capacity works great for more casual consumers.
Keep coffee stored until needed
While it can be tempting to get the next pot of good coffee ready to brew well before you need it, there are a few reasons to avoid this, especially with a BUNN coffee brewer.
First, no matter what brand you're working, air and light are enemies of the flavor-packed oils in coffee.
If you leave coffee grounds, particularly freshly ground ones, to sit in a filter basket for longer than half an hour, you're going to experience a degradation in flavor.
Convenience may still win out if you're not detecting that much difference in your cup of coffee, so personal preferences play into this, too.
However, the constant heat from the hot water container in a BUNN home coffee brewer can speed up how those flavor components break down.
Try to wait for when you're ready to hit the brew button before filling the basket with coffee.
Clean and descale BUNN Coffee Makers regularly
When the water lines, filter basket and carafe are all properly cleaned, you'll always have the purest flavor profile.
Washing the carafe with mild soap and water between every brew cycle keeps oils from previous pots from going rancid and impacting the flavor of the fresh one.
This is true for the filter basket, too, but the frequency of use will determine how much film build-up occurs.
The same can be said for the mineral deposits that water leaves behind.
Check out our cleaning tips down below for a full explanation of how to keep all these components free of residue and deposits. [1]
---
7 Best BUNN Coffee Makers
BUNN MCU Single Serve Multi-Use Coffee Maker
Any home coffee maker brand worth their weight in beans has attempted to make a single-serve, pod-compatible brewing device.
Not all of them succeed. Here, the brand proves they keep an eye on innovation when it comes to competing in the pod-brewing market.
Their single-serve brew baskets offer a lot of versatility, but with versatility often comes inconsistent results.
Single-serve home coffee makers can be a love-or-hate item for many coffee-drinkers, so personal preferences also play a large role in when and why this coffee maker works for some and not for others.
PROS
Compatible with K-Cup pods
Removable drip tray for larger mugs
Versatile brewing component allows for tea bags
CONS
Small hot water container
Inconsistent brew results
May be prone to leaking while brewing
---
BUNN 33200.0015 VPR-2GD Coffee Maker
This commercial-grade brewer is a familiar sight on many a diner or convenience store countertop.
Coffee makers like this put the Bunn-O-Matic Corporation on the commercial map, which is why they're still such a popular option to this day.
It can brew a full pot of coffee every 3 minutes ensuring you're never without a cup of coffee.
It's a great fit for even a small office where there may be different coffee preferences or the need to brew a regular and a decaf option.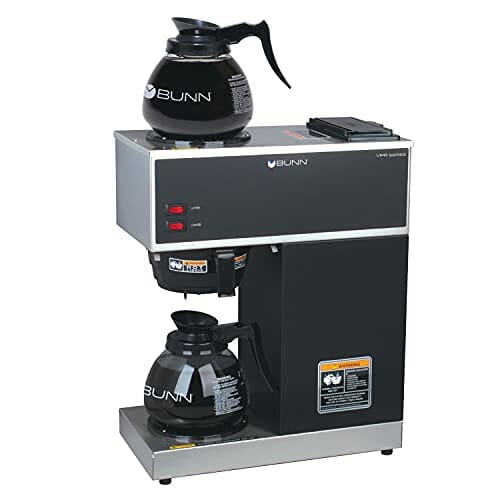 PROS
Two warmers make it easy to brew two different coffee flavors or types
No need to hook it up to a plumbing system
Auto-starts brewing when water is poured into the reservoir
CONS
Needs a lot of height and depth clearance
Not an entry-level coffee machine
Could be too robust for at-home use
---
BUNN CSB3T Speed Brew Coffee Brewer
The brand strayed further from its roots with the BUNN speed brew coffee maker and put a thermal carafe into play. The stout and sturdy piece seem a bit at odds with a brewer that looks more plastic than stainless steel, which is a bit of disappointment.
All the science is the same, however, with BUNN's signature always-on hot water tank and spray head nozzle.
The fluted funnel basket of BUNN speed brew 10-cup home coffee brewer hasn't been changed, either, but this model lacks some of the features that make different ones more popular.
That includes a pulse setting and a visual cup measure on the side of the carafe.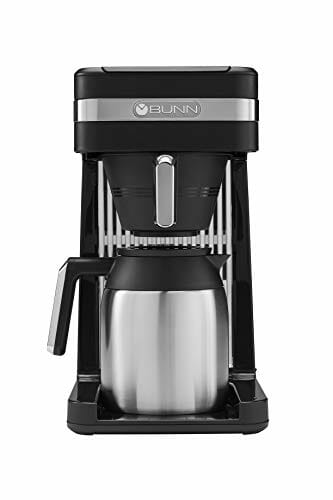 PROS
Modern, streamlined design in chrome and black
Thermal carafe keeps coffee hot and fresh
Fast brewing time
CONS
Some consumers complain of a burning smell while coffee machine heats
Plastic components don't feel durable
May overflow if coffee grounds are too fine
---
BUNN GRB Velocity Brew Coffee Maker
The GRB Velocity Brew 10-cup home coffee brewer operates in much the same ways as other models in this line, so it comes down to looks with regards to why you should choose it over the others.
The design of this 10-cup home coffee brewer takes up very little space both in height and depth and is among the lighter models of BUNN's offerings.
The drip traditionalist would favor a build like this for its ease of use and lack of unnecessary extras.
PROS
Minimalist build fits easily on small counters
Simple, straightforward functions
Cup measurements on the side of the carafe
CONS
Carafe spout can be a bit clumsy to clean
Brews too quickly for proper extraction in high altitudes
A full basket of grounds may sometimes overflow
---
BUNN BT Velocity Brew Coffee Brewer
The main difference between the BUNN BT Velocity Brewer and BUNN GRB Velocity brew coffee brewer is largely cosmetic, with a few major exceptions.
The change from a glass carafe to a thermal one is a key factors for many coffee-drinkers plus the introduction of their unique spray head design for best coffee extraction.
If you're the kind of coffee-drinker who wants to keep a full pot on hand but also avoid overcooking your brew, you need a thermal carafe instead of a glass one on a warming plate to keep your coffee hot.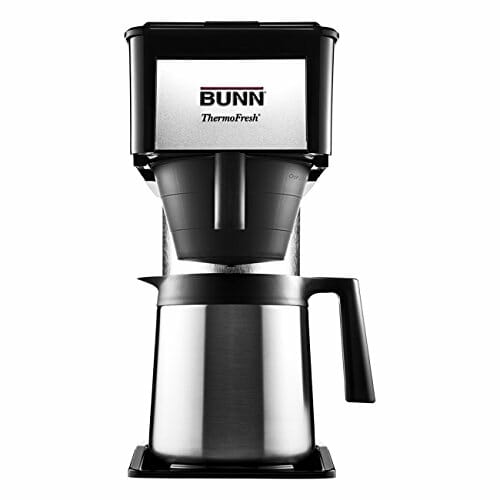 PROS
Modern design and mostly chrome finish
Thermal carafe keeps coffee hot and fresh longer pray
Unique spray head designed for even saturation and flavor extraction
CONS
No exterior measure for carafe or reservoir capacity
A piece to adjust flow rate must be purchased separately
Carafe can leak while pouring into a cup of coffee
---
BUNN BX-B 44900 Coffee Speed Brewer
The classics never go out of style and this is true for the brand's signature home coffee makers look, and the BX-B's understated but strong profile carries that legacy forward.
There isn't much fuss with a brewer like this, but there is a consistent output of properly extracted hot coffee between the stainless steel hot water tank and the calibrated brewing system.
PROS
Classic design and traditional functionality
"Vacation" switch turns off reservoir without needing to unplug the coffee machine
Brews an entire pot of coffee under 3 minutes
CONS
Carafe must be centered to avoid splatter or spillage while brewing
May require brand-specific filters to function best
No pulse brewing option
---
How to Clean a BUNN Coffee Maker?
As we mentioned earlier, keeping your brewer clean will make the best-tasting cups of coffee with your coffee machine.
The oils in a coffee bean give it its flavor, but they like to stick around and create filmy residue in the filter basket and carafe.
Minerals in your water also cling to the reservoir and water line, so those need careful attention, too.
1. Wipe down the exterior
Before you clean the body, spray head or reservoir of a BUNN coffee maker, unplug the coffee machine and allow it to cool down completely.
This can take half an hour to two hours depending on the model, so check your coffee maker's manual for a recommended cooling time.
Both plastic and metal components of any model's build should only need warm, soapy water and a soft cloth to get rid of any streaks or splatters.
Unless your manual specifies otherwise, you may prefer to use polish for stainless steel on those exterior pieces. Never use it on the interior stainless steel reservoir, however.
2. Wash the carafe and brew funnel Even when a glass carafe or plastic brewing funnel are labeled safe for dishwashers, it may be better and faster to wash them by hand with mild soap and warm water.
There are also soaking solutions that are specifically formulated for removing residue and buildup from coffee oils.
The flat-bottomed and fluted funnel is a hallmark of the brand, which we talk more about in the next section, but they sometimes need a little scrubbing with a brush to fully clean.
Soaking them in a solution before scrubbing goes a long way towards getting every nook and cranny sparkling clean.
3. Clean the spray head and tube carefully BUNN spray head nozzles are removable, which makes cleaning and unclogging their pores all the easier when compared to many other brands and how they manufacture nozzles.
As we mentioned when cleaning the exterior, unplug the coffee maker and allow it to cool before attempting to clean these components.
BUNN includes a deliming tool with their drip makers, but it may be a long metal coil or a straight and thin piece of plastic with a tabbed end depending on the model.
Once the spray head is removed, the deliming tool should be inserted into the water tube until only an inch or so remains in hand.
Wriggle it around as you pull it back out, then repeat the step a few more times to knock loose and mineral deposits that may have built up. To rinse the line, reattach spray head, plug the coffee maker back in and fill the reservoir.
Once heated, brew a pure water cycle (empty filter basket in place) into the carafe and empty the rinse water into the sink. You can do this more than once if you feel it's necessary or if your manual suggests more than one rinse cycle.
4. Descale the water reservoir You can choose to do this step alongside deliming the spray head and tube since deliming and descaling often go hand-in-hand with each other when cleaning the water reservoir.
The difference between the two is that descaling solution may not have enough time to fully dissolve buildup in the line and spray head, so cleaning them separately with specific tools remains necessary.
When it comes to descaling solutions, there is a variety available that have been specifically designed for use with drip makers.
While the home remedy of mixing vinegar in with water is effective, many people shy away from the pungent natural cleanser.
Whichever method you choose, always follow up a descaling process with one or more pure water rinse cycles.
We talk about the factors that play into how often you should be cleaning these different components in our next section to ensure your coffee maker produces excellent cups of coffee.
---
Frequently Asked Questions About BUNN Coffee Brewer
1. What is the difference between a spray head and a wand water nozzle? 
The biggest difference between these two dispenser styles comes down to even distribution.
BUNN coffee makers favor a spray head, also sometimes called a showerhead, style because it releases water over the grounds through several holes rather than a single spout.
In order for coffee's flavor to bloom and extract properly, the grounds need to be evenly soaked with water.
Wand-style nozzles typically fail to disperse even amounts of water across the bed of grounds, which leaves dry spots that lead to improper extraction and a terrible flavor.
2. Why do BUNN coffee makers use a flat-bottomed filter?
The brand's founder, George R. Bunn, took cues from the flat-bottomed percolator basket when designing his alternative to that method of brewing.
While there's plenty of debate about whether a flat-bottomed filter is better than a cone-shaped filter, BUNN sticks to their origins and calibrates their BUNN coffee makers to brew best with this shape.
3. How many ounces are in a cup for BUNN coffee makers?
While this number can change from brand to brand, the industry-standard measures a cup of coffee as 5 ounces rather than the culinary standard of 8 ounces. [2]
Serving preferences further confuse the matter as many people enjoy anywhere from 6-10 ounces of coffee in a single sitting.
It's important to keep in mind not only the max capacity for a brewer but how much coffee will be consumed by each person when planning for a purchase.
Also, read our round up review of best drip coffee makers for more information on drip brewers.
4. What is the optimal temperature for proper extraction?
The industry standard for heating water to extract the best cup of coffee is in a range between 195 degrees Fahrenheit (91 degrees Celsius) and 205 degrees Fahrenheit (96 degrees Celsius).
BUNN's always-on heating elements maintain a consistent 200 degrees Fahrenheit (93 degrees Celsius) for an even split between the two extremes.
Keep in mind that if the coffee maker's been off for a little while, it will need time to reach this temperature. This may take about 15 minutes. Check the manual for specifics.
5. Should a BUNN coffee maker be unplugged between uses?
Because these brewers carry design elements from their origins as a commercial-only brand, they function under the assumption that they should be ready to make a piping hot pot of coffee at all times.
They're manufactured to keep their water tank preheated while plugged in, so it's not necessary to unplug them during downtime.
Having said that, if it's going to be more than a few hours between brew cycles, it may be in your electricity bill's best interest to unplug the coffee machine or use the "vacation" toggle included in some models.
Just remember to allow the reservoir to reach the appropriate brewing temperature when you turn it back on.
6. How often should a BUNN coffee maker be cleaned?
There are several variables the play into how often every component of a coffee maker should be cleaned.
While a carafe and filter basket should, at the very least, be rinsed out between each use, they also need proper cleaning more often than other pieces of the brewing puzzle.
The mineral content of your water also plays a huge role in how often you may need to descale or delime your coffee maker.
General wisdom suggests descaling every few months and deliming every few weeks.
You may find this is different if you use your brewer more often than the average coffee-drinker or if your water leaves more mineral deposits than usual.
If you experience clogs in the showerhead or see a buildup in the reservoir, delime and descale appropriately.
---
Editor's Choice
As we mentioned, we love the BUNN NHS Velocity Brew for the combination of BUNN's classic features and the sleek look of newer generation drip makers.
Again, don't let the simple functionality fool you. The simplicity is what makes this coffee maker in it's own league.
We can't recommend the NHS Velocity highly enough for the price and simple benefits for that needed caffeine fix.