The automatic drip coffee maker is an everyday kitchen standard for good reason.
Almost every coffee-drinker, from novice to expert, can benefit from having a device like this in the home.
This is true even if your tastes have evolved to more complex brewing methods like pour-overs and press pots.
Never fear, Bonavita Coffee Maker is here to satisfy those traditional needs with their line of straightforward and simple machines.
These workhorse coffee makers boast professional-grade internal mechanisms.
We take a look through their best models and compare their features so you can make a fully informed choice.
Read on to learn more about what this brand has to offer, plus find answers to your frequently asked questions when it comes to the best Bonavita coffee makers.
---
Our Top Choice: Bonavita BV1800SS 8-Cup
While this product may not be their newest addition or their most feature-rich, we like how simple and easy it is to use.
There are only a few short steps between you and a hot cup of fresh brew.
The brand's signature showerhead-style dispenser allows for uniform saturation of the grounds beneath, which is necessary for proper extraction.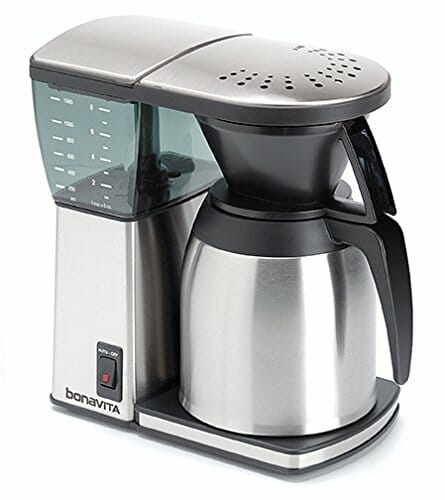 The internal heating mechanism is the real measure of the value in a Bonavita drip coffee maker as it's specifically calibrated to keep the temperature in the upper ranges of the industry standard, which we go over later on in our answers to frequently asked questions.
The thermal carafe keeps coffee piping hot without overheating it, which is an added bonus to the overall benefits of a machine like this.
If you're looking for a programmable model, take a look through our reviews of other Bonavita machines down below.
---
How The Best Bonavita Coffee Maker Models Compare
Editor's Choice
Filter Type: Flat-bottom
Carafe Style: Thermal
Dimensions:12.4 x 6.8 x 12.2 inches
Budget Pick
Filter Type: Flat-bottom
Carafe Style: Thermal
Dimensions:12.4 x 6.8 x 12.2 inches
Filter Type: Cone
Carafe Style: Thermal
Dimensions:12.3 x 6.2 x 10.6 inches
---
How They Perform
There may be only minor differences between each model, but they can matter to the discerning aficionado.
After we break down how each Bonavita coffee maker performs, we'll go over how to clean these devices to keep them in optimal shape.
---
Budget Pick: Bonavita BV1900TS 8-Cup
Save some money and still make an excellent cup of coffee with this model.
The lower price tag indicates slightly more affordable build materials with the same manufacturing standards that keep the brand's name in the top choice lists.
PROS
Certified by the Specialty Coffee Association
The pre-infusion mode is optional but effective
Consistent results
CONS
The reservoir is not detachable
Top vents create condensation when stored beneath low cabinets
No programmable display
---
Bonavita BV1500TS 5-Cup Coffee Brewer
Even though the larger capacity brewers can manage smaller batches with the right amount of water and grounds, they may not produce the kind of consistent results a device like this one is capable of doing.
If you know you're more likely to need a smaller volume of coffee regularly, this is a great option.
PROS
Compact size for smaller countertops
Calibrated for small batch brews
Great fit for office or travel
CONS
The 1100-watt heater is less powerful than other models
Carafe does not pour servings neatly
The fit of the basket and lid can displace filter
---
Bonavita Connoisseur BV1901TS 8-Cup Coffee Brewer
A few cosmetic changes in the overall composition of this model sets it apart from earlier versions, like the shape of the thermal carafe and the tinting on the reservoir.
Functional changes include a hanging basket and audible signal that alerts you to the brewing cycle's completion.
PROS
Filter basket attaches to brewing lid rather than the carafe
Improved thermal material for the carafe
Sound notification at the end of the brewing process
CONS
Poor extraction quality if showerhead pores are clogged
The basket may continue to drip after signal indicates its finished
It may be hard to see between the basket and carafe to check if its done
---
Bonavita BV1901GW Coffee Maker
If you're looking for a traditional glass carafe and warming plate combo, this is the model for you.
It retains all the same internal calibration of Bonavita's other 8-cup models, so the brand's signature heating element is present here, too.
PROS
Glass carafe allows you to see how much coffee is in the pot easily
The glass carafe paired with stainless steel and black build offers an attractive design
The pre-infusion feature allows coffee's flavor to bloom before a full brew
CONS
Rust or buildup may occur if the non-stick coating on warming plate is damaged
Glass carafe does not hold heat long once warming plate is off
No separate switch for the warming plate
---
Bonvita BV1900TD Coffee Maker
Given that the brand prides itself on a one-touch simplicity, many of its models don't even feature a clock display.
With this model, they not only give you a display but let you set a brewing time, as well.
This is a great option for anyone who likes to wake up to an already-brewing pot of coffee.
PROS
Programmable timer for auto-brewing
Backlit digital clock and display
Classic black and stainless steel design
CONS
May not make small batches with consistent quality
Plastic container may develop cracks
Will not brew if the display is not functioning properly
---
Technivorm Moccamaster vs. Bonavita
Like Bonavita, Technivorm Moccamaster offers small variations between each model.
When comparing both in terms of overall brand performance, we've determined these categories to be the most important when making a purchasing decision.
Brew Times
How fast a machine can prepare a pot matters a lot to people on a tight schedule, especially if they're waiting on the first cup of coffee for the day.
Here, the Technivorm may be able to edge past the Bonavita and reach the finish line a little faster on average.
The brand lists a 4-6 minute brew time range for most of its models while Bonavita owns up to a solid 6 minutes across the board.
Key Features
Bonavita's biggest selling point is the reliability of its heating element and machinery
Fewer bells and whistles mean fewer points of weakness.
The copper heating element of the Moccamaster is a similarly reliable component.
Technivorm's other standard features include a separate on/off switch for hot plate models, plus a wider range of color selection in some styles.
Biggest Differences
The showerhead-style dispenser for Bonavita beats out the Technivorm Moccamaster wand-style one for us.
Even though the Technivorm Moccamaster's wand pulses as it dispenses, it's not uniformly released for truly even saturation.
However, Moccamaster tends to prepare and hold a higher capacity for coffee, which is a pretty important difference for some consumers.
Bonavita 1800 vs. 1900
The differences between the 1800 series and 1900 seem small at a glance.
The 1900 models are the newer ones in the brand's line of coffee makers, but those fine-tuned alterations may result in a beneficial upgrade across the board.
The fact that the heater goes from 1400-watts to 1500-watts sounds great, but it can also open up the possibility of overheating water beyond the industry-recommended 205 degrees Fahrenheit peak.
Coffee brewed past this point is over-extracted has a bitter flavor that's unpleasant to drink.
We do like the pre-infusion feature of the 1900 models, however, which release a small amount of hot water over the coffee grounds to let them bloom a little before a full brew.
This mimics hand-poured methods that produce a full-bodied flavor.
---
How to Clean Your Bonavita Coffee Maker
Every manufacturer will provide exact details on how to clean their machine, but all of these models follow a few basic steps like these.
The exterior and components should be cleaned regularly, while flushing, or descaling, the internal system should be done as necessary depending on the buildup of any mineral deposits from your source.
Wiping down the exterior
1. Unplug the machine before cleaning.
2. Wipe down with a warm, wet cloth. Use mild soap if necessary.
3. Dry with lint-free or disposable towels.
Cleaning the detachable components
1. Detach components according to instructions.
2. Hand-wash anything not listed as dishwasher safe with warm, soapy water.
3. Optionally, use a commercial solution to help break down coffee residue.
4. Reassemble pieces after they are rinsed and dry.
Flushing the internal system
1. Make sure the container and carafe are empty.
2. Use a commercial solution mixed with water according to its instructions.
3. Send machine through a brewing cycle.
4. Discard the water once complete.
5. Refill the reservoir and rinse, repeating as necessary.
---
Bonavita: Frequently Asked Questions
How many fluid ounces are in a coffee maker's cup?
A culinary cup is considered to be 8 fluid ounces, but a coffee machine's cup typically results in 5 ounces of brewed coffee.
It's important to understand the distinction when measuring the right ratio of coffee to water.
What kind of coffee does the Bonavita brews best?
Drip brewers like these perform best when you use a medium-coarse size grind of coffee.
If you use a smaller size grind, like for espresso, it's possible the filter will overflow because the water cannot drip through the grounds easily.
Coarser grinds, like for a French press, will lead to under-extraction and sour coffee flavor.
You can check this article on some of the best drip brewing machines as well.
How hot does the water get for brewing?
Industry standards dictate that anywhere between 195-205 degrees Fahrenheit is the optimal temperature for proper extraction.
Bonavita manufactures their products to achieve this standard consistently and reliably.
What does the Bonavita warranty guarantee?
The manufacturer's warranty for brand new product covers defects in the materials or build of its product.
This is typically a two-year warranty, but each product will have specific paperwork that shows exactly how long its warranty lasts.
Since the brand does not have a product registration process, consumers should keep their proof of purchase to use when they fill out a warranty claim form.